Closer to the Cambodian shoreline than it is to Vietnam, Phu Quoc is home to azure waters, bountiful seafood and dense forests. Despite the island's growing popularity among the wintertime migration of European tourists, there remain stretches of powdery, barely-trodden beach. Here's why the time to visit is now.
Direct Flights are a Reality

No more milling about Ho Chi Minh Airport, gorging on Popeyes chicken and wondering whether VietJet is going to postpone your connecting flight for the third time. Bangkok Airways (www.bangkokair.com) recently rolled out a direct route from Bangkok to Vietnam's most beautiful and largest island (available Tue, Thu, Fri and Sun). For around B8,100/round trip, you can bypass all the backpacker-y pitfalls—thank us once you land feeling fresh at Phu Quoc's gloriously laid-back airport after a breezy 1-hr-45-min trip.
Bai Khem Beach/JW Marriott Phu Quoc Emerald Bay Resort and Spa
The Beaches are Amazing

It takes a lot to beat Thailand at its own game, but Phu Quoc has much to offer. The popular vote goes to Bai Truong (Long Beach) thanks to its plethora of resorts and location right near the airport, but, frankly, you can do better. Until recently, Bai Dai, on the island's western seaboard, was little more than sea, sand and a handful of shacks serving seafood at your beck and call, but development has started to muscle in. Turtle Island, a scuba diver's heaven of coral reefs and tropical fish, is a mere 10 minutes' canoe paddle away. JW Marriott's Bai Khem (Ice Cream Beach)—all powdery sands and still, clear waters—is another stunner.

Credit: Nha Ghe Phu Quoc/Nha Hang Crab House Facebook
The Seriously Good Seafood

You can't visit without tasting the incredibly fresh seafood on offer: boiled crab, grilled octopus, barbecued amberjack, steamed sea snails, the list goes on. Come sundown, the place to find your bounty is Phu Quoc Night Market (5pm-midnight), in Duong Dong town, where tourists (both foreign and Vietnamese) come to peruse the endless trinkets and island produce on offer. OK, you can forget notions of "authenticity," but you'll still encounter local fishermen touting their catches of the day. Take your pick from the shacks lining the water or, for a highly recommended change of scenery, head to Crab House (goo.gl/ShFnUx), which serves up excellent Cajun-style seafood boils in a tavern setting that's brimming with sports memorabilia. Prices are heftier than elsewhere, but so, so worth it.

A Massive New Cable Car

If there's one thing Vietnam loves, it's a cable car. Its latest measures almost 8km in length and connects Phu Quoc with Hon Thom (aka Pineapple Island). The project by the Sun Group (which along with rival Vingroup dictates much of the island's development) has gone into the Guinness Book of Records for being the longest in the world. For VND 500,000 you get a 360-degree aerial view of the An Thoi archipelago, floating over lush islands, turquoise seas, coral reefs and fishing boats. The ride's about 15 minutes each way and there's not a ton to do at Pineapple Island, so just savor those views.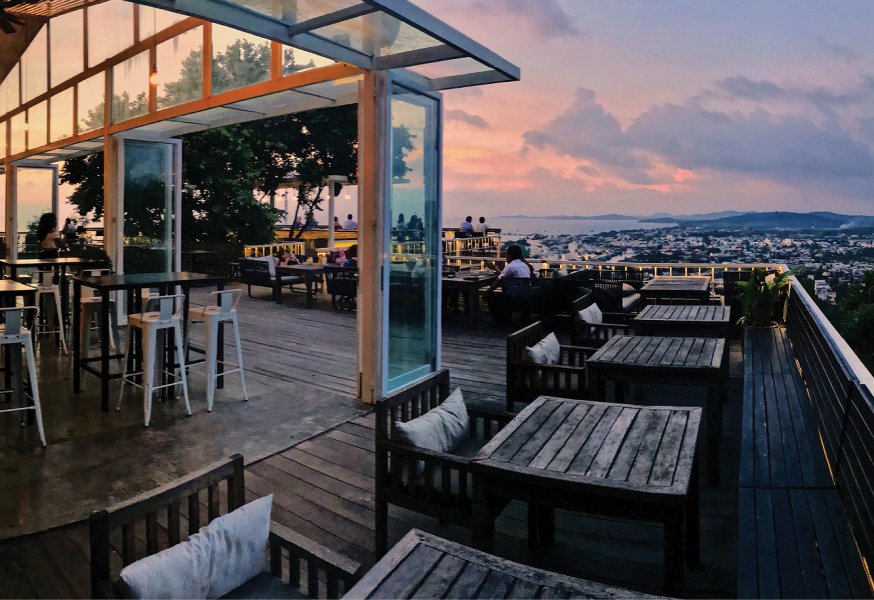 Chuon Chuon Bistro & Sky Bar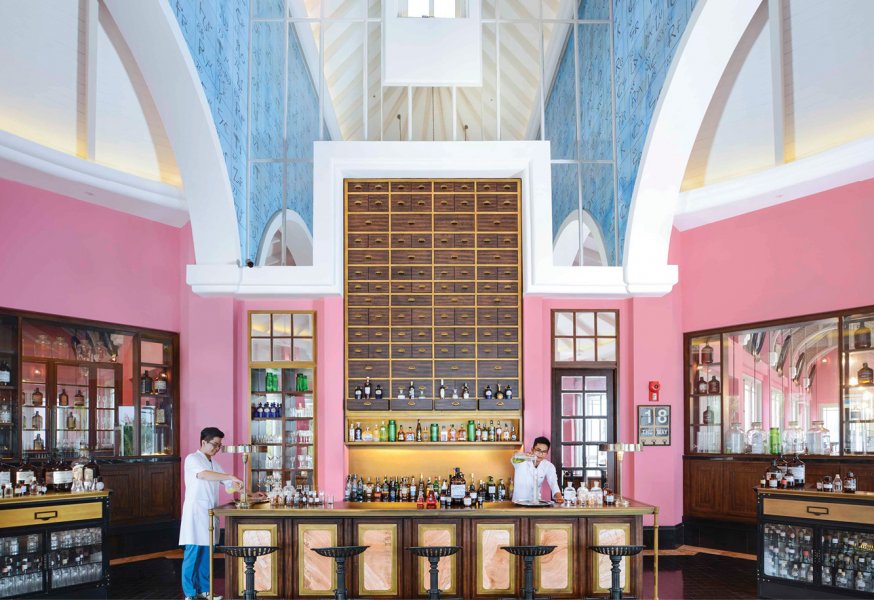 Department of Chemistry Bar, JW Marriott Phu Quoc
New Forms of Nightlife

If it's beach shacks serving ice-cold Bia Saigon you want, Phu Quoc has you covered. The Aussie-run Rory's Bar (www.fb.com/RorysBarPhuQuoc) on Long Beach is the big, bustling backpackers' favorite. For something more elevated, there's the hilltop Chuon Chuon Bistro & Sky Bar (chuonchuonbistro.com), which serves passion fruit mojitos and Vietnamese craft beers to go with incredible views of Duong Dong town and the ocean beyond. Come sunset, the sky serves up pink and purple hues that need no Instagram filter. JW Marriott's fairy-floss-pink-toned Department of Chemistry Bar (goo.gl/cXLGcK) whips out science-inspired libations that are unrivaled. Head there for the daily 5-7pm happy hours.

All the Green Stuff

Phu Quoc National Park takes up over half of the island, offering a glimpse of wildlife like hornbills, long-tailed macaques and silver langurs—if you're game enough. While the park was declared a UNESCO Biosphere Reserve in 2010, nature trails remain on the scarce side (and rarely signposted). Your best bet is to head for the jungle trails near Ganh Dau village at the island's northwestern tip, which offer a taste of pristine wilderness.

It Might Soon Be Too Late

Long heralded as Vietnam's hidden gem, Phu Quoc is no longer so hidden. Designated a special economic zone, the island could soon welcome a growing number of casinos (there's already one), "integrated resorts" and theme parks. Throw in the untold number of resorts that already restrict public access to beaches and you see why some are grumbling that the end is nigh.
---
Where to Stay

Overview: This Bill Bensley-designed resort brings a fantastical blend of Harry Potter's Hogwarts and Wes Anderson's dreamy palette to Vietnam's island paradise, Phu Quoc.
The Facilities: Pastel colors dominate a university-themed design, bearing plenty of colonial cues, old academic paraphernalia, staff in Great Gatsby get-up and accommodation broken down by university department: from "astronomy" to "zoology."
The Food and Drink: Tempus Fugit serves up one almighty East-meets-West breakfast spread, while Red Rum is a grill-style restaurant offering fresh seafood by the beach. The Department of Chemistry Bar serves science-inspired libations in a fairy-floss-pink-toned setting.
Rooms: No matter your "department," the gorgeous 244 rooms and suites guarantee a few things: spacious balconies, and sea views through floor-to-high-ceiling windows. The private villas come with their own pool.
Rave: Where to start? The exuberant decor, the soft white sands of Khem Beach, the feeling that behind every corner a surprise could be laying in wait? Plus the treatments at the Alice in Wonderland-like Chanterelle spa.
Rant: The resort's kind of in the middle of nowhere but you can always rent a motorbike or utilize their nightly shuttle buses into town.
Price: From VND8.55 million (B13,120) for a bay-view room up to VND25.3 million (B38,912) for a seafront suite.
---
LOCAL KNOWLEDGE
Three things no Phu Quoc trip is complete without
Fish Sauce
Smell that? Phu Quoc's fish sauce (nuoc nam) is considered the pride of Vietnam. Follow your nose to Phung Hung, a fish-sauce factory open to the public near Coconut Tree Prison, where barrels upon barrels of anchovies ferment for up to several decades.
Honey
Another of the island's buzzing exports comes in the form of 100-percent natural honey. You don't need to make the touristy dash to Phu Quoc Bee Farm (phuquocbeefarm.com), as you can pick up their products from Duong Dong Night Market.
Peppercorn

Chefs swear by the pepper cultivated in the island's mineral-rich northern soil. Chances are, by the end of your trip you'll be sick of touts trying to sell it you, but still, don't leave without picking up some black, green and red pepper to take home.
---
Essentials
1 Thai baht = 694 Vietnamese dong
Thai nationals don't require a visa to visit Vietnam, while many other nationalities can also visit Phu Quoc visa-free for 30 days.