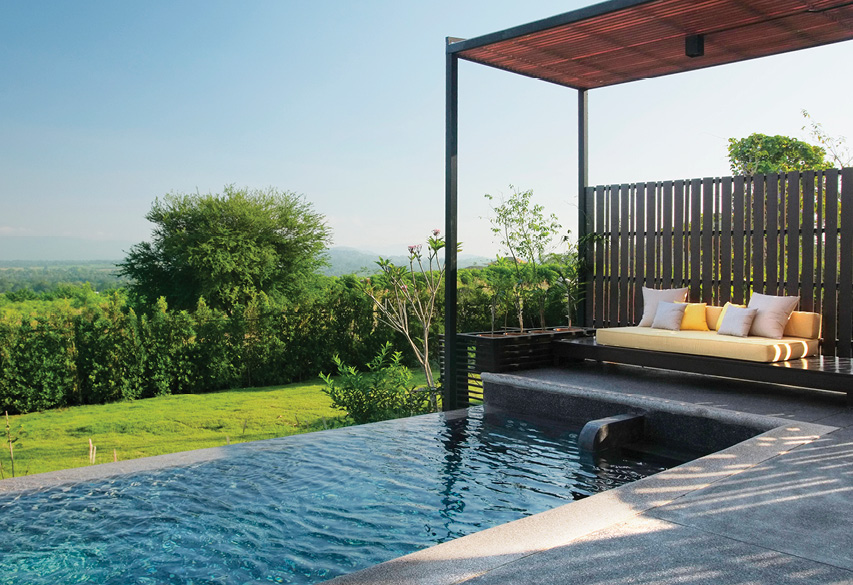 Civilai Hill Khao Yai
For when you need: A pool villa with stunning mountain views
No beach is required when you check into this pool villa tucked up in the mountains of Khao Yai. Located on the outskirts of the vast national park, Civilai Hill Khao Yai is a young resort that offers the kind of pool villa you never want to leave. Though it only has one bedroom, the space is huge at 200 sq meters, featuring a Jacuzzi, oversized bed, traditional Japanese-style wooden bathtub and temperature-adjustable pool. We spoke to them and they say they're happy to welcome parties of five—with a little added cost for the three extra people. Highlight? The Panoramic pool villa comes with irresistible Khao Yai valley views from your pool plus a barbecue garden that gives you girls a private space for sunset grill parties.
Rates start from B15,000
X2 Hua Hin Lebayburi - Pranburi Villa
For when you need: A hideaway that's luxurious but won't break the bank
Located a little out from Hua Hin city center, this stylish resort offers not only good-looking design but also a very private atmosphere and spacious outdoors area for some drinking by the pool. There are four separate villas on offer, each decked out under a different theme: the all-white and glass Mediterranean Retreat; the wood-heavy pacific Hideaway; the Bali-esque Modern Tropical; and minimally-modern Scandinavian Vacation. All come with a huge living room, kitchen facilities and private pool that's oh-so-perfect for cooking and chilling by the pool. Maximum eight people.
Rates start from B15,000 on weekdays and B20,000 on weekends (no breakfast included)—that could mean as little B1,875 per person
V Villas Hua Hin
For when you need: 5-star quality right in the middle of Hua Hin
This private villa is located on Petchkasem Road—Hua Hin's most prime spot for beachside accommodation and surrounded by seafood restaurants. Despite this, each pool villa offers a very private atmosphere, meaning you're unlikely to be disturbed by any other guests. Options start from one-bedroom villas up to two- and three-bedroom spaces with a max capacity of nine people. All villas offer modern tropical design with a living room area and spacious garden with daybed and dining table—and you can easily party by the 9x3.75-sq-meter pool.
Rates start from B20,479 for one bedroom villas and go up to B40,500 for three bedrooms. Only one extra person can be added to each room with a cost of B2,589.
Tropicana Pool Villa Jom-Tien
For when you need: A huge private space outside the Pattaya strip
Located in the middle of Jomtien Beach, Pattaya, Tropical Pool Villa looks more like a private residence than a resort. The four-bedroom villa offers 300 sq meters of space that can take a maximum of eight guests. Inside you'll find a private pool, living area, indoor and outdoor dining areas plus a fully equipped kitchen. The biggest villa goes up to seven bedrooms for 14 guests.
Rates start from B36,900 for four bedrooms.
Tabaluga Pool Villas
For when you need: A pocket-friendly getaway by the beach
Moving closer to Pattaya city center you'll find Tabaluga Pool Villas, which offers minimum two-bedroom rentals with a private atmosphere despite the prime location. The modern, white-washed villa with its well-equipped kitchen, private pool and outdoor space might look a little tiny, but open the sliding door and connect with the living room for the perfect pool party setting.
Rates start from B7,500 for two bedrooms (max 4 people) up to B9,500 for four bedrooms (Max 8 person)