Here's a good reason to visit Trang ASAP―Lion's Tale Bar & Restaurant, the city's newest and swankiest dining and drinking hotspot, has just opened, and it's just pure Instagram gold.
Under the creative vision of Thai architects Sasiwimol "Jaoh" Utaisup and Apichaya "Leng" Krongboonying, what was once an old commercial building near the abandoned Petch Rama Theater has now been transformed into a 19th century-inspired English bar with elements of Trang's unique charms. Think bold emerald green and gold hues punctuated with warm wood accents―a nod to the city's beautiful sea and rubber plantations and the simple, pastoral way of life in the province―and photography showcasing Trang's important landmarks and local scenes taken by the Trang-based artists Pakornkarn "Ta" Tayansin and Payungsak "Yung" Chonglomkrod.
The food is a combination of international, Thai and Trang-specific cuisines, prepared with ingredients sourced from local fishermen and farmers. Highlights include the province's signature delicacy, moo kao yook (Trang-style pork stew), made from heirloom recipes that have been passed down from generation to generation; fusion dishes like the fiery tom yum kung risotto; the sweet and savory chicken and waffles; and tiramisu for dessert.
For drinks, expect creations from Q&A and Teens of Thailand alumni Techin Wisedsri and head bartender Singha Choonuan. Star picks include The Den's, a mix of rosella, vermouth, and elderflower; Ounce and Ounces, a twist on the White Lady that's refreshed with the sweet and sour taste of green apples; and Mid-Summer Bloom Night, a refreshing, sparkling pink cocktail that consists of English gin and sakura yuzu.
Lion's Tale Bar & Restaurant, 28/11 Huai Yot Rd., Mueang District, Trang, 093-579-3025. Open Tue-Sun 5:30pm-midnight; Sat-Sun 10:30am-2pm, 5:30pm-midnight. www.fb.com/lionstaletrang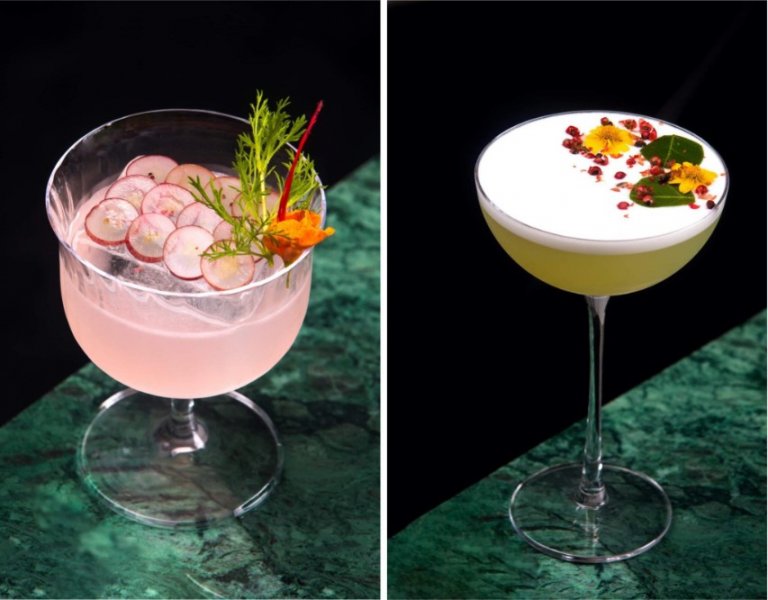 Mid-Summer Bloom Night, Ounce and Ounces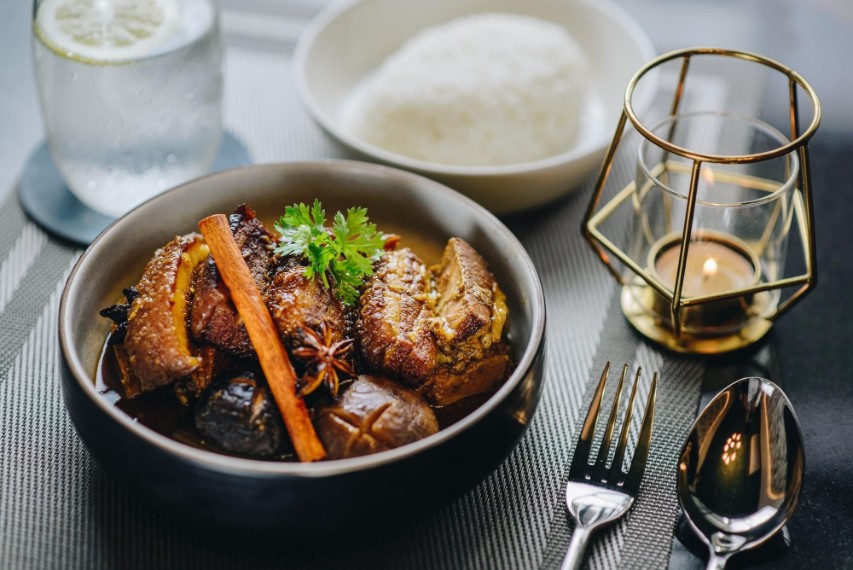 Moo Kao Yook (Trang-style pork stew)



Tom yum kung risotto