With international tourism still up in the air, Samui's reputation as a high-end destination has backfired. Thanks to its host of exclusive resorts and typically high flight prices, the island has not welcomed domestic tourists in the same numbers as other beach destinations, leaving its tourism industry in tatters. We touched down on Samui to find out how businesses are coping amid Covid-19 and discover how locals are working to improve the island's image.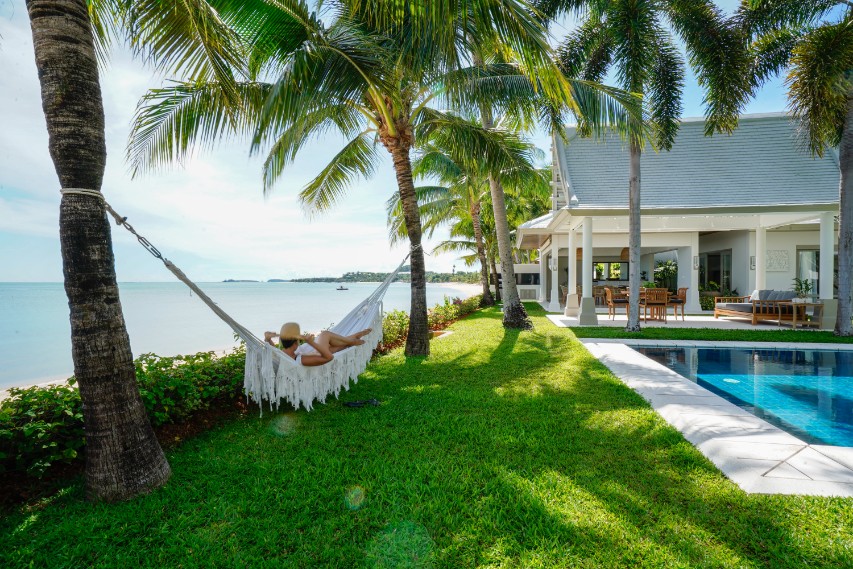 Miskawaan Luxury Beachfront Villas

Uphill Struggle
In bustling Bangkok, it's easy to forget the devastating impact the pandemic has had on the tourism industry, but laying eyes on usually frenetic tourist hub Chaweng, it's abundantly clear. In an almost post-apocalyptic scene, rows of boarded-up restaurants are joined by shuttered 7-Elevens and Family Marts. With visitor numbers at an all-time low for an island used to welcoming almost 2.3 million tourists per year, Samui is in a desperate state.
Even before the pandemic hit, Samui was struggling due to an oversupply of hotel rooms, as international tourists skipped Thailand and its strong baht, opting for cheaper beach destinations in neighboring countries. Hopes that the island's occupancy rate would be boosted in the December-to-March high season were dashed by the onset of Covid-19, which saw visitor numbers plummet almost 50 percent at the start of the year. Already locked in a fierce price war, the island's hotels have been forced to set their rates ever lower as beach destinations across the country grapple for domestic business.
Transport to the island has also been a limiting factor. Bangkok Airways' monopoly on flights to Samui and the small size of the airport—and therefore the planes—means that the island welcomes significantly fewer visitors than the likes of Phuket, while flights are far more costly. Bangkok Airways has sought to remedy this by increasing the number of daily return flights to 10 and slashing prices by as much as two-thirds, yet competition remains stiff. "The fact that Samui has fewer tourists is [due to] the cost of traveling," says Samui-native Wannaphong "Tom" Panprom, who works as the operations manager at Miskawaan Luxury Beachfront Villas in Maenam. "Within our hotels, we are discussing how we can negotiate with Bangkok Airways to reduce the price, otherwise most Thais will go for Koh Samet, Hua Hin, Prachuap, Pattaya, and Phuket because they're cheaper."
"The price of the flights to Samui means it has always been a premium destination," agrees Christian Lueke, the cluster director of sales and marketing for Melia Koh Samui, part of a Spanish hotel chain that made its Thailand debut in January. This has been a double-edged sword for Samui. "There are definitely two hearts beating in one chest," he continues. "The island is what it is because it's a quality destination, so this bottleneck helps on the one hand; on the other hand, hotels are always animals who need more."


Kapuhala
Seeking Solutions
With pundits predicting that post-pandemic travel will be reserved for the affluent, Samui could be well positioned as a luxury destination. Until borders reopen, however, the island must find a way to stay afloat. The government's domestic tourism subsidy scheme, Rao Pai Tiew Gun (We Travel Together), has encouraged domestic tourism to a limited extent, but according to the Bangkok Post, of the five million subsidized nights available, only a fraction have been claimed since the scheme debuted in mid-July—something many have put down to the confusing and convoluted nature of the app and booking process.
With schools back in session, domestic tourist numbers are likely to drop further. Small concessions have been made, with two new long-weekend holidays—Nov 19-22 and Dec 10-13—recently approved by the cabinet to coincide with school breaks, and the We Travel Together campaign set to be extended until the end of the year. Proof that such measures are effective comes from Chonlatee "Tee" Sripoka, the manager of Samui's Insta-famous Coco Tam's bar and restaurant. "The Fisherman's Village area is quieter than usual [but] during the Thai long-weekend holidays, we had huge amounts of customers compared to normal," says Tee. Seeking to capitalize on the long-weekend influxes, Melia Koh Samui is rolling out three-night family getaway promotions (B4,800/night net), featuring free room upgrades, kids' activities, airport transfers, and spa discounts, though short stays will do little to bridge the gap left by international tourists, who typically stay for up to two weeks.
Meanwhile, with the visa amnesty for international tourists stranded in Thailand up in the air, and rumors of further extensions being dismissed at the time of writing, hoteliers on Samui are left grasping for solutions. "In my opinion, they should have never asked people to leave because there's no reason for that—people here are already under control, they know where they are, who they are, they're spending money, they should have stayed," says Sergio Colombini, the general manager of Kapuhala, a wellness resort that opened in December.
Now, hopes rest on the proposed Special Tourist Visa. Officials hope this long-stay visa will bring 1,200 international tourists into Thailand each month, with a 14-day quarantine. Pending the scheme's success, the monthly quota is set to increase, while discussions are afoot to reduce the quarantine period to seven days. The scheme was scheduled to kick off in early October, with 120 Chinese tourists landing in Phuket, although it has since been delayed indefinitely. Without international flight access, it is still unclear how visitors will be transported to Samui, but a handful of hotels on the island have been approved as Alternative State Quarantine (ASQ) facilities to prepare for the potential return of tourists.



Melia Koh Samui

Opening Up
Whether tourists are ready to return to Thailand and willing to accept a two-week quarantine is another matter. "People who are planning to stay for two or three months will accept two weeks of quarantine if they make it affordable," predicts Colombini, while Melia's Lueke posits, "There will be people saying I don't mind [about quarantine]...for example retirees from Scandinavia—a country which has very decent spending power and is normally is dark and grisly from November until April—[will accept] two weeks in quarantine to then have three months here."
During 2020's extensive downtime, Samui's resorts have been busy readying themselves for the return of guests under the "new normal." "We opened the rooms [at Kapuhala] right before Christmas last year, so we were just ramping up when Covid came," says Columbini. "Honestly, it gave us a chance to really rethink and reshuffle things. It's very difficult right now…[but] we have learned a lot." Similarly, following years in the making, Melia Koh Samui was forced to close just months after its grand opening in January. "The fact that we opened the hotel and closed again allowed us to detect mistakes and opportunities, and we focused on training," says Melia's general manager, Ernesto Osuna. "Economically, it's going to be very difficult, so we can at least make sure that everybody who comes to the hotel has a super good stay," he adds. Meanwhile at Banyan Tree, hygiene manager Phakthima Naratthakit has been working hard to ensure the resort is Covid-proof, with daily temperature checks, mask-wearing, contactless service, and restricted facilities.
While hoteliers hope that such efforts coupled with Thailand's apparent success in containing the virus will ease travelers' minds when borders reopen, the question remains: are islanders ready to welcome back international tourists? Speaking with various locals, the general mood on the island is health over profits. While huge numbers of workers faced with pay cuts have returned to their home provinces, Miskawaan's Panprom confirms that some islanders are easing the economic impact of the pandemic by becoming more self-sufficient, such as growing their own vegetables and raising chickens, thus reducing the sense of urgency for the return of tourism.
Thailand's continued focus on zero new cases has led to hysteria surrounding minor outbreaks like the one in Rayong in April, doing little to quell public angst. "There's one case and the whole country wants to go into lockdown. Businesses cannot operate like this—they need stability," says Columbini. "It's better to stay closed than be scattered. Nobody makes money that way." Panprom also believes that the spread of misinformation is causing apprehension in the local community. "There is so much news about how bad [Covid] is so people get scared; they just listen to social media without knowing the facts," he says.
When asked whether the community is concerned about Samui's move to approve ASQ hotels, Panprom says, "Partly, yes. That's why they need to educate people that it's not dangerous... I think we are ready to bring tourists back, but we need to make sure locals understand that they will be protected." Looking to the capital for assurance, he adds, "We have examples in Bangkok and people are doing fine. A couple of hotels need to lead this, otherwise nothing's going to happen."

Banyan Tree Samui

Signs of Life
Proof that it's not all doom and gloom comes from Banyan Tree's feel-good news back in April, when the resort discovered green turtle nests on its beach. Under the watchful eye of the hotel's CSR manager and resident marine biologist, Thepsuda "Pueng" Loyjiw, the 200 hatchlings were released on Banyan Tree's secluded beach, giving them a fighting chance of survival. "Thailand's Department of Marine Natural Resources has shown that the number of turtle nests has decreased in the past decade because of beach activity and pollution from humans," says Pueng. "Covid may be one factor for the turtles coming to nest this year, as the beach is quiet, but it may also be to do with the reproductive cycle of the turtles."
This report is just one of many in recent months citing a regeneration of marine life in Samui and surrounding islands, suggesting the lack of tourists has played a part. Panprom, who recalls the idyllic concrete-free "Monkey Island" of his childhood, says that under Covid's quiet conditions, "The beaches, coconuts and everything are reviving. I had never seen turtles coming up from the beach before and I saw that two weeks ago for the first time in my life. [There is also] a whale shark coming up often in Koh Tao. You normally see this once a year, but now you see it all the time." He adds, "It's nice for me to see, but not for tourism."
Although Banyan Tree's sheltered bay has witnessed the regeneration of Samui's marine life, not every part of the island is so well protected. Bulin "Blue" Phungsomsak, a snorkeling instructor with Oceana Samui who has lived on the island for nine years, says there's good and bad to come out of the pandemic. While the lack of tourists has given the marine life time to rejuvenate, it's had an unwelcome side effect: "It's complex, because the people who take things from the environment are also the people who take care of the environment," explains Blue. "If we don't have tourists, we don't go to the places we usually go, so it will be quiet and good for the fish, but [then] there are some people who are just going there and taking what they want with fishing and spear guns."
Pueng points to another negative side effect of Covid on the island's natural environment. "The big problem that I have seen from the pandemic is the waste production resulting from humans protecting themselves. Waste from single use plastic items has increased; if this waste is not managed properly, it is flushed into the ocean." On the positive side, she notes that "carbon emissions from human activities have been reduced," adding that five percent of human carbon emissions is estimated to come from tourism activities.
So, what can we learn from the pandemic? "To restore the balance of natural resources, we must protect the environment," says Pueng. "At Banyan Tree, our brand ethos is to reduce carbon emissions through sustainable development, focusing not only on the conservation of natural resources, but on balancing economic and social security, sustainable supply chains, and responsible services." She believes that if all sectors, including the government, work together to set sustainable policies—such as reducing VAT on green products and raising awareness within the community—the future of Samui's natural landscape is hopeful.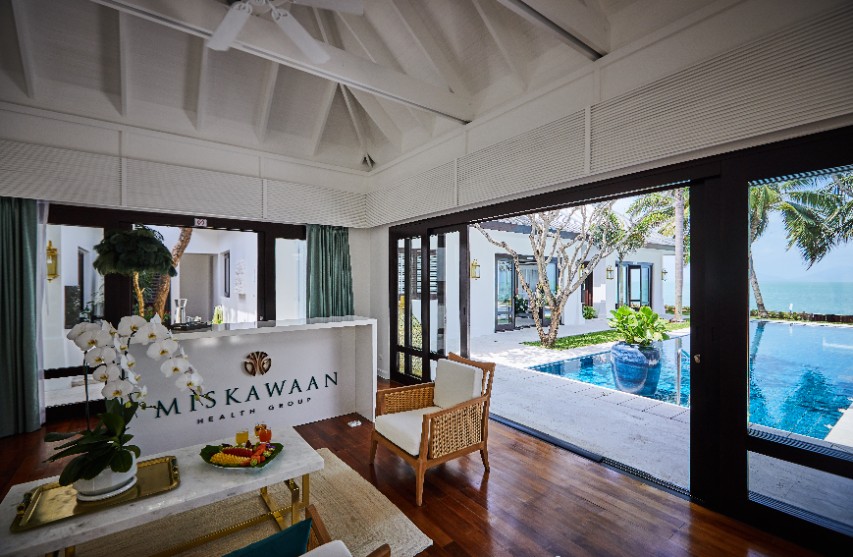 Healthy Outlook
As visions of a more sustainable tourism industry strike an optimistic tone, hope also rests in Samui's ability to appeal to visitors holding a new set of priorities. With health at the top of people's minds, the island's many wellness retreats are uniquely positioned to appeal to travelers in the wake of the pandemic. "Thailand is very supportive of healthcare—it had already been identified as one of the pillars of economic growth going forward, even pre-Covid," says Henning Kalwa, deputy CEO of Miskawaan Health Group. Earlier this year, Miskawaan expanded its long-standing luxury beach villas on Samui with a clinic that focuses on preventative, immune-boosting treatments, and functional medicine for chronic conditions. "Covid has put the spotlight on wellness and looking after your immune system," continues Kalwa. "We feel very strongly that we are in the right position to help as many patients as possible."
Similarly, wellness retreat Kapuhala hopes to appeal to visitors when the island reopens. A garden packed with organic fruit and vegetables that are utilized in the resort's plant-based restaurant, a calisthenic gym with ocean views, and a rooftop deck for sunrise yoga sessions are just a few of the appeals of this wellness oasis.
Samui's strength as a luxury destination coupled with its burgeoning wellness sector could provide the island with the strength needed to pull through and return better and more sustainable than ever. Until then, their hopes remain pegged to travelers in Thailand.
How to Get There
Bangkok Airways operates 10 return flights per day between Bangkok Suvarnabhumi and Koh Samui. Prices start from B3,900 return at bangkokair.com.
Essentials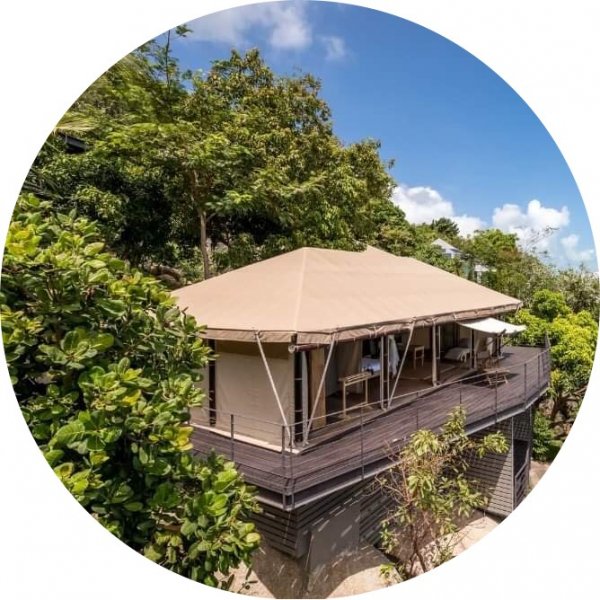 Kapuhala
Stay from B1,700/night (special introductory rate)
kapuhalasamui.com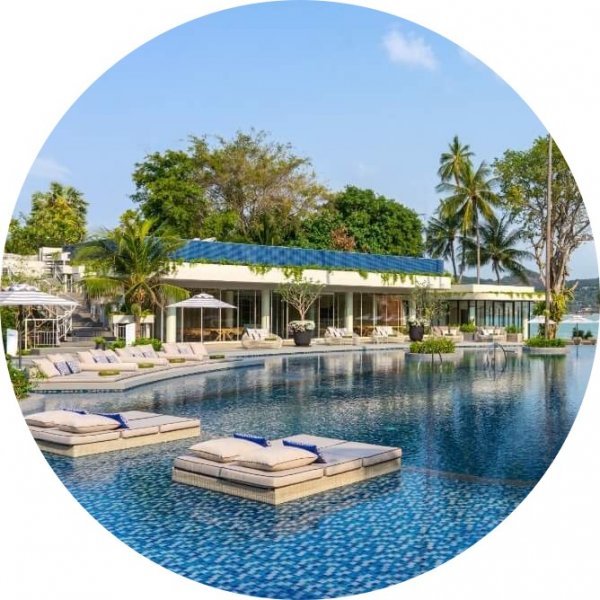 Melia Koh Samui
Stay from B2,400/night (over 40 percent discount)
bit.ly/2FYUmNF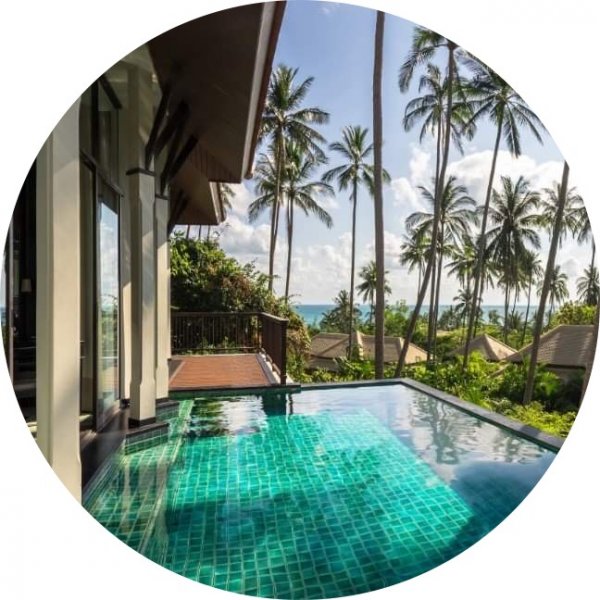 Banyan Tree Samui
Stay from B9,800/night (over 80 percent discount)
banyantree.com/en/thailand/samui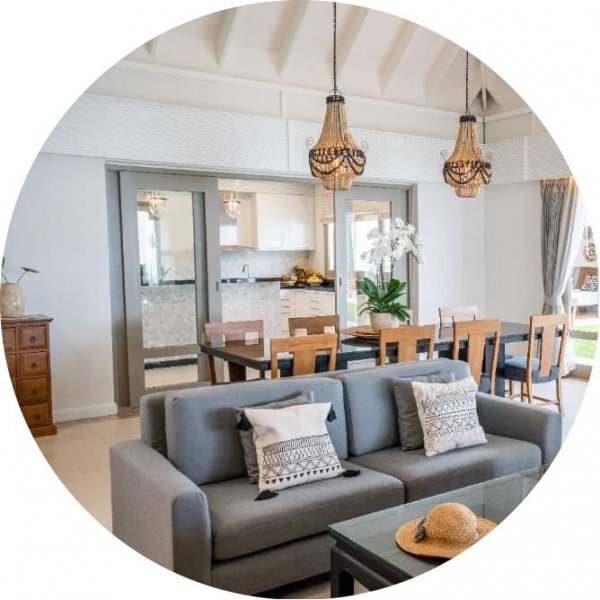 Miskawaan Luxury Beachfront Villas
Stay from B18,200/night for eight people (50 percent discount, available until Oct 31)
miskawaan.com