Chanthaburi is just four hours from Bangkok; roughly straight east, past Rayong on the way to Cambodia. It is set back from the sea, and sprawls alongside the Chanthaburi River. Chanthaboon Old Town is the most famous quarter; a melting pot of Thai, Chinese, Vietnamese and French culture that grew around international gem traders. Once a global epicenter for precious stones, the area now feels frozen in a bygone era—though the rows of timeworn, wooden-shuttered shophouses have been infiltrated by a growing number of hip coffee shops and boutiques.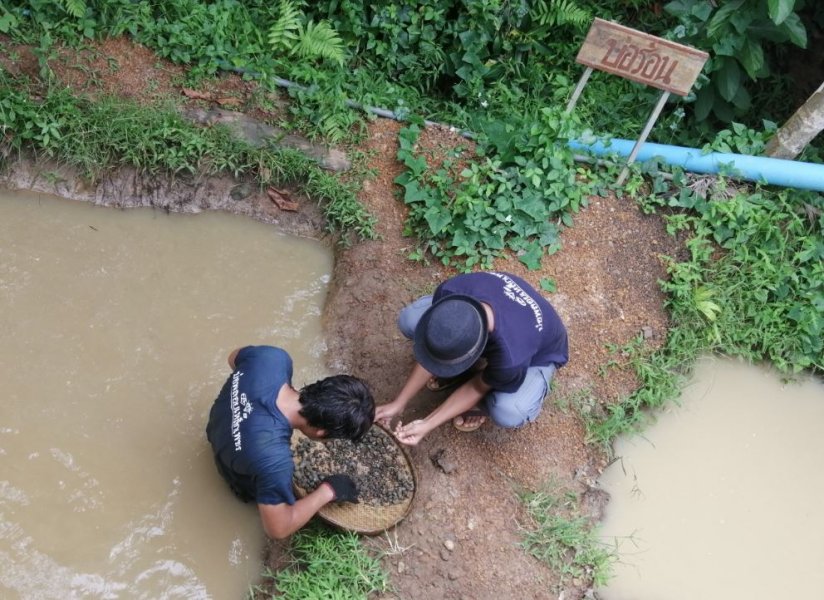 Hidden Gems
Historically, Chanthaburi was most famous for its rubies and sapphires. Though the province's mines are largely no longer operational, the community still revolves heavily around gem cutting, trading and jewelry making—as much as 80-percent of the world's colored gems are treated in Chanthaburi.
For insight, head to Bo Ploy Lek Petch Community Center (11 Siphaya, Tha Mai District, 087-822-9138. Open daily 10:30am-4:30pm. B350), a century-old gemstone mine located 20 minutes west of the old town. Here, you can watch demonstrations of traditional mining methods, and even try it yourself—prepare to get wet (outfits provided). Soil is collected from flooded pits as deep as four meters, then brought to the surface in buckets to be shaken and sifted. If you're lucky, the site's gemstone-rich land will yield results. Bonus: the center is also home to a small fruit garden. That means you can watch the staff harvest a juicy buffet of whatever's in season—longan, rambutan, mangosteen and creamy durian.
---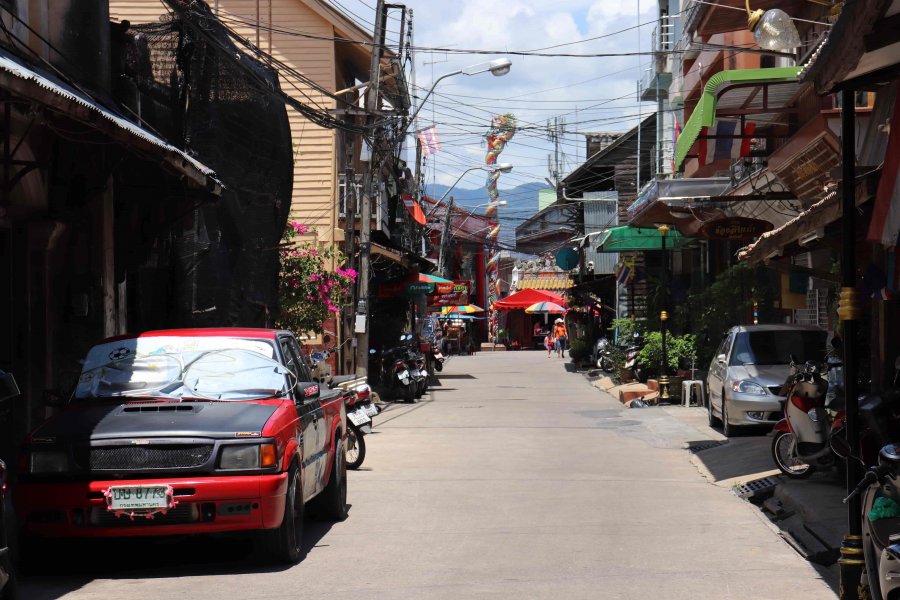 Old Town
The Chanthaburi River Community Cultural Center (69 Sukhaphiban Rd., 081-945-5761. Open Tue-Sun 10:30am-4pm) has even more insight into the region's 300 years of local history, punctuated by displays of old photographs and traditional clothing. It's also a great chance to get inside one of the old shophouses.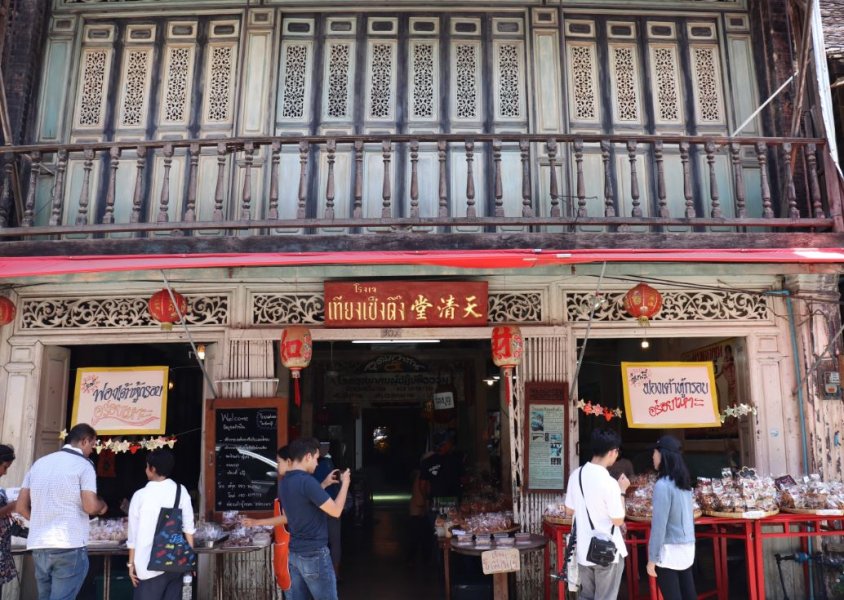 Grab some fong tao hu grob (crispy fried tofu) at 100-year-old Chinese shrine-slash-jay canteen Tiang Seng Teng (โรงเจเทียงเซียงตึ้ง, 129 Sukhaphiban Rd., 039-351-775) before taking a break at one of many cute cafes—like C.A.P (161/2 Sukhaphiban Rd., 085-499-6266), Sometimes Coffee & Gallery (235 Sukhaphiban Rd., 096-183-8516), or Fu Cafe (intersection of Pracha Niyom and Sukhaphiban roads, 092-906-2244).
For lunch, make your way to the stylishly white-washed Chanthorn Pochana (102/5-8 Benjamarachutis Rd.) for a feast of traditional Chanthaburi pork curry with sour chamuang leaves (B120), Chanthaburi-style fried noodles with crab (B50-100), and hot and sour soup with snapper and snake fruit (B200-300).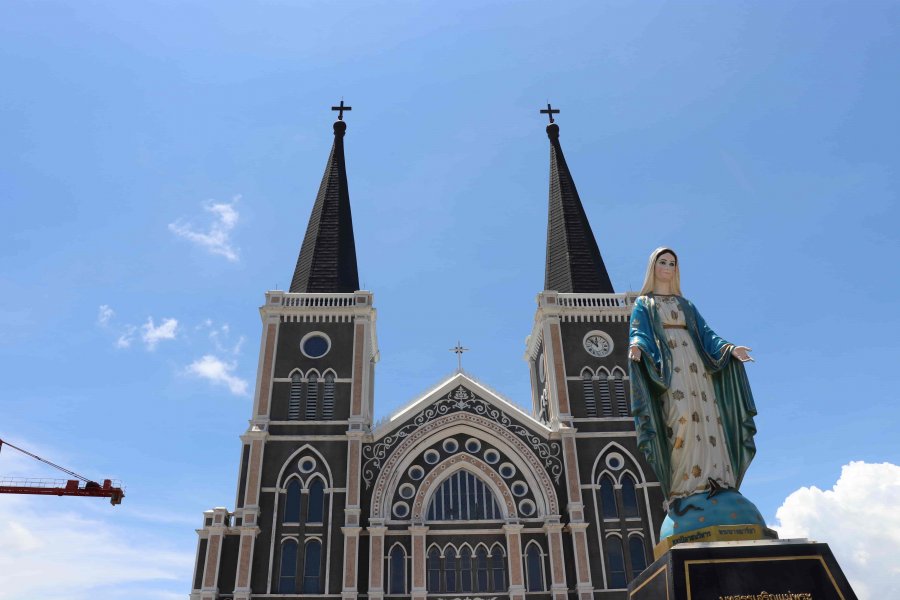 Gothic Madonna
Chanthaburi's unique blend of cultures results in a melodious mish-mash of temples and shrines within a small area. The most striking and unexpected is Thailand's answer to Notre Dame—the Cathedral of the Immaculate Conception (110 Soi 1 Mu 10). Located minutes' walk from the Old Town across Wat Chan Bridge, this surreal grey-turreted Gothic spectacle was built in the late 19th century—over the course of 20 years—and was opened to the public just 12 years ago, following renovations.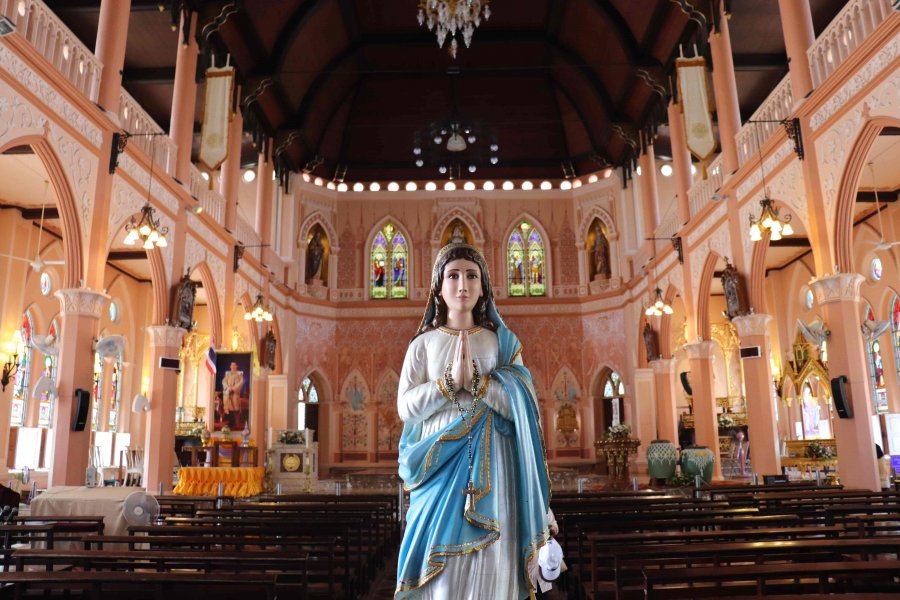 Once inside, be sure to raise your eyes to roof, which is shaped like a boat to commemorate the journey of the first Vietnamese migrants to the region. The 300-year-old immigrant community helped build the cathedral. The cathedral's peach-pink walls are punctuated by ornamental stucco, while colorful light streams through stained glass windows portraying Christian saints. Don't miss the most recent and extravagant addition to the ensemble: a glittering statue of Mary cast from 76kg of silver, and girded with approximately 200,000 white gems and blue sapphires. It was crafted and unveiled to mark the cathedral's hundredth year. To see the cathedral in use, head there for daily Mass (6am or 7pm).
---

Getting There
Located a mere four hours' drive from Bangkok, it's a wonder Chanthaburi isn't more overrun with tourists. Regular buses depart from Mo Chit, Ekkamai and Suvarnabhumi—priced B200-300, each way. Or consider combining your trip with a visit to neighboring Trat, located just one hour's drive to the east. Trat is served by Bangkok Airways (from B4,000 return).
---
Where to Stay
Credit: Baan Luang Rajamaitri
Chanthaburi's Old Town has garnered applause for reviving the Chanthaboon riverside community. In 2009, the Arsom Silp Institute of the Arts began working with locals to preserve and renovate old buildings—including this two-story, 150-year-old wooden house, belonging to the third generation of the Luang Rajamaitri family. It is now the most checked-in spot in town, and the beautifully preserved boutique hotel offers rooms imbued with Chanthaburi heritage. The space also acts like a living museum; filled with antiques and artefacts. Grab a room with a balcony overhanging the river for B1,890/night. The decor is a traditional yet elegant mix of dark wood, white curtain-framed beds and framed historic photographs.
252 Sukhaphibaln Rd., 088-843-4516, 081-915-8815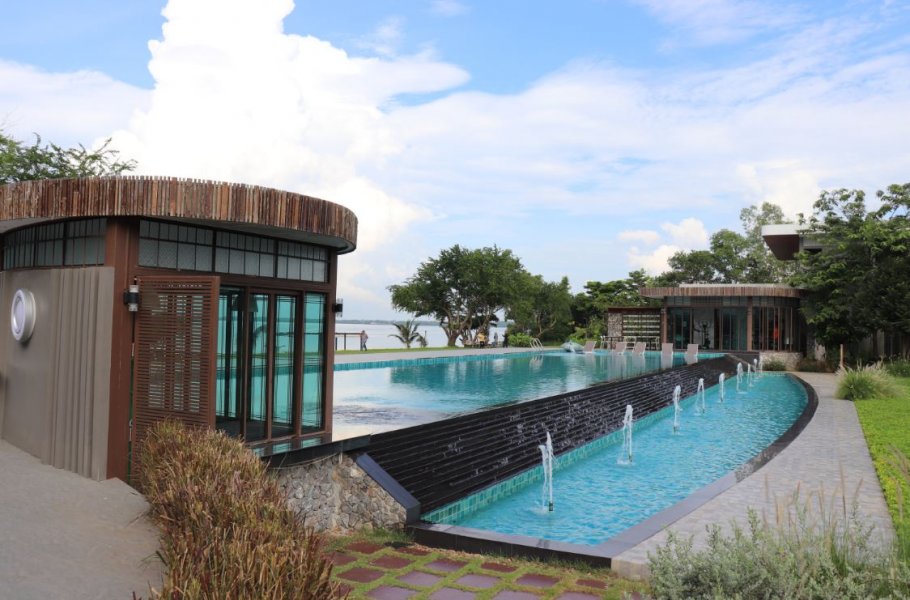 Completed in 2018, this modern, four-star bayside hotel is located 25 minutes' drive from the Chanthaburi Old Town. The property sits on the waterfront, with stunning views encompassing the large pool, a koi pond filled with lotus flowers and the bay and hills beyond. The fisherman-themed decor translates to plenty of natural materials and curved lines. Come evening, listen to live music at the waterside Bangmanao Restaurant and bar—just be sure to cover up, as mosquitoes are rife. Rooms run from B2,000/night, with pet-friendly rooms priced at B2,500 and deluxe Jacuzzi rooms at B3,500. Situated just an hour-plus drive from Trat's Laem Ngop, this hotel serves as an excellent jumping off point for onward travel to neighboring islands like Koh Chang and Koh Mak.
76 Nongbua M.10, Nong Bua, 081-575-8339
---