---
ATTRACTIONS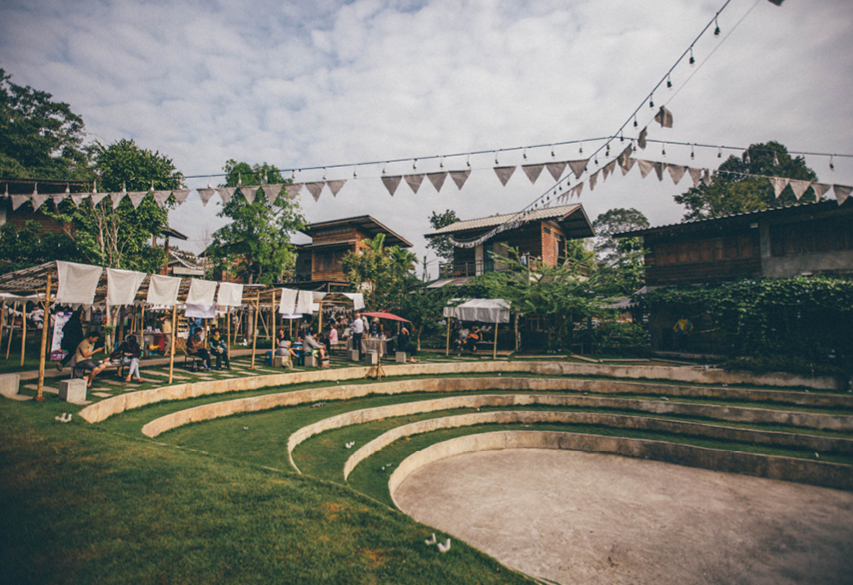 Baan Kang Wat
A sustainbility-focused community mall whose vendors are all about giving back to society through selling socially responsible products. With a name that directly translates to "the house by the temple," the mall takes pride in its down-to-earth, homey vibes with local brand shops including a book store, art gallery and Thai restaurants. Drop by for community-based yard sales, workshops, film festivals and flea markets.
Opposite Wat Ram Poeng, 191-197 Soi Wat Umong, Suthep. Open daily 10am-6pm.
Maiiam Contemporary Art Museum
The most ambitious modern art museum in Thailand sits in a converted 3,000-sq-meter warehouse. Inside is a mix of rotating and permanent exhibitions from the personal collections of Jean Michel Beurdeley and his late wife Patsri Bunnag, together with their son Eric Bunnag Booth (Jim Thompson's international marketing director). The focus is on emerging local artists and contemporary masters like the late Montien Boonma, Navin Rawanchaikul and Rirkrit Tiravanija.
122 Moo 7, Tonpao, Sankampheang, 081-386-6899. Open Wed-Sun 10am-6pm; Mon 10am-6pm.
Credit:

Panupong Roopyai
Via Wikimedia Commons
Wat Phra Singh
The Buddhist temple at the end of Ratchadamnoen Road is one of the oldest in Thailand, with parts of it dating right back to the 1300s. The complex's main attraction, Wihan Lai Kham, was built in 1345 to house the revered Phra Buddha Sihing statue, itself a relic of the 13th century.
Ratchadamnoen Rd., 053-248-604-5. Open daily 8am-5pm.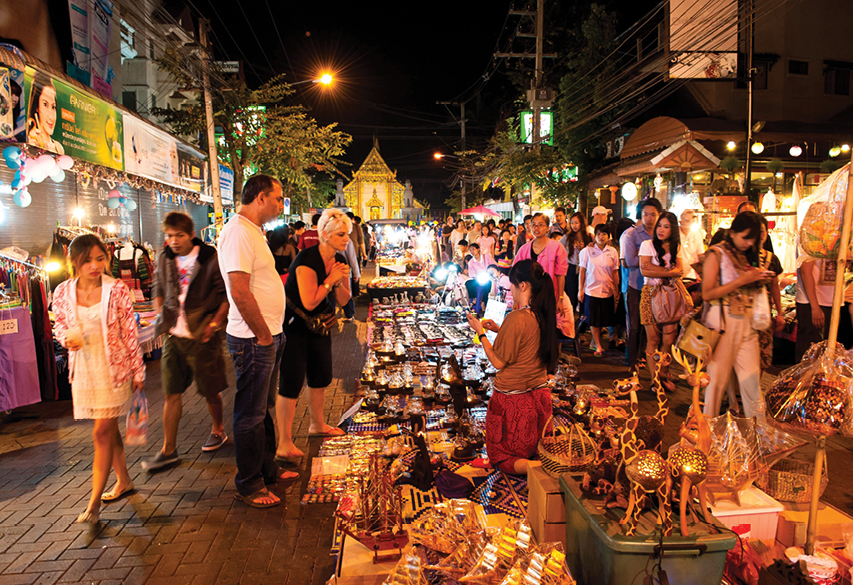 Credit: www.
thai.tourismthailand.org
Weekend Market
Chiang Mai's Old Town is especially energetic at the weekend, when locals flock to the two walking streets. One is at Waulai Road and open every Saturday night, and the other between Thapae Gate and Ratchadamneon Road every Sunday. Both are filled with street food, arts, handicrafts and souvenirs along with design work reflecting Lanna's creative heritage. Waulai Walking Street is open Sat 5-11pm; Thapae Walking Street is open on Sat 6-10pm.
---
LOCAL DINING
Huen Penh Restaurant
Elegantly plated, authentically Northern cuisine like sai oua (Northern sausage), gaeng hang lay (pork curry) and namprik num (green pepper dip) get served in a warren of rooms filled with Lanna artefacts.
112 Ratchamankha Rd., Phra Singh, 053-814-548. Open daily 8:30am-4:30pm, 5-10pm.
Khum Vieng Yong
Ten minutes from the city center is this homey restaurant where you can sample Northern delicacies like namprik num, khua hed thob (mushroom soup) and khai mod dang (ant eggs) at pocket-friendly prices.
9/9 Liab Klong Chonlapratan Rd., Suthep, 053-329-244-5. Open daily 11am-9pm.
Tueng Chiang Mai
The six-year-old restaurant last year traded in its old digs for this folk-meets-modern space; think thatched triangle roof adorned with dangling light bulbs and bamboo rice containers. The kitchen serves delicious traditional Northern food as always.
6N Project, 63/9 Moo 14, Soi Wat U-mong, Suthep, 091-076-6100, 093-970-6885. Open daily 9am-9pm.
Credit:
www.facebook.com/kadnomsen
Kad Nom Sen
This retro restaurant is all about Chiang Rai-style kanomjeen (rice vermicelli), which means thicker curries and the added potency of sun-dried fermented bean sheets. The place itself is also a delight, set in a traditional wooden house filled with fabrics and other old-school markers. Other local treats include khao kan jin (steamed pork blood rice) and mouth-watering desserts such as cold purple sangkhaya, a style of egg custard which gets its color from butterfly pea leaves.
50/1 Charoensuk Rd, Chang Phueak, Mueang, 061-265-0002. Open Thu-Sun 9am-6pm; Mon 9am-6pm; Tue 9am-6pm.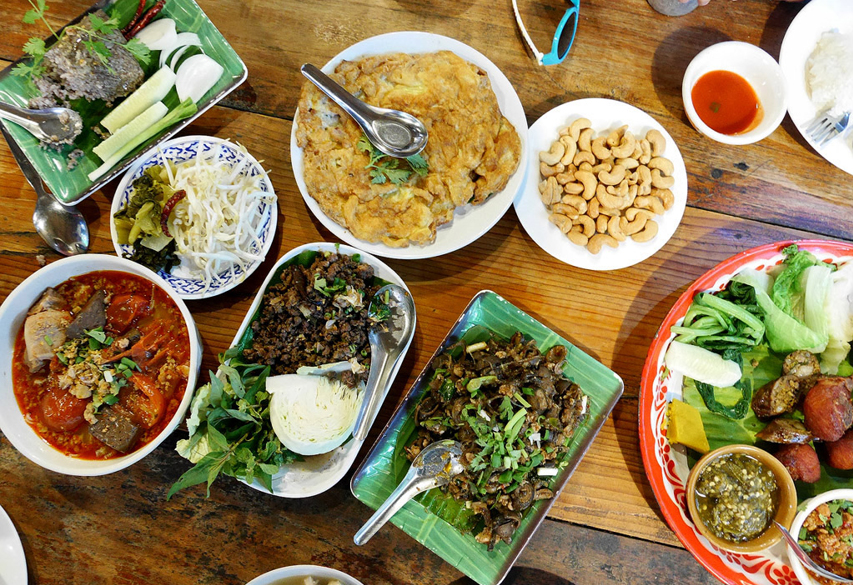 Huen Muan Jai
This Lanna restaurant serves up uncompromised flavors from a chef who's even featured on the local Iron Chef TV cooking competition. The environment is charmingly makeshift and plating authentically unpretentious.
24 Ratchapruk Rd., Changpuak, 053- 404-998, 089-701-2894. Open Thu-Tue 10am-10pm.
---
CAFES
Akha Ama
Visiting Wat Phra Singh temple? Make sure you drop by this renouned nearby coffee spot. The decor might be an en vogue blend of blond woods and quaint illustrations, but that doesn't mean they're not deadly serious about their coffee beans, which are produced by the Akha hilltribe community in Chiang Rai—to whom all profits go back.
9/1 Mata Apartment, Hussadhisewee Soi 3, Chang Phuak., 086-915-8600. Open Thu-Tue 10am-6pm. ther branch: Ratchadamnoen Rd., Phra Singh, 086-915-8600. Open Thu-Tue 10am-6pm.
Ristr8to Lab
Award-winning barista Arnon Thitiprasert's second coffee shop showcases what he's learned from various coffee-making competitions. We recommend the experimental coffee-based alcoholic drinks such as the Ethiopian Monkey (hot mocha with creme de menthe).
Nimmanhemin Rd., between soi 3 and 5, 053- 215-278. Open Wed-Mon 7am-6pm.
Nine One Coffee
Local coffee grower Wullop Pasananon fell into the industry after obtaining a piece of land on Chiang Mai's outskirts. After realizing the environment was perfect for growing coffee, he began teaching himself how to farm beans organically. Other branch: 30 Moo 2, Pamiang, Doi Saket.
Nimmanhemin Soi 11, 081-171-7575. Open Wed-Sun 8am-8pm.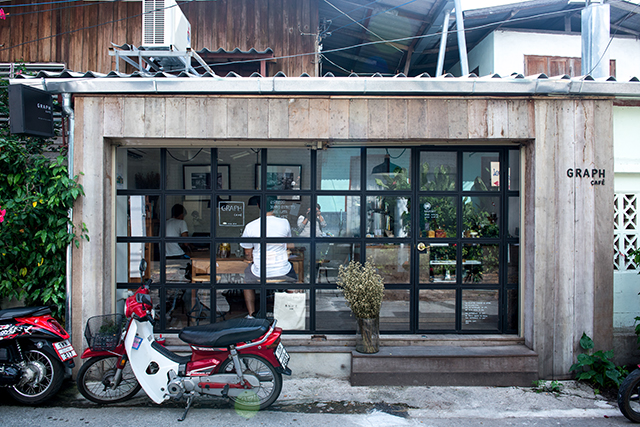 Graph
Probably the tiniest cafe in Chiang Mai, it draws in the caffeine-loving crowd with brews that focus on medium-roasted Chiang Mai and Chiang Rai beans. Their bestselling cold-brew coffee is a hit with the town's cool kids.
25/1 Ratvithi Lane 2 Sriphum, 086-567-3330. Open daily 9am-5pm.
Credit:
www.facebook.com/Thelaboratoryhotel
A Cross the Universe
The tall French windows and arched ceiling will transport you to a European chapel, but the menu is all about Western-Thai fusion food. Dishes like spaghetti pad ki-mao (a form of spicy stir fry) are so popular locally that they are adopted into the culture. They also specialize in drip coffee, which you can enjoy with waffles made with brownie batter topped with strawberry crumble.
64 Sirimangkalajarn Rd., Suthep, 084-914-4539. Open daily 10am-10pm.
---
NIGHTLIFE
Credit:
www.facebook.com/drinksmithcnx
Drinksmith
On top of trending classic cocktails from the old fashioned to the negroni, the bar's signature creations are all about using local flavors and fruity house infusions. All the magic happens behind a long wooden bar, where bartenders muddle and shake before beautifully decorated shelves of liquor. They serve bistro-style brunch items and coffees during the day, while dinner spotlights meaty dishes.
179/26 Mahidol Rd., 064-648-6020. Open Tue-Sun from 9am-midnight.
On the Ping
Set right beside Chiang Mai's Ping River, in the stretch of town teeming with gorgeous local fashion boutiques, On the Ping offers an airy terrace just perfect for that late-afternoon glass of white wine. Live jazz bands take the stage every Friday and Saturday, while the menu offers pleasing Thai and Western staples taken from the adjoining boutique hotel.
49 Charoenrajd Rd., Wat Ket, 053-242-588. Open daily 7am-11pm.
North Gate Jazz
With only a few places to listen to jazz in Chiang Mai, this small building just outside the Old Town often gets packed, and with good reason. The live acts are always electric, pulling in a return crowd of expats, locals and plenty of visitors to the ramshackle yet charming space.
95/1-2 Sri Phum Rd., Sri Phum, 081-765-5246. Open daily 7pm-midnight.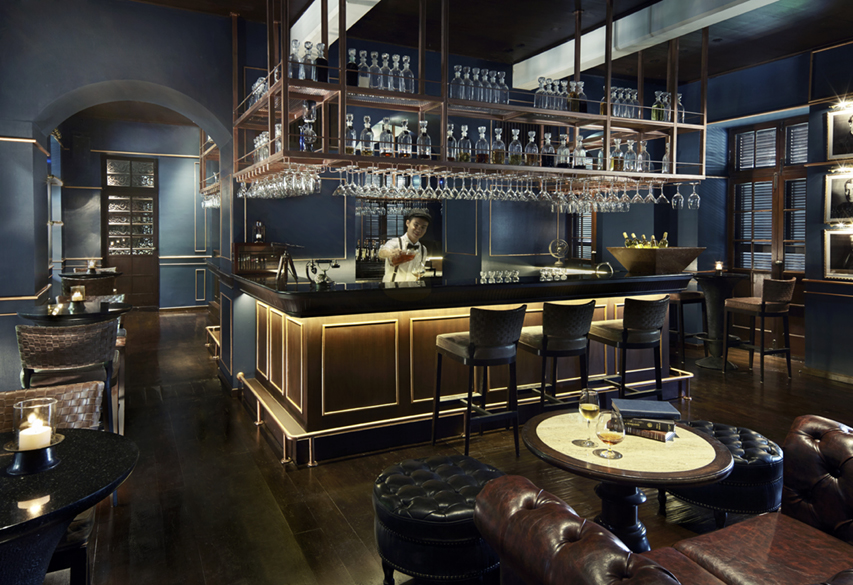 The Service 1921
The team behind uber-popular Bangkok establishments Charcoal and Above Eleven designed this chic bar in a restored colonial mansion that formerly served as the British Consulate of Chiang Mai. Reimagined as a hidden stronghold of the British government's secret intelligence service, the venue is filled with fictitious spy paraphernalia to go with the list of cocktails with Asian twists, as well as a separate whiskey and cigar lounge.
123-123/1 Charoenprathet Rd., Changklan, 053-253-385. Open daily 11:30am-2:30pm, 6-11pm.
Namton's House Bar
This is the best-rated spot in Chiang Mai for serious craft beer aficionados. One wall is dedicated to a dozen taps pouring out the likes of Anderson Valley, Mikkeller, BrewDog and Evil Twin, while a whole lot more is available by the bottle. It's all served on a charmingly sunlight-dappled terrace, with a good quota of drinking food like burgers and fries.
196/2 Amphoe Muang, 086-911-1207. Open Thu-Tue 3-11pm.
---
HEALTH & WELLNESS
Fah Lanna
Visiting this spa right in the heart of Chiang Mai's Old Town feels like stepping into a jungle retreat. Rustic wooden walkways perched above water lead the way to various treatment suites, each one shaded by a verdant array of bamboo and other plantlife. As well as traditional Thai massage, you'll find reiki healing, oil massage, beauty treatments, waxing and all-day pampering packages.
57, 57/1 Wiang Kaew Rd., Ampur Muang, 053-416191, 088-804-9984. Open daily 10am-10pm.
Oasis Spa
Equipped with jacuzzis, outdoor showers and steam baths, it offers a full spa menu with treatments that combine the best of ancient Thai traditional medicine with modern wellness techniques. Take your pick from the scrubs, wraps, body massages and facial treatments — all set in the privacy of your own garden treatment villa.
102 Sirimuangklajan Rd., 053- 920-111. Open daily 10am-10pm. Other branches: 4 Sam Larn Rd., Phra Singh, 053-920-111.; 199/135 Baan Nai Fun 2, Mae Hia, 053-920-111.;35 Rattanakosin Rd., Wat Gate, 053-920-111.
Credit:
www.dharadhevi.com
The Dheva Spa
Situated in the luxurious Dhara Dhevi resort, this spa is a stunning recreation of a traditional Mandalay-style temple, decorated with replica moldings and sculptures. It offers European, Asian and North African treatments, as well as Indian Ayurvedic massage and various yoga programs.
The Dhara Dhevi Chiang Mai, 51/4 Chiang Mai- Sankampaeng Rd., Moo 1, T. Tasala, A. Muang, 053- 888-888. Open daily 9am-10pm.
Credit:
www.rarinjinda.com
The Rarinjinda Wellness Spa
Set in the boutique Rarinjinda resort, this spa offers a variety of treatments ranging from traditional Thai massage to aromatherapy and hydrotherapy. We recommend the 60-minute Splashy Vichy Massage, which sees your whole body massaged by warm jets of water from a series of showerheads.
14 Charoenraj Rd., Wat Gate, 053-247-000. Open daily 9am-midnight.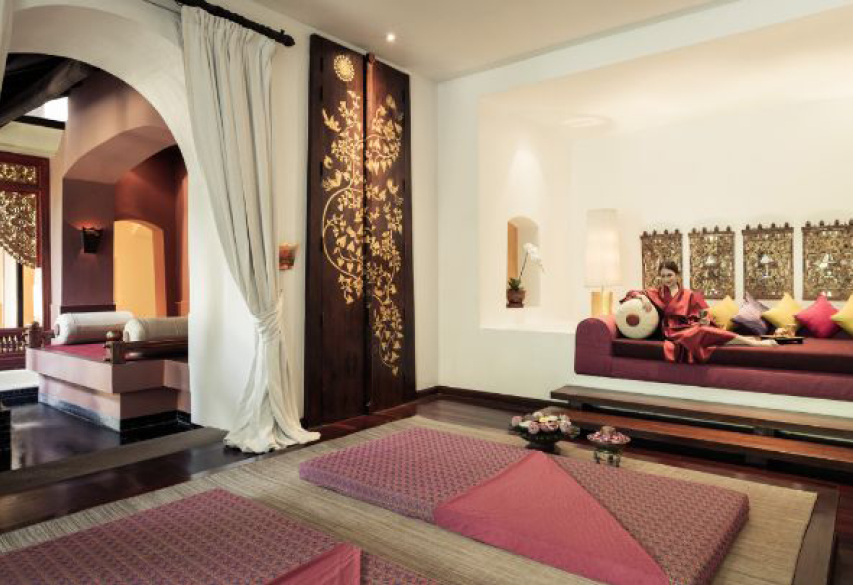 Credit:
www.fourseasons.com/chiangmai
The Spa at Four Seasons Resort
Decorated in a luxe Lanna style, the seven spacious private treatment suites are all equipped with outdoor showers, private herbal steam rooms and outdoor soaking tubs. Focusing on the use of organic Thai herbs, aromatic oils and quality products from England, the spa offers an extensive menu covering massages, facial treatments and yoga.
502 Moo 1, Mae Rim-Samoeng Old Rd., 053-298-181. Open daily 9am-11pm.
---
For the latest travel news around Thailand and Southeast Asia follow BK Escapes.