Chiang Mai got its name, which means "new city," after its founding as the capital of Lanna. Well, a lot's changed since 1296, but the city continues to hold true to its name, reinventing itself each year. Whether by leading the country's coffee scene, witnessing a renaissance of boutique hotels or catching the farm-to-table bandwagon, every year Chiang Mai has more reasons for us to visit. So, what's new in the new city? Here's the list.
---
Key
= Restaurant
= Bar

= Cafe
= Attraction
---
Downtown Destinations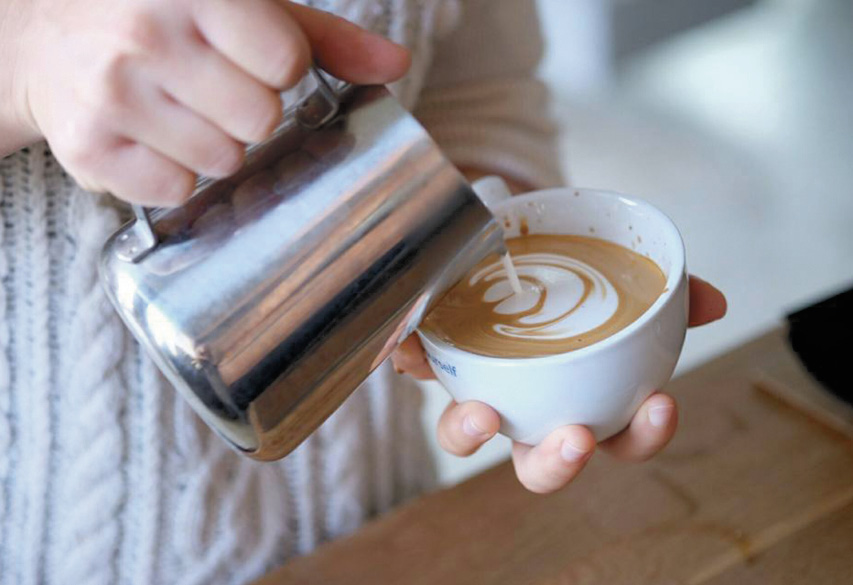 186 Cafe & Bar
The red brick and naked cement of this cafe combine for a modest industrial style that gives away nothing of the coffee prowess within. You'll find the telltale coffee accoutrements here, from Aeropress to siphon, but that doesn't mean the espresso-standards of mocha (B65) and cappuccino (B55) aren't worth your time. The creme brulee (B85) comes in sharing-size and the strawberry mousse (B85) has an agreeable quantity of dark and white chocolate. Sip your drink while taking in the sabai-sabai atmosphere and abundant light from the big glass windows.
186 San Sai Rd., 081-846-7583. Open Thu-Tue 8am-5:30pm
A Cross the Universe
The design of this cafe could be called "minimalist church." Don't let the vaulted ceiling deceive you, the fare is downright decadent. Operating daily from 11am-11pm, the place serves up fusion dishes like keemao spaghetti (B145), slow-drip coffee (B95) and desserts like the brownie waffle strawberry crumble (B145). There are plug points and free Wi-Fi so you can while away the hours.
64 Sirimangkarajarn Rd., 081-855-6686. Open daily 10am-11pm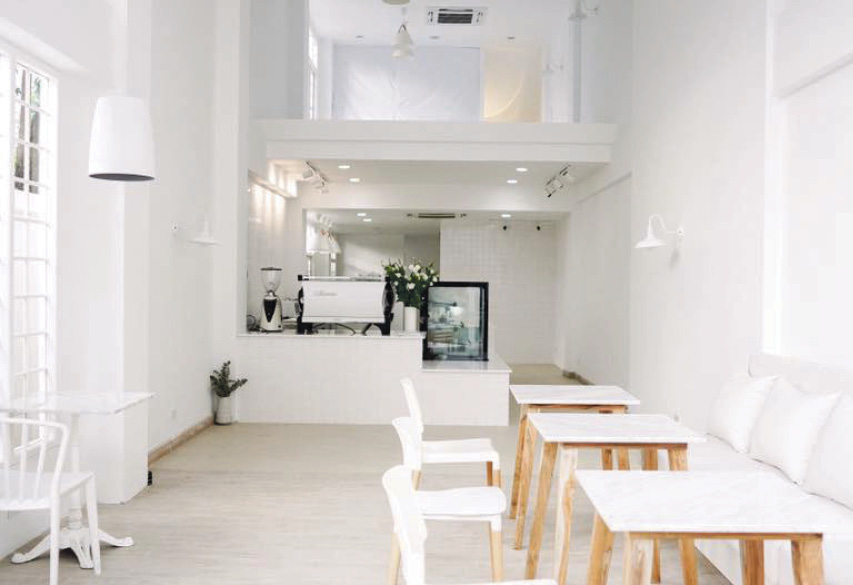 The Baristro Cafe
Outside, you'll find a set of clean white chairs, tables and umbrellas. Step further in and it's still white-heavy: a loft done in minimalist chic, like a page out of Kinfolk. As the second branch of Baristro by Guu, the focus here is on quality cold brew and nitro coffee (B120), cute cakes (around B99) and bingsu shaved ice in funky flavors like pandanus (B129). The second floor is a small co-working space.
7/2 Nimmanhaemin Soi 9, 093-494-4599. Open daily 8am-6pm
Bombay Hut
Bombay Hut's multi-course meals chart home-style yet complex Thai and Indian flavors in a gorgeous, antique-filled house. The restaurant is reservation-only, with lunch starting at B280/person and dinner at B550/person. Call to book and request popular dishes, like the zesty raw mango salad or liver pate. The more adventurous, though, will leave the meal in the capable hands of chef Kroongtana "Chang" Nimnu, whose creative menus might feature anything from a chicken green korma to wild rice pudding. Finish off with a heady masala chai tea.
Chotana Rd., Don Kaeo, Mae Rim district, 090-252-0563. Open daily 12-10pm
The Canteen
Don't expect a traditional Spanish tapas spread here—the cuisines on offer include Middle Eastern, Italian, Indian, Thai… We'll call it modern international. The menu's organized into three manageable sections: vegan, vegetarian and non-vegetarian. Diners recommend the roasted broccoli with miso sesame dressing (B60), the six-hour pork shoulder ragu (B70), and the creamy baba ghanoush (grilled eggplant dip, B60).
38 Ratvithi Rd., 086-128-8128. Open daily Mon-Sat 6-11pm
Chiang Mai National Museum
Built in 1969 to house the region's finest Lanna and Buddhist treasures, the museum, while rough around the edges over the past few years, had always provided one of the richest collections of artwork in Thailand spread across 16 rooms. After a four-year renovation, the beautiful architectural relics and ancient bronze Buddha castings got the space they deserve, with lighting worthy of the finest international museums, 3D imaging and updated research on each of the exhibits. Entry price for Thais is B30 and B100 for foreigners.
451 Superhighway Rd., 053-221-308. Open Wed-Sun 9am-4pm
La Fourchette
Decor-wise, this French bistro's taken Amelie as its style guide—it's so quirky as to be romantic. The food is served up with equal charm. Indulge in the classics: French onion soup (B180), Chateaubriand beef tenderloin (B1,480) and a bitter-sweet Swiss chocolate truffle (B80). Chef Evalet "Oh" Sadrugk often makes an appearance in the dining room, sometimes (for a lucky few) with a plate of complimentary desserts in hand.
162/2 Prappoklao Rd., Tambon Prasing, 053-277-482 Open Mon-Sat 6-11pm
Hungry Bird
This space is divided into three parts. The first, Hungry Bird, serves up vegetarian dishes like khao soi (B79) and pineapple fried rice (B79) from an open kitchen. Next, Greedy Beast presents a big spread of homemade breads fresh out the oven, such as banana walnut bread and flourless chocolate cake. The last section is a basic kitchen and common area for guests staying at the hostel. Thirsty? There's coffee and craft beer, too.
181 Moonmuang Soi 6, 053-289654. Open daily 9am-5pm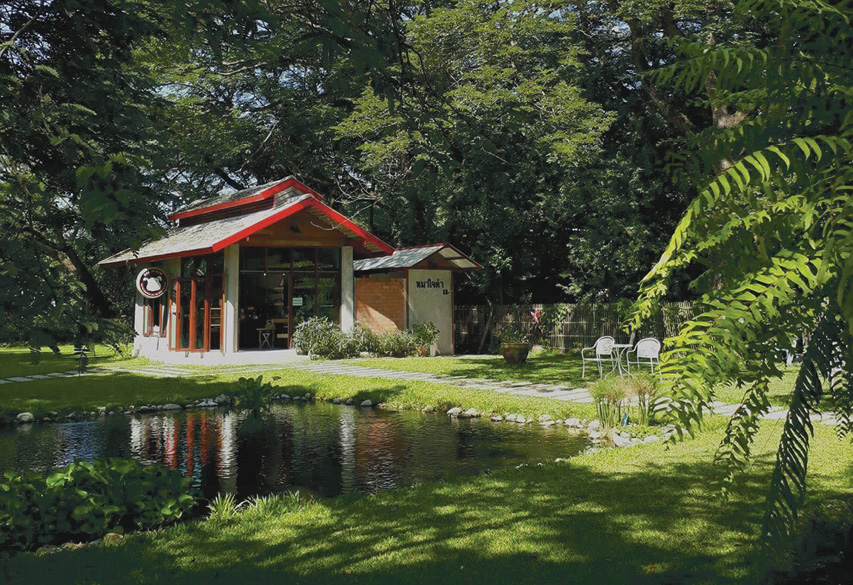 Maajaidum Cafe
For over 10 years, Maajaidum has provided Chiang Mai with local booze made out of potatoes that tastes kind of like vodka. Now, the brand has moved into its own coffee shop, giving you an excuse to get tipsy during the daytime. Take your coffee as a jelly-and-Maajaidum shot (B75), or as a rich chocolate liqueur with the Maajaidum Brownie (B70). There are some alcohol free-drinks and sweets, too, served up in a cute backyard space.
141 Moo 7 Tumbon Mae Pooca, San Kamphaeng, 085-030-5003, 081-993-0050. Open daily 9am-6pm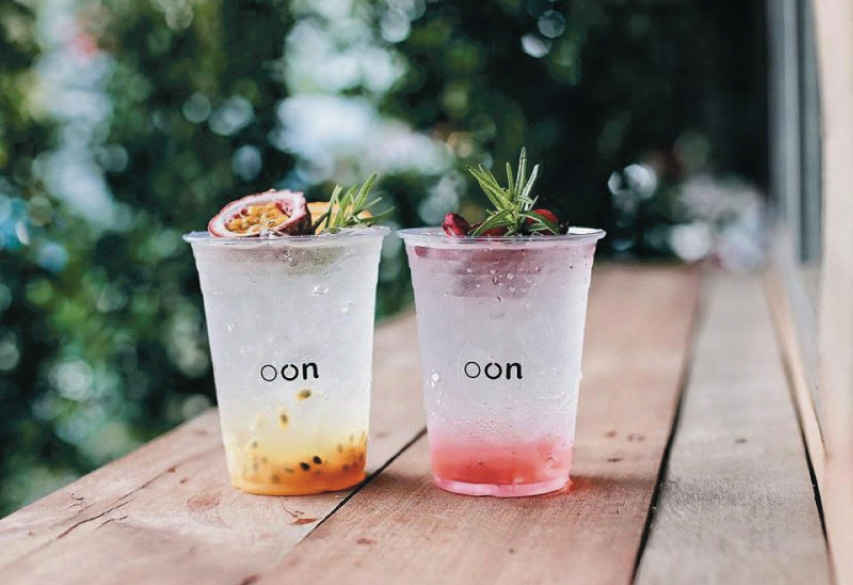 Oon Poshtel Cafe
This cafe's done in simple pink and white, and adorned with plants and hanging lamps. Try the fresh fruit smoothies like mixed berry with yogurt (B90) and lychee rose Italian soda (B65). Morning sets come in every variety: coffee and a pastry (B95), coffee and cake (B130), tea and a pastry (B115) or tea and cake (B145), available from 8-11am daily. There are a few wooden tables and stools outside of the store too—if you want to enjoy that elusive winter breeze.
56 Chaiyaphom Rd., 085-653-8489. Open daily 8am-8pm.
Drinksmith
Taking over a quiet spot on Mahidol Road just outside the Old Town, this serious cocktail bar oozes Parisian charm through its blue walls adorned with square photograph frames, wooden stools and moody lighting. The magic happens behind a long wooden bar, where local bartenders muddle and shake before beautifully decorated shelves of liquor. On top of the classics, the bar's signature (from B250) creations are all about using local flavors and fruity house infusions.
107 Mahidol Rd., Hai Ya, 064-648-6020. Open Tue-Sun from 9am-midnight.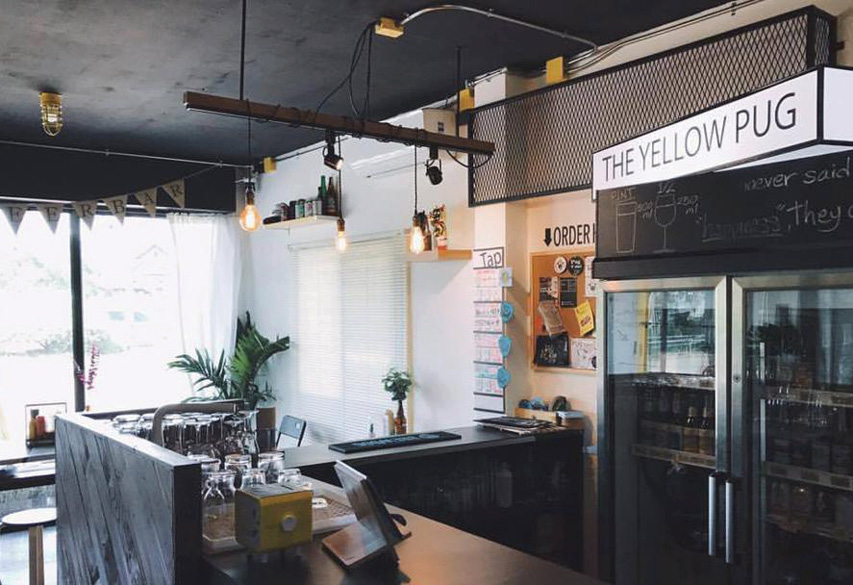 The Yellow Pug
This cozy craft beer bar brings bottle-shop culture to the Northern capital. That means you can go up to the fridge and grab your own brew from the selection of 60-70 international craft beers (prices start at B150). They also have a few taps, mostly pouring strong-character American stuff. Don't know where to start? Ask owner Nuttapol Onkwanmuang, the friendly Chiang Mai native who knows all about the rarest new arrivals. They also serve comfort dishes like Vienna sausage with potato fries (B120), grilled beef skewers (B140) and hamburg steak (B170), and host the occasional live music night.
44/08 Second Ring Rd., Chiang Mai, 089-559-8080.
---
Into the Woods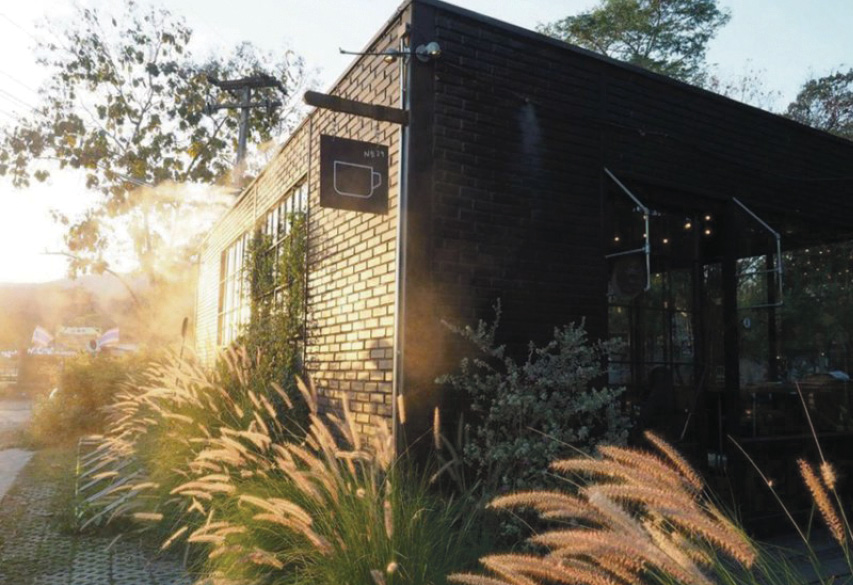 No.39
This hip glasshouse cafe is nestled in a pond-side thicket of trees. When the weather's not too hot, sit outside beside the water and enjoy a latte (B75) that will live up to Chiang Mai's reputation for good coffee. There are three indoor spaces, including one converted from an old Thai house. As well as burgers (B150-B180) and fries (B70), they do a mean triple chocolate cake (B100) and fudgy brownie (B60).
39/2 Moo 10, Suthep, Muang, 052-076-158. Open daily 9:30am-7pm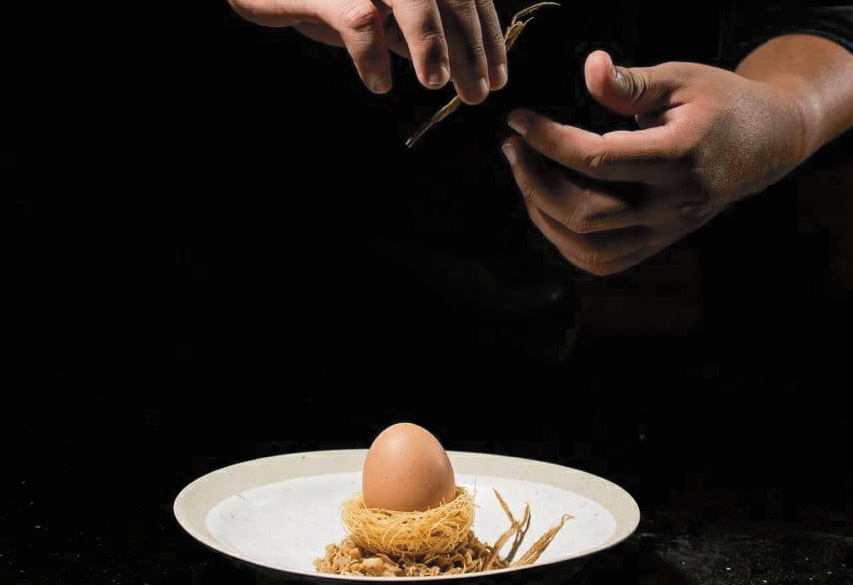 Cuisine de Garden
Long-time Chiang Mai fine-dining fave Cuisine de Garden has moved to a new location with infinitely more charm. The space keeps things rustic with an open kitchen and interior scattered with logs ready for the fire, which they also use to grill their meat. Longan tree charcoal infuses the steaks and chops with a sweet aroma. The Full Course Dinner set (B990/person) lets you pick four courses. We suggest you try "Nest," an organic egg cooked at 63.5 degrees Celsius for 45 minutes served with chicken on a nest of crispy noodles, the whole apparatus finished off with fragrant porcini-shiitake mushroom powder and truffle oil.
99 Moo 11, Nong Kwai, Hang Dong, 053-441-599. Open Tue-Sun noon-2pm, 6-10pm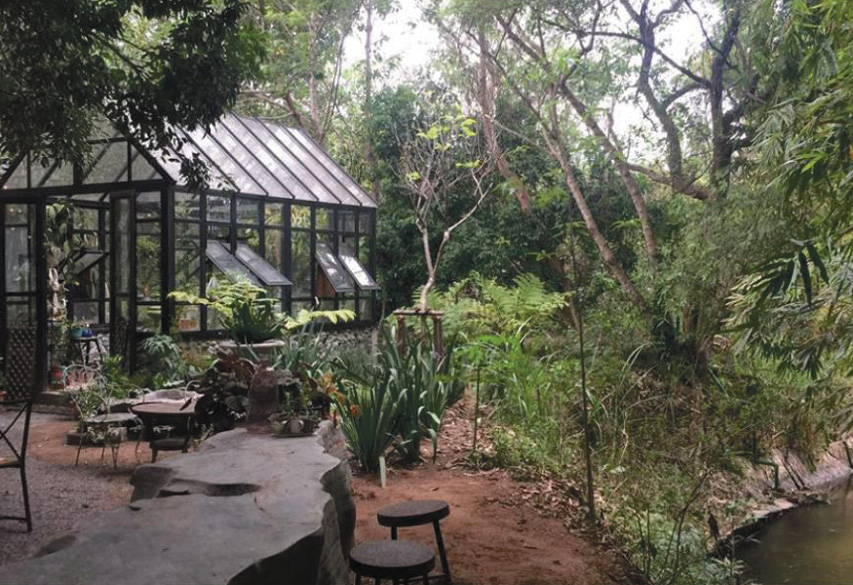 Ironwood
The three-level, light-filled space sits amid a lush green landscape and is decked out in furnishings plucked from an English country garden. The charming outdoor kitchen prepares classic Thai dishes like a rich and spicy lamb panang (B420), and the khao khlook gapi (shrimp paste-fried rice with sweet pork sauce, B200), which features the pretty addition of edible flowers. About 40 minutes by car from the city, this restaurant is the perfect excuse to leave the downtown bustle for an evening.
592/1 Mae Rim-Samoeng Rd., Chiang Mai, 081-858-3555. Open Wed-Mon 10am-7pm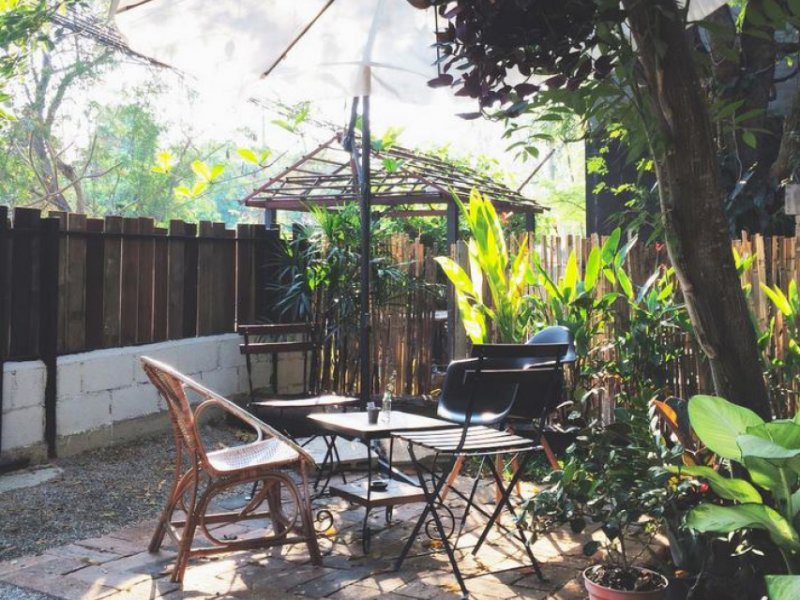 Mejai Shop and Diner
A two-story wooden home converted into a cafe, Mejai is the perfect place to kick back with a cup of green tea (B45) or Thai tea with honey and lemon (B45). The rustic, makeshift bar setup is where the owners whip up their signature drink, a fizzy blend of butterfly pea flower, soda, honey, and lemon (B45). They also serve Thai dishes, like the kung pad prik khai kem (shrimp stir-fried with salted egg, B85), or the Instagram-worthy squid pad kaprao served alongside butterfly pea rice (B75). Inside the house, shop for clothes made from Northern materials like mauhom, a cotton fabric dyed blue.
34/13 Tambon Suthep, 089-116-0885. Open Tue-Sun 9am-6pm
Naive cafe in Art
On your way to Mae Kampong village? Make a stop at the small, independent gallery called Chiang Mai's Art Museum, where you'll also find a little garden cafe. Coffees (B45-60) and smoothies (B65) are available beside a hodgepodge menu with the likes of Thai-style fried chicken (B109), squid pad kaprao (B89) and thin-crust pizza (B199-B219). The food's good, but the real draw is the view, which spans green rice fields backed by mountains. All that scenery may stir up your inner artist; good thing they also run watercolor painting sessions.
Chiang Mai's Art Museum, Tambon Rong Wua Dang, San Kampang, 094-635-4570. Open daily 9am-5pm
Payaka Cake House
Tucked deep down a tiny street, this sweet spot welcomes you with walls covered in green plants. The desserts are all served on colorful Italian plates in the Campagna style, whether that's the best-selling New York cheesecake crowned with a vanilla bean cream and berries (B125) or the banana hempseed cake with cream cheese frosting (B95). To drink, they offer plenty of hot teas, but we suggest you to try their Hojicha iced latte (B75).
98 Raj Chiang Saen Rd., Tambon Haiya, 082-612-1325. Opens Wed- Sun 10am-7pm
---
New Stays
Azalea Village Wellness Resort
Located in Chiang Dao (known for its spectacular mountain scenery), the resort comprises 21 adorably old-school cottages, including four very spacious, two-bedroom suites, all designed to reflect the local way of life through the use of natural materials and Thai-style handicrafts. Room rates start at B1,695/night, including breakfast from the on-site restaurant that focuses on traditional northern food, using only organic ingredients sourced locally. Seasonal fruits are plucked straight from the farm here and also made available for guests throughout their stay.
Makkachiva
This charming hotel joins the boutique hotel renaissance underway in the walled Old Town. The three stories of Lanna-referencing accommodation are built around a stunning, open-air courtyard. Foliage cascades from every balcony down towards a central water feature where guests congregate for breakfast each morning. At just over B2,800/night, standard rooms are half the rate of big brand competition, but come with twice the attention to detail. Each room has its own custom artwork created by a local artist, while genuine oriental antiques dot the common areas. The location, just outside the weekend night market zone, means the best shopping opportunities and the Old Town's biggest temple, Wat Chedi Luang, are close at hand.
Villa 88
This Airbnb listing is spread across two buildings and comprises two large bedrooms, an indoor and an outdoor kitchen, a private pool and a whole lot of green space. The decor's a modern spin on traditional Lanna architecture, the splashes of vibrant color juxtaposed with dark wood and gray stone. Visit the owner's organic farm nearby to pick some fresh vegetables, perfect for throwing on the BBQ on a sunny afternoon. Do note, the villa is a 30-minute drive away from the city, but attractions like Mae Kampong village and Flight of the Gibbon are nearby. The place sleeps up to four people and costs B7,983/night
Villa Mahabhirom
Located not too far from Wat U-mong (Tunnel Temple) is this hotel made up of beautiful antique Thai houses each over 100 years old, many of which come with a view of the swimming pool or Doi Suthep. A teakwood villa consists of a bedroom suite, a study area, a spacious marble bathroom and an open-air balcony. Two to three villas can be reserved together to form a "terrace villa" or "private pool villa" that come with a private saltwater plunge pool and a garden courtyard. The signature restaurant serves up home-cooked Thai dishes using ingredients from the Royal Projects, with the Mahabhirom Dining Room also available for intimate gatherings.
X2 Chiang Mai Riverside Resort
Situated right on the banks of the Ping River, X2 Chiang Mai Riverside Resort takes inspiration from Wat U-Mong, Chiang Mai's Lanna-style temple known for its maze-like tunnels. Red brick walls and carved pathways blend with modern design elements and facilities like a rooftop gym, pool and bar with views of Doi Suthep and the vibrant city of Chiang Mai. The five-story building's 30 rooms come in four types: Tamarind Suite (B7,009/night), View Riverfront (B8,505/night), Grand Suite River (B12,617/night) and Pool Suite River View (B21,495/night). The hotel's riverside location places it a seven-minute rot daeng (Chiang Mai transportation truck) ride from the old city.
369/1 Charoenraj Rd., Watket, 053-931-999
The Barisotel by the Baristro
Barisotel is more of a boutique hotel than a hostel. Each room is spacious, comes with a comfy double bed, and is fully equipped with a 55-inch flat screen TV and a Bluetooth sound system. The white and gold room oozes elegance and even has a bathtub, while the white and grey room comes with a separate living space in the same monochrome, minimalistic aesthetic.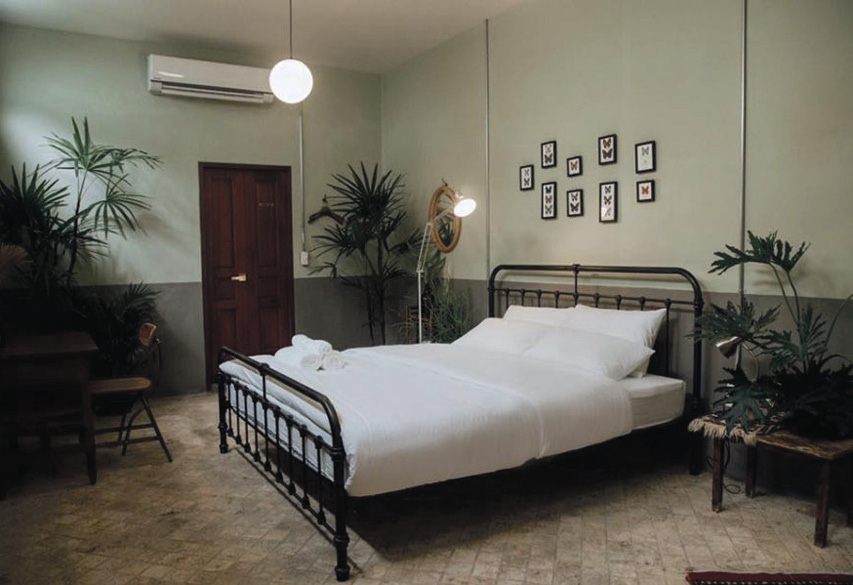 The Laboratory
Nestled on Sirimangklachan Road, right between Nimmanhaemin Soi 7 and 9, The Laboratory comes with sleeping quarters inspired by a laboratory with hanging butterflies, animal skeletons and other vintage curios. Private rooms are priced from B1,800-2,300/night inclusive of breakfast.
Oon Poshtel x Cafe
Located right on the outskirts of the Old Town, Oon opened with an aim of offering affordable accommodation without compromising on beautifully minimalist design. All five room types are private and come with ensuites, with prices starting at B850/room (for two guests). The family room comes with two bunk beds and can sleep up to four people.
56 Chaiyaphom Rd. Changmoi, 085-653-8489 facebook.com/oonposhtel
---
Chiang Mai's all-time favorite coffee shops
Akha Ama
Near Wat Phra Singh temple, the main store of this renowned coffee company has decor that might be an en vogue blend of blond woods and quaint illustrations, but that doesn't mean they're not deadly serious about their coffee beans, which are produced by the Akha hilltribe community in Mae suay, Chiang Rai—to whom all profits go back.
9/1 Hassadhisawee Rd., Changphuak, 086-915-8600. Open Thu-Tue 8am-6pm
Nine One Coffee
Local coffee grower Wullop Pasananon fell into the industry after obtaining a piece of land on Chiang Mai's outskirts. After realizing the environment was perfect for growing coffee, he began teaching himself how to farm beans organically. Gradually, he transitioned from growing to roasting and opened this unmissable Nimmahamin spot.
Nimmahemin Soi 11, Suthep. 081-171-7575. Open daily 8:30am-7:30pm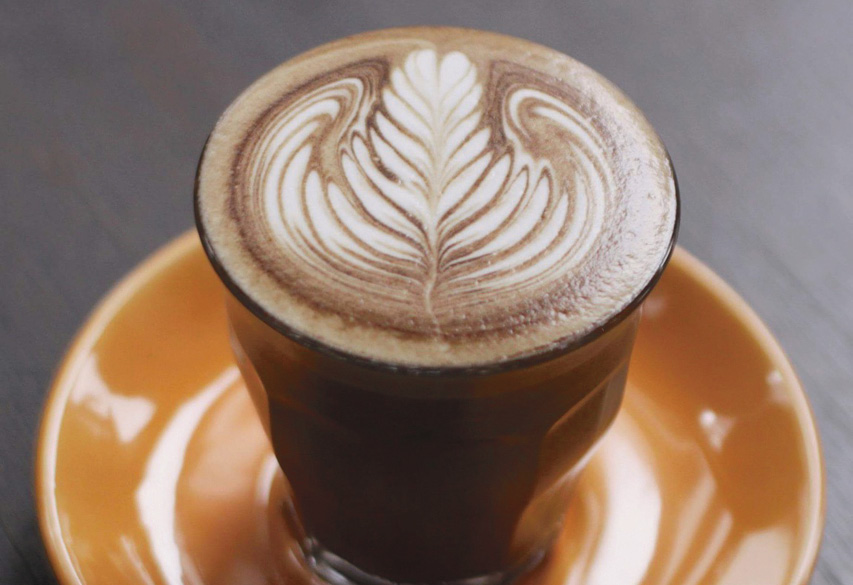 Ponganes Espresso
The open-air space, minimal decor and natural views come secondary at this local coffee snobs' favorite. Ponganes is so serious about what's in the cup that it doesn't even offer Wi-Fi—you're meant to be focusing on the flavors not playing with your phone. The beans are chosen not only for flavor, but also the work ethics of their growers.
133/5 Ratchapakinai Rd., Sriphum, 087-727-2980. Open Thu-Mon 10am-4:30pm
Ristr8to
Ristr8to's initial claim to fame was the mini celeb status of owner/barista Arnon "Tong" Thitiprasert, but once you try one of his hot lattes you'll need not remember he's one of TV show Toey Tiew Thai's hot vendors. This Trang-born barista spent six years making coffee in Sydney before deciding to relocate to Chiang Mai to open Ristr8to in 2011 and Ristr8to Lab in 2015. There have been lines out the door ever since.
15/3 Nimmanhemin Rd., Suthep, 053-215-278. Open daily 7am-6pm
---
For the latest travel news around Thailand and Southeast Asia follow BK Escapes.