---
Sepsilp Glin Kafe Bannok
This lengthily-named café and art gallery caused a stir when it opened thanks to seating that allows you to dip your toes in water while you enjoy a cup of coffee (all under B100). Don't expect full service; they just focus on making the coffee and let customers pour it themselves, but that doesn't stop people flocking here nearly every day. The owner, Neng, is well known in Chiang Mai coffee roasting circles for his brand, Bannok, which uses a mix of Pang Khon coffee from Chiang Rai and Doi Saket coffee from Chiang Mai. Dotted around the front yard are vintage cars as well as stacks of old televisions and haystacks. They also serve beer and food, mainly Thai classics like fried rice and yum woon sen (spicy vermicelli salad).
Samoeng-Chiang Mai Road, Samoeng district, 088- 251-7387. Open daily 10am-11pm. on.fb.me/1xOGJ8y
Rim Tarn Nang Len
Situated along the Mae Sai River, this café boasts a personal cascade foot spa for you to make the most of the tranquil surroundings and home-cooked food. The owner highly recommends the kao si klong moo obb (slow-cooked pork ribs with rice, B89) and moo sam chan tod jim jeaw (deep-fried pork belly with spicy Isaan-style dipping sauce, B69). The selection of coffee (B60) is sourced from Chiang Rai.
Baan Kratai Adventure
Baan Kratai Adventure (rabbit house adventure) is located in Huarn Jana Boutique Resort and offers a wallet-friendly selection of local fare including moo kum wan (Northern- styled sweetened pork, B59), moo nam tok (sliced grilled pork salad, B59) and yum woon sen (B59). Like Sepsilp, it also offers over-water seating, allowing you to chillout barefoot above the Ta Chang River. Try their unique iced coffee, which comes in a 1.5-liter wooden bucket (B75) or the regular iced green tea (B75).
The Giant
The quaint village of Pok in Mae On district is home to this stunning tree-house coffee shop-cum-resort in the middle of the jungle. It looks like something out of a children's tale, with seating for 20 nestled in a gargantuan banyan tree (advance booking is a must). The café offers an extensive menu of coffee (iced B120, hot B85) brewed with locally farmed beans, as well as finger foods like sausage pizza (B199), shrimp-stuffed spring rolls (B85) and Chinese-style steamed shrimp dumplings (B85). There's also a five-room boutique hotel on the same plot, with rooms from B3,500-B5,000 per night. Note that there's no mobile signal in the area, but they do have Wi-Fi on request.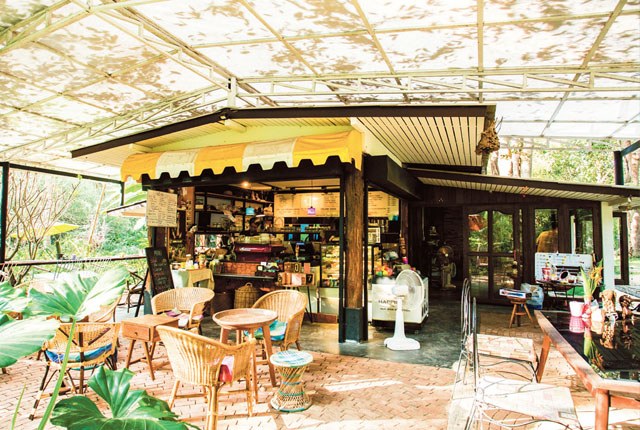 Lhong Pa
Nestled in the forest, Lhong Pa is a gallery-turned-restaurant situated on one rai of beautiful land in Mae Rim district. Formerly a gallery, the homey, air-conditioned indoors is decorated with eye-catching artwork and hipster knickknacks, while there's also an open-air seating area under a translucent roof. Food covers classic pasta dishes like spaghetti carbonara (B120) as well as some exotic hybrids like spaghetti nam prik ong (Northern-style tomato paste with minced pork, B105). What's more, there's a wide drinks selection, from typical iced coffee (B75) and iced green tea (B60) to a variety of fruit-infused soda (from B60). They are always packed at the weekend so head there early.
Soi Nam Tok Mae Sa 1 (Mae Sa Waterfall), Mae Rim district, Samoeng Rd., 080-501-3028. Open daily 8.30am-6pm. tinyurl.com/qagqeph