---
HotSpots


Dai Studio, Baan Khang Wat
1. Bann Khang Wat
Bann Khang Wat is a new community mall with a difference: the vendors are carefully chosen to ensure only conscientious businesses who give back to society through their crafts and products. The 10 wooden-and-concrete houses offer the likes of zakka-style craft shop Jibberish, café-cum-guesthouse Enough for Life, DIY craft haven Dai Studio, ceramic shop Bookoo Studio and library-plus-café Mahasamut. Hungry? Head to Home, where they serve a kanom jeen (rice vermicelli) buffet at the low, low price of B69. Its neighbor Yellow Mango is a new Tuscan-style café offering single dishes and soft drinks. Opposite Wat Ram Poeng, 095-691-0888, 090-056-9042. Open daily 10am-6pm
2. Think Park
Handily located on the corner of Rinkham Junction, opposite Maya Mall at the beginning of Nimmanhaemin Road, Think Park comprises shops selling crafts and clothes from local designers. You'll find a few good drinking spots like Doqaholic Café (083-003-0406, open daily 5:30pm-00:30am), with nightly live music, and Kafevino Bar & Bistro (084-595-5777, open daily 4pm-midnight), which serves coffee by day and wine by night. It also hosts a flea market every Saturday night but it's not bustling. Rimkham Junction, open daily 10-1am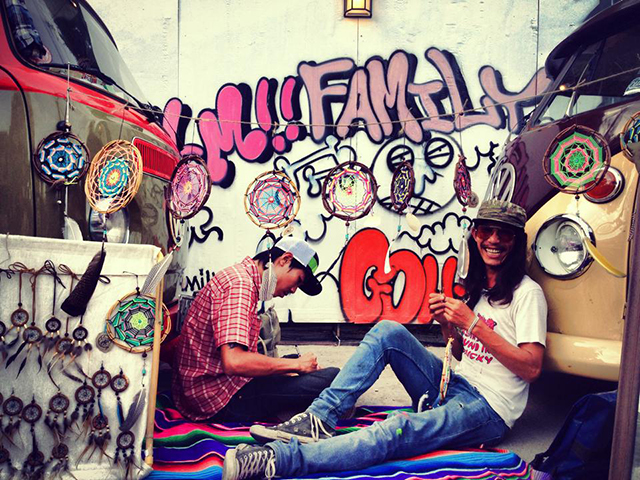 Kad Na Warm
3. Kad Na Warm
Nightlife institution Warm Up has expanded to hold a new flea market called Kad Na Warm in its parking lot every first Sunday of the month. This hipster paradise sells vintage everything, including secondhand records and clothes. There's even an open-air, old-school barbershop, The Cutter. Each gathering comes under a different theme, such as BMX, Back to the 80s or Vespa. 40 Nimmanhaemin Rd., Suthep, 081-306-0670. Open 4-11pm
Eat



4. Little Cook
This much-loved kitchen is run by a street artist, Kob, and his partner, Err, who source ingredients from local producers to create super-fresh dishes. "Here in Chiang Mai, we're so lucky to have an abundance of fresh produce. Driving just 30 minutes out of the city, you find lots of great farms," says Err. Highlights include salads made with big, juicy vegetables, strawberries, grapes, passion fruit and mango. We also like the tangy spaghetti chili and garlic (B130), and locally-sourced pork steak (B350) and wagyu beef steak (B400), which comes from cattle raised in Mae Rim, Chiang Mai. Don't miss their delightful fruit soda drinks (no alcohol here). Saha Sripoom Place, Changpuek, 085-7141189. Open Mon-Sat 6-9pm

5. Local Café
The brainchild of Udom "Note" Taepanich, one of Thailand's most famous stand-up comedians, this giant glasshouse-like café is full of whimsical touches like colorful picnic gas lamps and a giant bronze cat statue in the front yard. The food here is Thai-Japanese fusion like sai-ua tempura (spicy Northern Thai sausage tempura with rice, B165), spaghetti nam prik ong (Northern Thai tomato paste, B145) and tonkatsu with hang lay curry (pork belly in Northern-style curry, B165). Their sweets menu is equally tasty; try the Melon Mania (soft-serve ice cream with fresh melon, B165) and watermelon cake (B90). Think Park, Rinkham Junction, 053-215-250. Open daily 10:30am-10pm

6. C'nual Sweet Cooking
Don't expect Bangkok prices at this home-style bakery by art student Oshin. "I want to offer fair prices. People don't need to pay B120 for a piece of cake. That's ridiculous," Oshin says. Many of her baked goods feature seasonal ingredients, such as the fresh fruits winter chiffon (B49), while other treats include green tea choux cream (B40) and white brownies made with Chiang Mai rice wine, Choo Jai, for a fluffy texture. Her kitchen also does simple dishes like blue udon khao soi (curry noodles, B69). Head there before Oct, 2015, when Oshin will close the project to continue her master's in gastronomy. Be warned, that her place is in a deep alley with no parking. Service can be slow and she has only 10 seats offered. 20 Suandok Soi 6, 087-304-0478. Open Wed-Mon 10am-6pm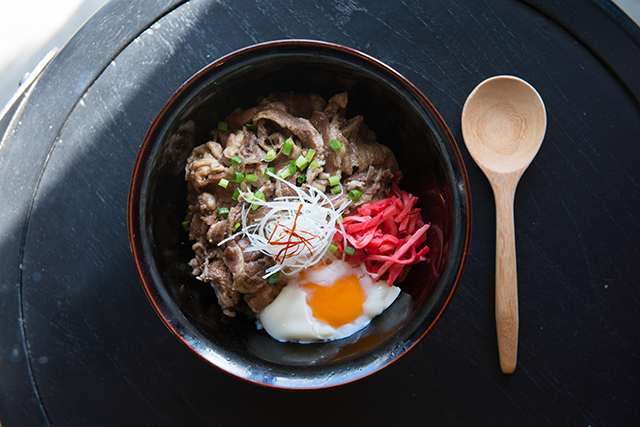 7. Blackitch Artisan Kitchen
Hidden on the second floor of ice-cream shop Gelabar, this small kitchen started out as a lunch-box business. It's led by Thailand Iron Chef contestant Black who serves fusion Japanese food such as sesame oil salmon don (B180), tomato steak wrapped in bacon (B120) and braised beef on rice (B120), made with Mae Rim wagyu. They also offer a chef's table service with one day's booking in advance. 27/1 Nimmanhemin Soi 7, 084-323-1952. Open daily 10am-4pm (chef's table from 6pm onwards)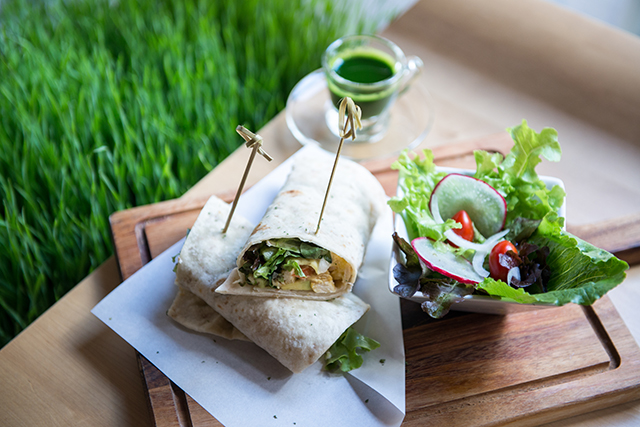 8. Fresh & Wraps Restobar
This stylish country-style eatery focuses on healthy sandwiches, salads and wraps with fresh ingredients from the Royal Projects and homemade tortillas, focaccia and pita. The menu also includes brunch favorites like eggs Benedict. The smoothies are a must-try, especially those made with wheatgrass. Upstairs is a newly-opened small hotel, The An Teak, with 16 rooms priced at B1,900-3,500. 125 Moonmuang, 053-221-205. Open daily 8am-6pm

9. Farm Story
This two-story home-turned-restaurant uses only homegrown, chemical-free ingredients. Try the exotic nam prik pgaz koen yau (Karen-style chili paste) and their Northern hang lay pork curry with organic rice. The coffee and tea is another main draw; we recommend the khao niew leum pua tea (forgetful husband glutinous rice tea, B70). It's tiny, too, with only 10 seats. 7 Ratchadamnoen Soi 5, 081-629-1662. Open daily 8am-4pm
Cafés & Tearooms



10. Graph Café
Probably the tiniest café in Chiang Mai, Graph draws in the caffeine-loving crowd with brews made from medium-roasted Chiang Mai and Chiang Rai beans. The barista Tee used to run a café of the same name in Sangkhlaburi and plans to open a pizza and pasta joint called Grain next January. You must try the new cold brews at B250 a bottle. 25/1, Ratvithi Lane 2, Sriphoom, 081-751-2365, Open daily 9am-6pm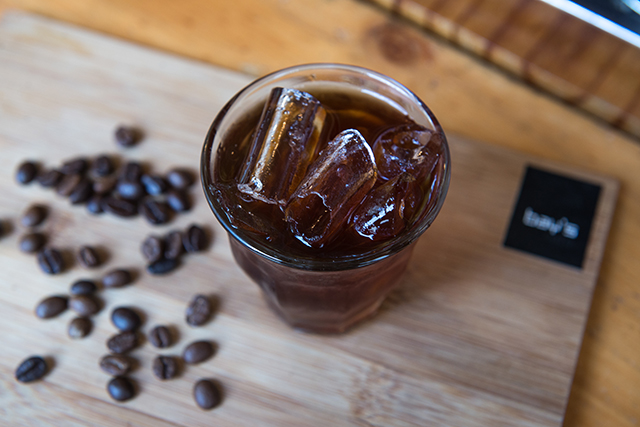 11. Bay's Café
This café is the baby of a Chiang Mai local with a passion for drip coffee and 12-hour cold brew. The drinks here are far less acidic than many of the other cups across town. Also on-site is Food for Thought, an organic food operator who sells salads, sandwiches and wraps made with fresh ingredients, some picked from the backyard. 15/5 Moo 1, Soi Sudjai, Chang Puak, 086-673-4853. Open Tue-Sat 10am-8pm

12. Rustic & Blue
With its rustic décor, this cozy café looks like a Pinterest board sprung to life. The main appeal, however, is the tea. Owner Min carefully blends her caffeine-free teas from both leaves and fruits, with our picks being the lavender peach and zesty orange rooibos. Do try the barbecue pulled-pork brioche burger, too. They also do homemade Chorizo, house salami and homemade Feta cheese as well as homemade blue & gorgonzola cheese at B100 per 100 grams. De Marche Nimmanhaemin Soi 5 (moving to Nimmanhaemin Soi 7 soon), 086-654-7178. Open daily 10:30am-8pm

13. Koland
Originally a furniture shop, Koland is now also a café-slash-tearoom. Their glasshouse is full of greenery, colourful Chinoiserie decorations and exotic taxidermy. The food is all made from old recipes from the owners' Chinese family, including soy bean-marinated fried pork with poached egg. The highly aromatic tea ranges from the Sakura perfume tea, served with pomelo skin, and Koland Kumquat, honey lemon with Chinese orange. Nimmanheamin Soi 1, 085-444-2124. Open daily 10am-9pm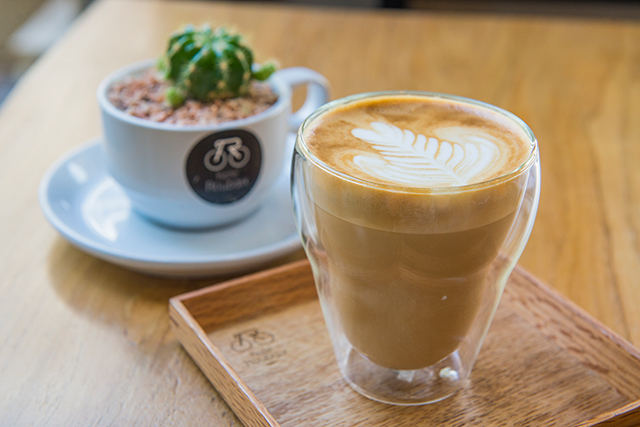 14. Kafe' Roubaix
This new cycling café takes its name from Paris–Roubaix, a one-day professional road race to Roubaix in Northern France. Currently the focus is only on drinks, which range from coffee to soda. Try their caramel macchiato (B85). Rock up on your bike to get a B10 discount. 18 Nimmanhaemin Soi 5, Suthep, 096-004-4332. Open daily 9am-7pm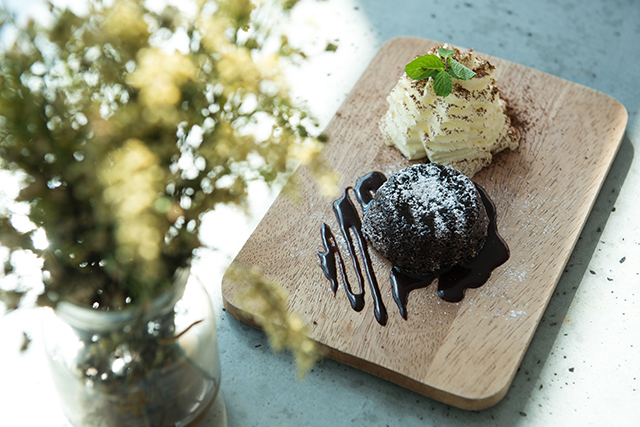 15. The Barn: Eatery Design
A group of architects wanted a place where they could work late at night. The result is this cool barn-like venue tucked deep down a soi near Wat Suandok. The no-frills food and drink menu is tailored for those getting down to business (coffee, spaghetti), while there's also some booze for knock-off time, such as Beerlao black (B60). They offer a private room, too. 14 Srivichai Soi 4, 084-222-8937. Open daily 10am-1am

16. FABB Café & Bistro
Having relocated from Bangkok, Fabb Café & Bistro is now a stylish café decorated with roasting machines and an exhibition of 60 different types of single origin coffee beans. They serve pastas, pizza and desserts. If you want to delve deeper into coffee (and have deep pockets), you can take their intensive full-day coffee training course at B19,500. Nandakwang Garden Mall, Sutep, 053-329-296. Open daily 8am-9pm
Drink


17. HOBS
This Northern flagship of the Bangkok brand offers seats on the terrace and rooftop just perfect for downing a cold beer or two. Just like in Bangkok, the brews come from the UK, Belgium, Germany, Spain and beyond. Our pick? Brewdog's Punk IPA on tap. Enjoy it with the barbecue pork ribs. Kantary Terrace, Nimmanhaemin Rd., Suthep, 053-289-313. Open 6pm-midnight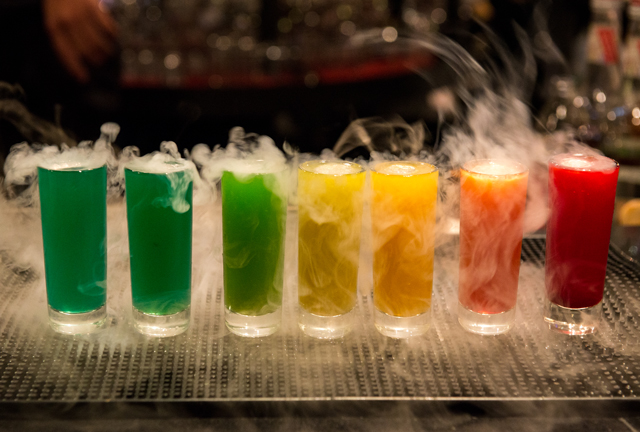 18. Myst
From Thonglor to Chiang Mai, this shisha-friendly venue has opened on the rooftop of Maya Mall. There's a big focus on molecular cocktails, all of which are covered with hydrogen mist by the ex-mixologist from DusitD2 Chiangmai. The food is handled by Chef Tanakorn, who has decades of experience working as a chef in Australia, Myanmar, Cambodia and Chiang Mai. 6/F, Maya Mall, 061-5126768. Open daily 5pm-1am

19. Nap Gastrobar
This dimly-lit industrial bar serves local and imported beers along with a small wine list. Thai and Western food with highlights like grilled pork with spicy naam jim jaew. Nimmanhaemin Rd. (opposite Mon Nom Sod), 089-954-9614. Open daily 4pm-1am

20. Buckets Siamese Bar
This Thai-themed bar only serves Sang Som rum, Chang beer and the now-rare Mekhong whiskey (B340/B540). The food here isn't particularly tempting, so focus on their signature Thai cocktails such as Khun Phaen Saen Satan (Mekhong with apple juice, B250) and Adam & Eve (Mekhong and pomegranate juice, B250). 6/F, Maya Mall, 088-959-6559, 084-104-6776. Open daily 5pm-1pm

21. Your Bar
This outdoorsy bar is decorated with steel chandeliers that look like tree branches and wall-mounted deer heads. The second floor offers an al fresco terrace dotted with white seats—perfect for catching the sunset behind Chiang Mai's mountains. Expect live music and international DJs. 6/F, Maya Mall, 082-185-4589. Open daily 5pm-1pm

22. Roof Bar
Maya Mall's budget rooftop drinking spot offers draft beer at B89 per glass for Leo and B99 for Singha (large bottles for B90). The food is mostly drinking snacks; try their roasted pork or beef (B79) and fried chicken wings (B79). 6/F, Maya Mall, 089-255-8488, 084-810-3727. Open daily 5pm-1pm
Stay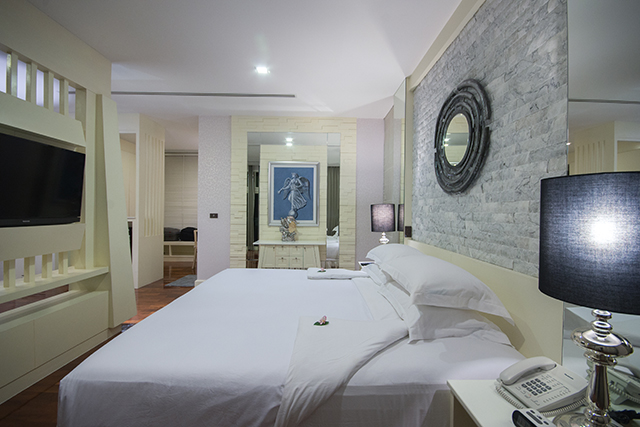 23. Sireeampan
This new luxury resort consists of 11 gorgeous suites with exterior inspired by the early Rattanakosin Era. Staying here is all about experiencing traditional Thai customs, starting at the entrance, where you're asked to take your shoes off. The rooms are named after gems, such as the yellow Bussaracum room, all-white Khai Mook (pearl) room and the glittering Diamond room. Food is handled by Chef Scott Flaxman who whips up yam dok kajorn (cowslip creeper salad with prawns) and grilled marinated pork ribs with naam jim jaew. Their breakfast is served whenever and wherever you want, spanning à la carte dishes and hampers packed with fresh-baked pastries and yogurts. Room rates start from B10,000 for a studio and B12,800 for an S-Class Suite. 88/8 Moo 1, Changpuak, 053-327-777.
www.sireeampan.com

24. We Valley Boutique Hotel
Located away from the crowded city center, We Valley offers a relaxing view of the mountains. The 63 rooms have a global theme, such as Tuscany, Santorini and English Country. They provide a free shuttle service from Chiang Mai International Airport and Nimmanhaemin Road daily. 301/1 Moo 1, Changpuag, 053-010-555.
www.wevalley.com

25. Eastin Tan Hotel Chiang Mai
Adjacent to Nimanhaemin Road, Eastin Tan Hotel Chiang Mai features a swimming pool and 128 luxury rooms imbued with traditional and contemporary Asian influences. It's probably the most luxurious hotel around the area. Opens on Dec 1, but you can already book for special rates at B1,999. 165 Huay Kaew Road, 052-001-999.
bit.ly/1xbZ1h1