Picture yourself on holiday. Right now. There's a good chance that the first image that springs to mind is swaying coconut trees, sand and colorful cocktails garnished with fruit and miniature umbrellas. No matter what sort of person you are in your day-to-day life, when it comes to places to rest, relax and simply get away from the grind, beaches are almost universal in their appeal. For whatever reason you're heading to the seaside, here are eight of the best around Asia. Like the best beach to…
Recover from a Party
Haad Yao, Koh Phangan, Thailand
Koh Phangan is a familiar name that often lies buried beneath a torrent of alcohol and deafening bass. It is better known as the place where the famous Full Moon Party began, raging on the island's Haad Rin beach since the mid 1980s. After you're done partying with up to 30,000 people in a dance-till-dawn festival of booze in buckets and playing with fire, there's a calmer, quieter escape just 40 minutes away.
Haad Yao is a soothing, tranquil retreat from that all-night binge. And besides, there are 353 days of the year where there isn't a full moon within sight on Koh Phangan. The calm, shallow waters off Haad Yao, home to 3,000 species of marine life, are ideal for beginner scuba divers.
Where to stay: Haad Yao See Through Resort (above, www.haadyao-seethroughresort.info) is your best bet on this stretch, with rates starting at around B1,750 ($70) a night. Special three- and four-night packages are available on Full Moon Party Weekends with rates starting at B1,332 ($53) a night.
Getting there: Bangkok Airways flies daily to Koh Samui for around $500 return. Koh Phangan is a short ferry ride away from Mae Nam beach, which is five minutes away from Koh Samui's airport.
Get Cultured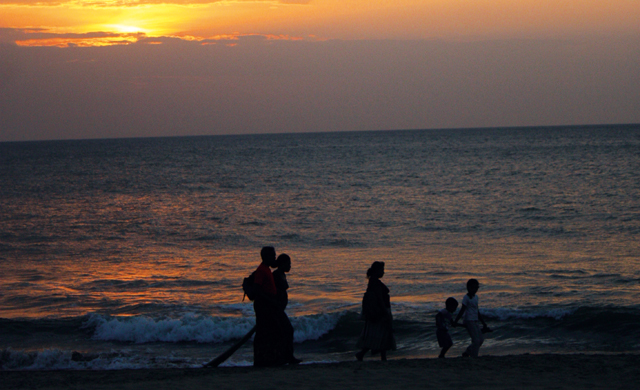 Negombo, Sri Lanka
Sri Lanka is famous for its tea, history, friendly people and gorgeous beaches, and Negombo on the country's west coast brings its best elements together.
Less than 10km from Bandaranaike International Airport and 40km from the capital Colombo, this quiet town offers delightful slices of everyday life in Sri Lanka. The beach itself seems to go on forever, with dozens of resorts lining the broad stretch. A main road runs along the beach and by it you'll find restaurants, bars, souvenir shops, convenience stores and tour companies.
Nicknamed "Little Rome" locally because of its many churches, some dating back to 17th-19th century colonial times, numerous canals flow through the town as reminders of the days of Dutch rule. A 17th century Dutch fort still stands near the center of Negombo, though it is in a rather poor state.
Negombo started out as, and remains, a fishing village, and you can organize a fishing trip of your own with one of the tour companies along its main road. At the end of the day, when you retreat to your hotel and sip on a Lion Beer on orange sands, you can watch the sun slowly dip into the Indian Ocean.
Where to stay: With a new wing recently built in late 2010, Jetwing Sea (Palangaturai, Kochchikade, Negombo, +94 (31) 493-3413, www.jetwinghotels.com) occupies a prime spot on the waterfront. Rates start at around US$140 ($170) a night.
Getting there: Singapore Airlines (from around $750 return), Emirates (from around $470 return) and SriLankan Airlines (from around $590 return) fly daily to Colombo.
Get Away from it All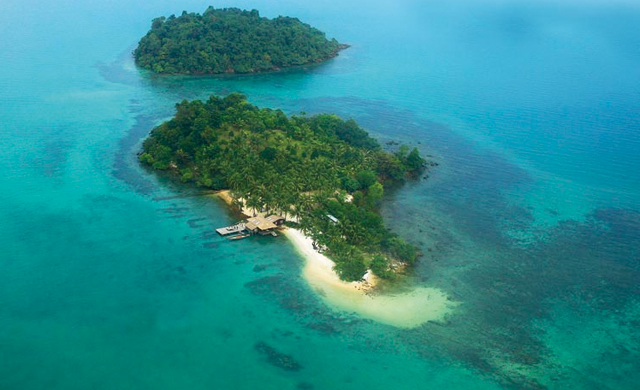 Song Saa, Cambodia
Just off the coast of the port city of Sihanoukville, in the Gulf of Thailand, lie about 20 small islands known as the Koh Rong Archipelago. Most of them haven't been developed yet, but come later this year, a pair of them will welcome their first visitors. The islands are named Koh Ouen and Koh Bong, but they're known as Song Saa—"The Sweethearts" in Khmer. This private escape is marked by a rainforest, pristine coral reefs and white sand beaches.
The islands are protected as part of a conservation area, and the waters are teeming with life—dugongs have been spotted among the fish and seahorses. If absolute seclusion is what you seek, you can take a boat trip to other neighboring islands that are completely deserted.
Where to stay: The catalyst for the development of the two islands, Song Saa Private Island Resort (Koh Ouen, Sihanoukville, +855 (77) 777-439, www.songsaa.com) is the only place to stay on the island. With its overwater villas, spa and sunset cruises, this eco-friendly establishment is as good as it gets.
Getting there: Song Saa is accessible by speedboat from Sihanoukville, and Sihanoukville is in turn a three to four hour bus ride from Phnom Penh. SilkAir (twice daily from around $327 return) and Jetstar (once daily from around $273 return) fly to Phnom Penh.
Get Your Marriage Started
Kihavah, The Maldives
How do you choose any one particular beach in a region where every island is beautiful to the point of looking digitally rendered? Well, we're going with the one that has an underwater restaurant. Kihavah, one of the islands that make up Baa Atoll, is a dream getaway for any traveler, but honeymooners will be absolutely blown away by what it has to offer.
You can count on total privacy, expect a night sky filled with more stars than darkness, and you'll wake up every morning to gorgeous orange sunrises and end each day with dramatic red sunsets. You can snorkel through clear, turquoise waters or set sail on a private boat for a day of island hopping.
Where to stay: Kihavah is the slice of heaven that it is thanks to Anantara Kihavah Villas (Kihavah, Maldives, +960 660-1020, www.anantara.com). Private infinity pools in every over-water villa, the world's only underwater restaurant and wine cellar, and a luxurious spa known for its coconut exfoliation treatment are among the indulgences here. If you're a newlywed, or just want to renew your vows, Anantara offers a variety of wedding packages, from a beach ceremony with a candle-lit dinner, to an underwater wedding during a scuba dive. Rooms are available from around US$1,170 ($1,440) a night and seaplane transfers from Malé cost US$400 ($490) per person.
Getting there: Singapore Airlines flies twice daily to Malé with fares starting from around $930 return.
Escape for the Weekend
Pulau Joyo, Indonesia
Perhaps more so in Singapore than anywhere else, people find themselves short of time. As such, weekend destinations are important—hassle-free, easy to reach places that let us cast off the shackles of the week as quickly as possible. Pulau Joyo is just that place.
Located off the far side of Bintan from Singapore, Pulau Joyo is close to us in one sense, but distant from anything else in another—there's open sea all the way to Borneo on its eastern side. This private island is home to a single resort, so there's something a little more Maldivian about it than just its soft sand and blue-green waters.
Where to stay: Pulau Joyo resort (www.pulau-joyo.com) has been described by bespoke travel experts Lightfoot Travel as an ideal place for a "Robinson Crusoe-esque escapade in driftwood palaces with friends and family." "Driftwood palace" isn't just some fancy marketing term either; Pulau Joyo is home to four grand beachfront chalets constructed entirely with driftwood. It also boasts top-class food and wine, a rejuvenating spa and its own 140-foot yacht, the Hang Tuah, which is available for charter. Full-board rates start at $999++ a night.
Getting there: Hop on a Bintan Resort Ferry (www.brf.com.sg) from Tanah Merah Ferry Terminal (for around $62 return) and Pulau Joyo staff will arrange everything else.
Go Back to Basics
Coral Bay, Perhentian Kecil, Malaysia
On Perhentian Kecil, the simple life reigns—particularly on Coral Bay, one of its two main beaches. Everything here is done at your own pace. Diving in the crystal clear waters off the coconut tree-lined shores, you'll find yourself among an abundance of tropical fish. The area is also a sanctuary for endangered green and hawksbill turtles, and it isn't uncommon to see them gliding through the surf.
Where to stay: There may be no Shangri-La on Perhentian Kecil, but there certainly is a Shari-La (Coral Bay, Perhentian Island, Kuala Besut, +60 9697-7500, www.shari-la.com). Shari-La's chalets come equipped with creature comforts like satellite TV, but the fact that "24 hour electricity" is advertised as a facility lets you know that the modern world is yet to fully intrude. Rooms are available from RM100 ($40) a night.
Getting there: Firefly flies between Singapore and Subang seven times daily (from around $190 return), and between Subang and Kota Bharu seven times daily (from around $175 return). AirAsia flies from Singapore to Kuala Lumpur 11 times daily (from around $120 return) and from Kuala Lumpur to Kota Bharu six times daily (from around $154 return). The Perhentian Islands are a ferry ride away from Kuala Besut near Kota Bharu.
Mix with the Rich and Famous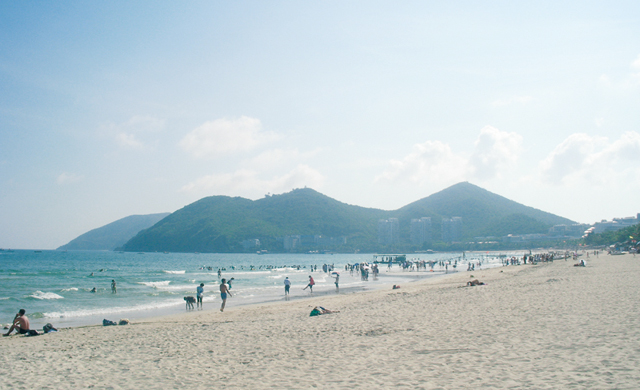 Dadonghai Bay, Sanya, China
China's own Hawaii has made quite a name for itself in the last decade. Of the six bays around Sanya, Dadonghai offers the best blend of everything that makes the city stand out. You have a quiet, lengthy stretch of broad beach, lush, dramatic hills jutting out into the South China Sea, and the city itself, including the famed Xiari Department Store, is just 3km away. Chilled-out beach bars and restaurants serving fresh local seafood line the 2.3km crescent, and the sound of live music is always in the air.
There are a number of condominium developments around Dadonghai Bay so the beach's most frequent visitors are wealthy Russians, Hong Kongers and Mainland Chinese. Activities around Dadonghai are varied; you can hop on a tourist bus, join in a game of beach volleyball, cruise out to West Island for a glass-bottomed boat ride, trek to the Luhuitou Peak Garden to look over Sanya from 275 meters up or visit Nanshan Temple to see a 108 meter tall statue of Kwan-yin. You could also stick to drinking Chinese beers all day long.
Where to stay: Visit www.sunnysanya.com to see a full list of serviced apartments in the area (rates start at around $80 a night). For something more luxe, look no further than the Mandarin Oriental Sanya (12 Yuhai Rd., Sanya City, Hainan, +86 (898) 8820-9999, www.mandarinoriental.com) which has a private beach (rates start at around $340 a night).
Getting there: Jetstar flies to Haikou four times weekly from around $227 return and Tiger Airways flies there thrice weekly from around $255 return. You can reach Sanya via high-speed rail from Haikou airport.
Beat the Hype
Lovina, Bali, Indonesia
We can't do a beach story without mentioning Bali, but let's be honest, the Bali of today is nothing like the Bali of the past. Traffic jams, a whole cast of obnoxious tourists and the occasional rabid dog are just some of the issues stalking the central tourist area around Kuta. Fortunately, there are still parts of the island that have not been fouled by the hordes. Lovina, close to the northern city of Singaraja is one such place.
Lovina's black sand beaches are quiet and there are a number of dive operators on the stretch. The most popular residents of Lovina are the local dolphins who reside just offshore, and tours to see them are available each morning. As you might imagine, shops here are stocked with dolphin-related trinkets.
Lovina isn't short on the nightlife that makes Bali, well, Bali, and some of the island's best local cuisine can be found around here, too. A few of these restaurants offer cooking classes, and learning how to prepare gado-gado or bubuh injin is a better souvenir to take home than any "I (heart) Bali" tote bag.
Where to stay: Perched right by the waters of the Bali Sea, Puri Bagus Lovina (Jl. I Gusti Ngurah Rai, 300 B Tuban, Bali, +62 (361) 751-223,www.puribagus.net) is classically Balinese.
Getting there: Singapore Airlines (from around $562 return) flies to Bali twice daily, while Jetstar (from around $244 return) and Garuda (from around $350 return) fly at least once daily.
Hear what this childcare teacher collects when she goes on a holiday.
Think Singapore's beaches don't match up? Here are some ways to make them better.