Central's "Let's Celebrate 2019 Together" event will get you into the holiday spirit
It's almost that time of the year again, where Bangkok malls start revving up their festive spirit ahead of the holiday season. Central Embassy and Central Chidlom have always been big players in this space with their "Let's Celebrate 2019 Together" event—from Nov 30-Jan 17.

Christmas would be dry without festive installations, and both shopping centers have done a great job donning their buildings with visually stunning displays. The Giant Santa returns, this time not only one but two, and they brought more of his little friends in a "Sleigh of Santa"—filled with 100 mini Santas to boot. At Let's Celebrate 2019 Together, you can enjoy the group's spectacular lighting displays and while strolling through the Xmas Tunnel—a very decorative walkway between the two malls.

On Central Embassy's ground floor is Santa's Playground—housing an enormous Santa figure and packed with sliders and a sea of balls to dive in. After you are done unleashing your inner child, you replenish your lost energy with some ice cream and Christmas chocolate at Santa Square. Other highlights include a snow machine and a giant snow globe to take seasonal pictures on its second floor.

On Level 6 of Central Embassy you will find "An Open Christmas" taking over OPEN HOUSE. This includes a stunning Xmas Market, filled with all kinds of holiday-themed goodies and treats, as well as a "Santa's Workshop" that will host a bundle of fun workshops for all ages.
Also, don't miss the "Countdown to New Year" at SIWILAI CITY CLUB on Dec 31 from 8pm until, well, you know when.
Here is the full schedule:
Nov 30, 2018 — Jan 17, 20'19
Bangkok's Tallest Xmas Tree
Morakot Car Park
Bring in the season of cheer & peace with our 30-metre tall Christmas Tree
Let it Snow!
Morakot Car Park & The Piano Hall, 1st fl
12–8pm
Dream of a White Christmas, with our special 'snow' machine!
Rooftop Santa
Morakot Car Park
It's a big Ho-Ho-Ho from this gigantic Christmas icon!
Christmas Chorus
Dec 22-25, 1 / 3 / 5pm
Sing in the season with cheer, with wonderful performances of Xmas carols from the choir.
Central's 'Let's Celebrate' Troupe
Dec 22-25, 2 / 4 / 6pm
See our models parading around Central Chidlom, spreading festivities & joy to all
Santa Claus is Coming to Town!
Dec 25, Build-A-Bear Workshop, 6th fl
Say hello to Santa before he gets going! Remember…he knows who's been naughty & nice!
Christmas Performances
Dec 22-25, 2 / 4 / 6pm
The Balloon Man, Jingle Jugglers & Christmas Crystal Balls
Magical Music
Dec 15–29, 5pm, 3rd fl
Wonderful live music
Central Embassy, 1031 Phloen Chit Rd., 02-119-7777. Open daily 10am-10pm
Central Chidlom, Phloen Chit Rd., 02-793-7900. Open daily 10am-10pm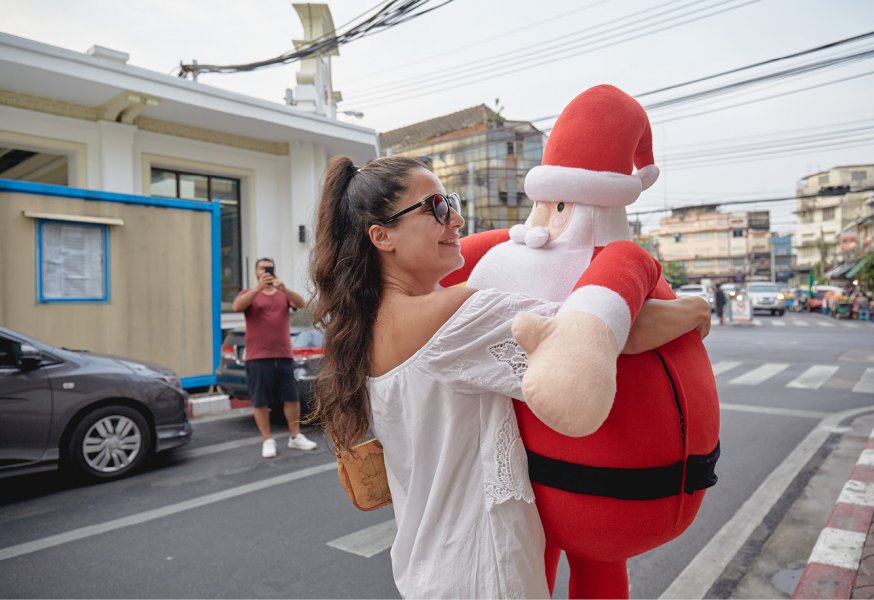 Sponsored by: