No one is in the office on New Year's Eve and Day (certainly no one in the BK office. Sorry, breaking news, you'll have to wait until Thursday to get your time in the limelight). What to do with the time leading up to the big bash at midnight? Maybe you want to give your liver the break it finally needs (on NYE of all days)? Whatever the goals, we've got some ideas for you.

Credit: https://www.facebook.com/newyearprayer/
Rumor has it that this is a great way to sober up if you have been doing a bit too much day drinking during your time off (at least that's what our mothers seem to think when they've brought us here in the past). Jokes aside, the chanting service hosted by the Ministry of Culture at Sanam Luang (the public square in front of Wat Prakeaw) is a great way to focus your mind a bit without needing to go into full-blown meditation mode. This is one of those activities that require you stay until the end once you arrive, so head over around 11:30 to get the best of the chanting in the New Year.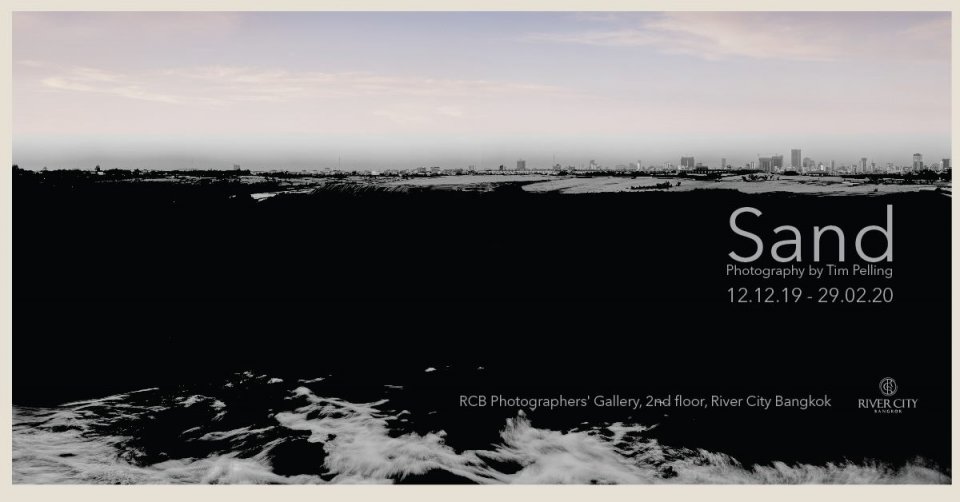 Take a couple of hours and check out an exhibition. One that has caught our eye is Sand by Canadian artist Tim Pelling (from a province called Saskatchewan. Just go ahead and try to pronounce that). Pelling's exhibition uses images of sandscapes to explore issues of sustainability throughout the world. In his curator's words, "long used as a means of measuring itself, sand is immeasurable, infinite and easily obtained although being exhausted. We build our cities with it, our phones consume it, our computers are based on it, the windows we look through are made from it. Today, river banks are collapsing, fish stocks depleting, entire ecosystems at risk in the rush to get more of it."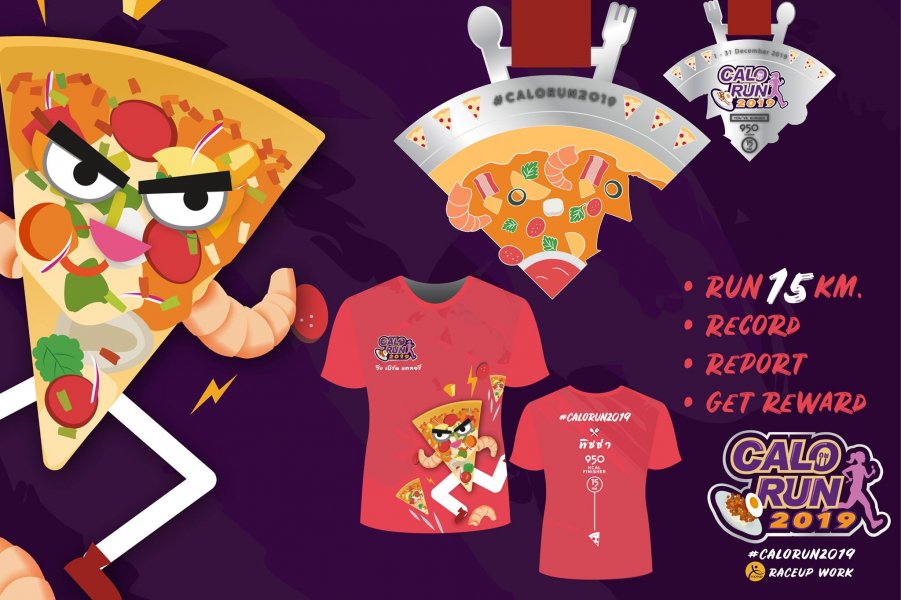 Despite the fact that people always roll their eyes are NYE fitness resolutions, there is no shame in it. Something like the Calorun is a good way to get things started on a semi-relaxed start. First, the best part: the event has arguably the most adorable (and BK friendly) medals we have seen. All of them are semi-circle cutouts of the most popular food in Bangkok: mango sticky rice, mackerel with chili paste, kaprow with a fried egg, and seafood pizza. Point two we like: you can run anywhere. It's a virtual run, so you just record the miles on your phone (between 4-6:30 on Dec 31) and they send you the stuff later.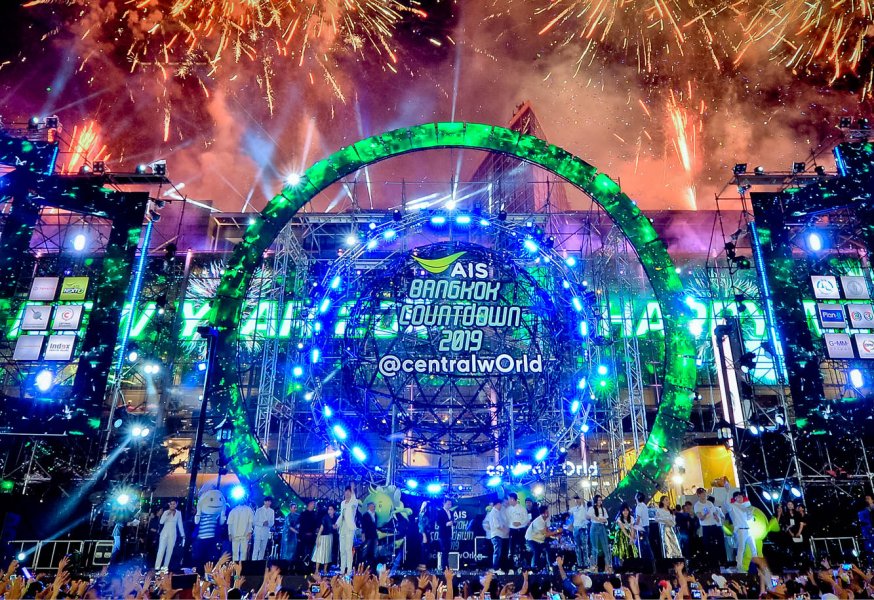 This is the "big" NYE celebration that everyone talks about–AIS Bangkok Countdown 2020–with so many fireworks it looks like the top of centralwOrld is about to explode. It's not just a huge boom for your social feed, either. Since the event takes place at centralwOrld, which has to qualify as one of world's top ten countdown destinations (it was even nicknamed the "Time Square of Asia" by CNN), and is put on by a world-famous countdown event organizer, you know it's going to be lit. Tons of Thai musicians, like Palmy, The Toys, JoeyBoy and Peck Palitchoke, will perform from 6pm onwards at the biggest stage in Southeast Asia, which elevates up to four stories high and is 220 meters long. The action will also be broadcast live on a massive panOramix@centralwOrld screen, which Central says is the world's largest interactive digital screen, highlighting the stage's spectacular visual design and lights alongside its booming sound system.
If you really just can't separate yourself from your sofa, you can still catch the show from home—Channel 3 is airing it from 10:30pm onwards. As well as through AIS PLAY application, AIS website (https://aisplay.ais.co.th), and AIS PLAYBOX—but trust us: going to centralwOrld is pretty easy by BTS, and it feels much more spectacular when you see it live.
Visit centralworld.co.th/countdown2020 for more information.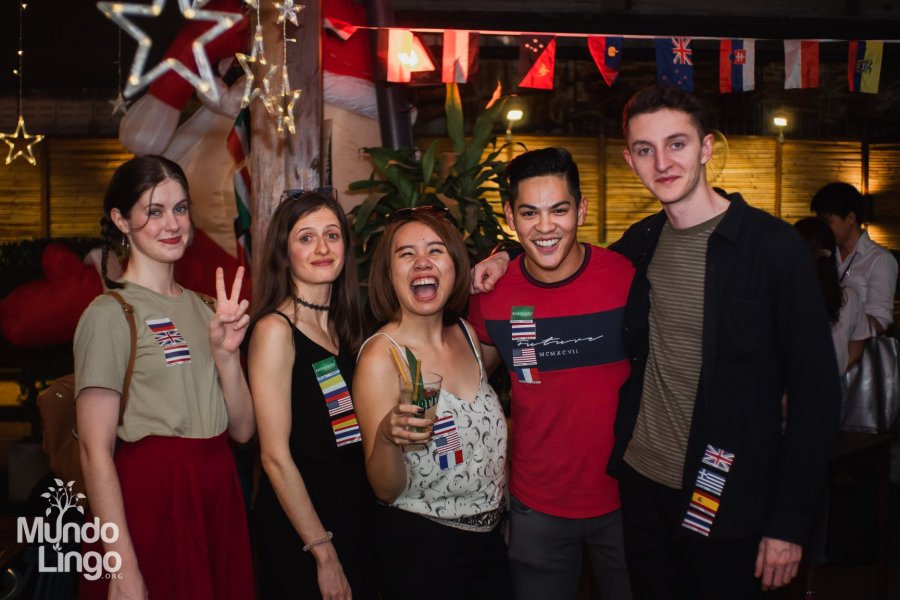 Credit: https://www.facebook.com/MundoLingo/
This is a cool way to flex your bi- or tri-lingual muscles. Mundo Lingo Bangkok is basically a get together where everyone puts a sticker of their home country's flag on their shoulder. Find someone from a country you want to chat with and have at chat. If you want something a little more chill for NYE but also highly social, this is a good bet.
Sponsored by: