We don't know about you all, but the BK team is very much ready for the end of the rainy season. In fact, we're so ready that we've already made plans on where we're going to celebrate the return of clear skies and glorious sunshine: at Brewtopia, the massive craft and beverage festival that's coming to Bangkok next month!
With a stunning riverfront location, it's going to be three days of kicking back, chilling out, and sampling an impressive array of brews from both local and international brands. In fact, Brewtopia will have over 300 beverage brands from around the world for you to try out, including a dozen or so that have never been available before in Bangkok; that's right—serious brew lovers will come away with bragging rights.
Obviously it wouldn't be a festival without some music to keep the party going, and Brewtopia has announced a roster of some of today's hottest DJs and performers from Thailand and beyond. On the opening Friday night, Slapkiss and F. Hero will help the festival kick off with a bang. Saturday sees Yokee Playboy and Zeal commandeering the stage. And last but by no means least, Sunday will close out with two spectacular sets from Polycat and Zom Marie.
All sounding like a fabrewlous event (sorry!)? There are three types of tickets available for purchase, and for each one, you can either buy for Friday and Saturday combined, just Sunday, or all three days. The day pass is pretty self-explanatory, and if you're coming with at least three friends, you can save money by buying a bundle of four passes; both options include a free welcome drink per person.
Brewtopia will take place from November 17-19 at Sermsuk Warehouse. Tickets are on sale now, with discounted advance tickets available for purchase at THB199! More information about the event can also be found on their Facebook and Instagram.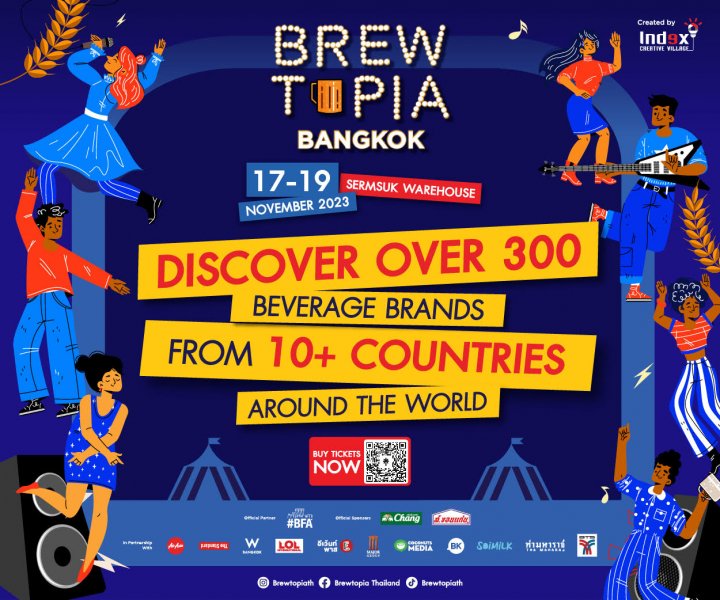 Sponsored by: