The tech used in the show is worth B300 million alone
A new Avatar spectacle is coming to Bangkok this June 14-24 at Impact Arena, this time by way of Canadian high-flying theatre company Cirque du Soleil—and it's boasting some pretty impressive tech for a stage show.
Titled Cirque Du Soleil — Toruk The First Flight, the performance uses a striking range of multimedia equipment (about B300,000,000 worth of cutting-edge visuals, puppetry and stagecraft, all buoyed by a soaring cinematic score) to recreate James Cameron's world on a 26-by-49-meter stage modeled after the Fibonacci spiral.
The booming stage set-up is the work of famed multimedia creators Michael Lemieux and Victor Pilon, who have both been hallmark collaborators of Cirque du Soleil for many years.
The show in Bangkok will use 40 different projectors to fill about 1,860-square-meters of the arena with the film's signature lush and awe-inspiring landscapes.
Some of these projections will actually overflow off the stage and into the audience—such as waves crashing against the shore or a starry night sky similar to an upside-down planetarium.
Instead of reliving one of the films, Toruk – The First Flight features an all-new storyline—dating back a thousand years before humans ever set foot on Pandora in the original film.
Narrated by a Na'vi storyteller (yes, the actors will actually speak some Na'vi during the show), the play follows three main protagonists—two boys on the brink of adulthood named Entu and Ralu and their friend Tsyal—on a journey to save the Tree of Souls from a natural catastrophe. The three make their way up the Floating Mountains in search of a mighty red and orange predator that rules the Pandoran sky. The prophecy is fulfilled when a pure soul rises among the clans to ride Toruk for the first time and save the Na'vi from their terrible fate.

Tickets range from B1,000-4,000—which, by the way, is much cheaper than the same show overseas.
Cirque du Soleil TORUK – The First Flight,
June 14-24, 2018 at Impact Arena Muang Thong Thani.
Tickets available at http://www.thaiticketmajor.com/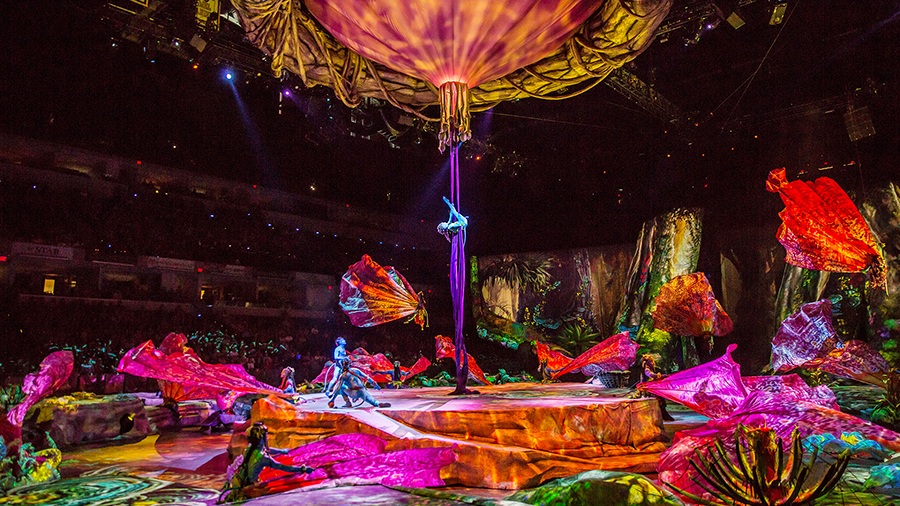 Sponsored by: