The year is 2021. Songkran is back, but splashing is banned, so where is the celebration exactly? There seems to still be lots going on for the upcoming Songkran festival this year, but like a lot of us, you might not be planning to go outside. It doesn't mean the year's best holiday needs to be a drag. Why not grab some close friends and host a little something at yours? Here are some tips to get the most out of it.
Get Food Delivered
You are already an expert in this department from the past year and a half of lockdowns and restrictions we've been going through. If you are feeling some khao chae this time of year but don't want to wander outside, let the delivery driver navigate the Songkran madness and order some from Khao via Line (@khao) or their Facebook page. If you are not a khao chae kind of crowd, and want something other than your go-to Thai place, try Galley Pizza for party-sized zas, Golden Bowl for heaps of Western-style Chinese, Le Lapin for a bundle of gameday-style French baguettes (the Philly cheese is what we live for).
Do what people on Songkran do
Knock back a few frosty beverages, of course. We are not saying you should be drinking alcohol in any shape or form, but if you find yourself in that position we'd give you bonus points if you have a spare, clean bucket kicking around to do things in real Songkran style. If you're looking to mix up your beverage choices this year, we've got a nice cocktail for the April heat: The Ginger Monkey. It's easy enough to make and is super refreshing in the April heat. Just fill a long, tall glass with ice, pour in 120ml of ginger ale, 50ml of Monkey Shoulder, and garnish with a wedge of orange for some citrusy accents.
Blast Songkran Music to Get the Celebration Going
So Monkey Shoulder has a huge collection of exclusive mixes you can check out on Mixcloud for your listening pleasure this holiday! From Father Funk, DJ Format, Scratch Perverts and many more musical talents, there's something to suit every mood. If you want to get those Thai vibes going check out this Molam playlist on Spotify. You can always make things really cute (and bring the outdoor vibe inside) with a classic Songkran song or two. For that purpose, actually, Spotify's very own Sawasdee Prathet Thai will do the trick, too.
Jump in the Pool
You can't splash a mob of strangers in the middle of the road, but that doesn't mean you can't have an at-home celebration to remember. Invite the gang and start a little barbecue-style gathering on the roof. Bring the tunes, food and drinks from above and you've got everything you need for an unmissable Songkran celebration.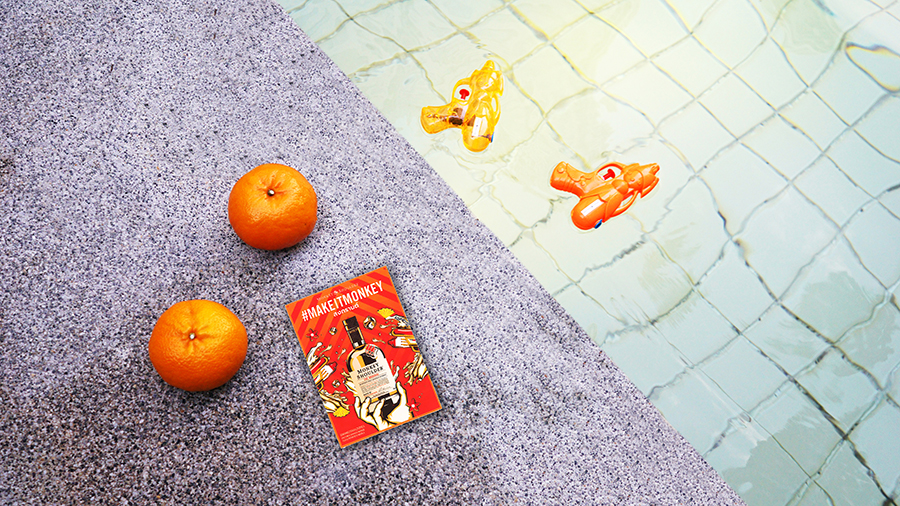 Annoy Your Guests With a Tiny Spray Water Gun
Obviously, you're not going to be using one of these in your own home, but those tiny, kid-sized single shot water guns are a fun way to still incorporate some light-hearted fun into the celebrations. You'll get two of them as a bonus if you grab a special Monkey Shoulder Refuel Your Party kit for this Songkran—then you can still not share the other one and annoy your guests with two simultaneous attacks instead of one.
---

Re-Fuel your Party with Monkey Shoulder Whiskey
100-percent malt whisky made for mixing—it's definitely time someone made a good whisky for this purpose. Made with small batches of Speyside single malts blended together, Monkey Shoulder has a richness, vibrancy and fruity aromas that help it stand out from the crowd.
To freshen up the hot Songkran in Thailand, Monkey Shoulder has created an exclusive Songkran 'Refuel Your Party' kit, designed to liven up the festivities. Each kit includes must-haves for an epic Songkran celebration, from pocket-sized water guns to a vibrant Monkey Shoulder tee, a bottle of Monkey Shoulder for endless delicious possibilities and a connection to Monkey Shoulder Mixcloud for infectious beats that's sure to keep the party going. Whether it's poolside with friends or with loved ones at home, you'll have everything you need to have a blast this Songkran!
To reward fellow fun-lovers, from 8-14 April Monkey Shoulder is launching an online competition on Instagram. Songkran merrymakers are invited to share their cheekiest Songkran moments at home, tag @monkeyshouldersea and @makeinmonkey.th and hashtag #MakeitMonkey to be in the running for a chance to win exclusive gifts!. Lucky winners will be announced on Monkey Shoulder's Instagram profile @makeitmonkey.th on 15 April. A total of five lucky winners will get a special gift from Monkey Shoulder, as well as an exclusive bar-hop experience around Bangkok's hippest bars
For more information, check out the brand's IG (@makeitmonkey.th)
Sponsored by: