Holiday season is here, and what better way to brighten up your holiday spirit than gazing upon the festive lights of Bangkok Illumination 2020 at ICONSIAM. Starting from today to Dec 30, visit the riverside River Park of ICONSIAM to witness various lit art installations; such as 20-meter tall christmas trees ornately adorned with patterns specially created in collaboration with Mike Perry, an Emmy-winning artist.
Mike Perry works in multiple mediums, from illustration and animation to public art and sculpture. He is known specifically for his patterns and typefaces. In his collaboration, he has created two different patterns that channel the Thai energy and values that are abundant around us. The "Energy Flows" pattern features faces formed from the Kra-Jung flower, while "Celebration of Life" utilizes the antique Thai diamond motif to channel life force. From an interview with Mike Perry he has stated that he was "thrilled" to be working on this collaboration with ICONSIAM, incorporating his "love of patterns and colors."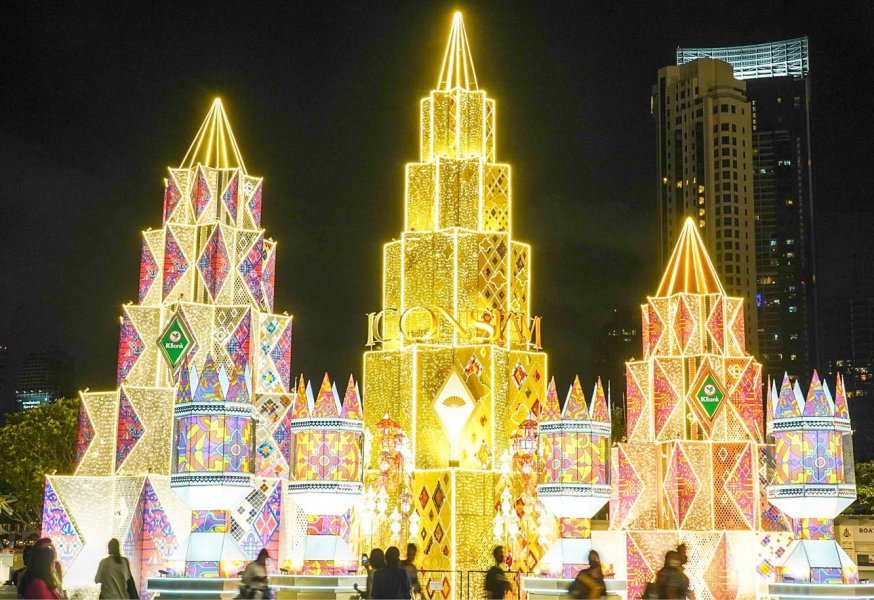 "I love Christmas and spending time with my loved ones. I am not a massive fan of traditional Christmas decorations," says Perry. "But I do love all the lights, especially when it's all cold and snowy and the lights twinkle everywhere."
The giant-sized Christmas trees take on an almost geometric, sharpley angled style (kind of like a Christmas tree wrapped inside a box and wrapped in paper), which adds a different aesthtic dimention and visual appeal to one of the most iconic symbols of the holiday season.
Appearing alongside the Christmas trees are two giant illuminated humanoid figures titled "Fantastic Planet", created by Parer Studio's Amanda Parer. These gentle giants come from afar to silently explore our fantastic planet. The forms are strategically and specifically placed to give viewers the feeling that they are softly invading. It is meant to convey the feeling that us humans are small and insignificant in scale, but have a lasting effect on the earth and our environment. With Bangkok being one of her "favorite cities to visit," Parer is "honored" to be "a focal point of celebration for the city." She gives us an insight as to how these giants came to be. They are "essentially giant balloons" made from white PVC Tarpaulin and lit by internally placed LED strips and flood lights.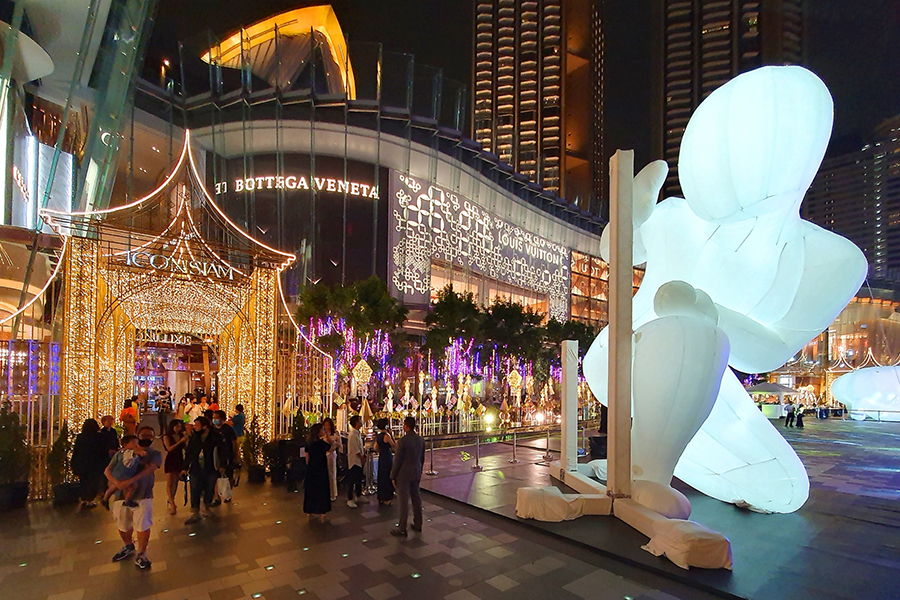 "I like to use inflatables to create my artwork, which aims to raise questions about the natural world and our relationship to it, says Parer. "My artworks range from 2 to 15 meters in height and address contemporary issues whilst invoking a sense of wonder and fun."
Parer says the pieces are meant to be enjoyed from far away just as much as they are up close. They were deliberatedly designed with the surrounding environment in mind, and the posture of the pieces allows passersby to come up and pose with the figures in different ways. This takes the interactivity of the work a step further, making the pieces more than simply eyecandy to see and walk past. And of course, the large size of the scuptures help to support the almost wonderous, dream-like atmosphere of the larger event.
Another first for the event comes in the form of the "Infinity Forest" created by New York-based design studio "SOFTlab" at Napalai Terrace on the 7th floor of ICONSIAM to give the event space the feeling of a never-ending light display.
The studio's new work "Infinity Forest" is meant to be one of the event's photo-op hot spots. Michael Szivos, the founder of SOFTlab, says that visitors can expect to see a field of mirrored chambers arranged in a forest-like atmosphere that allows them to see the reflections of the surrounding Bangkok skyline, the river, and themselves. When visitors approach inside the installation, they will become a part of the work through the reflection of themselves on the mirrors in different directions and angles. They can have fun to capture the shifting reflections of image within an image that is called the Droste effect. This effect is known in art as the effect of a picture recursively appearing within itself, in a place where a similar picture would realistically be expected to appear, creating an ever-changing infinite reflection. At night, the mirrored chambers are lit with LEDs that respond to sound, producing continuous flow of reflection. The light field is a subtle wave that is evocative of the Chao Phraya River in front of the terrace, giving an astonishing view of the river's historic curves.
To check out the event, head to ICONSIAM any time from now until Dec 30. Admission for the public is free.
For more information, visit www.iconsiam.com or call 1338.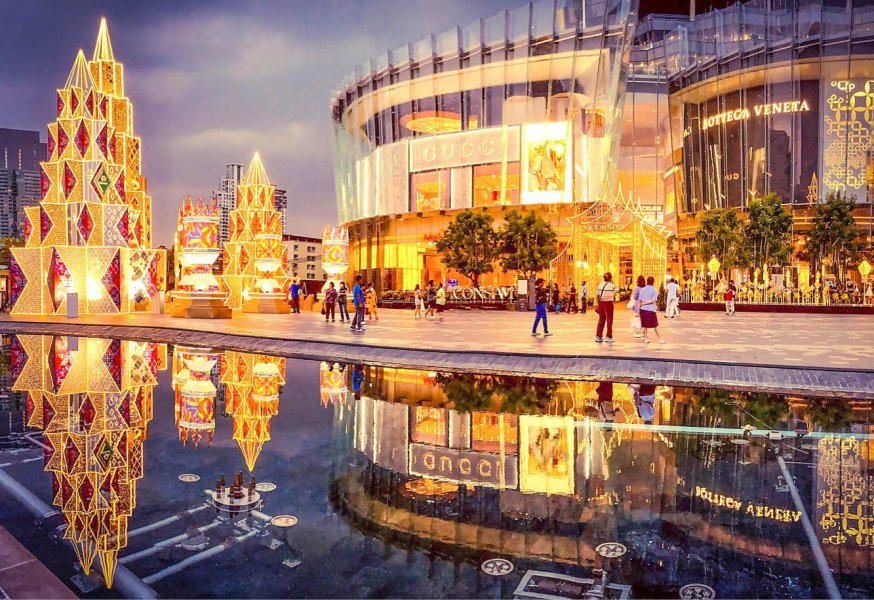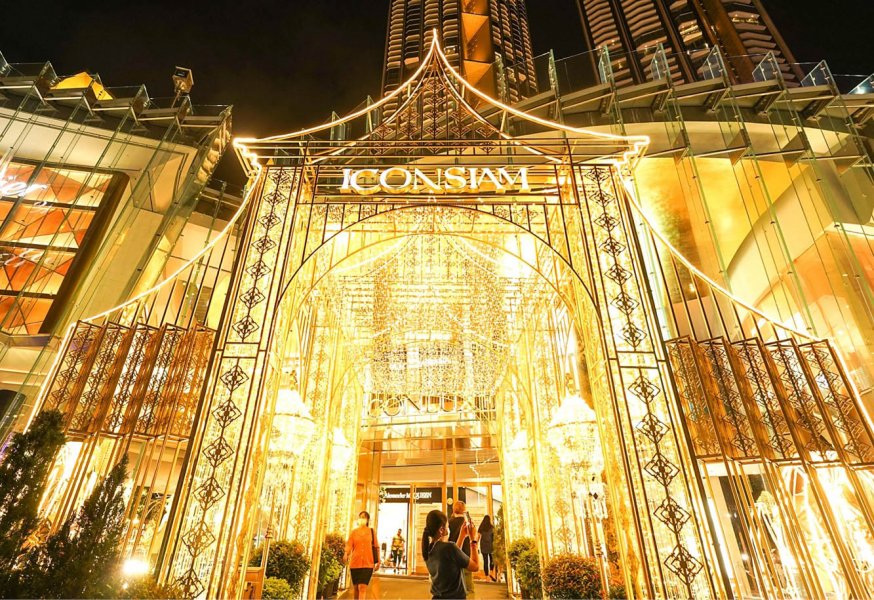 Sponsored by: