NIGHTLIFE
Image: Speakerbox via Facebook
After three successful stints, Broken Souls is now bringing their comedy and music showcase to Speakerbox on Thonglor with Broken Toys. The lineup will include Lex Morales, Le'Ana Freeman, Justin St. Denis, Christy Inhulsen, Harvey Walden, Erica Pohnen, Ric Diez, and Natty Phil Ghouri.
Feb 24, 8:30pm. SpeakerBox, 1000 40 Thonglor Rd., B200 Price Online; B300 Price at the door.
Hey sundowners, looking for a rooftop bar to hang after work? Vanilla Sky is featuring free-flow cocktails, beer, spirits, wine and non-alcoholic beverages.
Feb 24, 5pm-6:30pm. Vanilla Sky, 36th Floor SKYVIEW Hotel Bangkok 12 Sukhumvit 24 Alley, B699.
Beans, beans, the musical fruit—meaning coffee beans obviously. Loosen up after a long week at Sarnies for some chill music, inventive food, and crafty drinks. Walk-ins are available but there are limited seats so make sure to book.
Feb 26, 7:30pm-10:30pm. Sarnies Bangkok, 101-103 44 Charoen Krung Rd.
ACTIVITIES
Up for a challenge? One of Thailand's most popular races is back. Start from Rajamangala Stadium and run to Democracy Monument for the finish line.
Feb 36: 5K and 10K
Feb 27: 21K and 42K
Feb 26-27, 3am-10am. Rajamangala Stadium, 286 Soi Ramkhamhaeng 24 Yaek 18.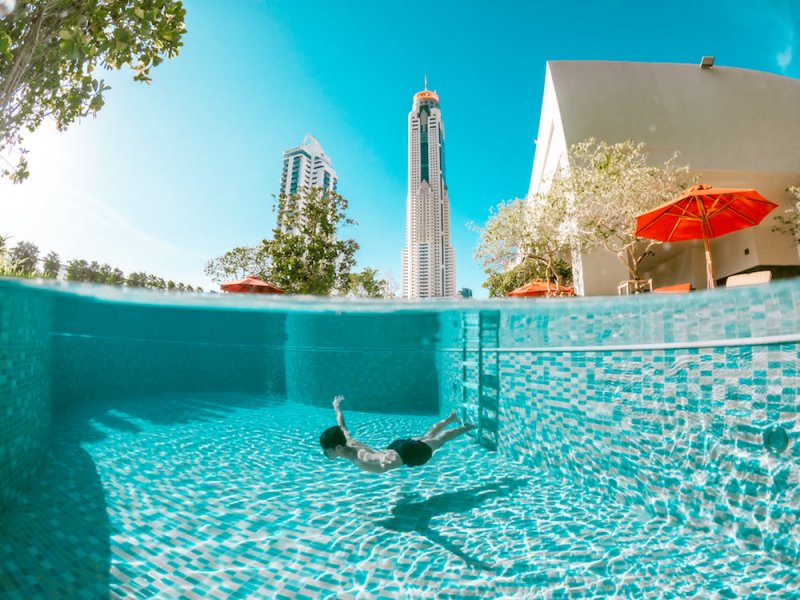 Image: Amari Watergate Bangkok via Facebook
Pool parties are back, baby. This one promises good vibes with a selection of tech and house music and an open bar from 4pm to 5pm. Oh, and it's free-flow!. There's free entrance for ladies before 6pm.
Feb 26, 4pm-11pm. Amari Watergate Bangkok, 47 Phetchaburi Rd., B300 (Including 3 free drinks and ATK test).
The Comedy Club is back with improv. Pop around to the Royal Oak pub and make your way upstairs for the Improv All-Stars, where you can shout suggestions at Bangkok's improv aficionados.
The early show is at 7:30pm and the late show is 9:30pm.
Feb 25, 7:30pm, 9:30pm. Comedy Club Bangkok, 595, Above The Royal Oak, 10 Soi Sukhumvit 33/1, B400 At The Door.
Image: The Commons Saladaeng via Facebook
The first Soul Funk Night with Supergoods is coming to the Commons Saladaeng this Saturday. Hang with the gang and groove to the DJ spinning on their terrace, with Supergoods playing in the market.
Feb 26, 5pm-11pm. The Commons Saladaeng, 126 Saladaeng 1 Alley
FOOD & DRINKS
Image: Aesop's Bangkok via Facebook
Aesop's, the high-end Greek eatery south of Lumpini, is having its first Barbie Brunch on February 27, calling on all Barbies and Kens for Instagrammable photo ops, booze, and food. Playing hits from the 80s and 90s, there will be a Barbie Box photo booth, fashion show, and games of prosecco pong.
Feb 27, 1pm-5pm. Aesop's Bangkok, 120 Sala Daeng 1/1, Silom. B1,250 on the door.
Pizza and wine? If that's your kind of Sunday brunch, then head down to Peppina for your slices and glasses. Some of the highlights include clams Italiano, goong chiang arancini, and three choices of pizza. Sip the Valentina Passalacqua (B1,700) or stick with the classic Cecina Tavijin (B1,400), with more on the list.
Feb 27, 11am-4pm. Peppina, 27 1 Sukhumvit 33 Alley.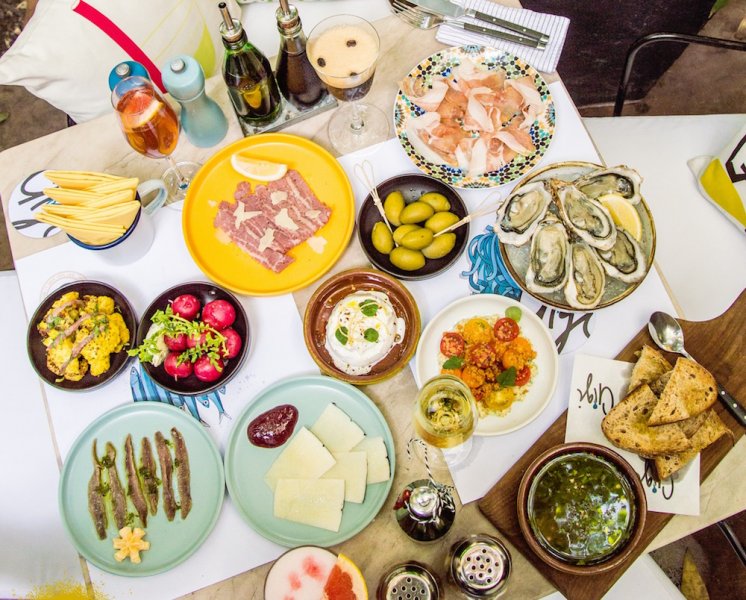 Image: Gigi Dining Hall via Facebook
Call your squad, because Sunday brunch just got better. The Gigi Aperitivo Club is offering tasty Italian bites (B100++) with free-flow drinks (B1,200++), with a DJ on-site for tunes.
Feb 27, 5pm-8pm Gigi Dining Hall & Bar, 4 Sukhumvit 45 Alley.
The Sofitel Sukhumvit has two hours of free-flow red or white wine, artisanal cheese, premium cold cuts, creamy risotto, and more.
Feb 25, 7pm-9pm. Sofitel Bangkok Sukhumvit, 189 Sukhumvit Rd., B1,400 net per person.
It's the Greek show over at The Fox Thonglor this Saturday as they will be serving a special Greek F&B Menu presented by RALLIS to be paired with Greek cocktails and sangrias.
Feb 26, 6pm-1pm. The Fox Thong Lor, 209 Thong Lo Rd, Khwaeng Khlong Tan Nuea, krontan nua, Bangkok.
EXHIBITIONS
Bangkok legend Bill Bensley is back with yet another exhibition at River City Bangkok. He has demonstrated his work in four chapters: Love, Camp, Explore, and Dreams. If you're an admirer of Bangkok's eccentric architecture genius, drop by for a dose of his famous positivity.
Now-Feb 28. River City Bangkok, 23 Soi Charoen Krung 24, Talat Noi, Samphanthawong, Bangkok. Free.
Female portrait paintings behind the filters will push you to look at your inner self. Inspired by the effects of social media, SammyN ignites imaginations.
Feb 24 - Mar 27. River City Bangkok, Room 254 on 2nd floor, 23 Soi Charoen Krung 24, Talat Noi, Samphanthawong, Bangkok.