We're nearing the final day of booking for BK Restaurant Week 2023—so a big shout out to all the restaurants that participated this year and made it one of the best events yet! If you've wanted to snag a ticket, you still have until November 14 (Wednesday) to make bookings for that same day or the final day on dining on November 15.
UOB and TMRW card holders also score free complimentary dishes with every booking, so check out the full menu descriptions for more details. Lastly, our water sponsors, Perrier and Vittel, have hooked up select venues with complimentary water to add even more value to each booking.
Check out the full list of restaurants here.

The Food Trust
The Food Trust offers a menu that celebrates the artistry and sustainability of Thai cuisine. Choose from two set-menu options, featuring dishes made with organic and locally sourced ingredients. The Green Set is a vegetarian delight, with salads, tofu, and crispy rice balls. The Lighter Set includes jiao zi and lu rou fan, along with the same salads and tofu. Both sets end with a sweet treat from Ang Thong province, the kanom gaysorn-lum-jeak.
Price: B999
Brews & 'Ques by Crave
The terrace of Crave Wine Bar & Restaurant at Aloft Bangkok hotel is home to Brews & 'Ques, an American-inspired barbecue joint with quirky Asian twists. Even the most carnivorous of diners will be satisfied with the four-meat platter: the grilled BBQ ribs come with your typical fries and corn on the cob, there's the spit-roasted chicken with a spicy Mexican sauce, traditional German currywurst seasoned with curry ketchup, and moo nam tok skewers made with pork that has been been marinated in a homemade Thai spice rub.
Price: B1,199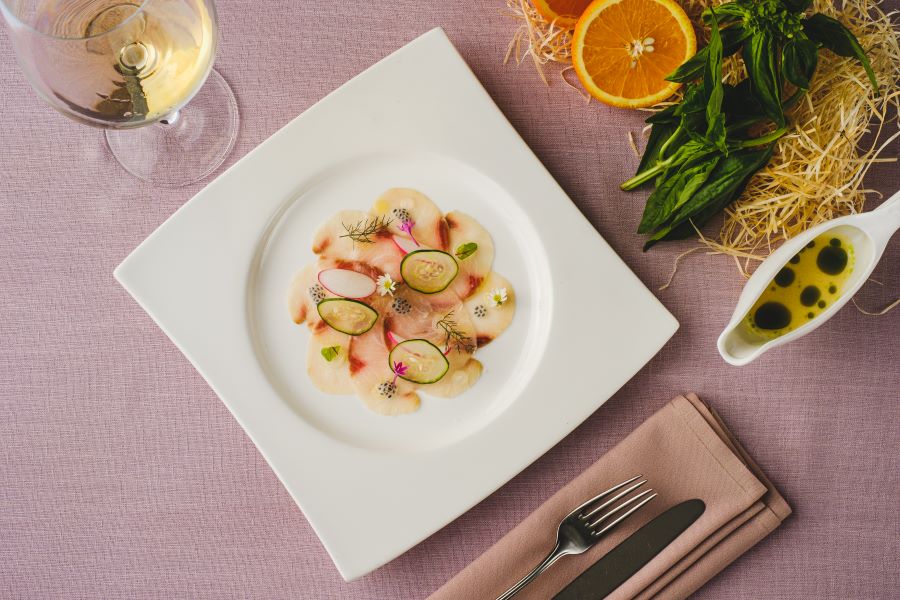 Medici Kitchen and Bar
From a dining room that looks like an Italian wine cellar tucked into the rusting rafters of an Art Deco skyscraper, Medici fuses the cuisines of Italy's Mediterranean coastline with influences from its neighboring countries. The light smoked yellowtail kingfish carpaccio starter prepares the palate for a heavier main course, specifically duck ravioli served with a sumptuous parmesan truffle foam. Dessert is an Italian favorite: a classic chocolate and amaretti bonnet Piemontese.
Price: B999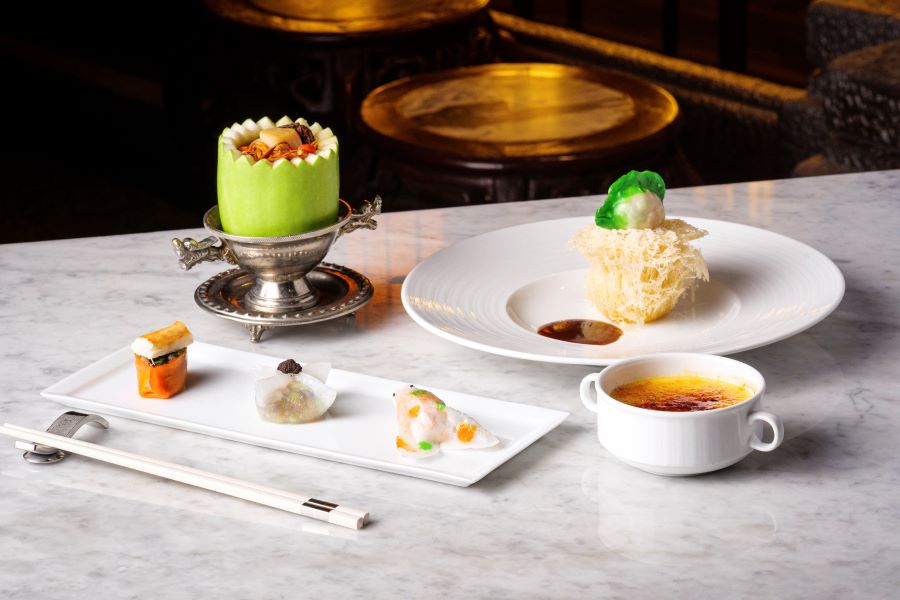 Pagoda Chinese Restaurant
Find good fortune and great dishes as you feast authentic Cantonese cuisine at Pagoda Chinese Restaurant, prepared by the renowned Chef Oscar Pun. Enjoy the exquisite dim sum, featuring steamed dumplings with shrimp, crab, and truffle. Savor the nourishing winter melon soup, the succulent BBQ beef rib-eye, and the fragrant sticky rice with crab meat. End your meal with a sweet and smoky oolong tea crème brulee, topped with flaming cotton candy.
Price: B999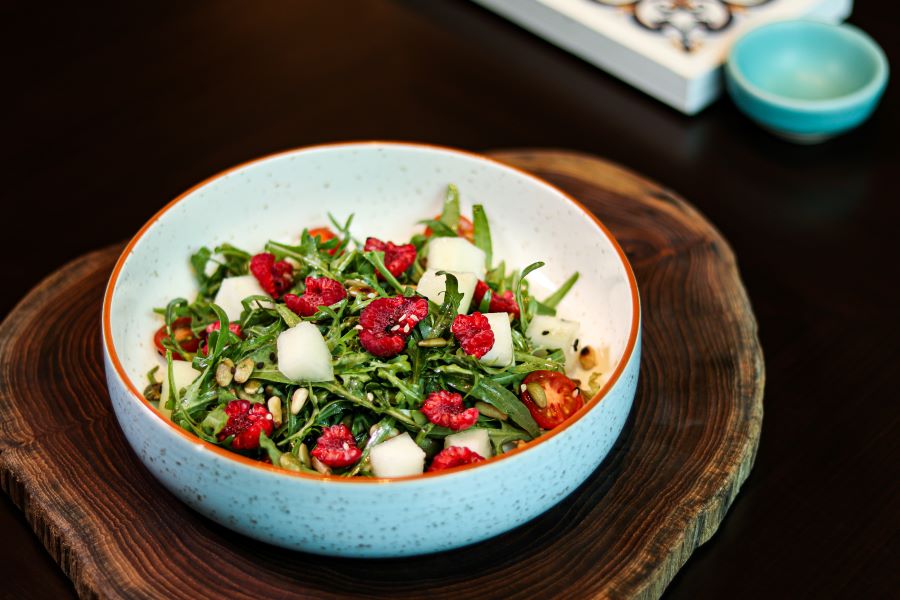 ALATi
ALATi brings you the flavors and memories of the Mediterranean Sea, with dishes that are both classic and contemporary. Just as the Mediterranean is diverse in culinary traditions, so are you spoiled for choice here. You can start with the seasonal tomatoes and feta, the fried calamari, or the pumpkin velouté. Then, enjoy the carbonara, the prawns ravioli, the spicy baby chicken, or the smoked pork sliders. Finish with the tiramisu, the profiteroles, or the lemon tart.
Price: B999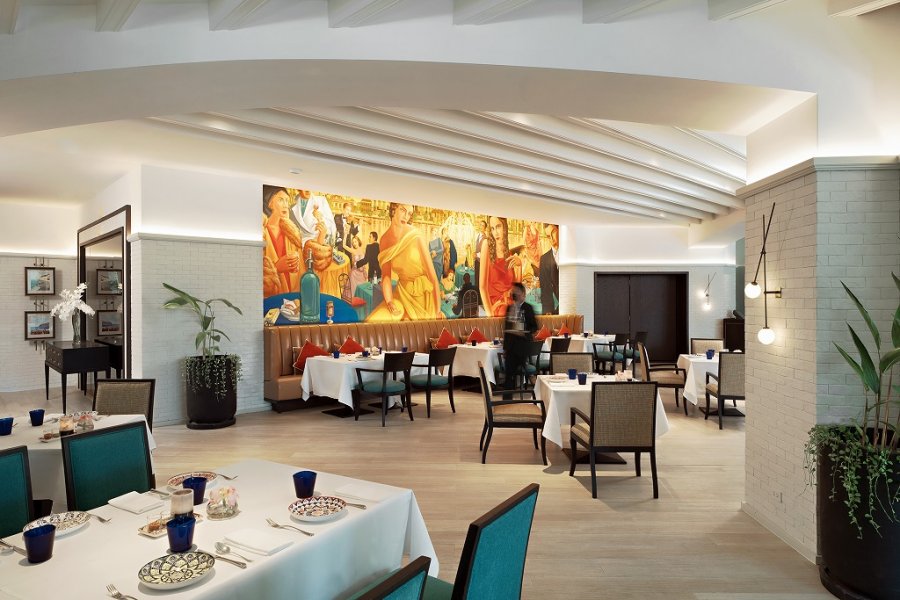 Giorgio's
Giorgio's brings you the classic Italian cuisine of the 1960s and 1970s, with dishes that are simple, authentic, and delicious. The menu features recipes that have been passed down through generations, using the freshest ingredients available. Start with the orza, a refreshing salad with white balsamic and marinated peppers. Then, choose between the spring chicken with parmesan crust or the involtini salmone, a rolled salmon with green peas and sun-dried tomatoes. End with the panna cotta, a creamy dessert with berry coulis.
Price: B1,199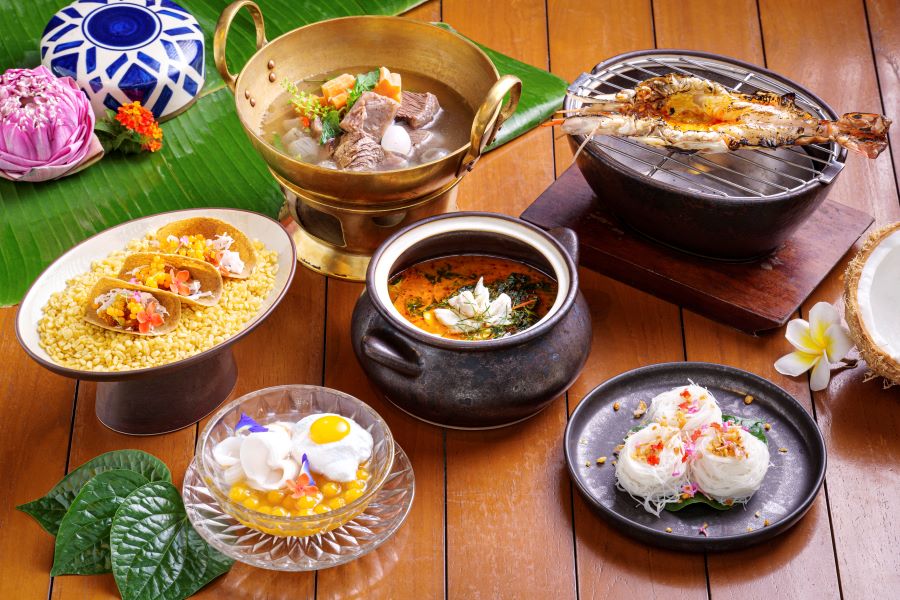 The Siam Tea Room: Asiatique Branch
Indulge in the culinary delights of Thailand at The Siam Tea Room. Nestled in an elegant wooden building with river views, the venue offers a delightful ambiance. Begin your gastronomic journey with the aromatic Thai coconut prawn tacos. Experience the rich flavors of the beef cheek sweet and sour soup, infused with Thai shallots and basil leaves. The main course features a tantalizing grilled river prawn crab curry, wrapped in betel leaves and served alongside coconut milk-infused rice. Conclude your meal with the exquisite bua loy palms in coconut milk, adorned with sweet quail eggs.
Price: B999
Spice & Barley
Here, sharing the delightful Chinese and Southeast Asian-inspired dishes adds to the enjoyment. Start with the seafood stick, a crispy spring roll with crab meat and white prawn, served with wasabi mayonnaise. For the main course, choose between the steamed sea bass with fermented bean, a flavorful dish with ginger, pork belly, and shiitake mushroom; or the chicken claypot, a tender braised chicken thigh with ginger and soy sauce. For dessert, treat yourself to the Taiwanese egg tart, a crispy shell filled with custard and topped with fresh berry.
Price: B999
The Brasserie
The Brasserie offers a culinary journey that spans from New York to Paris to Bangkok. Start your day with the onsen egg salad or the Waldorf salad. For lunch, enjoy the French-inspired menu, featuring the grilled pork chop with truffle potato, charred carrot, and honey mustard sauce, as well as the salmon en croute with cream cheese and dill cream sauce. End with the strawberry shortcake, a sweet delight.
Price: B1,199
Bardo Social Bistro & Bar
Set on Sathorn Soi 10, Bardo Social Bistro and Bar is the CBD's new after-work hangout spot. The venue welcomes you with checkered floors, counter bar seating, and a menu that blends traditional Mediterranean cuisine with modern French influences. Literally break bread with the signature Bardo focaccia appetizer. Depending on your mood, entrées can take either the surf route with crab ravioli or prawn risotto, or turf with a sumptuous bone marrow beef tartare.
Price: B1,199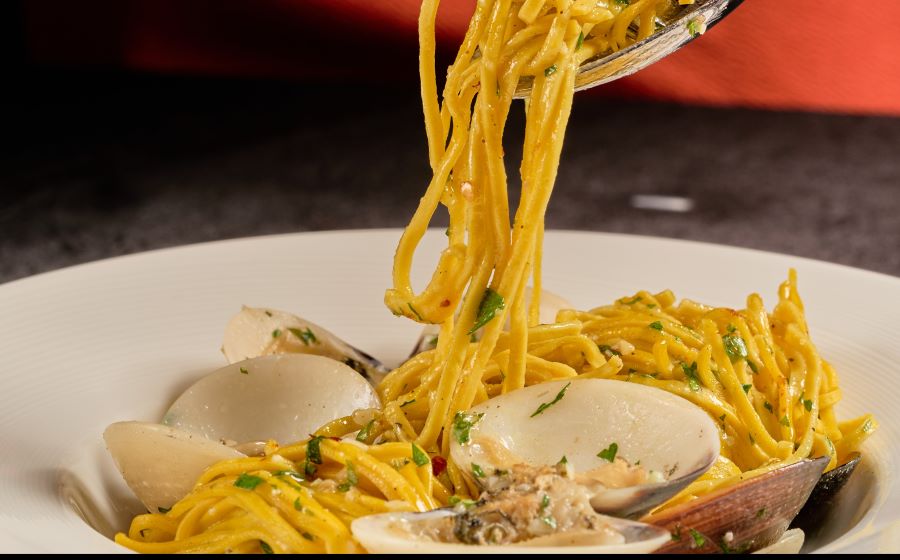 Brio
Forget the frills—Brio is all about authentic, rustic Italian cuisine that packs more flavors than you thought could fit into one plate. Your meal starts with a light Caesar salad with grana Padano and white anchovies, and will end with a berry panna cotta. All you have to do is pick your perfect entrée: a scrumptious spinach lasagna with homemade pasta, baked sea bass served with tomato and basil, or spaghetti with mushrooms and Italian sausage in a creamy n'duja sauce.
Price: B1,199
Siam Yacht Club
Steer towards the charm of Bangkok's riverside at Siam Yacht Club, a stylish venue inspired by the city's maritime history. The menu highlights both surf and turf, beginning with a medley of ahi tuna and skrei cod, followed by either salmon served in a ponzu beurre blanc sauce, or chicken breast cooked in a creamy mushroom sauce. The signature banoffee pie with caramelized bananas is the ideal sweet ending to your night out at the waterfront.
Price: B1,199
Kisara
Indulge in a symphony of flavors at Kisara, where the artistry of Japanese cuisine comes alive in every dish. Begin your culinary adventure with the exquisite salmon and truffle chawanmushi, a delicate fusion of textures and tastes. Dive into the miso gindara, where succulent black cod meets the richness of Japanese black rice risotto and earthy eringi mushrooms. Conclude your feast with the refreshing yuzu kakigori, adorned with compressed fruits and perfumed chantilly. Experience the epitome of authenticity in a setting that marries tradition with modern elegance.
Price: B999