---
1) Mink oil, Red Wing, B790
2) Leather cleaner, Red Wing, B550
3) Wax polish, Saphir, B1,300
4) Mink oil, Saphir, B1,150
5) Leather wax, The Flat Head, B1,250
6) Large and small horsehair brushes, London Brown, (B750, B500)
7) Horsehair brush, Mango Mojito, B275
8) Gentleman collection brown wingtips, Mango Mojito, B6,350
9) Dodgeville brown, Thorogood, B11,500
10) Waterproofing sprayer, London Brown, B300
11) Henri black, London Brown, B3,590
Essentials
Red Wing, The Flat Head and Thorogood available at Pronto. 3/F, Central Embassy, 1031 Phloen Chit Rd., 02-160-5972. BTS Phloen Chit
Saphir available at Mango Mojito. J Avenue, Thonglor Soi 15, 02-712-5529. BTS Thong Lo
London Brown. Siam Square Soi 2, Rama 1 Rd., 086-332-1544. BTS Siam
---
Know Your Product
Mink Oil
Acts as a moisturizer for leather shoes to prevent them from cracking. Apply after cleaning but before polishing.
Saddle Soap
Shoe moisturizer made from beeswax and other natural oils—not mink fat. Apply after cleaning but before polishing to help soften the leather.
Wax
Adds another layer of coverage to your shoes and helps make them shine.
Leather Cleaner
Water-based cleaning product that should be used on boots or general working shoes that need protection but not a shine.
Waterproofing Spray
Adds a layer of water-resistant protection to your shoes; mostly used with suede and Nubuck.
---
HOW TO
Step 1: Take out shoelaces and use a horsehair brush or cloth to remove any dirt.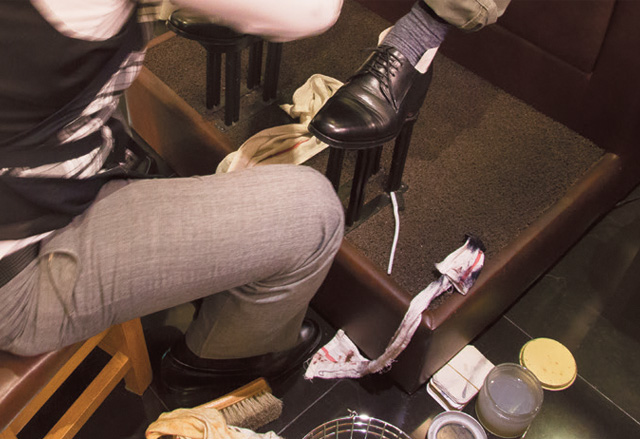 Step 2: Use a smaller brush (even an old toothbrush) to apply shoe polish in hard-to-access areas and then a cloth to apply all over. Leave the polish to absorb for a minute.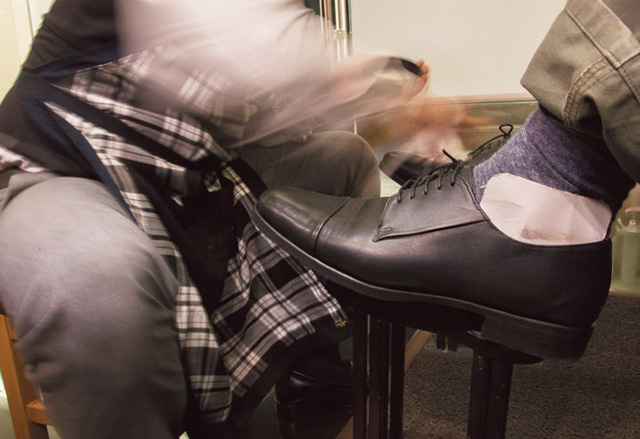 Step 3: Using a horsehair brush, rub your shoes until they shine and then use a chamois to finish the polish.
Step 4 (optional): For additional shininess, dip a cotton pad in water and dab gently on the areas you want to shine, then rub using a chamois until you achieve the desired results.