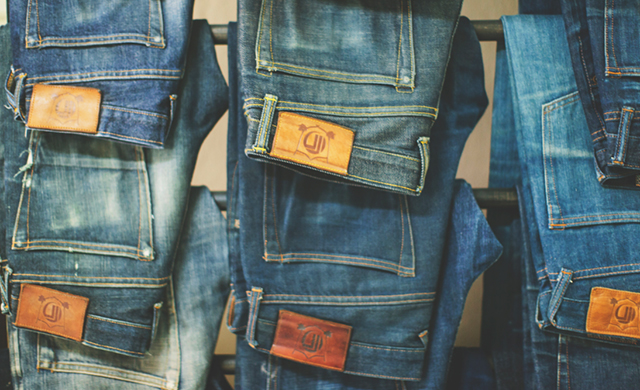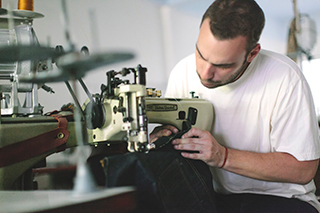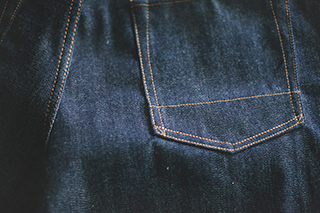 THE OLD HAND
When it comes to custom denim, Ben Viapiana was well ahead of the game, especially for Bangkok. The Canadian who calls Bangkok home set up his workshop here in 2007, and has been producing bespoke jeans for buyers all over the world ever since. The son of a tailor, Ben turned to crafting his own streetwear and then settled on jeans after an ultimatum from his dad: "Make your own jeans or don't wear them." The process is simple: you choose the fit, type and weight of denim (all non-stretch), stitch color, button fly or zipper, custom details like patches, as well as button and rivet colors. It takes around 10 business days for production and customers can benefit from almost unlimited alterations. Expect attention to detail, right down to nickel- and toxin-free buttons, and jeans "that may even outlast you." For more words and videos on the custom process, see Viapiana's website (
www.viapiana.ca
) or Instagram (ben_viapiana).
Price: From B6,500
CUSTOM KING
Selvedgework is the brainchild of designer Vitchapong "Boom" Hutasuwan, an avid denim collector whose parents run a jeans factory. From his store located in the heart of Siam Square (right next to Pronto), he will guide you through the process of getting your own custom-made pair of jeans. As is handily displayed on the shop's walls, you can choose from a dozen different kinds of selvedge denim either made here or imported from Japan, Italy and the USA, five different cuts (straight to super skinny, stretch or non-stretch) and a wide selection of buttons and add-ons like tailored waistbands, lasered initials and pocket lining. Women's jeans are also available. Production time is 1-2 weeks. Other products in-store include ready-to-wear denim shirts, aprons and imported bags. Selvedgework occasionally also doubles as a concert promoter, and has held gigs featuring Greasy Cafe and Lomosonic.
Price: From B6,900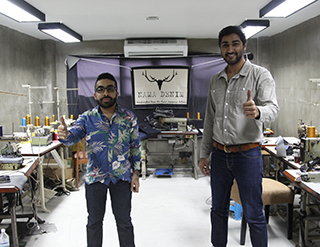 SELVEDGE SAVIORS
Founded about 18 months ago by Vishesh Sachdev and Nikhil Rattanaphas, whose families have long histories in textiles, this growing denim label hopes to "showcase Thai craftsmanship to the world." Aside from their small Terminal 21 store, Nama Denim's jeans are also stocked in Sydney, Australia, and Montana, USA. These jeans are made only with selvedge denim sourced from Okayama, Japan—"the denim capital of the world"—and handcrafted at their workshop on Sukhumvit Soi 33 using vintage sewing machines. The designs are clean, no-nonsense, but built to last. Due to the close proximity of the workshop, the store also offers alteration services for no additional charge. The duo has more plans to expand abroad, and is also gearing up to launch a premium line in November (to be premiered at this week's Terminal 21 Denim Festival, see below).
Price: From B3,000
Where:
2/F, Shop 2088, Terminal 21, 2,88 Sukhumvit Soi 19, 08-989-2723. Open daily 10am-10pm. BTS Asoke.
www.fb.com/namadenim
---
Where else to buy quality denim in Bangkok
Now with seven branches across Bangkok,
Pronto
(try the latest opening, 3/F, Central Embassy, 02-160-5972) are your go-to guys for respected mainstream denim labels like Nudie, Naked & Famous and Edwin, plus an array of Japanese cult names. French streetwear label
A.P.C.
does some of the best raw denim out there; try the flagship store (1/F, Central Embassy, 02-160-5786/7) or multi-brand stores
NextoNormal
(G/F, CentralWorld, 02-646-1847) and
Siwilai
(5/F, Central Embassy, 02-160-5809-12).
The Blue Brothers
(K Village,
www.fb.com/thebluebrothersdenim
), who do pop-ups at Bangkok's main malls, import a number of vintage-style brands, mainly Dutch, like Dstrezzed and K.O.I. The high-end British denim label
Trousers London
has a shop at Siam Paragon's department store (2/F, Siam Paragon, Rama 1 Rd., 02-690-1000).
Why wear raw denim?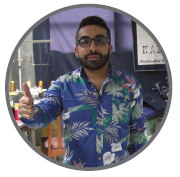 Vishesh Sachdev, co-founder of Nama Denim
"It is denim in its purest form, which develops and molds to your body unlike any other fabric out there. The creases, fades and whiskers that take shape in raw denim tell a story that's uniquely yours. We hang our jeans in our store inside out so customers can admire the quality craftsmanship behind each and every pair."
Glossary
Selvedge: Denim produced on vintage shuttle looms, the way it used to be. The fabric will have a clean, self-finished edge which will not fray or unravel.
Raw denim: Denim that is not washed after having been dyed during production.
Fades: The patterns which form in places of wear and tear on a pair of jeans, varying between wearers.