Forget Camp and SOS for a sec
When it comes to shopping, Bangkokians have all the fun. The growing trend of standalone multi-brand stores has allowed us to become more adventurous in our retail habits, opening our eyes to new and exciting local and international brands that can't be found in the city's big commercial malls.
While the likes of Camp, SOS and Matchbox are longstanding favorites when it comes to multi-label outlets, the following stores definitely give them a run for their money when it comes to discovering unique styles from underrated brands.
Quirky slogan Ts and retro-chic style
Style: Quirky slogan T-shirts, suit jackets and pants in retro shades of orange and mustard, with hip tote bags and accessories galore.

What: The clothes being sold at this Ari multi-label store shout out Wes Anderson meets 500 Days of Summer—which is probably why it's such a hit among the young and hip of Bangkok. Founded by indie-movie actress and writer, Padcha "Jun Jun" Poonpiriya, Gloc features minimal, chic pieces from local brands, such as the "Girl Boss" T-shirt from J.C.Co (B590), belt bags from Magenta Olive (B4,500) and bohemian cork sandals from Kuudoo (B1,290). It also features selections from international brands, including nylon shopping bags from Baggu and lip balms from Glossier.

Our favorite piece: We're a fan of Gloc's range of quirky t-shirts, like The Freckled Market's "Wake Me Up When I'm Rich" (B490) and "Baby Boom" from Rallymovement (B590).

1/8 Ari Soi 2, 097-130-2380. Open daily 11am-9pm. Instagram: @glocglocgloc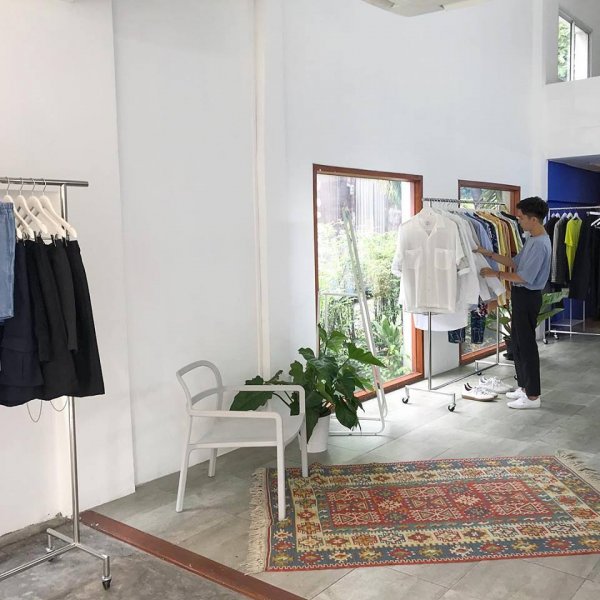 Credit: www.facebook.com/bstorebkk
Preppy '80s summer vibes from international designers
Style: A mix of Italian Riviera summer vibes, eighties prep, Oxford shirts, pastel colors, and pale vintage washed denims.

What: An intriguing multi-label menswear store that focuses on cult fashion fashion labels from around Europe and Asia. Here, you'll find brands like A Kind of Guise from Germany, Suicoke from Japan and CMMN from Sweden. Grab the cool Art Deco-inspired, checked button-down shirt from CMMN (B23,490), a 100-percent cotton T-shirt from Coltesse (B1,695), or the eye-catching scratch sneakers from Sunnei (B21,500).

Our favorite piece: The button-down, yellow and white striped shirt with a pocket from Sunnei (B9,730).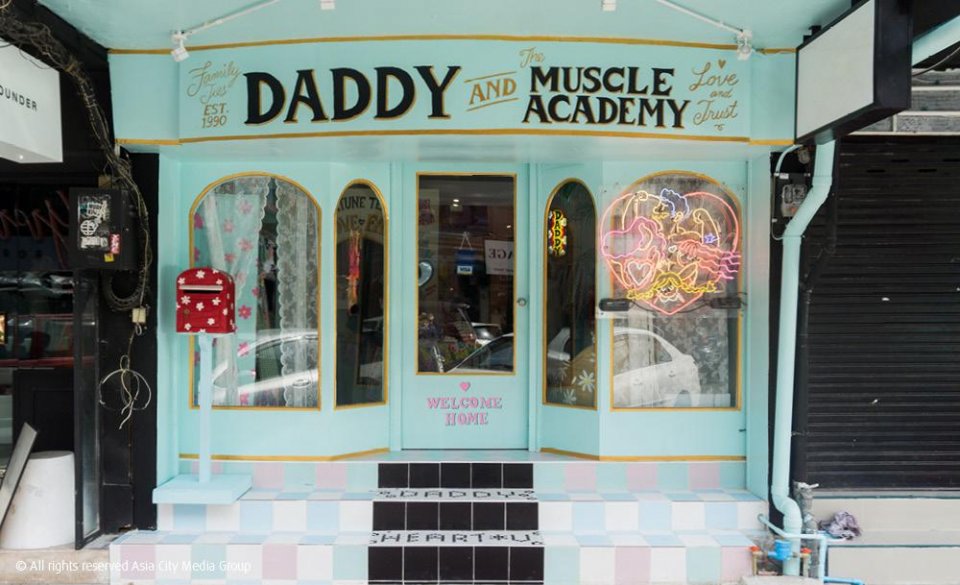 '90s candy floss kawaii
Style: Adorable kawaii-style ready-to-wear pieces with a hint of '90s vintage.

What: This '90s-style, pink pastel-colored shop from an Instagram-famous retailer has moved to Siam Square Soi 2 with a pastel green store front—and it is still hands down the cutest multi-brand store in Bangkok. Step inside and you'll be greeted with tons of cotton candy pink and cartoon-quirky decor, while the clothes and accessories are all equally bursting with cuteness. Grab the girly "Teenie" dress (B990), the retro "Rainbow" crop top (B990) or the cheeky "Summer Club" tote bag (B450) from Stick With Me 4ev.

Our favorite piece: The hippie, unisex, '70s "Flower Child" long sleeve button down shirt (B1,290).

Siam Square Soi 2, 084-667-7785. Open daily 12-9pm. Instagram: @daddy_and_themuscleacademy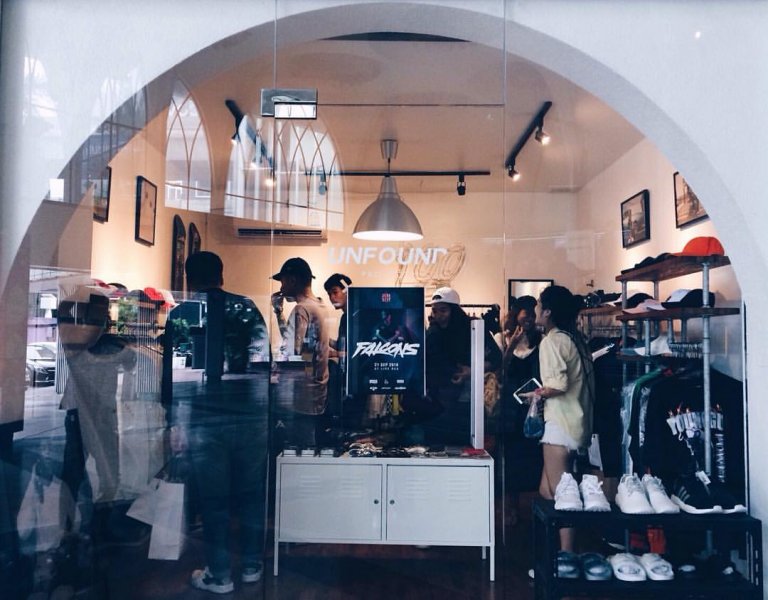 Credit: www.facebook.com/unfoundprojectsbkk
Streetwear taken seriously
Style: A mix of on trend, high-end international streetwear brands with local brands.

What: If you live and breathe for all things streetwear, then you probably already know about this multi-brand store located at Siam's Scala theater. Not only do they stock iconic international mainstays like Supreme, A Bathing Ape, Stussy and Vans, they also offer a good selection of interesting local brands that include Young & Hungry, One Drink And We Go Home and Proverb to name a few.

Our favorite piece: The Vans Style 36 'Marshmallow/Racing Red' shoes (B4,500) and the Blade Runner-style Rihanna "RiRi" T-shirt (B1,090) from Proverb.
Hi-so Hollywood style
Style: Hi-so, elegant and sophisticated dresses to chic blouses, lingerie and swimwear.

What: This sprawling one-stop shopping destination is perhaps the fanciest branch from Exhibit, the upscale multi-label store with locations at Central Embassy, J. Avenue Thonglor and Siam Paragon. Clothes here don't come cheap—expect to pay upwards of B10,000 for upscale, sweet-yet-chic fashion names like Australian ruffle master Alice McCall, Hollywood-hit dress brand Self-Portrait and L.A. lingerie and swimwear maker For Love and Lemons—all very Blair Waldorf and Serena van der Woodsen from Gossip Girl.

Our favorite piece: The red and white striped wrap-shirt and pants set (B13,500) from Australian label C/Meo Collective.
Playful unisex pieces for everyday wear
Style: Casual and playful, easy-to-wear unisex pieces that go with anything in your wardrobe.

What: The owners of Hungry Bear pancake shop at Central Ladprao present multi-label fashion from Insta-famous Thai designers in a bright, all-yellow store that will lift your mood the moment you step inside. Most of the clothes here are casual and colorful, loaded with playful details like the tropical Hawaiian shirts from Chamnii (B590), the pink ice popsicle "Melt Me" top from Everyboyday (B790) and the Nasa-logo-inspired "Yaas Planet" T-shirt from Yaas Studio (B590).

Our favorite piece: For us, the real highlights here are the hipster accessories. Check out the cheeky hot dog tote bag from Mustard Sneakers (B790) and the fried egg and bacon Macbook case from Double T (B690).