Jump Hangout Café
The Dish: Spaghetti Dried Chilli Pla Salid
The Flavors: a twist on an Italian classic (aglio et olio), a simple combination of fried garlic and oil—a classic late-night snack. Garlic and red chili flakes are first fried in oil before adding a bit of stock. This creates an emulsified mixture that prevents the dish from becoming greasy, and feels much more like a proper sauce. The pasta is cooked al dente, and topped with a bit of fresh basil to color. To Thai things up a bit, some crispy fried damselfish is placed on top.
The Price: B345 (includes one pasta dish and 50cl of Estrella Damm)
226/3 BK101 Tonsoong Avenue, Soi Pradit Manutham 2, Wang Thonglang, 096-946-1962. Open Mon-Sat 10:19am–11:45pm.
The Older
The Dish: Wagyu Beef Basil Stir Fry
The Flavors: basically, pad krapow on steroids. The Older doesn't mess with the tried-and-true formula too much here. It's still the same combination of meat, rice, basil and chilies that we all love, but this time highlighting some of the highest quality wagyu The Older can get their hands on—all with a nice, runny fried egg on top. Rich, salty and savory, this is everything krapow was meant to be—even if you might think the premium beef is overkill.
The Price: B590 (includes one bowl and 50cl of Estrella Damm)
BTS Sanampao Exit 2, 212/5 Phahonyothin Rd., Phayathai, 092-343-8899. Open daily 6pm–2am.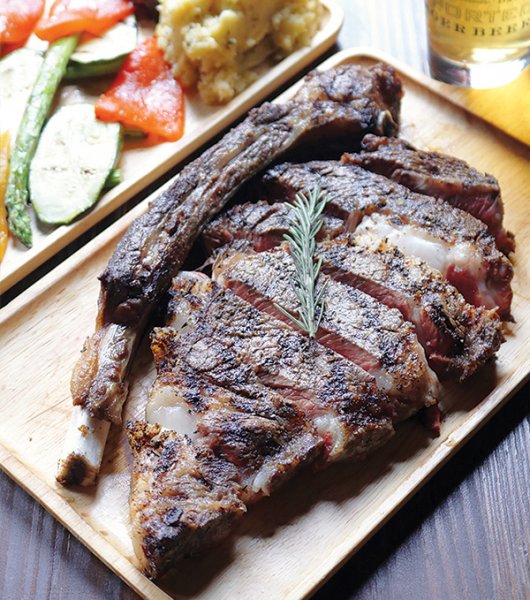 Medium Rare Steak & Wine
The Dish: Angus Tomahawk
The Flavors: simple homerun ingredients here: Australian 150-days grain-fed Angus Tomahawk served with homemade mashed potatoes and grilled veggies. Cooked med-rare, the meat is melt-in-your-mouth tender, but rendered enough to caramelize and retain its flavors. Red wine is usually the token pairing here, but, honestly, and nice hearty lager is an awesome steak combination too.
The Price: B2,415 for one tomahawk plate, B380 for 50cl of Estrella Damm and 5% off every pint of Estrella
12/1 Soi Pradipat 10, Pradipat Rd., 02-618-6819, 063-838-5389. Open Tue–Sun 5pm–11:59pm, Sat–Sun 11:30am–2pm.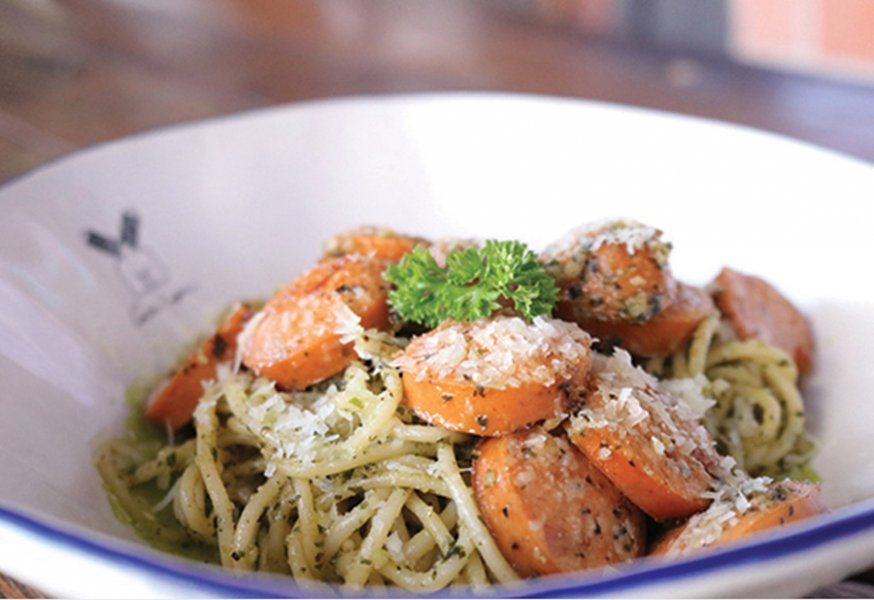 Casa Lapin X Ratchathewi
The Dish: Spaghetti Smoked Sausage
The Flavors: Casa Lapin has been serving proper Italian pasta for a long time. Here, springy al dente noodles meet the restaurant's house-made Genoese pesto (known as pesto alla Genovese in Italian), which is fresh, vibrantly green, nutty and it entirely uncooked—the way pesto sauce should be. The dish has a nice, pungent aroma thanks to a healthy portion of Parmigiano-Reggiano cheese, an intense spicy and sweet flavor from the garlic, richness from the extra virgin olive oil, and, of course, the fancy pine nuts add creaminess to the purée. Topped with high-quality smoked sausage.
The Price: B400 (one pasta and 33cl of Estrella Damm)
Ever Green Place Bangkok Building 318, Phayathai Rd., Ratchathewi, 064-586-6034. Open daily 7am–10pm
Fat Gut'z Saloon
The Dish: Paella
The Flavors: no introduction needed, really. Spain's national dish takes center stage as part of Fat Gut'z promotional offering. Here, they start things off on the right note with proper Spanish saffron and bomba rice, and load it into a sizzling pan with a stock made from chicken, sausage, mussels, clams and shrimp. The rice is served "al punto"—meaning "to the point"—which strikes the right balance between crunchiness and softness.
The Price: B630 (includes paella plate and 50cl of Estrella Damm)
Central Festival Eastville, 69/1, 69/2 Pradit Manutham Rd., Lat Phrao, 063-901-1115. Open daily 10am–midnight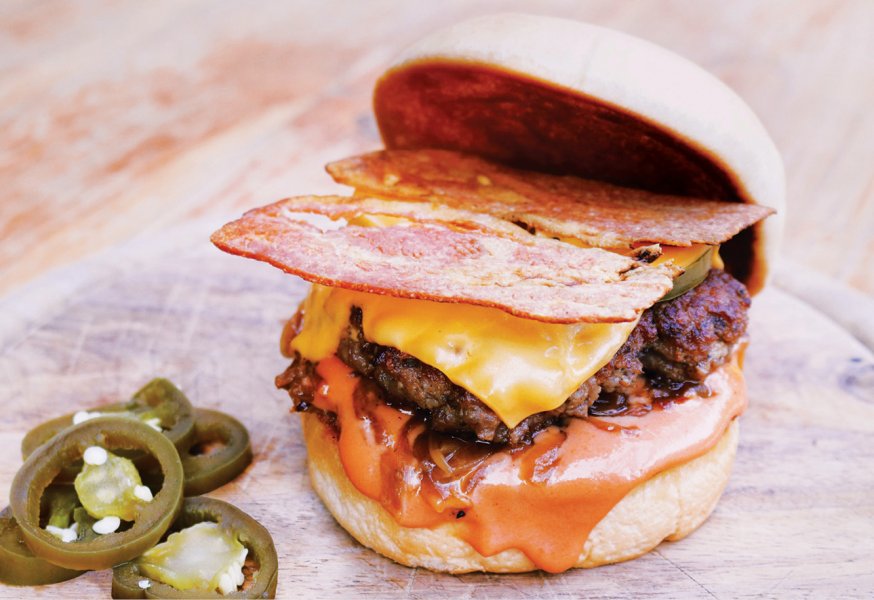 Jamie's Burgers
The Dish: Jamie's Burger
The Flavors: while they "humbly" claim this is the best burger in town, and that's a very confident thing to say, the marketing doesn't matter. You can't deny that the folks at Jamie's have gone to great lengths to consider each layer of their eponymous burger—wagyu from Surin, specially-made buns and a fat stack of bacon, jalapenos, house-made sauce and caramelized onions. Simple, greasy and delicious.
The Price: B449 (one burger and 50cl of Estrella Damm)
76 Soi Suparat 1, Phahonyothin Rd., Phayathai, 097-001-1108, 083-443-9888. Open Mon-Sat 5pm–11pm.
The Garden (Maiyalarb)
The Dish: Sashimi Salmon Spicy Salad
The Flavors: A bright Salmon flower that delivers a moist, creamy and firm texture with excellent fat marbling and a red-orange color. The dish is substantial, but light, with various herbs and and raw veggies to help balance things out. The Garden includes a nice, pungent Thai-style dipping sauce alongside.
The Price: B450 (includes one salad and 48cl of Estrella Damm)
222 Soi Prasert-Manukitch 29 (Soi Maiyalarb), Lat Phrao, 061-837-7899. Open Tue–Fri 10am–11pm, Sat-Sun 9am–11pm

Vela Rooftop
The Dish: Thai Tuna Salad
The Flavors: A nice balance of spicy, sour and salty flavors, with just a hint of sweetness. Here, a soft piece of cooked tuna piece of fish gets a dressing of fresh lime juice, lemongrass and chilies, and is then showered with a handful of fresh herbs. Next, a versatile but refreshing touch of ponzu sauce (made from rice vinegar) before the dish is garnished with coriander oil.
The Price: B440 (includes one salad and 33cl of Estrella Damm)
1209/12–14 5th Floor, Phahonyothin Rd., Phayathai, 092-425-4429. Open daily 6pm–midnight
Chongjaroen
The Dish: Hao Dong–the Merciless
The Flavors: a pork fillet with enough heat to take your head off. Fans of proper Thai food take note, this is a herbaceous, robust and fiery plate of food. Besides the lemongrass, chili, garlic, galangal and other herbs in the paste, the extra vibrant kick of lime and Thai basil adds some boldness and zest. Contrast this with the fine fragrant aroma of khao kua—toasted rice powder—and you have a nice, well-balanced dish, even if it feels like it tops the Scoville scale.
The Price: B345 (includes one dish and 48cl of Estrella Damm)
299 Nawamin City Avenue, Prasert-Manukitch Rd., 095-120-8866. Open daily 6pm–2am.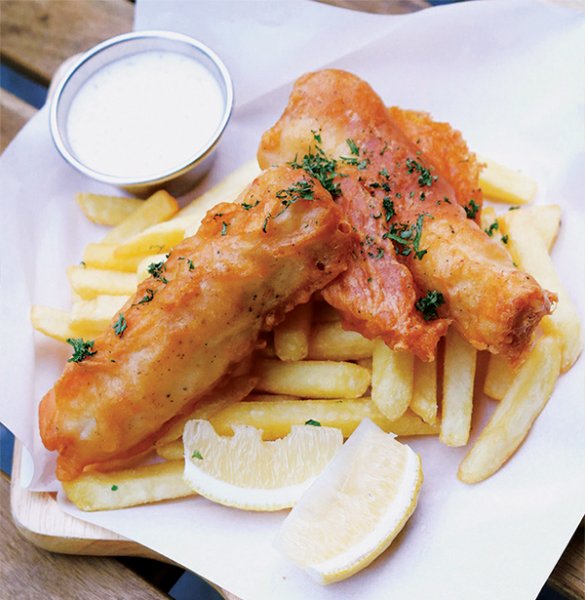 Wishbeer at The Street
The Dish: Fish & Chips
The Flavors: a classic done the classic way. It's hard to go wrong with fish, chips and beer. A lightly battered cod-fillet served with a creamy homemade tartar sauce. To take things over the top, the French fries on the side are cooked in duck fat instead of the usual canola oil, which adds a silky mouthfeel. Wishbeer claims this has fewer calories than your average pizza. No idea what "average" means there, but does health matter when it comes to pizza or fish & chips?
The Price: B590 (includes one dish and 50cl of Estrella Damm)
The Street Ratchada, B Floor, 139 Ratchadaphisek Rd., Din Deang, 02-121-1960. Open daily 5pm–midnight
---
This native ad was created by Asia City Studio. We use storytelling to help brands of all sizes influence and connect with people who matter. Visit us online: studio.asia-city.com

Sponsored by: