It's autumn somewhere. That means it's cider season, no matter how ridiculous that might sound here. We compare apples to apples in pursuit of the perfect hard cider.

Pagan Cider, Alc. 4.5% WINNER!

The brand: A craft cider producer founded by fourth-generation orchardists, promising no added sugars or artificial flavors.
Origin: Tasmania
The taste: Clean, crisp, refreshing, light, with just a little tang and sweetness. We could easily drink three or four of these in one sitting.
Verdict: The Champagne of ciders.
The price: B195 (330ml)

Magners, Alc. 4.5% RUNNER UP!

The brand: One of the first sweet ciders introduced in the UK is available in pretty much every pub imaginable.
Origin: Ireland
The taste: Got a sweet tooth? This is your winner. Caramelized, peachy, easy drinking—we just want them to tone down the sweetness and amp up the fizz.
Verdict: Ride that sugar high.
The price: B80 (330ml)

Zeffer Crisp Apple, Alc. 5% SPECIAL PRIZE!

The brand: Premium craft cider from New Zealand, and winner of awards including the World's Best Cider from International Cider Awards 2017.
Origin: New Zealand
The taste: Slightly sour, crisp—like biting into a promising-looking apple that just doesn't deliver. As a side note, we tried the Red Apple flavor after the blind testing, and it would've been a title contender.
Verdict: Alas…
The price: B130 (330ml)

Orchard Thieves, Alc. 4.5%

The brand: Part of the Heineken portfolio, with a cider-making history that goes back over 125 years.
Origin: Ireland
The taste: Soft, inoffensively sweet but ending on a sour note.
Verdict: Historically average.
The price: B129 (330ml)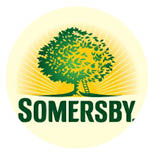 Somersby, Alc. 4.5%

The brand: By Danish brewing giant Carlsberg.
Origin: Denmark
The taste: The fizzy version of Malee apple juice screams "artificial flavoring." It smells like a lollipop and tastes like one, too.
Verdict: Kid tested, mother approved.
The price: B55 (275ml)

Moose, Alc. 5%

The brand: Thailand's Siam Brewery.
Origin: Thailand
The taste: Strong aroma, very sour, thin at the end. Looks and tastes like a sour beer.
Verdict: We mooset've missed something.
The price: B55 (330ml)

Strongbow Gold Apple, Alc. 4.5%

The brand: Backed by brewery giant Heineken and claiming 15 percent of the global cider market.
Origin: UK
The taste: Artificial. No apple to be found, just cloyingly sweet, mouth-drying yellow liquid.
Verdict: Water, please!
The price: B55 (330ml)

Aspall Suffolk Premier Cru Cyder, Alc. 6.8%

The brand: This 300-year-old cider maker comes to us by way of Smiling Mad Dog.
Origin: UK
The taste: The most unique flavor of the lot. Inoffensive, but you can really taste the alcohol.
Verdict: Booze cruise.
The price: B260 (500ml)

Ace, Alc. 4.8% YUCK!

The brand: Founded by a UK producer who moved to California.
Origin: US
The taste: The promising pale color proves deceitful. This cider tastes like it's been aged with Sour Patch Kids.
Verdict: Drain pour.
The price: B220 (500ml)
---