Who doesn't love KFC? (and we don't mean the one with Colonel Sanders). For years, Korean-style fried chicken has dominated the Bangkok market thanks to its winning formula of light batter, juicy meat and addictive sticky, sweet and spicy sauce. We selected six of the city's most popular purveyors to see who does it best.

The place: This South Korean chain champions chimaek (fried chicken and beer) at over 100 branches across Asia, offering over 30 types of chicken, from classic to fusion.
The taste: Sprinkled with dried chilis and almond flakes, slathered in a honey-like sticky brown sauce—which one taster called "the culinary equivalent of crack cocaine"—this Thai-fusion take may not be strictly authentic, but we dig it. Big time.
Verdict: Authentic schmorthentic.
Order: Combo with Garlic Sauce, B181
5/F, Siam Square One, 388 Rama I Rd., 02-252-3557. Open daily 10:30am-10pm
BonChon
RUNNER UP!
The place: First of its name, the unburnt, queen of fried chicken, khaleesi of South Korea and mother of 282 branches worldwide.
The taste: One look at these bad boys and we knew what we were in for: a comforting, golden, light-yet-crunchy, juicy delight.
Verdict: Never disappoints.
Order: Bonchon Wings with Soy Garlic, B171
Various branches. Try 191 Silom Rd., 02-231-3129. Open daily 10am-9pm
Tudari
The place: With over 2,000 branches in South Korea, as well as over 130 in China and 11 in Bangkok, this casual diner is known for its hot pots and chicken.
The taste: Topped with black sesame seeds, this moist chicken comes with a nicely crispy crust. It is coated in two different sauces: the soy garlic has some of us proclaiming "it's better than BonChon," while the unappetizingly sweet sauce is sorely lacking spiciness.
Verdict: 50/50.
Menu: Combo Wings with Six Sauces, B160
Various branches. Try Siam Paragon, 991 Rama I Rd., 02-610-9456. Open daily 10am-10pm
The place: After dabbling in Korean-Mexican fusion, this Asoke joint turned its focus to the food of the gods: chimaek.
The taste: Crispy on the outside, juicy on the inside and served with a potent spicy sauce, this is pretty legit—perhaps the most Korean of all the Korean fried chicken we tasted. Yet, for some reason, this one left our panel divided.
The verdict: ¯\_(ツ)_/¯
The menu: Original Fried Chicken, B220
37 Asoke-Dindaeng Rd., 092-251-8661. Open daily 1-8pm
The place: Ari's modern Korean restaurant proved so popular (almost 122k Facebook likes and counting), it expanded with a branch in Seacon Square.
The taste: Scattered with a few sad-looking sesame seeds, this chicken has a nice color but looks as dry as the sauce it's coated in. The batter is crunchy, but it's too thick and tastes bland; the chicken is overcooked and hard to dissect.
Verdict: Lackluster.
Menu: Wing Set with Spicy Sauce, B129
110/5 Rama 6 Rd., 02-619-5196. Open Tue-Sun 11:30am-10pm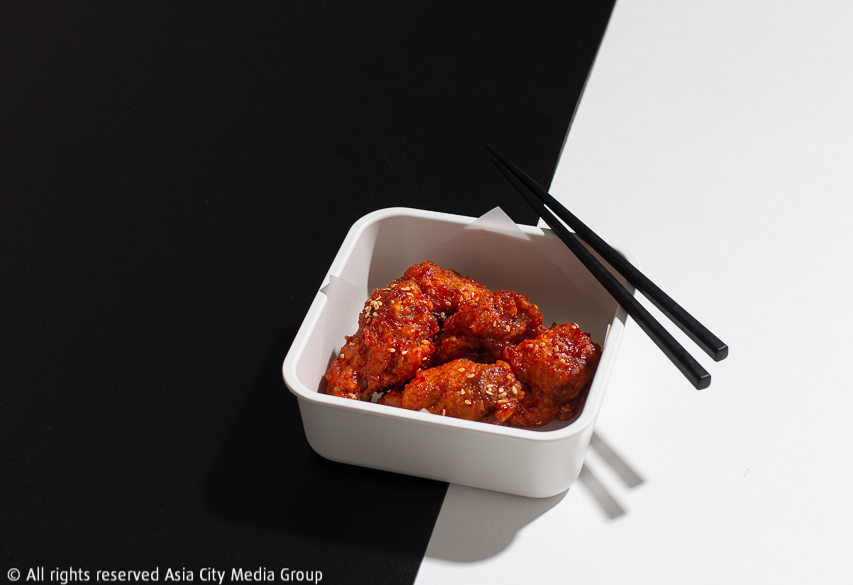 The place: Tucked down a Sathorn soi, this low-key cafe is known for its Korean home-cooking.
The taste: Though the abundant sticky red sauce looks promisingly fiery, it lets us down in a big way with its bland, ketchup-y taste. The white sesame seeds seem to all have landed on a singular piece of skinny, chewy chicken.
Verdict: Playing ketchup.
Menu: Super Seoul Fried Chicken with Signature Spicy Sauce, B187
52 Sathorn Soi 11, 081-881-7767. Open daily 11am-10pm
---
BK's Taste Tests are conducted blind by a panel and are intended as entertainment, not rigorous scientific analysis.

Read more of BK's Taste Test