If you're anything like me, regular Chinese New Year's desserts are boring–think soaky Cantonese sponge cake fa gao that no one bothers finishing or the endless pile of the same old glutinous rice balls.
But it doesn't have to be like this. What is prosperity without deliciousness? With a little spin on classics, you can add an epic vibe to your table offering without compromising with your great grannies. Here are four adorable sweet treats to give a new splash to your Lunar New Year.
Image courtesy of Ici
Golden Lucky Cat - Ici
Every Lunar New Year is marked by one of the 12 animal zodiac signs, and 2022 is the Year of the Tiger. This little critter isn't exactly a tiger–nor is it from China–but this isn't your average, run-of-the-mill waving lucky cat. The inconspicuous miniature statue is, in fact, an edible sculpture from up-and-coming pastry chef Arisara "Paper" Chongphanitkul–well known for her epic sweet treat creations. Here, she forms a tower of kumquat choux creams before enclosing it with a dome-like cat statue made from fresh yuzu chocolate. For B1,688, the amulet-like dessert will arrive at your doorstep in a clear-square package with a red bow.
Available from Jan 28 - Feb 6 (need to be ordered 2 days in advance). Line: @icy.bkk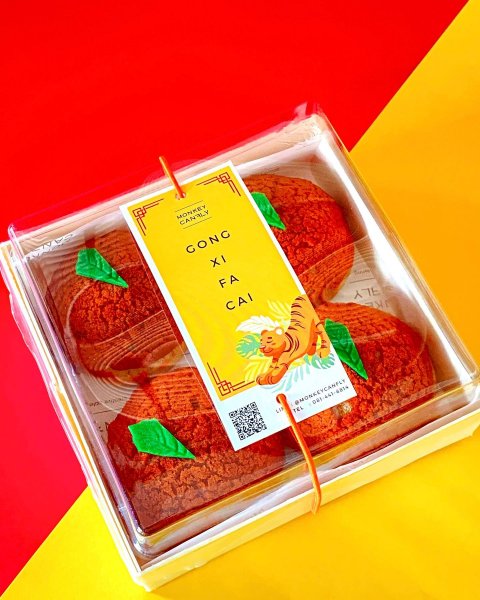 Image courtesy of Monkey Can Fly
Your great grannies may not have been able to taste pâte à choux during their lifetime, but it doesn't mean you can't bring them to the offering table, right? A team of young creative chefs from Le Cordon Bleu's Monkey Can Fly are whipping up the French classic with a festive spin. Order their eye-popping choux pastries (B395) where you'll be met with a flood of fresh vanilla-orange cream whose crisp outer layers are laced with orange zest.
Order online via Line: @monkeycanfly; Instagram @monkeycanfly.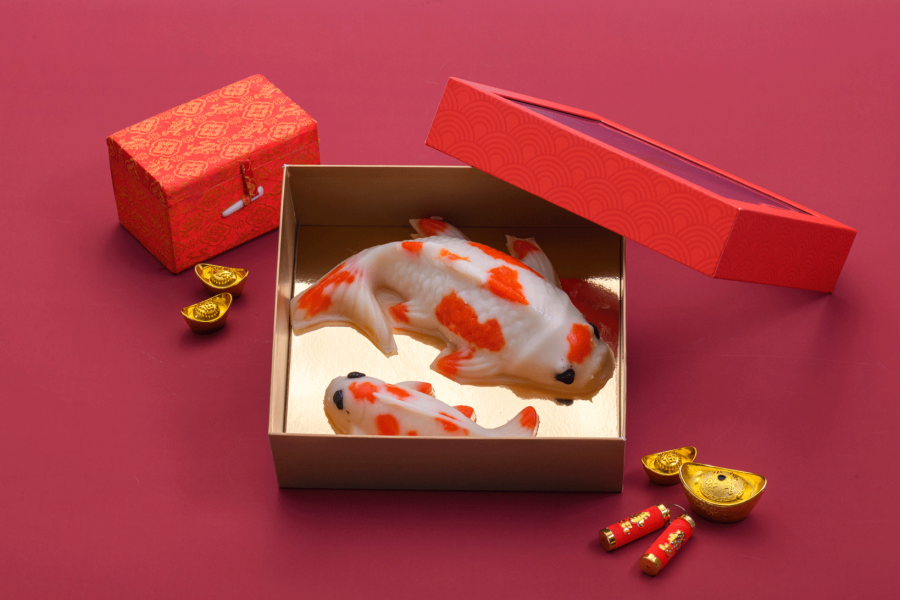 Image courtesy of Shangri-La Hotel Bangkok.
When you think of sweet rice cakes, what do you think of? Exactly. Carp. Realistic carp. This nian gao (sweet rice cake) from Shangri-La Bangkok Hotel isn't for the ichthyophobic. If you're put off by its hyper-realistic resemblance, the pastry chefs from Shang Palace have also crafted a wide selection of Chinese-themed desserts, ranging from lotus seed filling pastries (B588) to custard buns (B388/4 pieces).
Available from now until Feb 15. Order online via this link or Tel. 02-236-7777.
Image courtesy of The Mandarin Oriental Shop.
Chocolate Yuanbao, tiger-faced macaron, and lucky orange cake - Mandarin Oriental, Bangkok
Valentine's Day and Chinese New Year sure come together at the Mandarin Oriental Shop as they fire off their new artisanal pastries. One of their creations is a box of chocolates (B888) shaped like yuan bao (Chinese gold). If you prefer something a little more cute, I'd recommend their tiger macaron (B235) filled with mandarin marmalade and chocolate ganache.
Available from now until Feb 2. Order online via this link