Billed as the hottest and longest brunch in Bangkok, Seen atop the Avani+ Riverside Bangkok in Thonburi is trying to pull brunch into party territory—complete with a DJ, bongos, and poolside inflatables.
Seen has long been known for its dining and views, but the hotel-high restaurant only launched its brunch this past weekend, now running every Saturday starting at noon—and you will want to get there early both for the best seats and to get a jump on the three full hours of eating and drinking.
The courses just keep on coming. The eight appetizers are varied but dominated by seafood flavors, including a giant platter of sushi and sashimi to round out the initial offerings. Highlights include baked mussels in a bechamel sauce with a crispy crumble, fried chicken in a wasabi mayo, and a very interesting flatbread akami with jalapenos and olives. One of the more inventive dishes is the Seen taco, which features Alaskan king crab, guacamole, fish ceviche, and a little pomegranate in a hard corn tortilla. Go figure. The cocktails are fruity and light—ideal for a brunch—such as the Passionnilla, featuring Chandon Brut, passion fruit puree, and vanilla syrup.
Mains include duck confit, roasted ribeye, salmon, or gambas al ajillo, but the real star of the mains was the lechon crispy pork belly with xeres vinegar and apple sauce—simple, crisp, delicious.
The desert is…a lot. Nearing the end of your three hours is a platter so big it should be brought out by someone in a weight belt. The highlight is the chef's luxury s'mores with yuzu marshmallows to cook over your own charcoal grill. This still has some kinks to work out, vis-a-vis slowly roasting something that wants to melt.
Also included is a tower of sweets featuring a molten almond praline cake, choux and salted caramel, a lemon tart, and four flavors of sorbet (lychee, passion fruit, coconut, and mango). On top of all that is assorted fruit. Beneath? Popcorn. Why? Don't question it. Dip it in the caramel and eat it.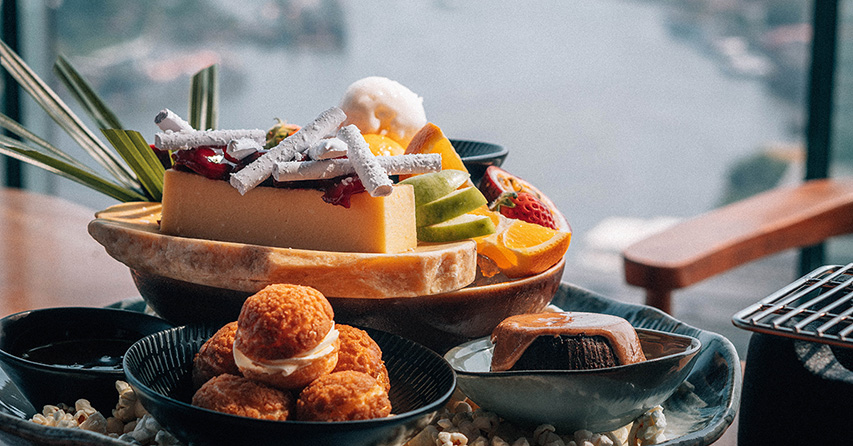 The pool is open until five and the bongos and saxophone provide entertainment along with a live DJ. That's Brunchilicious: a lot of food, a little party, and totally over the top.
Those just wanting to eat will get away with B2,499++ per person and those wanting to drink free flow wine, beer, and cocktails can get away with B3,499++. However, those really, really wanting to indulge can make brunch bubbly for B7,999++ per person to add Moët Chandon Ice Imperial Champagne.
Avani+ Riverside Bangkok Hotel 257 Charoen Nakhon Rd, Samre, Thonburi, 024 31 9492