BKRW price: B599
US restaurant chain 25 Degrees is a self-described "bordello meets burger bar." They also say everything at the award-winning burger paradise is made from scratch, including the homemade buns. Burgundy wallpaper, iconic black and white photos, and a giant checkerboard mirror make for a suitably upgraded diner setting. The burgers, too, are upscale. Think combos like caramelized onion, bacon, arugula, Prelibato gorgonzola, and thousand island dressing.
G/F, Pullman Bangkok Hotel G, 188 Silom Rd., 02-267-5272. Open daily 11-11pm
BKRW price: B1,199
This upscale steakhouse on the 2/F of the Marriott is all about American-style grilling. The District's modern and elegant setting takes its cues from New York while all the cuts of beef are from Queensland, Australia. Amid the black steel lamps and crafty chalk drawings of New York buildings and the different parts of the cow are big leather chairs and a marble bar. The open kitchen provides quite a spectacle, too. Start your meal off with a hearty Caesar salad, then choose between Australian black Angus beef sirloin or grilled Atlantic salmon for the main event — and finish sweet with their signature flourless chocolate cake. Don't forget to check out the milkshake menu for an extra treat.
2/F, Bangkok Marriott Hotel Sukhumvit, 2 Sukhumvit Soi 57, 02-797-0000. Open daily 4-10pm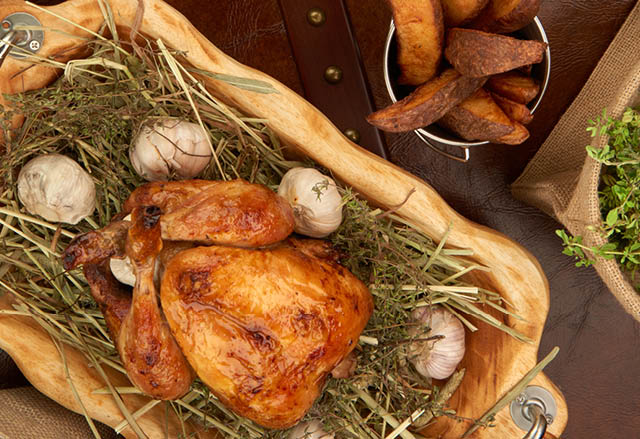 BKRW price: B1,199
Sukhumvit's rusticated steak and rotisserie meats specialist pairs cosmopolitan lounge bar vibes with the comfort of big portion sharing plates and hearty flavors that have earned the place a nod from Top Tables, amongst other distinctions. At this farm to table experience where an emphasis is placed on organic and local ingredients, get warmed up with the Cocotte Caesar salad (notably featuring garlic croutons and quail eggs for a bit of flair). Chicken — a marinated chef's special recipe — is the main course, served with a sauce of your choice, and tiramisu is on the menu for dessert.
G/F, 39 Boulevard, Sukhumvit Soi 39, 092-664-6777. Open daily 10am-1:30pm; Mon-Sat 5-9:30pm; Sun 4-10pm
BKRW price: B1,199
From the group behind The Local and Crab and Claw comes Carne, a flame-focused, South American-leaning restaurant that dares to be different. The restaurant takes up a large corner spot down busy Sukhumvit 23. Inside, the mood is grill house all the way, with leather studded chairs, dark wooden tables, moody lighting and exposed brick walls. It's not all about meat, despite what the name Carne suggests. The food draws heavily on South American influence, while the cooking features fire in all forms—smoking, flame-grilling, charcoal grilling.
23 Sukhumvit Soi 23, 066-069-2288. Open daily 5:30-10:30pm


BKRW price: B1,199
​​The multi-story showpiece steakhouse atop the Park Hyatt goes all out. The interior of walnut woods and marble at this award-winning restaurant is stunning. The cocktails hit the price-to-quality sweet spot. This is prime date-night material. It's not only steak on the menu — start with chargrilled tiger prawns with tahini cream and Parma ham for the first course, then continue with smoked eggplant tortellini (housemade, of course) for the second. To polish it all off, choose between grilled barramundi with caponata or charcoal grilled wagyu bavette.
34-36/F, Park Hyatt, 88 Wireless Rd., 02-011-7480. Open daily 11am-9pm
BKRW price: B1,199
This carnivore heaven serves premium steak, tasty tapas bites and cocktails in a deli store concept. An open kitchen, patterned black tiling, pink walls and rattan chairs lend it a swanky yet fun feel. The food holds up its end of the bargain, too. The Meatchop's claim to fame is obviously its wide selection of premium meats, which includes typical Australian staples, like Black Angus ribeye, tenderloin, and Wagyu striploin, alongside locally sourced meats like Chiang Rai chicken. The chef brigade knows how to prepare those plates right. The kitchen is always experiencing with meats and playing around with different cuisines, while there's a classic cocktail bar to compliment the food.
1/4 Sala Daeng Soi 1, 02-033-2709. Open daily 10am-10pm
BKRW price: B1,199
You might know Billy Bautista from Osito Unique Spanish and La Monita. Here, Billy takes on low-and-slow smoked meats with an all-American barbecue approach that nods to his California roots. Billy imports meat from all over—the U.S., Japan and Australia—and dishes up portions on platters fit to burst. Soaring, raw concrete walls decorated in psychedelic artwork surround chunky wooden tables that invite sharing. A casual open kitchen stands at the back of house, where the crew bust out barbecue platters fit to burst.
Mahutan Plaza, 888/23-24 Phloen Chit Rd., 02-651-4398. Open Tue-Sun 11:30am-10:30pm
BKRW price: B1,199
The name pretty much says it all. This is another carnivore's haven that loads up on all kinds of premium cuts of meat from Australia, Japan and the US — the world's big three beef producers. The venue has its own, purpose-built coal-fired grill, which they've named "Charzilla", and is used for everything from seafood, to steaks and of course burgers. For BK Restaurant Week 2020, the restaurant is changing things up a bit with the likes of seabass ceviche, braised beef cheek risotto, and desserts like yuzu tarts and truffle caramel toast.
G/F, The Millennia Tower, 62 Langsuan Road, 082-924-4014. Open daily 11am-2:30pm, 6pm-10pm