With sake-pairing cropping up at top Bangkok restaurants like Eat Me and Gaggan Anand, Japan's national beverage is slowly being embraced as an alternative to wine. We spoke with sake importer and distributor Andre Chalson of Mead Asia ahead of his company's Bangkok launch to find out why now is the time to break into the local market.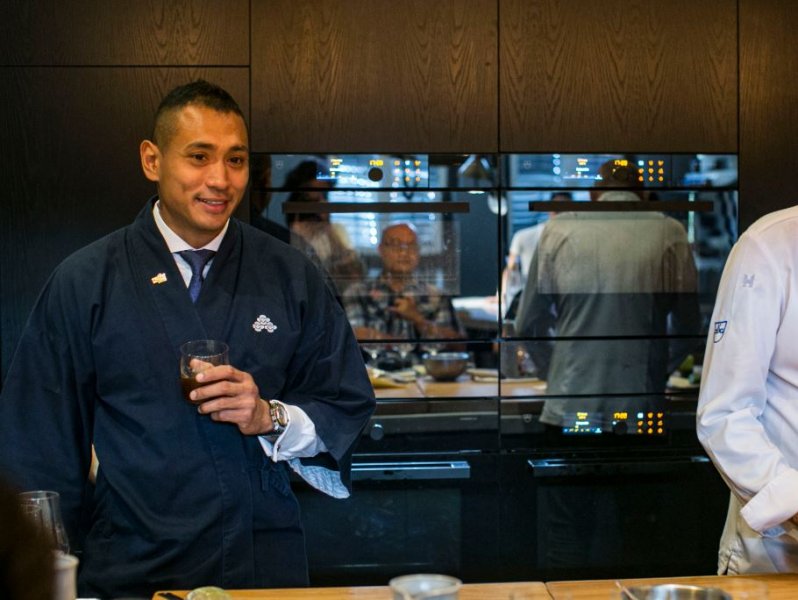 Tell us about Mead
I established Mead in Singapore together with Yasuhiro Mie in October 2017. We now specialise in the import and distribution of craft sake, shochu, quality Japanese produce, seasonal seafood and wagyu. Before setting up the company, Mie-san introduced me to Hironori Hayashi, a fourth generation sake mekiki or sake selector from Sakenomise Hayashi in Fukui, Japan. Haya-san is one of only 3000 Official Sake Diploma holders in Japan; he hand-selects all of the brands that we represent. We currently have 14 award-winning sake breweries—including one imperial brewery—and two shochu distillers under our purview. We ship our sake in refrigerated containers, which we store in a temperature-controlled warehouse to ensure freshness and quality—not many suppliers or importers adopt this practice because of its high cost.
What do you love about sake?
I love finding top-quality brands and discovering the stories behind them. One brewery was originally a temple and has undergone a couple of rebirths, the first being in 1952 when they renamed it Heiwa Shuzo as a nod to the end of the second World War (Heiwa meaning "peace"). Now, it's been taken on by fourth generation up-and-comer Norimasa Yamamoto, who returned to the family brewery with a vision for bringing sake to the world with his brand, Kid.
Why is now the right time to bring sake to Bangkok?
Thailand's fine dining scene in the last 10 years has been nothing short of explosive and the Thai palate has matured tremendously. Sake is starting to pick up a very strong following outside of Japan—the top chefs understand its uniqueness and are excited about its ability to compliment so many different flavor profiles and ingredients.
Where will you be supplying in Bangkok?
Besides Gaggan Anand, Restaurant Suhring, Mihara Tofuten and Eat Me, we will be working with the Peninsula Hotel, Capella and the Four Seasons. To mark the establishment of our local office in Bangkok, we will be organizing a sake dinner at Mei Jiang Restaurant in the Peninsula Hotel on Feb 5. The dinner will be hosted by the 47th generation owner and toji of Yasumoto Shuzo, Takeshi Yasumoto, who produces sake under the label Hakugakusen—one of my favorite brands. They use water that takes about 100 years to melt off the snow-capped Hakusan mountains before reaching the subterranean springs 100 meters below ground. At the event, we'll be serving a slightly sparkling sake that is limited to only 300 bottles per year, as well as a sake that has been aged in mizunara oak, historically used to age Japanese whiskey, for a year—a unique and game changing endeavour.
What food should you pair sake with?
You can pair sake with pretty much any cuisine because of its versatile nature and ingredients. I personally enjoy pairing sake with umami-rich food. The fermentation process and the application of koji to produce sake produces umami, so it elevates [those] levels with the pairing, heightening the overall taste experience.
How does sake compare to wine?
Sake and wine are both naturally fermented alcohols. Sake can vary greatly from the rich traditional styles to fine wine-like expressions. The four ingredients used to make sake give the drink more flexibility when it comes to pairing with dishes. I think it's more than capable of holding its own when compared to wine.
What's in the pipeline for you after your Bangkok launch?
We are setting up an office in Kuala Lumpur this year, with plans to expand into Vietnam if all goes well. There's possibly a retail outlet in Singapore on the horizon as well.
What trends do you expect to see in the future?
We work with some breweries (Hakugakusen and Jozan) that have started aging their sake in Mizunara oak casks. These are casks that have been traditionally used to age whiskey in Japan for over 50 years. This game changer will open sake up to an entirely different audience. I see this as the next sake trend for the future. We have 100 bottles from each brewery available for purchase from March 2020.
Any tips for sake novices?
Drink as much sake as you can to get acquainted with the different flavor profiles. Try different types with different grades until you feel you can decide on the one that you favour the most. If you like dry sake, look out for a cho kara or a karakuchi, which means super dry and dry mouth feel. Sweeter sake is lower on the sake meter value. Also pay attention to the way the sake is stored. Sake should be kept in dry conditions and stored at around five degrees celsius.
---
The six-course
Hakugakusen Sake x Cantonese Dinner
will be held on Feb 5 at
Mei Jiang
(G/F, The Peninsula, 333 Charoen Nakorn Rd.) priced at B4,888 per person including sake pairing. To book, call 02-020-2888 or email diningpbk@peninsula.com.
---