'Tis the season for glitter and bells and holiday shindigs, and this year, the Kimpton Maa-Lai Bangkok is going all out for the holiday season. With four on-site dining venues, Kimpton's chefs across all the restaurants know what they're doing, so all you have to do is decide when and where you want to dine out.
If you want to kick things off early and start on Christmas Eve, there are two options. The first is the Christmas Eve Dinner Buffet at Stock.Room, which will of course take place on Dec. 24 from 6:30pm to 10:30pm. It's priced B3,299 for a soft drinks package, and B4,350 for the alcohol package. Stock.Room is a grocerant — a hybrid "grocery store" and "restaurant" — that will be serving up extravagant feasts featuring carefully curated farm-to-plate dishes, all the holiday classics, and more, making this a great option for large families and diners who want to try a little bit of everything.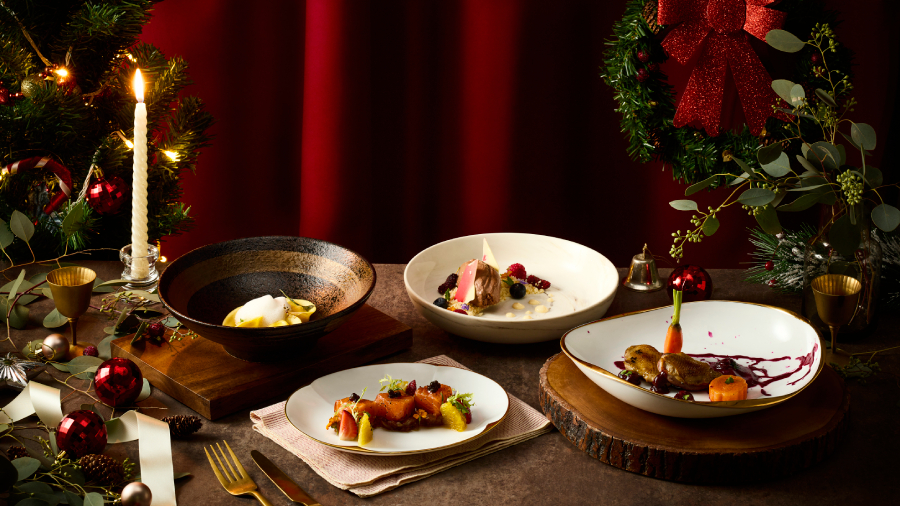 The other Christmas Eve offer is at Ms.Jigger, Kimpton's cozy cocktail bar and restaurant that specializes in Italian cuisine. Their 5-Course Christmas Eve Dinner features an Italian set menu, will run from 5:30pm until midnight, and is priced at B4,900. Guests can also pay extra for a four-glass wine pairing (B3,500), or opt for a set of three cocktails that include Ms.Jigger's signature Siam Milk Punch and Bangkok, as well as the special "Bonbon" holiday-themed drink (B1,400). As for the menu, diners will start off with salmon cubes served with balsamic caviar, followed by pumpkin soup and foie gras ravioli with parmesan foam, then choose between pigeon breast with beetroot cream or monkfish filet wrapped in 24-hour parma ham, and finished off with a luscious rum chocolate mousse. If you and your guest(s) are food connoisseurs looking to really indulge in an upscale setting, this is the option for you.
After Christmas Eve is, of course, Christmas Day. Spend your morning opening presents before heading over to Stock.Room, which will be hosting another decadent spread for their Christmas Brunch Buffet from 12pm to 3pm. Prices are B3,550 for the soft drinks package, and B4,350 for the alcohol package.
Stock.Room will also be laying out a New Year's Eve Dinner Buffet from 6:30pm to 10:30pm. on December 31. The soft drinks and alcohol packages are priced at B2,350 and B3,550, respectively.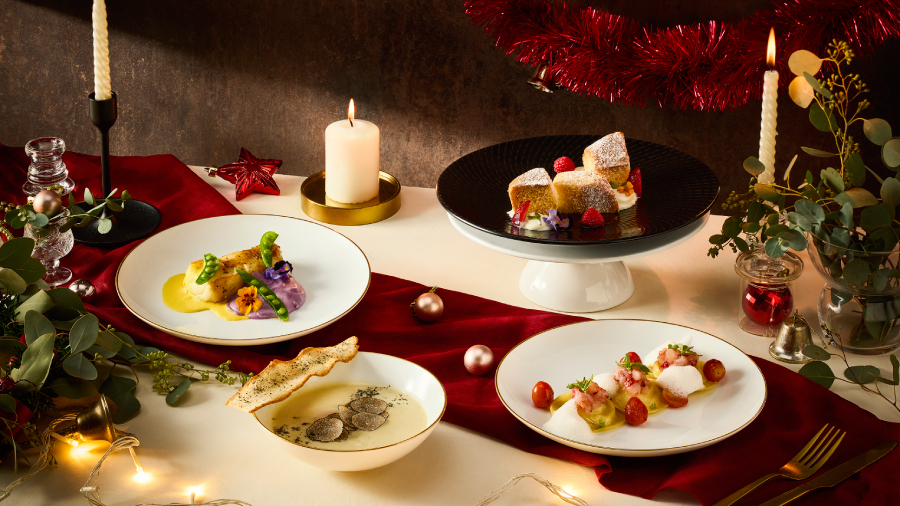 Another New Year's Eve option is back over at Ms. Jigger, who will be welcoming guests with a 5-Course New Year's Eve Dinner. The meal, which can be booked for any time between 5:30pm and midnight, is priced at B5,000 (the same optional alcohol add-ons as the Christmas Eve dinner are all available). Diners will begin with a light smoked langoustine with nduja mayonnaise, followed by white asparagus soup garnished with black truffle and a 62-degree-cooked egg, and burrata ravioli. For the entree, pick between the wagyu sirloin steak in gold (yes, gold) in a Sichuan pepper sauce served with potato truffle puree, or the flaky snow fish served in saffron sauce with a side of blue potato mousse. Dessert is a classic freshly-baked pandoro cake served with a side of fresh berries, and homemade chocolate and mascarpone sauces.
Following your decadent dinner, head on up to the 40th floor, where Bar.Yard will be hosting (what else?) a New Year Countdown Party. For an entry fee of B500 (which includes a free drink), dance through the night with a line-up of live performances and DJ's until the clock strikes midnight. Coming up with a group of friends? Book a guaranteed table for four (entry fee included) — choose between an indoor table with a free bottle of spirit (B7,000), or an outside terrace table with a bottle of spirit and sparkling wine (B12,000); for your free bottle of alcohol, you can pick between whiskey, tequila, gin, rum, or vodka. Both table packages also come with complimentary mixers and snacks.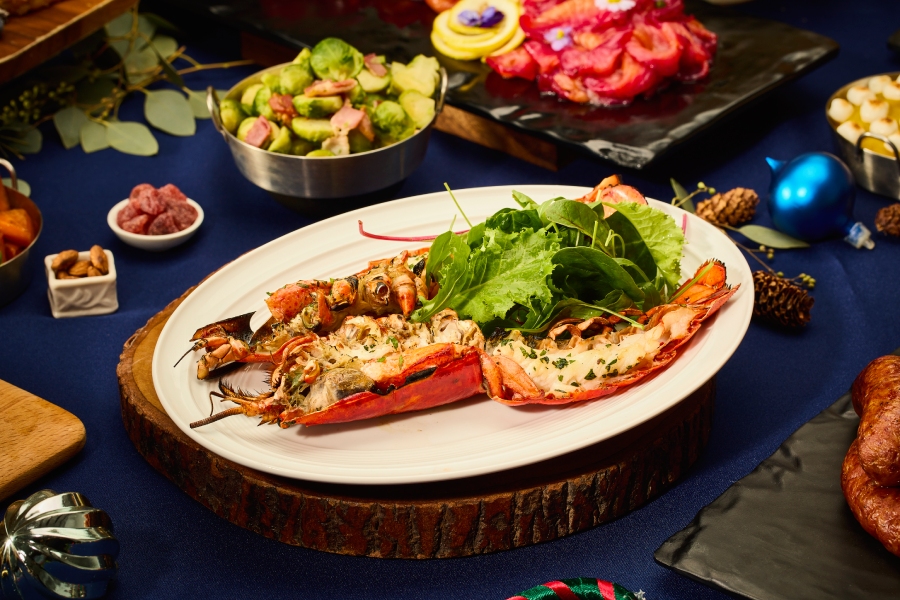 But wait! There's more!
Assuming you didn't party too hard at midnight, celebrate the first day of the new year at Stock.Room's New Year Brunch Buffet between noon and 3pm. The soft drinks package is priced at B3,550, and the alcohol package is B4,350.
For families with the little ones, all the aforementioned buffets and brunches at Stock.Room are priced at B1,045 per person for children aged between 6 and 12 (under-6's dine for free!).
And lastly, if you'd like a more intimate celebration (perhaps for an office party or a large family affair), the friendly Kimpton team is happy to work with you to host a private party at any of the hotel's unique venues, including the lush Urban Oasis garden, and the elegant Maa-Lai Library whose 30th-floor location offers sweeping panoramic skyline views.
Reservations and/or inquiries regarding any of these offers can be made via phone at 02-056-9999, by email at taste.kimptonmaalai@ihg.com, or online. Happy holidays!
Sponsored by: