Satika Rapimsamrong has climbed the ranks of the nightlife scene as Mendy Indigo. But with nightlife events on hiatus, the DJ known for her melodic blend of electronic sub-genres has turned her other passion, food, into a booming side hustle. She talks about her new channel Shit Mendy Cooks, traveling, and how she is giving back to the local community on Koh Phangan.
Why did you start Shit Mendy Cooks, and what do you hope to achieve with the channel?
With Shit Mendy Cooks I wanted to create a platform for people to get inspired, learn more about Thai food culture, and also make food content more fun and accessible for everyone.
I've actually always been cooking for myself and for friends, but I just never dedicated a content channel to it. I usually posted photos of the food I cooked on my private social media accounts and then friends kept asking for more, and even wanted to order food from me and asked for recipes and cooking classes with me.
Images: Mendy Indigo with a handcrafted mortar and pestle from Krok
What's your connection with food?
Everyone who knows me knows that I'm obsessed with food. I love to travel to places for food, and I'm also a Cookly Ambassador, which means I get to take cooking classes with locals wherever I travel.
I grew up cooking with my mom and grandmother. We would cook every meal of the day. I only realized when moving to Bangkok that many people don't cook that often and usually eat out. But for me it's the best feeling to go to the market, talk to the vendors, get my fresh ingredients, and take the time to cook at home.
Are you surprised by the following you've gained so far?
I really never expected my cooking videos would go beyond 100,000 views within a few days. It's crazy how fast my Facebook page grew [10,000 followers and counting]. I think the lockdowns around the world contributed to that, because people are watching more online content, and there are many people who love and miss Thai food, so I guess I was at the right place at the right time.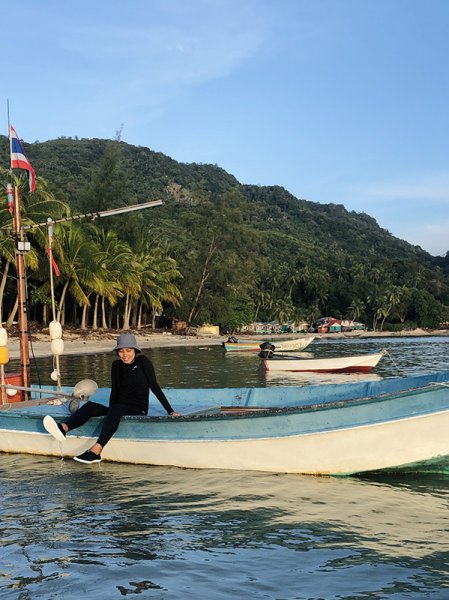 Image: Mendy Indigo on Koh Phangan
Has the pandemic encouraged you to go head-on into cooking while nightlife has been shut down globally?
Definitely! As I said, I was always into cooking, but the pandemic made me realize how passionate I really am about it and made me want to share it with others.
Does Shit Mendy Cooks offer you a backstop for whenever you decide to stop DJing (or DJ a little less)?
It's always been my dream to combine both of my passions: music and food. I still want to conquer some more stages before retiring as a DJ, so Mendy Indigo will still be around for a while. But I'm glad to have my food project, too, which opens the door to many other opportunities. I just launched a cooking show, where I cook with my DJ friends from around the world.
The first episode features Thomas from the German DJ duo Pan-Pot
. The second episode will feature Seth Troxler.
Do the two professions complement one another, or have you found it difficult to juggle them?
I would say it balances me. After a late night playing, there is nothing I look more forward to the next day than taking time to cook a comforting meal at home and chill.
Image: Mendy Indigo with a yellow pike conger
Where do your recipes come from? Any favorite dishes?
For Thai food, I usually know the recipes from my grandmother and mom by heart, as I grew up cooking them. Other than that, I get a lot of inspiration from local people when I travel and take cooking classes. And, of course, I also get inspired by content I see online, but I always adapt any recipe to my taste, which is really a Thai thing to do.
I can't pick one favorite dish, but I really love Isaan food and any dish that uses fermented fish sauce (plara).
How long have you been on Koh Phangan? What have you learned from the locals?
I've been living on Koh Phangan for almost half a year now. I've discovered a lot about the local culture, and especially southern Thai food culture, which is very distinct. Even on the island they have their own traditional dishes that I have never heard of before.
I also got to live with a fisherman's family, which gave me access to a whole new (food) world. For example, I've learned how to prepare fish in different ways and cook some of the local recipes.
How can people try your food?
I host dinner events on the beach, private dinners at home, and cooking classes, both offline and online. People can reach out to me via my social media account
@shitmendycooks
. I'm also working on a new project to highlight and support the local communities and culture of Koh Phangan. People can support us by buying local products from the island. The project is called
Phao Phangan
(literally translated to "Phangan's tribe").
What can we expect from you this year?
My first cookbook!