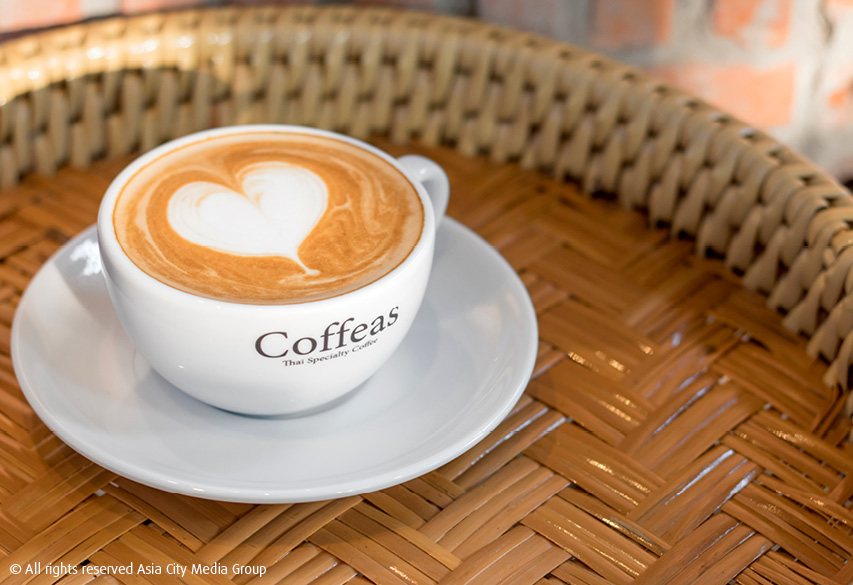 This coffee roaster has expanded to a full-time cafe, complete with coffee school. Run by certified Q Grader and SCAA-certified instructor Nisakorn Sinsawat, the cafe aims to showcase specialty Thai coffee through rotating house-roasted beans, mainly from Chiang Rai. Here, she only serves single origins (from B80 for espresso and B120 for drip coffee). In addition to local coffee, there are a few imported beans available too. At the back of the shop, there's also a space for coffee classes, ranging from basic brewing (B8,500/1 day) to professional Specialty Coffee Association of America (SCAA)-certified and Q grader (coffee grader) courses (B88,000/6 days).
G/F, Green Connect, Sukhumvit Soi 31, 081-923-0499. www.facebook.com/Coffeas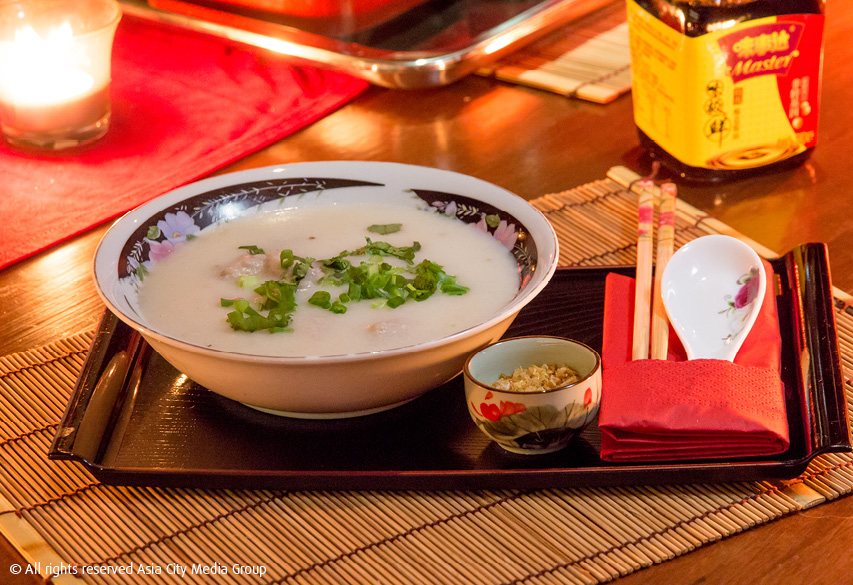 This candlelit, Chinese-themed cocktail bar exudes oriental cool through vintage tea boxes and rows of waving lucky cats. Bartenders whip up drinks with Chinese twists like the Oolong Tea & Orange Sour (B280), a twist on the whiskey sour made with oolong tea and orange peel-infused Wild Turkey 81 bourbon. Just as exciting is the house-infused chrysanthemum vodka—try it in a shot (B280) or a cocktail like the Chrysanthemum Vanilla Fizz (with vanilla syrup, lemon, egg white and soda, garnished with chrysanthemum, lemon and orange, B280). Hungry? There are crispy Chinese pork platters (B320) and Hong Kong-style congee (B220).
27/1 Sukhumvit Soi 33, 02-085-2788. www.facebook.com/dimdimbarbkk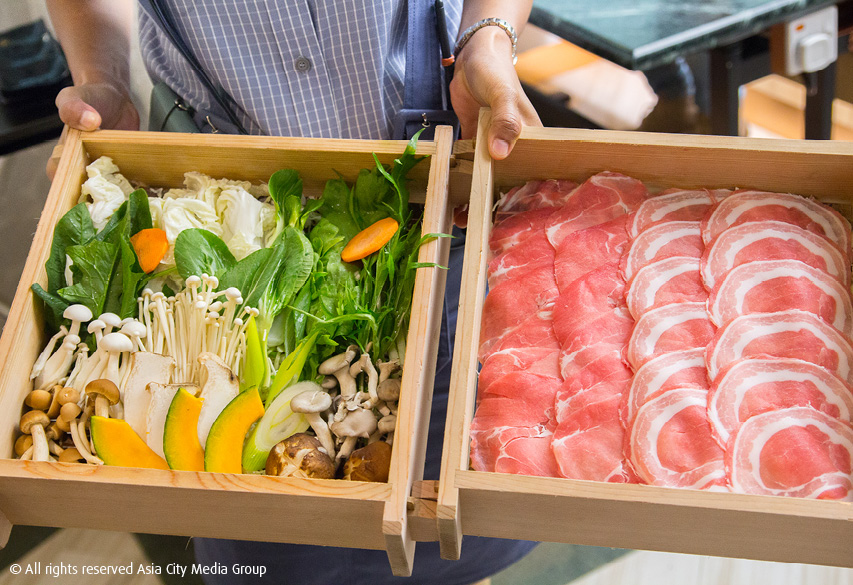 The latest concept of giant hotpot chain MK, MK Live markets itself as the healthiest branch yet. Amid green-dominated decor flooded with light, they serve a new steamed shabu option where you're given wooden boxes filled with veggies alongside your choice of sliced kurobuta pork (B550), Australian beef (B650) or Japanese wagyu beef (B1,100). Let them sit over a tabletop stove for seven minutes and you're done. For typical hot pots, you have five options of both soup and sauce here.
6/F, Helix Zone, EmQuartier, Sukhumvit Rd. BTS Phrom Phong. www.facebook.com/mkliveofficial
The original creator of the trending "freakshakes," Patissez, from Canberra, Australia, brings its overloaded drinks to Bangkok, alongside more Aussie-style cafe food. The photogenic shakes (all B230) come in five different varieties: nutella pretzel, mint chocolate, banana caramel, Thai tea white chocolate (exclusive to Bangkok), and watermelon and berries. On top of that, you can get all-day brunchy dishes like smashed avocado on toast (B380) and the Freak Burger (double-patty Aussie beef burger packed with cheese, bacon, lettuce, tomato, onion, house barbecue sauce, bacon jam on a brioche bun, B490).
Parc 39, 5/9 Sukhumvit Soi 39, 02-185-3258. www.facebook.com/patissezbangkok
Taking over what used to be modern Thai restaurant Baa Ga Din, Le Cochon Blanc gives the space a complete makeover. Gone are the rustic Thai signifiers, replaced by a moodier mix of black paint, beautiful flamingo wallpaper, chandeliers and stylish collectibles picked out by French restaurateur Fred Meyer (of other such bastions of good taste as Issaya, Pizza Massilia and Kom-Ba-Wa). Between two separate dining rooms sits a massive grill pit, where chef Chandler Schultz cooks up smoked pork ribs (B580 for half; B890 for full rack), steaks (prices range from B1,000 for hanger steak to B350/g of wagyu tomahwak) and even lobsters (B1,750). Don't miss the potato side dishes, including the super smooth and creamy mash (B190) or the delicious thick-cut fries (B180) that are cooked in dry-aged beef fat (a new contender for the best in town). Desserts are whipped up by Issaya's group pastry chef Arissara "Paper" Chongphanitkul—think classic American treats like strawberry shortcake (B390) and apple pie (B310).
26 Soi Phrom Chit, Sukhumvit Soi 31, 02-662-3814. www.lecochonblanc.com
Sukhumvit Soi 33's new Thai restaurant presents the cuisine from Trat, a province in the east of the country. In a stylish, contemporary brick and wood house, Sri Trat lets you enjoy the likes of moo chamuang (pork curry with chamuang leaves, B220), barracuda spicy salad (B220) and massaman curry with unripe durian (B280). They are also serious about their bar, where ex-Vesper bartender Paradee Sahathanasomboon rolls out concoctions like Trad Bee's Knees (gin, fresh lime, honey and kaffir lime leaf, B360).
90 Sukhumvit Soi 33, 02-088-0968. www.facebook.com/sritrat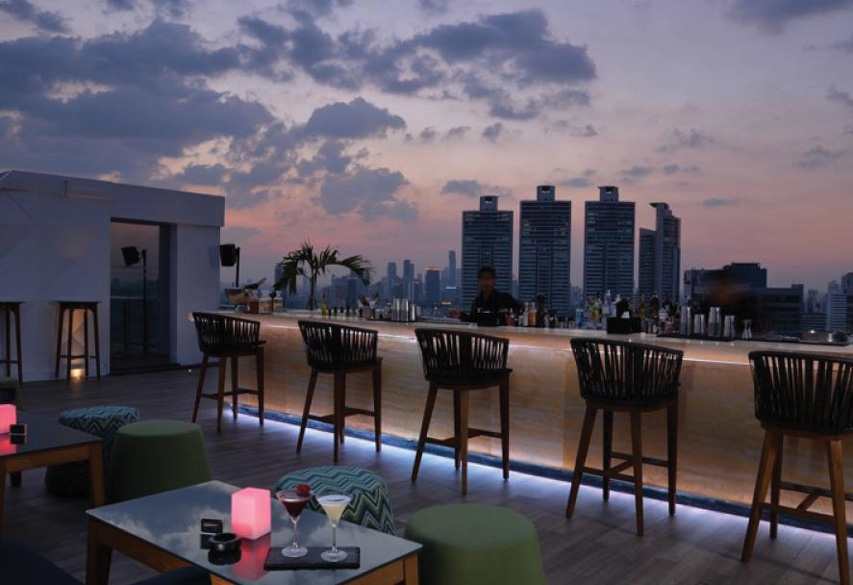 Bangkok's latest rooftop bar sits on top of the new Compass Skyview Hotel, five minutes from BTS Phrom Phong. That means 36th-story views stretching over Thonglor in one direction and towards downtown from the other. Gin and tonics take a starring role in the cocktail menu, all priced at B320 and with some unusual flavors in the mix (think peppermint and passionfruit or chestnut and chamomile). Our favorite, called the Honey Spice, sees dried chili-infused gin mixed with homemade honey-and-rosemary-infused syrup and tonic water, garnished with dried chili for a well-balanced kick. The rest of Vanilla's signature cocktails keep things easy to drink and light on the spirits. Taste of Asia (B350) is a combination of vodka, kaffir lime-infused syrup and lychee with a dash of black pepper to work against the sweet and fruity flavors.
35/F, Compass SkyView Hotel 12, Sukhumvit Soi 24, 02-011-1111. www.facebook.com/vanillaskyrooftopbar