By taking Thai food to a whole new level.
From thousands of initial applicants and a starting line-up of 56 contestants, 27-year-old Nawamin Pinpathomrat from Songkhla Province cooked his way to last Friday's final of the UK's televised MasterChef competition, ending joint second and coming within a hand-pressed parmesan wafer of winning outright. A Ph.D research student at Oxford University, Nawamin vowed from the outset that his creations would be Thai. Here, he discusses the experiences—and shares a few thoughts on Bangkok's best restaurants.
You're currently working to develop a cure for tuberculosis. Has winning MasterChef tempted you to abandon medicine and become a chef?
No, I love my job. You know, there are 10 million people affected by TB every year and two million die. I can't leave. But ultimately I want to do both. I want to open a restaurant too. Maybe do a chef's table thing and cook on Saturdays. And I'd donate the money to a TB charity. If you were invited, would you come to something like that?
If we knew you were doing the cooking, definitely! You had a lot of compliments and praise from John and Gregg [the MasterChef judges] and the guest chefs who came to try the food. Do any of those compliments really stand out for you?
I made a red curry three ways—gurnard with red curry sauce, a fish cake, hot pickles and a fish mousse—for Nathan Outlaw [of the two-Michelin-star Restaurant Nathan Outlaw, Cornwall, UK]. He called it "bang on" and said, "today I've learned something from you. Thank you." He's a two-star Michelin chef, so hearing that comment from him was absolutely incredible. I was like, are you serious?
The dish that got you into the finals from the semis—pork satay with the sauce in a savory profiterole. We can follow that thought process, no problem, but then you added white chocolate to it!
Well satay sauce usually has some sweetness in it, from palm sugar. So I thought, yeah, add white chocolate. It's a competition, if you don't take a risk you won't get that far.
We have to ask about the time when the judges criticized a Malaysian lady's chicken rendang because the skin wasn't crispy. It caused quite a stir—even the Malaysian prime minister got involved—because traditionally, the skin wouldn't be crispy. Any comment?
Yes, I want to make a point. She didn't go home because of her rendang, she went home because other cooks were better. That was why I didn't cook just traditional Thai food. Like, a bowl of green curry with rice on the side—am I going to make it to the final? If you don't up your game, you're going home. I'm so sorry for her, but she would have probably done better if she'd added her own twist to the dish.
Very diplomatic! How about John and Gregg, how did you get on with them?
They're absolutely amazing. I wouldn't have got to the final without them. You know Thai people can be quite humble and shy, but Gregg would come over with a funny joke and it would help you relax a bit. And John knows a lot about Southeast Asian food so he gave me tips and techniques. I learned a lot from him.
How well do you know Bangkok and the restaurant scene here?
My family live in Bangkok! We moved there about 10 years ago.
Are there any favorite chefs or restaurants there that you'd like to talk about?
One of my favourite chefs would have to be Chumpol Jangprai, the Iron Chef Thailand guy. Very inspiring. He does traditional Thai food so it's local and authentic, but he adds his own twists and takes it to another level, which is what I try to do. I can see his passion.
And what about restaurants?
I love Prai Raya in Sukhumvit Soi 8. Amazing food from Phuket. Their yellow curry with crab meat—incredible. It inspired me to make one of the dishes on MasterChef—rice noodles with crab claw and crab bonbon.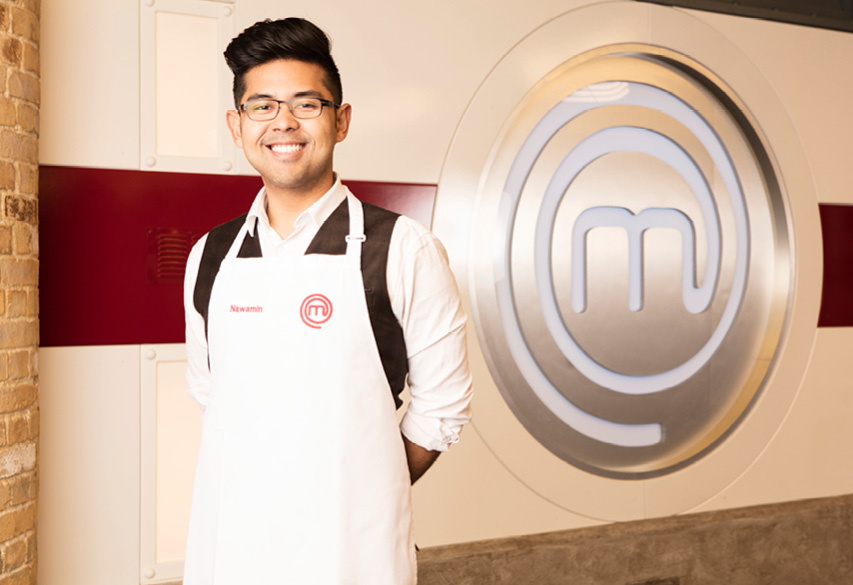 Courtesy of Endemol Shine

Courtesy of Endemol Shine