Netflix's recent special on Supinya "Jay Fai" Junsuta has brought unprecedented international attention to Bangkok street food. Here, we meet up with the hard-working families behind some of this city's other curbside institutions to hear their stories.
Khao Soi Chiang Mai
Chalor and Sasithorn Phongphiboon
"WHEN ME AND MY WIFE ARE GONE, THAT WILL BE IT FOR THIS PLACE"
Finding good khao soi in Bangkok can sometimes feel like mission impossible, but this hole in the wall hidden down a tiny Dusit alleyway is the holy grail. Over the course of 40 years, the owner couple, Chalor and Sasithorn Phongphiboon, have nailed the northern specialty with their perfectly chewy egg noodles and rich broth. Choose between tender chicken, braised beef, succulent pork or spare ribs. We're also in love with their stir-fried basil with juicy beef shank and deliciously dense panang.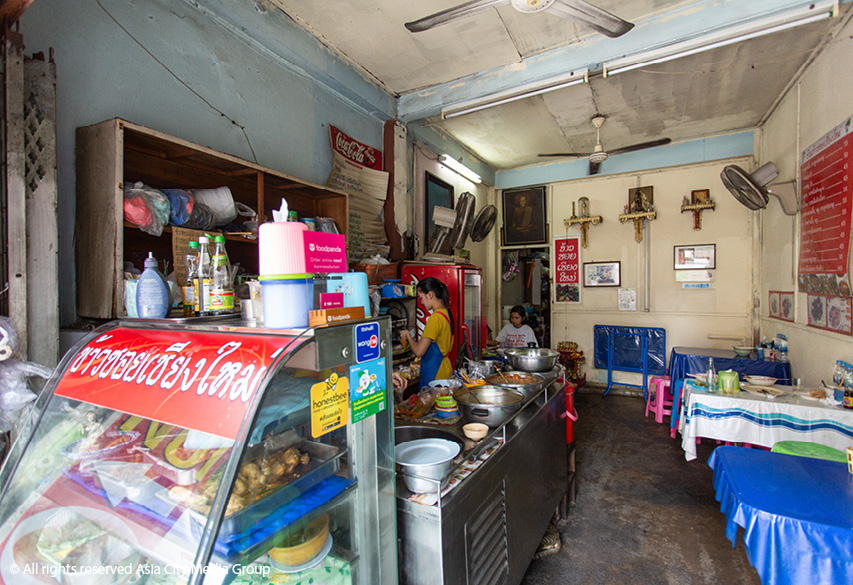 How did it all start?
Chalor: My family has been in the restaurant business since 1955. I grew up helping my grandmother at our first restaurant near Suan Luang—she'd call me her sous chef. When I graduated from university, I worked in a bank for a while but cooking remained my hobby. I took a short break to travel around northern Thailand, where I got the chance to try khao soi. I wasn't at all into it, I thought the flavor was too bland and the toppings weren't great. Then, the idea came to me, I could totally turn this into something better, so I came back home and started to develop my own recipe. I quit my job, rented a space in an old building and got to work."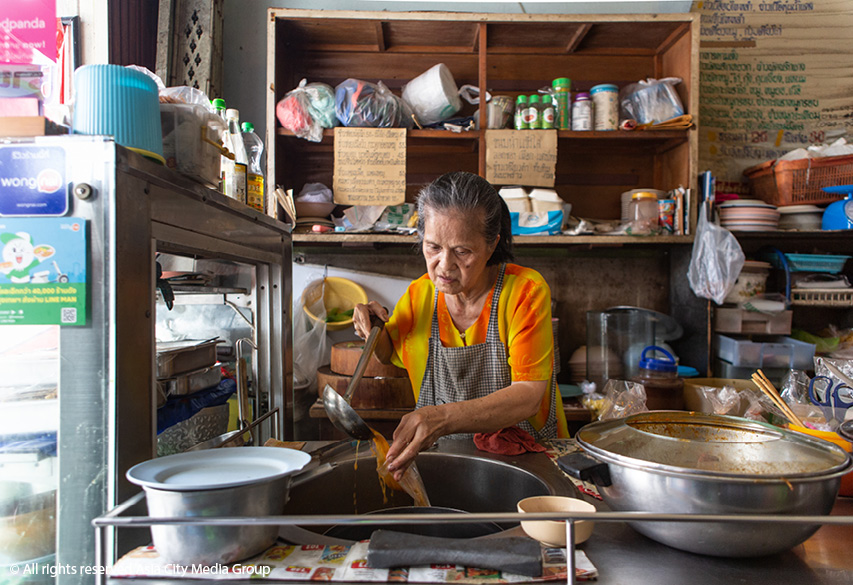 What obstacles have you faced over the years?
Chalor: We never really have big problems, we take things very easy. When you're as old as we are, you don't choose to spend time being upset or stressed over anything. Sure, the rent is high—we used to pay B3,000/month 40 years ago, now we're paying B12,000, and we only charge B45-B50 a plate! Our kids also make it very clear that they don't want to take over the business, and I get that. Not everyone wants to wake up every day at 3am to prepare food. So if one day, me and my wife are gone, then that will be it for this place. But what are you gonna do, right? We're old. We're done with thinking too much about this sort of thing. Now we just let everything be.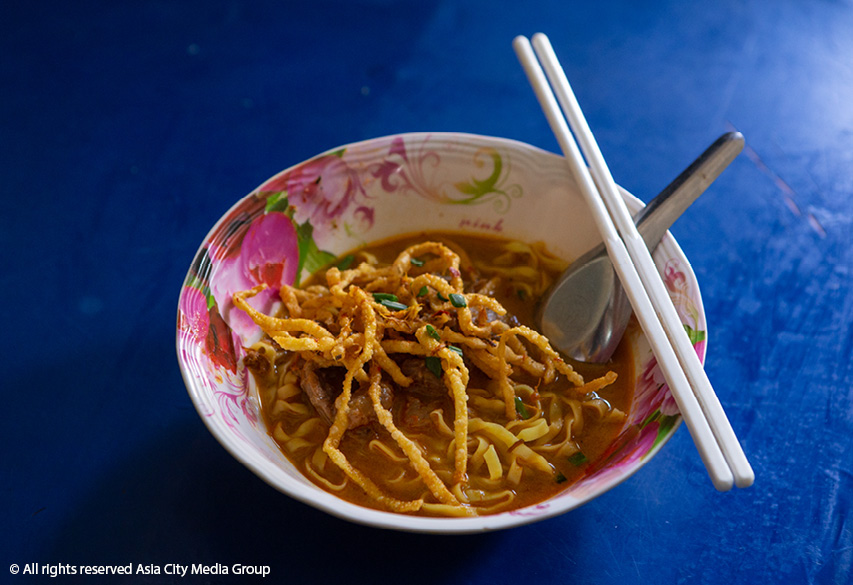 328/10 Sukhothai Soi 5, 02-668-4497. Open Mon-Sat 7am-2:30pm.
Kuay Tiew Krae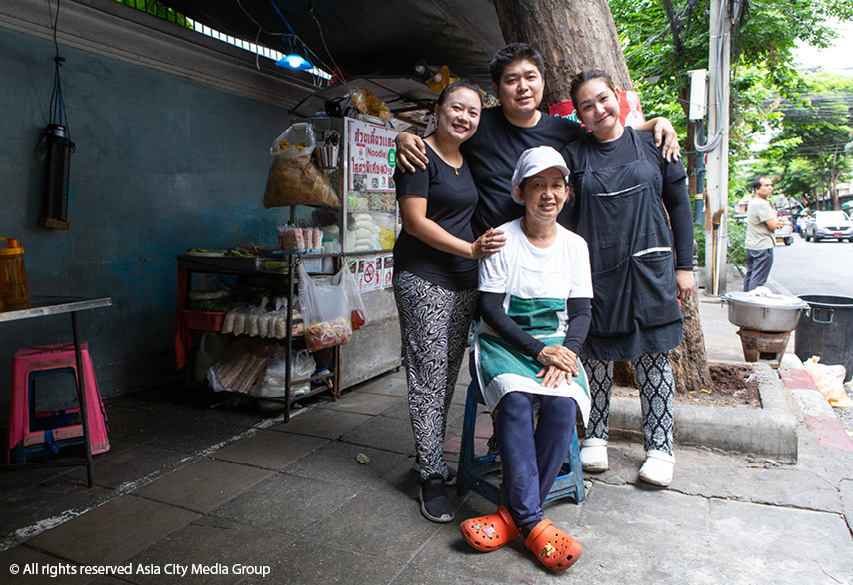 Boonyada Ammaranon, Pakkapon Ammaranon and Menpa "Sai" Phrobnakornpongsakul
"THERE WAS NO ONE ON THIS STREET OFFERING WHAT WE SOLD"
This small noodle establishment on Soi Convent is one of the best places in town for dried noodles with luk chin krae (Hakka-style fish balls). It's a family business, run by Boonyada Ammaranon, her son, Pakkapon Ammaranon and daughter, Menpa "Sai" Phrobnakornpongsakul. They follow their Hakka grandfather's recipes, but with an added twist of flavorful tom yum condiments. Their crispy pork belly and char siu (Chinese barbecued pork) served with savory-sweet gravy and rice are also not to be missed.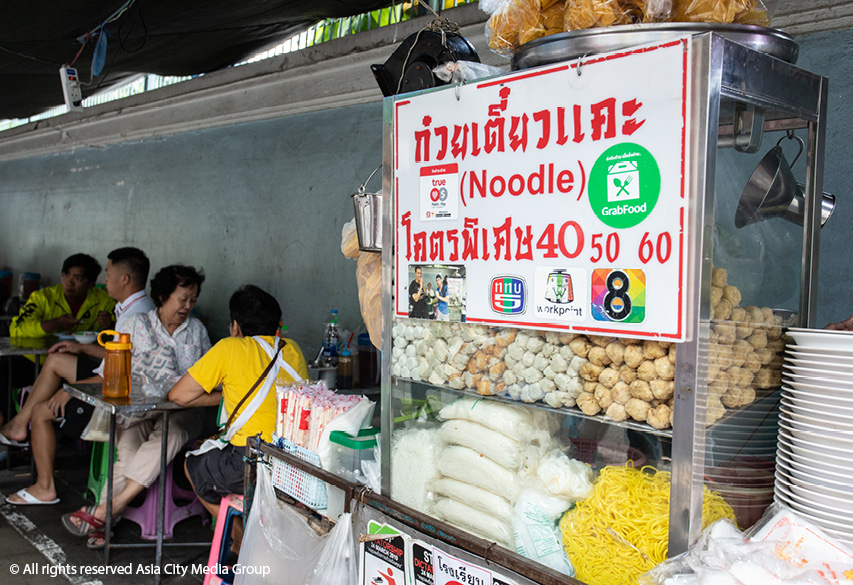 How did it all start?
Sai: We started from less than zero. I remember our family not having anything—no home, no car. It was 27 years ago that my mom decided to start a small food stall offering just moo daeng and moo krob, served with this thick, delicious gravy. I would come home from school and help out. It wasn't until 10 years later that we added noodles to the menu; it got really popular because there was no one on this street offering what we sold—the office workers loved it because you got a huge portion with so many toppings and condiments for just B40-60. We'd be packed from 11am and sold out by 2pm. One day, a guy with a camera came in to eat, I didn't know who he was and treated him like any other customer. Then another customer whispered to me, "Hey, this guy is really famous on Youtube!" [It turned out to be Mark Wiens, who currently has 4.5 million Youtube subscribers] After that day, lots of foreigners started to show up, many Uber cars would park at the front. We were really surprised, thinking "wow, people are really making an effort to come try our food!" We've been doing pretty good for the last decade. We're not wealthy, but at least we now have stable finances and a house to call our own.
What obstacles have you faced?
Sai: We don't face many troubles—we're very happy folk, so we ease into our problems, rather than getting stressed over them. But if you ask what bugs us most, I'd say the weather. During the rainy season, the street gets flooded easily, things get messy and no one wants to go out for food. But that's pretty much it.
5 Convent Rd., 089-775-2244. Open Tue-Sun 7am-2pm.
Aroi Aroi Wat Khaek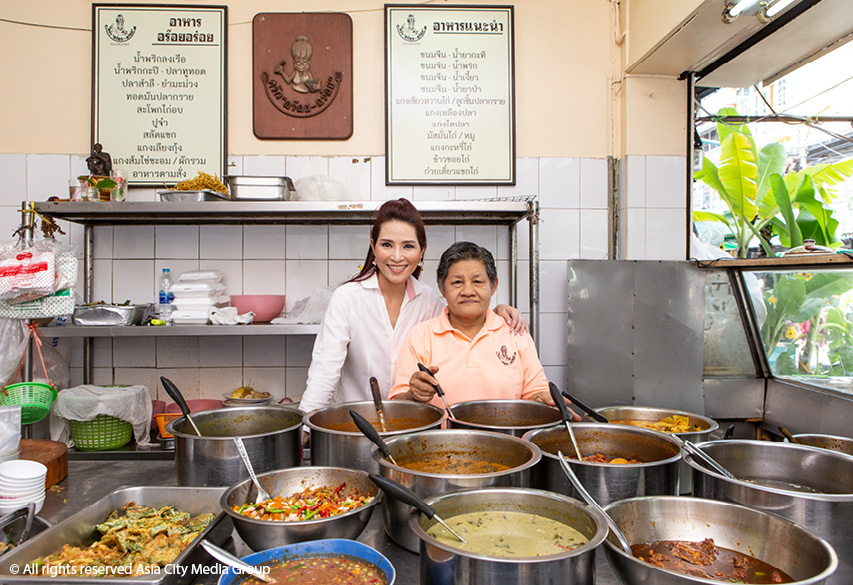 Waristha "Roen" Maingarm and Wannapa "Pang" Rakkeo
"THE PRICE HAS NOT CHANGED IN 21 YEARS"
Mouthwatering curries line the front of Waristha "Roen" Maingarm and Wannapa "Pang" Rakkeo's Pan Road khao gaeng joint. Their lusciously rich massaman with chunks of succulent, simmered pork is the ultimate cure-all, while the naam prik lohng reua (ground pork and cured egg yolk fried with chili and shrimp paste relish) strikes that balance between sweet, salty, spicy and sour. Their fermented rice flour noodles with nam-yaa and nam prik are also musts.
How did it all start?
Roen: I was adopted into Pang's family long before she was born. My adoptive father was a politician and also a very generous man. He built this big alms-canteen right next to our home, welcoming people to have cooked meals for free. I helped my mom cook and she taught me all her little tricks and tips.
Pang: I was one of the family's grandchildren and grew up eating food cooked by Roen. When my parents moved to India for work, Roen joined us. Once we got back, I started working in hospitality and Roen worked for Central's franchise restaurant, The Terrace.
Roen: During the economic crash of 1997, many people were laid off and my income was hugely reduced, so I had to quit. At the same time, Pang went through a divorce and also had quit her job, so we decided to start our own business with very little budget.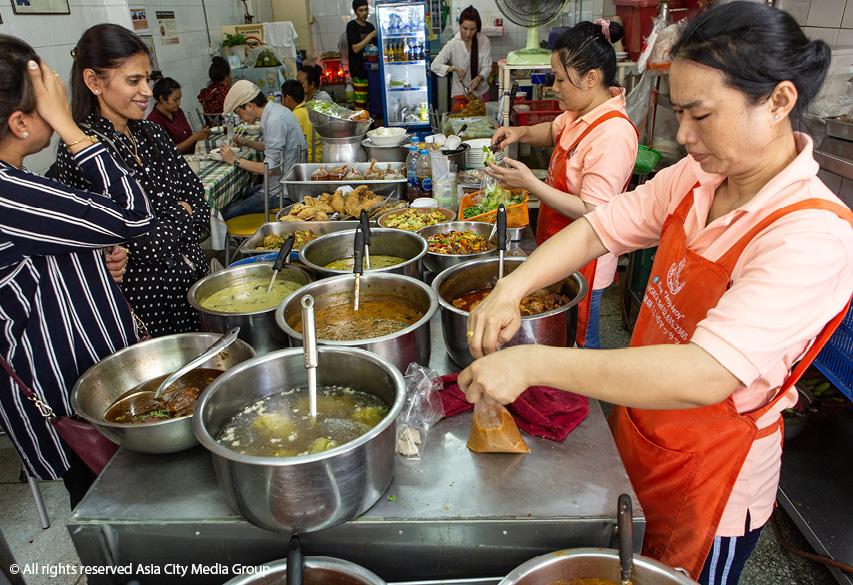 What obstacles have you faced?
Pang: With our small budget, the building we ended up with was shabby and quite damaged—all we could do was to keep everything as clean as we could. We used clay pots and charcoal grills; we weren't trying to be gimmicky, we just didn't have the money to buy modern tools like stainless steel or electric stoves, but people were drawn in by the raw, rustic atmosphere and traditional cooking. On the first day we opened, the place was packed. Since we opened 21 years ago, the price has not changed [B35/plate], though now we're paying seven-percent tax on every plate. Plus, we take care of our staff very well, they all live in the house and their expenses are covered by us, including social security. When we started, our staff got paid about B4,000 a month, while me and Roen only got B2,000 each—so, we hardly made enough to survive. We aren't making much profit today still, but we're able to maintain stable finances, which is more than good enough. Our staff love us and they have been with us for the whole 21 years.
Roen: Our whole life, food was cooked to share and for charitable purposes—we didn't know how to make a profit. Because we were taught to cook for merit, the ingredients had always been good quality with nothing artificial, so we got everything fresh from the market, even when the price of limes rose from B20-40/kg to B100 during the dry season. So, we didn't make much money; what we earned was barely enough to cover our expenses. Later on, we started to get calls from customers living in the other end of town asking if we can deliver dinner to their homes. We had to stop doing that recently because the traffic was so bad, plus I've got a back problem and wanted to focus on what we're doing at the actual diner.
4 Pan Rd., 02-635-2365. Open daily 9am-6pm.
Wattana Panich
Nattapong Kaweenanthawong
"MY GRANDFATHER NEVER WROTE THE RECIPE DOWN—WE KNOW HOW TO MAKE THE SOUP PURELY FROM WATCHING HIM"
For 40 years, Nattapong Kaweenanthawong and his family have been simmering the same beef soup. Every evening, the "starter" stock gets refrigerated before being reheated the next morning with fresh seasoning and spices. Originally founded more than 60 years ago, this beef noodle specialist has now passed down three generations, but Nattapong says the old family recipe remains exactly as when his grandpa started the shop. The B100 bowls attract all walks of Bangkok life, from Sukhumvit socialites to taxi drivers and tourists.
How did it all start?
My grandfather was a big meat-lover and he always loved to cook. He came up with this recipe of braised beef using different Chinese herbs and spices and it turned out great! So, he thought about selling the soup. With no house of his own, he rented a building in the Yommarat neighborhood and the noodle shop was very well-loved. A long time later, in 1973, my grandpa's sister bought a building in Ekkamai—back then, everything in this area was still jungle—and my grandfather asked to move his business here with her. Later, she sold the building to him and we've been here ever since. I grew up here, always helping out around the shop. We've never had many staff. In fact, most of us are family members. So we learned to run a small business from a very young age. Plus, my grandfather never wrote the recipe down—we know how to make the soup purely from watching him make it over and over for years and years. Right now, I'm the third generation taking over the business from my dad, who still comes to the shop almost every day to do a taste check to ensure the flavor is as it's supposed to be [laughs]. Despite being a very small shop, we take our business very seriously.
What obstacles have you faced?
Because we're such a small business, everything is on a small scale. Our work system isn't anything complex. Never have we thought about expanding our business, so there's really nothing to be stressed over or to fix. What we want is for the place to remain a family business, where our family can work together and to keep my grandfather's recipe alive, serving exactly what he served decades ago with no twist in flavor. Well, having said that, actually, the only thing that can be considered as a problem is that we often run out of food very fast, which upsets customers who have traveled very far to try our beef noodles.
336 Ekkamai Soi 18, 02-391-7264. Open daily 10am-8pm.
Too Gub Khao Khong Mae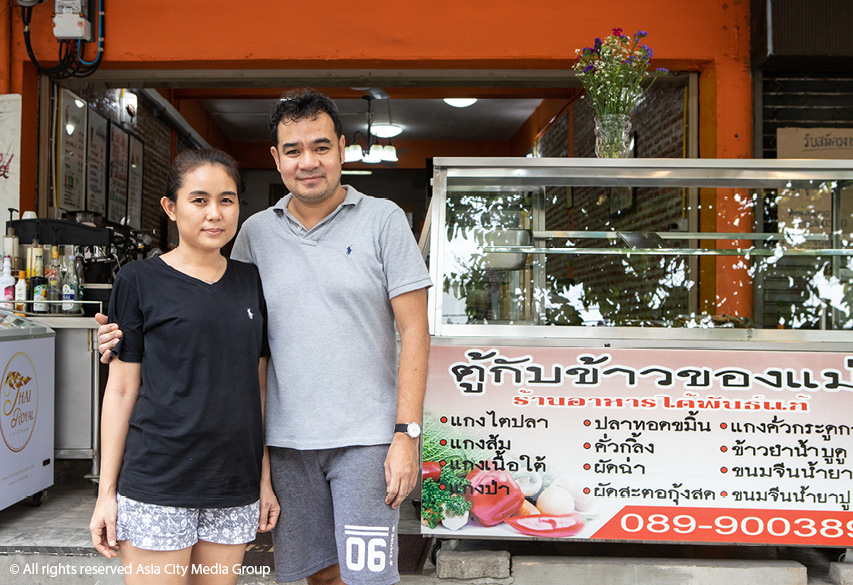 Owner Alex Sutcharit and his wife Nansintsintsoe
"IF ONE DAY MY MOM WAS TO PASS AWAY, ALL THESE OLD, TRADITIONAL RECIPES WOULD FADE AWAY"
From a Nanglinchee shophouse, southern transplant Alex Sutcharit ladles heavily spiced curries onto GMO-free jasberry rice, made using his mother's hand-pounded curry pastes. The Suhring twins have even called it their favorite khao gaeng in the city, which—having tried their mouth-watering gaeng lueang (spicy soup with fish and turmeric) and pungent kua kling (stir-fried minced pork)—we totally get. You'll also find pla thod kamin (fried fish with turmeric), stir-fried sator beans with shrimp and kanom jeen nam ya poo (rice vermicelli with crab curry).
How did it all start?
Alex: When I graduated from university in America, I came home to start a small business consultant company. My friend and I started a coffee shop on the side, it was doing really well and we expanded to a second branch. During that time, my grandmother from Trang passed away. My memories of her and mom always cooking southern comforts for me and my siblings got me thinking—if one day my mom was to pass away, too, all these old, traditional recipes would fade away. So I asked my mom to teach me her recipes. My wife was already a great cook, so she was able to follow the cooking steps very quickly. We started off with a small counter across from the coffee bar selling my mom's food. Our regular coffee customers saw that we also offered food, so they'd order it at the same time. From that, the word spread and a lot of people would come to the coffee shop mainly to get our food. Just under a year ago, we moved to a new bigger outlet, which allowed us to offer a wider menu.
What obstacles have you faced?
Alex: We're lucky that we never had any financial problems. Because I studied business in school, I had the knowledge—I just had to adjust what I knew to fit with the small scale of what we're doing. We have quite a solid system for managing the money we've earned; a part of it is always reserved for future expansion. By that method, we were able to move to our new spot and increase the size of our business.
43 Nanglinchee Rd., 089-900-3890. Open daily 5:30am-2pm.