Booking is now open for BK Brunch Club—BK Magazine's new dining series devoted to next-level weekend feasts. For five consecutive weekends starting Jun 15, we partner with over 20 of the city's lightest, brightest, most daytime-friendly dining spots to roll out sensational sharing menus of the finest produce.
We're talking at least four courses at every restaurant, most or all of them served family-style just for your table, with menus starting from just B1,000 per person.
And what's brunch without eggs? Below, we've listed some of our favorite egg dishes on offer as part of the event. We're not talking your average kai jeow, either.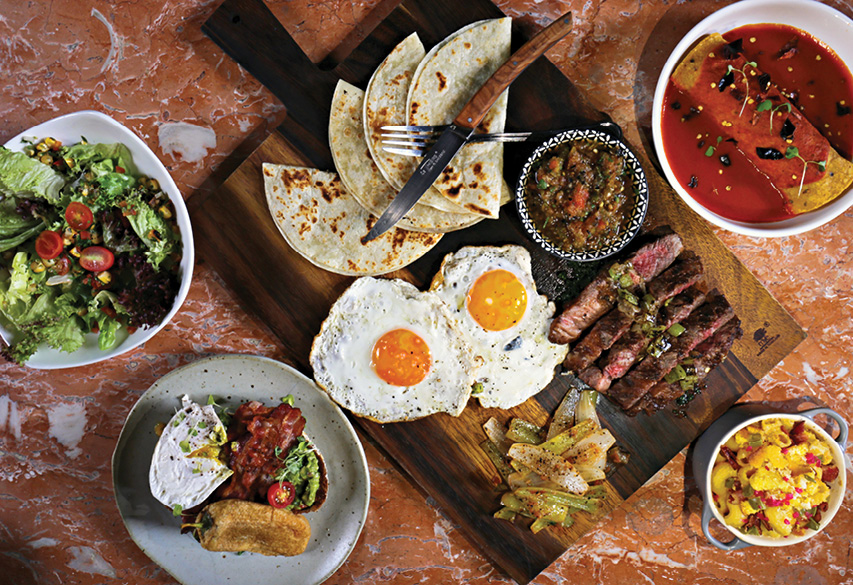 The place: You might know Billy Bautista from Osito Unique Spanish and La Monita. Here, Billy takes on low-and-slow smoked meats with an all-American barbecue approach that nods to his California roots. Billy's Smokehouse busts out giant plates of finger-licking smoked meat that come in at under B1K per head, including all the sides your stomach could wish for.
The eggy dishes: Steak and Eggs Fajita (Grilled Wagyu Ribeye [MS 5+], Chimichurri, Spring Onions, Quesadillas, Fried Egg); Chile Relleno Avocado Toast (Chilies, Jack Cheese, Bacon, Avocado, Poached Egg)
Price: B1,400++/Person
Date: 15,22,29 Jun / 6,13 Jul
The place: The backyard at Revolucion Cocktail and Clandestino Cantina has become Sathorn's newest tropical escape. Blue Parrot takes a more family-oriented route, opening from 11:30am six days a week to offer a brunch-y vibe amid trees and faux grass. On top of a bottle-shaped swimming pool and petanque strip, there's a dedicated play area to keep the little ones occupied.
The eggy dishes: Scrambled Eggs (part of Beach Brunch option); Thai Omelet (Thai Brunch); Poached Eggs (French Brunch); Fried Eggs (Vegetarian Brunch)
Price: B1,000++/Person for All Options
Date: 29, 30 Jun / 6-7, 13-14 Jul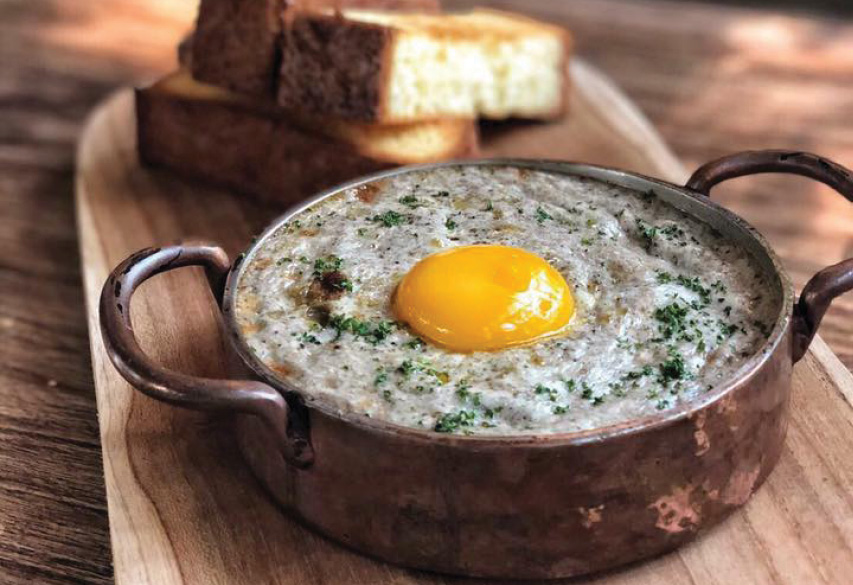 The place: Find your way to Cagette Canteen and Deli for a bounty of fresh seafood, stinky cheeses, cold cuts and simple French comfort dishes. "Cagette" is French for crate, the wooden sort that evokes the bountiful fresh markets of yester-century France, and the decor is thusly themed—farmhouse transmuted by the industrial revolution. As well as being one of the 'hood's top French restaurants, Cagette also doubles as a grab-and-go deli.
The eggy dish: Baked Cream of Foie Gras & Truffle Topped with Egg Yolk
Price: B1,490++/Person
Date: 15-16, 22-23, 29-30 Jun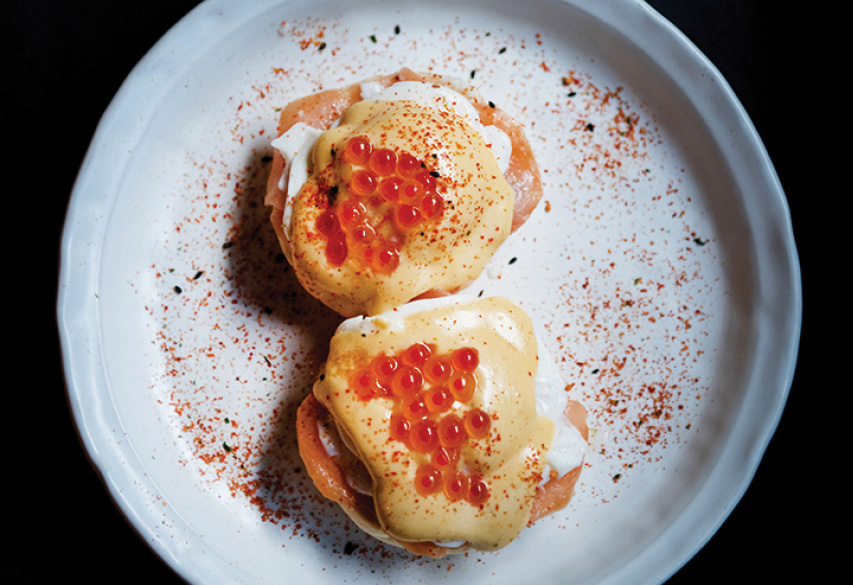 The place: Nestled deep down a residential Charoenkrung soi, far removed from the Japanese hotbed that is Sukhumvit, this sleek modern izakaya is providing the fuel for many a big night out. To go with the artisanal sake, natural wines and cocktails, chef Chet Atkins applies expert preparation and excellent produce to yakitori and kushiyaki (Japanese-style grilled skewers), as well as stylish interpretations of Japanese and Korean comfort food.
The egg dishes: Wild Smoked Salmon Benedict (Yuzu Hollandaise, Ikura); "Chawanmushi" with Mudcrab, Scallion
Price: B1,500++/Person
Date: 29-30 Jun / 6-17, 13-14 Jul
The place: This carnivore heaven serves premium steak and tasty tapas bites from an open kitchen. Grilled prime cuts include a 270-day aged Australian black Angus, while smaller plates like jamon Iberico and the trending wagyu katsu sando are perfect to nibble on while sipping on a classic cocktail. Black tiling meets pastel pinks and greens and pink-tinged lighting for a hip, fun atmosphere.
The egg dish: Steak & Eggs (grilled sirloin steak served with hollandaise sauce, cocktail potatoes, grilled mushrooms and fried egg)
Price: B1,000++/Person
Date: 15-16, 22-23, 29-30 Jun
The place: The same team as Thonglor brunch favorite Roast, headed by chef Johnny Liu, here goes in for cross-continental small plates that are built for sharing and unafraid of creative flavor combinations—think butter-aged Angus ribeye and beef tartare with nduja aioli. The buzzy dining room is the embodiment of good taste, mixing green and terracotta tiles, tactile woods and lashings of stainless steel.
The egg dish: Scrambled Eggs with Sourdough, crème fraîche, spicy romesco, pan con tomato
Price: B1,250++/Person
Date: 15-16, 22-23, 29-30 Jun / 6 Jul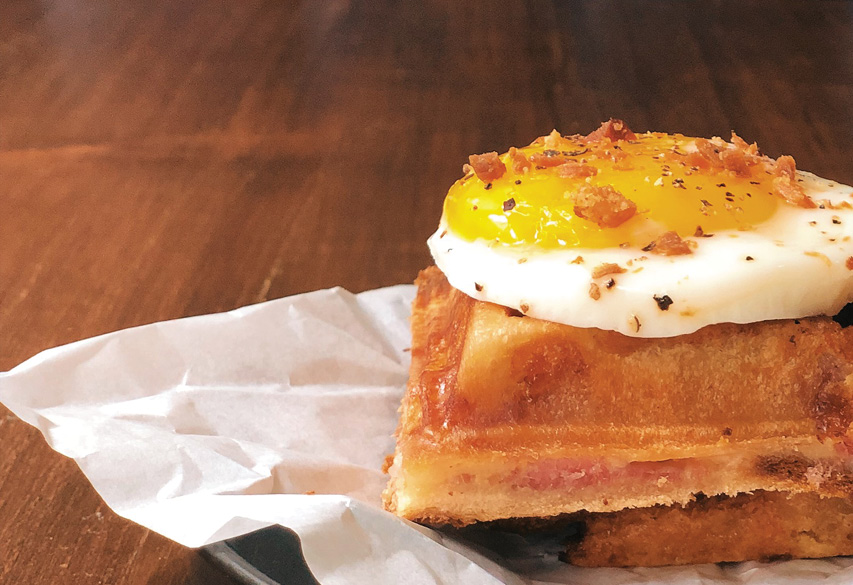 The Place: Olta shoots for the sweet spot between casual afterwork meetups and special-occasion dining through teal banquettes, moody down-lighting, walls popping with black-and-white contemporary art and a soundtrack flipping between mid-tempo hip-hop and singalong indie. Bar snacks like the Scotch egg and Thai wagyu tartare sandwich hint at humble origins, but regular, run-of-the-mill pub grub this ain't. The cocktail list is short, but no after-thought, also reveling in fresh ingredients and refreshed recipes.
The egg dishes: Eggs Benedict; Waffle croque madame
Price: B1,300++/Person
Date: 15-16, 22-23, 29-30 Jun / 6 Jul
The place: Northern Spain's Basque cuisine of coal-grilled meats takes the center stage at Taps by Nan Charcoal Grill. In the casual, soft-industrial space, complete with vast windows and some green visions, owner-chef Vimvadee Piyavanich and her team cook up imported meat and local seafood on a charcoal-fired Josper grill. The results give a beautiful smoky, char-grilled aroma to dishes like the Galician-style octopus served with confit potato and the Iberico pork presa.
The egg dishes: "Huevos Estrellados" (Fried Egg, Chorizo & Capsicum, French Fries); Tarta al Whisky (Whisky Tart with Egg Custard, Almond, Whisky)
Price: B1,000++/Person / B1,250++/Person
Date: 15-16, 22-23, 29-30 Jun / 6 Jul