---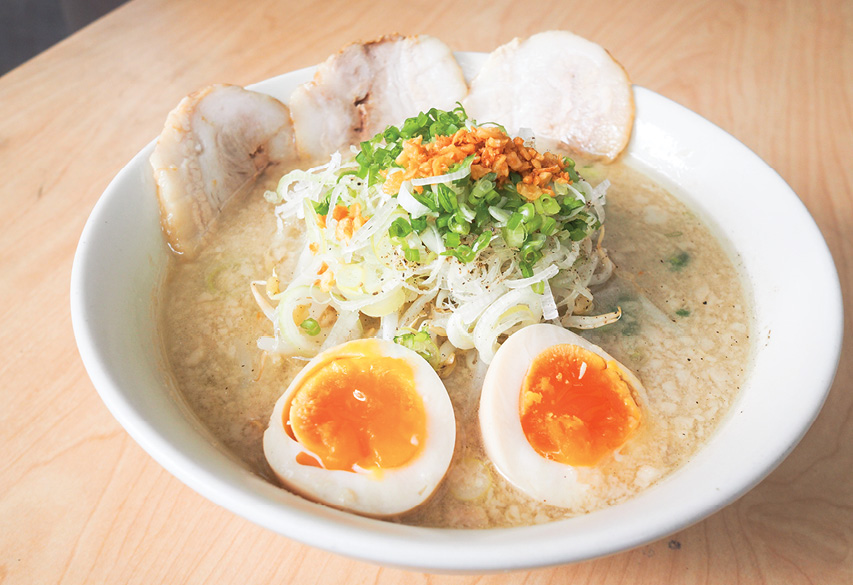 ★★★

★
Reviewed Jul 13, 2016
Menya Kouji hails from Ibaraki Prefecture on the outskirts of Tokyo, and comes to Bangkok courtesy of chef Tashiro Koji, who also has restaurants in the US, Canada, Philippines and Singapore, where he founded the Ramen Champion outlets. His place in Bangkok has already become a favorite spot for ramen hunters thanks to its salty, creamy and very earthy broth.
Situated in Prom Phong's quiet Boulevard 39 complex, the dark space with its red laminate tables, navy chairs and framed pictures of its founder with different Japanese celebrities is as plain as it gets.
The menu, like at so many solid ramen places, is fully described in three languages—Japanese, English and Thai—and the star dish is undoubtedly the tsukemen (dipping ramen, B250). The broth bursts with flavor from the first bite—a thick, creamy tonkotsu creation that's tangy and packed with the aroma of miso and dried fish. The noodles are also boiled to soft, springy perfection. Some people might find it too salty, but mix in a spash of the mild, clear soup that's served alongside it for better balance.
We also love the house-favorite Special Ramen (B230), which features molten pork fat, slow-cooked pork-belly chashu and a boiled egg with a perfectly fudgy yolk. This guilty, cholesterol-fueled (but surprisingly palatable) pleasure is something worth trading your monthly fitness regime for. The side dishes are also not to be missed, from the crispy, pan-fried gyoza (B90)—aromatic and stuffed with herbs—to the sweet-soy baigai (Babylon snails, B130)—springy meat packed with the fresh smell of the ocean.
We feel slightly let down with the Hokkaido-style fried chicken with spicy sauce (B120): the skin is not as crisp as we'd like for karaage. Still, the meat is tender and, when combined with the dipping sauce, everything falls into place.
We're not surprised that this restaurant constantly pulls in a crowd of Japanese salarymen who add to the lively atmosphere. Thanks to good meals at a very reasonable price and attentive service, this ramen joint is definitely one of the very best in Bangkok.
G/F, 39 Boulevard Bldg., Sukhumvit Soi 33, 02-160-0112. Open Mon-Fri 11:30am-2:30pm, 5:30-10:30pm; Sat-Sun 11:30am-10pm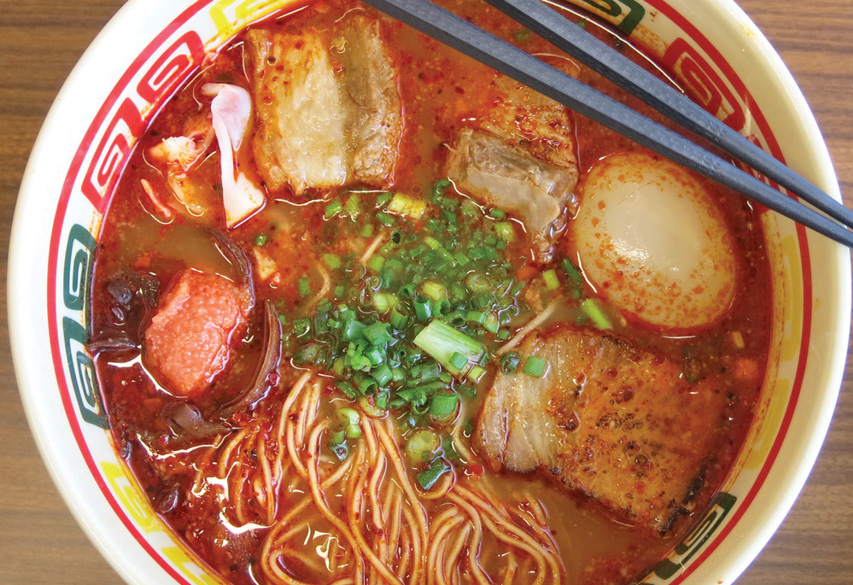 ★★★
Reviewed Jan 26, 2016
One of Bangkok's latest ramen chains imported from Japan comes from the Southern island of Kyushu, but most people know it from its wildly popular Tokyo branches where near-permanent queues snake outside. At its first Bangkok opening, you won't find quite the same hoards of people—during our last visit there were just four tables taken, though half of those were by Japanese natives. The apparent lack of popularity however shouldn't detract from what's some darn fine tonkotsu ramen.
In a space that feels more like a children's play pen than a serious salaryman's noodle haunt (think child-like crayon graphics and rainbow murals instead of bar stools and vaguely smutty comic collections), the kitchen dishes out a choice of four variations of different pork-bone broths: original, miso, Thai spiced and "black" (flavored with mayu garlic oil).
A portion of ramen starts at B180 for the original soup, but for that you don't get many goodies hidden in your noodles. What you want is the "zenburi" bowl, which comes loaded with great big chunks of braised pork, a boiled egg and a dollop of salty, marinated cod roe. At B360, it's a pretty pricey bowl of noodles, but those wobbling lumps of fatty meat make all the difference compared to your standard slithers of chashu. While the original stock is smooth and richly flavored, we also favor the garlicky black ramen, whose intimidating, heavy appearance disguises a flavor that's actually quite refined, with unusual tastes of aniseed and chamomile poking through the salty broth.
Kyushu Jangara also gets some of the basics right, from the delicate, wispish noodles to the strongly wheaty strain of green tea (B40 with unlimited refill). But outside of the ramen you won't find anything remarkable, whether it's the limply filled and rather chewy gyoza (B89) or the slightly-too-greasy chicken karaage (B110). Dessert, too, is a single option of red bean paste atop a mound of dangerously artificial-tasting shaved ice (B60)—sweet and refreshing after a heavy bowl of noodles, but no culinary masterpiece.
Is Kyushu Jangara better than Thonglor tonkotsu mainstays like Yamagoya and Misoya? Probably not, but it definitely offers something different if you go for that black garlic sauce.
2/F, J Avenue, Thonglor Soi 15, 02-712-9678. Open daily 11am-10pm
★★★
Reviewed Jul 23, 2016
Menya Takeichi is every bit your Bangkok community mall ramen joint: it has connections to a legendary restaurant in Tokyo; it has acres of contrasting blond-and-dark wood laminate; it has an atrocious soundtrack playing on the stereo.
Here though you won't find a single mention of the words "pork" or "tonkotsu." Menya Takeichi's specialty is chicken-broth ramen, propped up by claims that it's the most popular chicken ramen shop in all of Tokyo, now franchised across the country as well as to Singapore.
The spiel goes that it takes 8kg of whole chicken to make the stock for every 10 bowls of ramen. These are simmered for over 10 hours to result in a texture which, in the restaurant's words, "is gorgeously luxurious and rich in collagen." That sounds just about right. The white broth is so gelatinous that leave your bowl undisturbed for a minute and a heavy, transparent film will develop on the surface.
This is ramen for the most hardened stomachs, available in just four variations: flavored with salt, soy sauce, spicy sauce or a clear soy broth, priced from B130 for a small portion up to B245 for a big bowl garnished with plentiful sheets of nori, a perfectly fudgy egg, bamboo shoots, two chunks of white chicken meat and two chicken meatballs.
Tokyo's original Shinbashi branch, the menu tells us, favors the richer flavor of soy sauce. We'd have to agree. The character of Menya Takeichi's broth does get a bit one dimensional—you really don't have anything happening flavor-wise except chicken and more chicken—and the soy adds a depth which the simple salt broth lacks. It's easy to love a bowl of ramen this decadent, though give us some noodles with a little more bite and springiness and we'd probably love it more.
While you wait for your ramen, chew on some perfectly crisp tori karaage (deep-fried chicken, B120/3 pieces, B180/5 pieces) which don't shy away from keeping the odd piece of deliciously chewy cartilage in the meat. Save space for one of the fried chicken rice balls (tori tenmusu, B40) as well—for that price, it would be a crime not to. And rest assured that if you turn up with a dieter, they can entertain themselves with a not-half-bad salmon rice bowl (B220), well-flavored with tangy shiso leaf and washed down with a wheaty green tea (B40 with unlimited refill). No outside alcohol allowed.
2/F, K Village, Sukhumvit Soi 26, 02-259-9300. Open daily 11am-11pm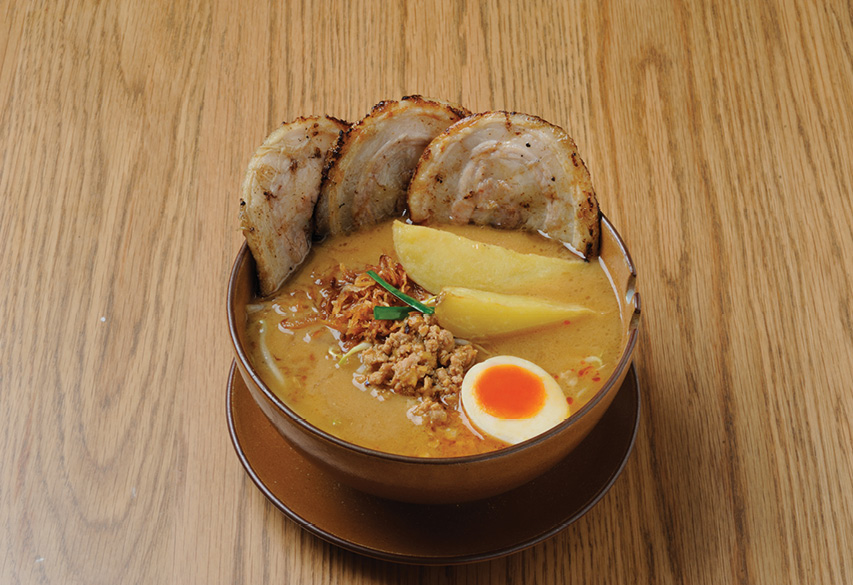 ★★
Reviewed Mar 27, 2016
While Bankara and Ramen Kio seem to be many Bangkokians' top picks for ramen, this Thonglor restaurant (with another branch at EmQuartier) has won many fans for its miso-enriched broths. Ramen Misoya is part of a ramen empire that stretches from Sao Paulo to New York—and throughout Japan, of course.
The decor at this Bangkok branch goes for wood-heavy rustic charm, with old miso casks lining the walls and freeform lamps hanging over hardwood tables. The menu centers on variations of thick pork-based miso ramen recipes from all around Japan, from Tokyo to Hokkaido and Nagoya. Both the Hokkaido karamiso chashu-men (B240) and Tokyo karamiso chashu-men (B240) deliver a deliciously sharp yet dense soup, with the former being slightly saltier and the latter quite vinegary. The big chunks of grilled chashu have a nice burnt quality to them, though they don't quite melt in your mouth as you expect. Be warned: the Hokkaido version also comes with fried potato, which smells a little off-puttingly of stale oil.
Beyond noodles, there's much to recommend, like the piri kara butano onsen tamago don (stir-fried miso pork with rice, B120), whose rich miso flavor goes perfectly with the gooey egg yolk. What the gyoza (B120) lack in flavor, they make for up in texture; we love their crisp skin and xiao long bao-like soupy filling. We're also totally addicted to the salad dressing that comes with the ika gesso age (deep-fried octopus tentacles, B80). Though sticky and oily, this fried dish is a proper drinking snack.
Dessert is limited to two choices of pudding—green tea and brown sugar—but they're tastier and more satisfying than we've found at many other ramen shops. With its distinctive miso flavors, Ramen Misoya is a must-visit on Bangkok's ever-expanding ramen circuit, and the side dishes aren't bad either. No corkage charge.
Thonglor Soi 13, 089-053-7474. Open daily 11am-10pm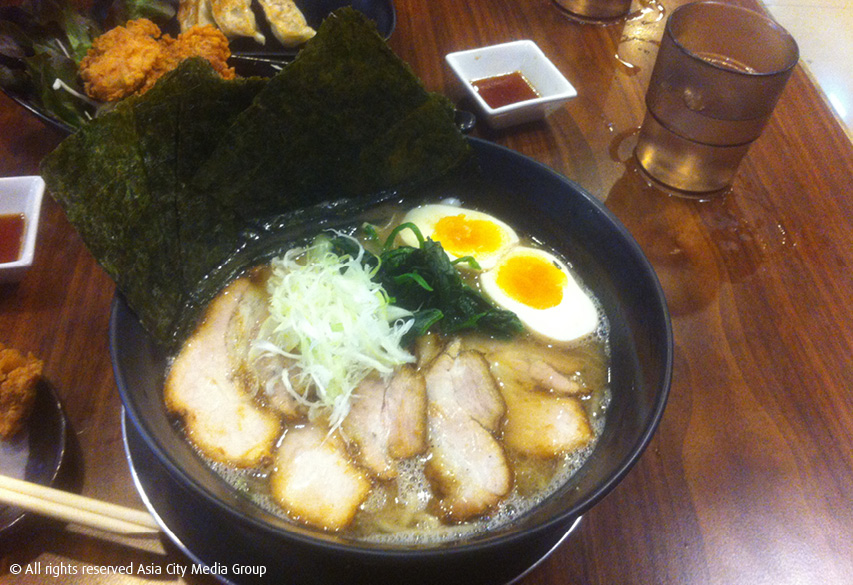 ★★
Reviewed May 21, 2016
This Yokahama-hailing chain doles out the kind of full-fat tonkotsu ramen that's more typical of Southern Japan. It's not the most mind-blowingly umami of versions, but we've had our share of decent bowls here in Thaniya (there's another branch on Sukhumvit Soi 39). The pork-bone broth is definitely on the intense side of things, as in the salty, sharp and starchy tokusei ramen (B280) or the fiery "red" ramen (spicy miso, B220). The thick-cut pork belly tends to be a little dry for our tastes, but they make up for it with four hearty slices plus a generous amount of nori.
We do like the noodles, available in two sizes, which are nice and chewy. This led us to believe the tsukemen (dipping ramen with cold noodles, B270) would be a wise choice. We're a big fan of this dish, especially Bankara's incredible version, but Uchidaya's is utter disappointment. Available in "only" 20 servings a day, the lukewarm soup here is even more viscous and oily than the regular bowls of ramen, boasting a sickly sweet flavor that makes it a challenge to finish. While we're used to the noodles being cold or room temperature, on our last visit the accompanying chicken slices were frosty as if plucked straight from an ice-cold fridge. We can't recommend this dish.
Elsewhere on the menu there's a surprising range of salads, but we'd also suggest steering clear of the izakaya staples like karaage (deep-fried chicken, B100) and gyoza (pan-fried pork dumplings, B100). Overly-spiced and slightly stale-tasting, the karaage is rather more reminiscent of KFC than we'd care for, while the rubbery, under-filled gyoza are a lifeless affair.
This den-like Silom restaurant tends to be pretty bustling at lunch time on weekdays, but this is one occasion we're entirely not siding with the salarymen. Uchidaya does a solid if heavy-handed bowl of ramen, but this is Silom—home to Ramentei, Ippudo and a half-dozen impressive alternatives—so why settle for less?
23/12-13 Soi Thaniya, Silom Rd., 02-237-7365. Open daily 11-2am. BTS Sala Daeng
---