The pandemic isn't over, and we all need to do our part to keep up our best social distancing practices, but it's been a long time—OK? At this point, we say a small get together among friends is fine. More than fine, it will help you keep your sanity after two months of walking around in pajamas, taking naps and staring at your wall.
You still haven't learned how to cook. That's cool, neither have we. If you're having a long overdue catch-up with friends, go buy some spare tableware from Tops (to make it look like your kitchen cabinet is full like a normal person) and order a party feast from one of these awesome Top Tables Kitchen restaurants. If you plate the food just right your friends might actually think you can cook.
If you are having a party, do this the easy way. Billy's chicken and pork platter (feeds four, B1,900) comes with a whole lemon-butter hickory-smoked chicken, hickory-smoked pork spare ribs (full rack), pork Butifarra sausages, buttermilk biscuits, coleslaw, potato salad, Frijoles Charros and corn salad. If that's not enough to feed the increasingly drunks hordes at your dinner party, top it off with some mesquite-smoked Wagyu beef brisket (200g, B750) or some sides of mac & cheese (B120) and good old coleslaw (B90).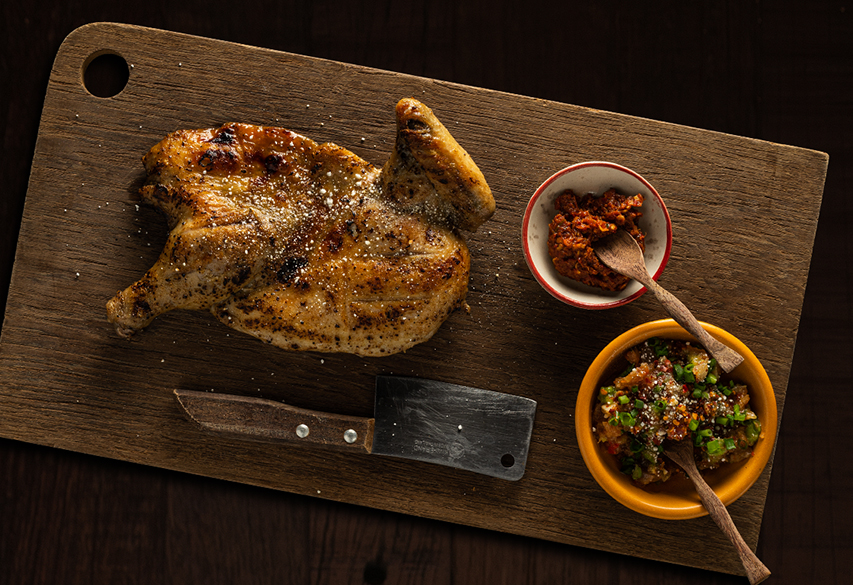 If your crew can handle a bit of heat and they're down with regional flavors, it's hard to go wrong with Funky Lam. The two owners, Sanya Souvanna Phouma (Maggie Choo's, Sing Sing, Cactus) and business partner Saya Na Champassak, have created a pungent Laotian menu that makes for excellent drinking food. You'll have to do some mixing and matching depending on your party size. For a crew of four, pick up the hed phasom (seasonal mushrooms, local herbs and tree tips, rice crackers, chili paste, B350), a sharing plate of kaipen (fried Mekong riverweed sheets with three dipping sauces, B190), larb seen (wagyu beef, fresh herbs, shallots, dried chili, roasted rice powder, B350) and some mandatory gai ping (grilled half-chicken with two dipping sauces, B360).
15% Discount on pick-up orders!

There ain't no party like a Greek plate-smashing party. If you want that experience at home, though, you need to break your own plates (remember the cheap Top's tableware we told you to buy?). Just like Billy's, Aesop's makes feeding a crowd easy with its mixed grill platter (chicken souvlaki, kofta kebab, beef sausage with rice, potato chips, B850). You could easily just double up on this depending on your party size, or round things out with some Greek feta and olives (B220), hummus with pita bread (B250) or one of their massive, fresh Greek salads (B320).