What is dry-cured ham?
Unlike the cooked, wet-cured ham you normally find at supermarkets, drycured ham is produced by curing a pig's hind leg in a mixture of salt (and sometimes spices) to draw all the liquid from the meat. It's then air-dried in a cool temperature for anything from six months to several years. Just like wine and cheese, some specialty hams from particular regions are trademarked under EU law. Protected Designation of Origin (PDO) means the ham has been manufactured using traditional methods in a specific area, while Protected Geographical Indication (PGI) means that part of the manufacturing process can be done outside of that area.
---
Tapas Y Vino
Spain
Two of the most popular hams right now are from Spain: the jamon serrano (serrano ham) and jamon iberico (iberico ham). While serrano ham is made from ordinary white pig, Iberico ham comes from the eponymous black Iberian pig—or at least pigs with 75-percent black Iberian blood, also known as pata negra (black hooves). It is not just the breed that matters, the curing time and pig treatment effects the grade of the ham. The finest is jamon Iberico de bellotta, which is made from free-range, acorn-only-fed pigs and cured for at least three years.
Eat here:
Tapas Y Vino
(2/F, Grand Millennium Sukhumvit Bangkok, 30 Sukhumvit Soi 21 (Asoke), 02-204-4158) is one of the few hotels that actually serves genuine Iberico ham. Try the jamon Iberico plate (B750/30g) or the chef's salad (B350). You can also now find it on supermarket shelves thanks to
Iberico's
(
www.fb.com/myiberico
), a new brand available at selected Villa Markets (try J Avenue) as well as via
Passion Delivery
(
www.passiondelivery.com
). A package of 48-month-cured jamon iberico de bellotta is priced at B1,320/80g while serrano is just B260/80g.
Lenzi Tuscan Kitchen
Italy
The Italian term prosciutto means cured ham made from the hind legs of a pig. Prosciutto di Parma (aka Parma ham) and prosciutto di San Daniele (both PDO-certified, see box) are among the most popular Italian prosciutto crudo (raw ham). They are both dry cured, bone-on, and seasoned only with sea salt, which results in mild flavor. Pigs for Parma ham are fed with grains and whey from Parmigiano-Reggiano cheese production, resulting in the creamy texture and sweet flavor. Also from Northern Italy, prosciutto bazzone from Tuscany yields more aroma thanks to spices used in the curing process.
Eat here:
One of
Lenzi Tuscan Kitchen's
(Ruam Rudi Soi 2, Wireless Rd., 02-001-0116) talking points is the prosciutto sourced from chef Francesco Lenzi's uncle's small-scale ham curing business back in Italy. The Tagliere del Lenzi (B790) offers an excellent selection of meats and cheese including
culatello della garfagnana
and
lardo
.
Pizza Pala Romana's
(1/F, CP Tower, 313 Silom Rd., 02-638-3440) deli section also has some prosciutto starting at B270/100g.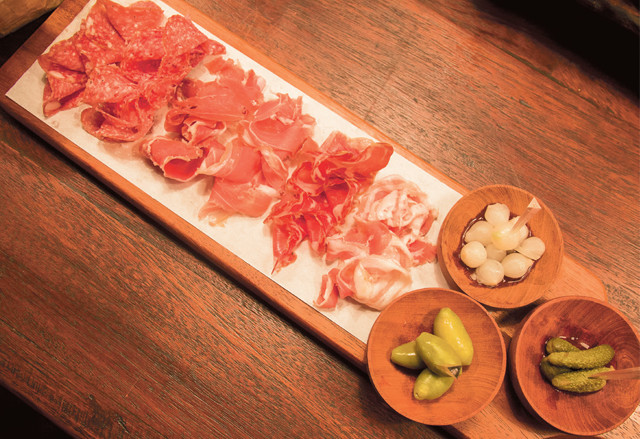 Pop-Up Charcuterie
France
Jambon de Bayonne (ham from Bayonne in Southwest France, PGI) comes from pigs fed with organic maize and cereals that must be grown on farms in the same region. The ham has to go through at least seven months of dry curing, while regional spices like Espelette pepper give jambon de Bayonne a totally unique flavor.
Eat here: Pop-Up Charcuterie (Anantara Siam Bangkok, 155 Rajadamri Rd., 02-126-8866) offers a range of hams, sausages and cheese from France, Italy and Spain including jambon de Bayonne (starting at B180) with wine pairing available.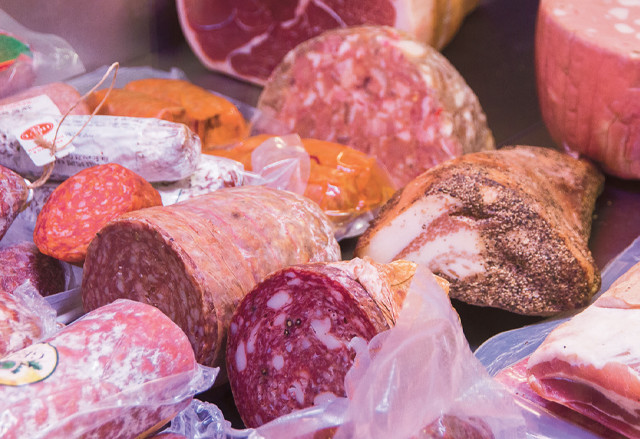 Pizza Pala Romana
Germany
Though most German hams are cooked, the country also produces two popular, smoked varieties of boneless dry-cured ham, known as rohschinken (raw ham). Schwarzwälder Schinken (Black Forest ham, PGI) is cold smoked over pine wood for several days and left to mature for just several weeks. The result is a signature black rim and intense, spicy and smoky flavor. While Black Forest ham is deboned before it's salted, Westphalian ham, from Northeastern Germany, remains on the bone until the end of maturation, when it is smoked over beech wood and juniper twigs.
Eat here:
Black Forest ham with pickles and brown bread (B390) and Strammer Max (German bread with Black Forest ham and fried eggs, B260) are both served at
Deutsches Eck
(Sukhumvit Soi 20, 081-814-1173). Also try
Bei Otto
(1 Sukhumvit Soi 20, 02-260-0869), the longstanding German food institution, for takeaway Black Forest ham (B140/18g).