If you're looking for a way to spice up your dining routine, then BK Restaurant Week has you coverd. This year, you can choose from over 50 restaurants offering a range of cuisines and styles: rustic Thai, fancy Italian, sleek Japanese omakase, and a lot more. Plus, if you have a UOB or TMRW card issued in Thailand, you can enjoy a complimentary dish with your booking. And to make your meal even more refreshing, you can sip on Perrier and Vittel water, the official sponsors of the event, at select venues for free.
Here's a small selection of this year's deals. Check out the full list of restaurants here.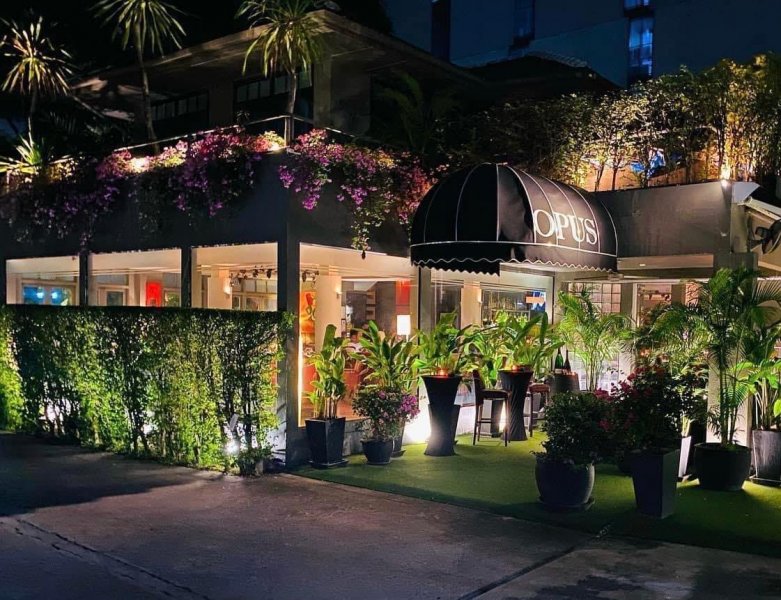 Opus Wine Bar
Opus serves up delicious Italian food along with carefully curated wines (brought to your table from their state-of-the-art wine cellar) in a sophisticated modern setting. In fact, it's one of only 12 Italian restaurants in Thailand that has been recognized with a certificate of authenticity from the Italian Ministry of Foreign Affairs and Culture. Your meal begins with fresh Argentinian red prawns served with a tangy citrus aioli, followed by slow-cooked black truffle risotto. Finally, the star: a juicy Australian lamb striploin that's been cooked sous-vide and roasted.
Price: B1,199
Pagoda Chinese Restaurant
Find good fortune and great dishes as you feast authentic Cantonese cuisine at Pagoda Chinese Restaurant, prepared by the renowned Chef Oscar Pun. Enjoy the exquisite dim sum, featuring steamed dumplings with shrimp, crab, and truffle. Savor the nourishing winter melon soup, the succulent BBQ beef rib-eye, and the fragrant sticky rice with crab meat. End your meal with a sweet and smoky oolong tea crème brulee, topped with flaming cotton candy.
Price: B999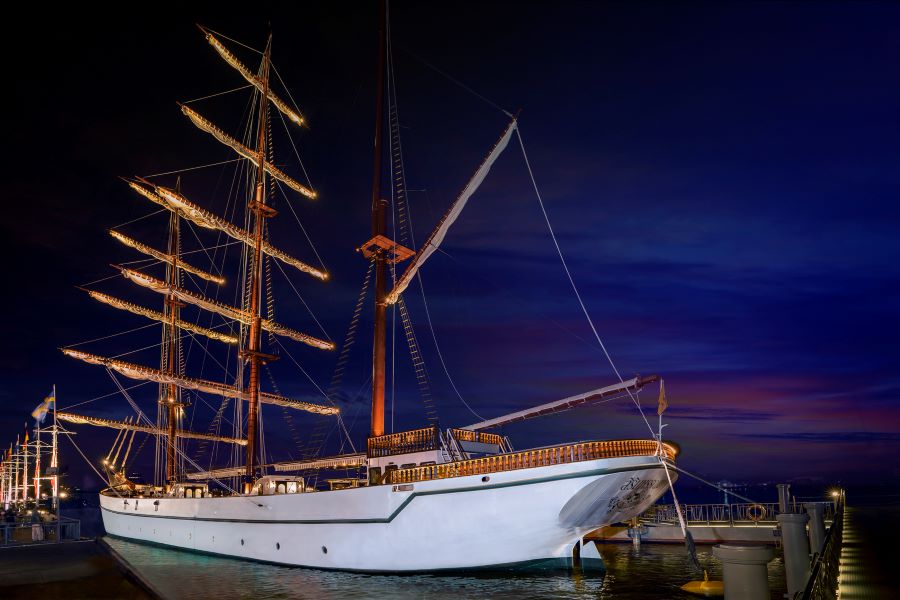 Sirimahannop
Step aboard the Sirimahannop and travel back to the golden age of Thai trade and heritage. Enjoy a sophisticated dining experience on the Chao Phraya River, where history and gastronomy meet. Indulge in the king crab donuts with coral crust, the seared Hokkaido scallops with roast chorizo, and the roasted Atlantic halibut with carrot puree and mussel velouté. Sail away to dessert dreamland with the Nordic honey panna cotta with cloudberry compote and summer black truffle.
Price: B1,199
ALATi
ALATi brings you the flavors and memories of the Mediterranean Sea, with dishes that are both classic and contemporary. Just as the Mediterranean is diverse in culinary traditions, so are you spoiled for choice here. You can start with the seasonal tomatoes and feta, the fried calamari, or the pumpkin velouté. Then, enjoy the carbonara, the prawns ravioli, the spicy baby chicken, or the smoked pork sliders. Finish with the tiramisu, the profiteroles, or the lemon tart.
Price: B999
Cantina Italian Kitchen Soi 11
Cantina Italian Kitchen is your cozy and friendly neighborhood spot, inspired by the wine cellars of Italy. Enjoy a glass of fine wine and a plate of homemade Italian food, made with love and skill. Start with the pomodoro or sausage salad, then choose between the fettuccine with mushrooms and truffle or the spaghetti bolognese with your preferred pasta. End with the panna cotta or tiramisu, and feel like you're in Italy.
Price: B1,199
Punjab Grill
Punjab Grill offers a regal dining experience, blending India's culinary heritage with global tastes. Chef Bharath Bhat's menu features innovative dishes like avocado papdi chaat alongside classics such as tandoori chicken tikka and lamb chops. The Maharaja Feast, available in both non-vegetarian and vegetarian options, includes a variety of kebabs, rich curries, and the sweet Aam Bhapa Dohi for dessert. It's a luxurious journey through flavors, right in Bangkok.
Price: B1,199
The Brasserie
The Brasserie offers a culinary journey that spans from New York to Paris to Bangkok. Start your day with the onsen egg salad or the Waldorf salad. For lunch, enjoy the French-inspired menu, featuring the grilled pork chop with truffle potato, charred carrot, and honey mustard sauce, as well as the salmon en croute with cream cheese and dill cream sauce. End with the strawberry shortcake, a sweet delight.
Price: B1,199
4k Cafe
4K Café at Cross Vibe Bangkok Sukhumvit offers a delicious selection of Thai, international, and fusion dishes, from breakfast to dinner. Start with the seared sea scallop with carrot purée and nori wasabi crumble, then choose between the wild mushroom and truffle cream soup or the roasted tomatoes cream soup. For the main course, you can have the pan fried organic salmon, the pork escalope, the grass fed striploin, or the chicken parmigiana. Whatever you choose, you get to end with the molten lava cake.
Price: B1,199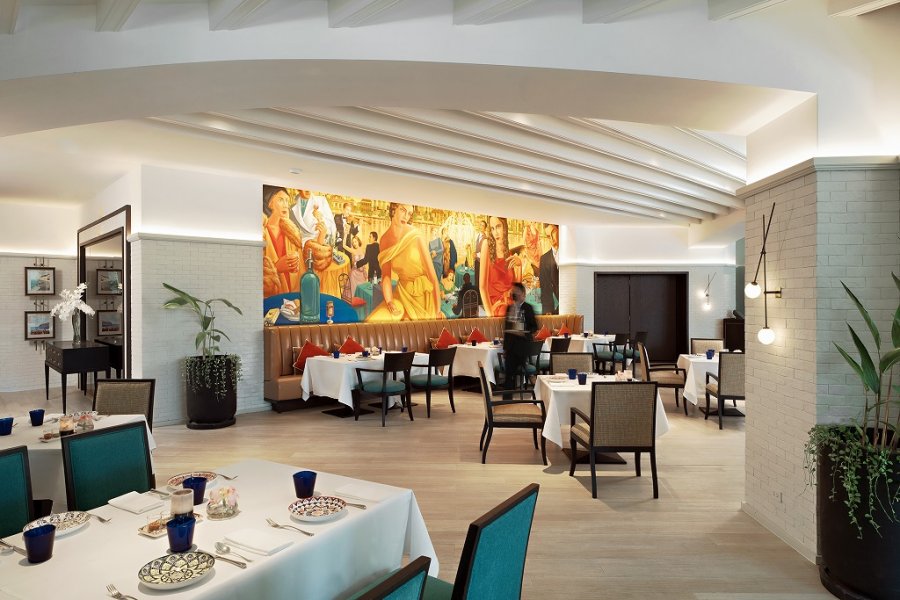 Giorgio's
Giorgio's brings you the classic Italian cuisine of the 1960s and 1970s, with dishes that are simple, authentic, and delicious. The menu features recipes that have been passed down through generations, using the freshest ingredients available. Start with the orza, a refreshing salad with white balsamic and marinated peppers. Then, choose between the spring chicken with parmesan crust or the involtini salmone, a rolled salmon with green peas and sun-dried tomatoes. End with the panna cotta, a creamy dessert with berry coulis.
Price: B1,199


The Food Trust

The Food Trust offers a menu that celebrates the artistry and sustainability of Thai cuisine. Choose from two set-menu options, featuring dishes made with organic and locally sourced ingredients. The Green Set is a vegetarian delight, with salads, tofu, and crispy rice balls. The Lighter Set includes jiao zi and lu rou fan, along with the same salads and tofu. Both sets end with a sweet treat from Ang Thong province, the kanom gaysorn-lum-jeak.
Price: B999