1. Gogigui
What: Commonly referred to as Korean barbecue or grill. The most famous cut is galbi (short rib), prepared in a wang galbi style (filleted in layers away from the bone). The meat is cut into bite-size morsels after being cooked—done by wait staff in most restaurants. You can either dip it in sauce, eat it alone or wrap it in lettuce along with sides.
Where
: While barbecue is extremely common among Bangkok's Korean restaurants, we particularly like
Jang Won
(1/F, Sukhumvit Plaza, 212/9-10 Sukhumvit Soi 12, 02 251-2636) thanks to their specialized chef who takes care of the meat at his open station.
2. Jjigae
What: Jjigae is similar to Western stew—vegetables, meat or seafood cooked in a seasoned broth. The most popular version is probably kimchi jjigae made with kimchi (fermented vegetables) and seasoned with doenjang (bean paste) or gochujang (red pepper paste). Most restaurants serve jjigae in a hot stone pot and you should eat it while it's still sizzling.
Where
: We especially like the seafood option of kimji jjigae at
Kimchi Hour
(110/5 Soi Ari Samphan, 02-619-5196) with its thick, satisfying broth.
3. Samgyetang
What: This reenergizing ginseng chicken soup is traditionally served during summer time. It's usually made from a whole chicken stuffed with ginseng, jujubes, sweet rice and whole garlic cloves. The soup is packed with flavors and nutrients.
Where: Myeong Ga (1/F, Shukhumvit Plaza, 212/16 Sukhumvit Soi 12, 02-229-4658) does the traditional samgyetang just right.
4. Bingsu
What: This shaved ice dish topped with chunks of fresh melon or mango is one of the most Instagrammed desserts in Bangkok right now. Bingsu is similar to our naam kang sai (shaved ice dessert) and you can jazz up your fluffy ice with a variety of syrups and toppings—the classic is sweetened azuki beans.
Where: Give it a try at the new, and very popular, Seobinggo (Siam Square Soi 7, 086-394-4245) with the mango cheese bingsu.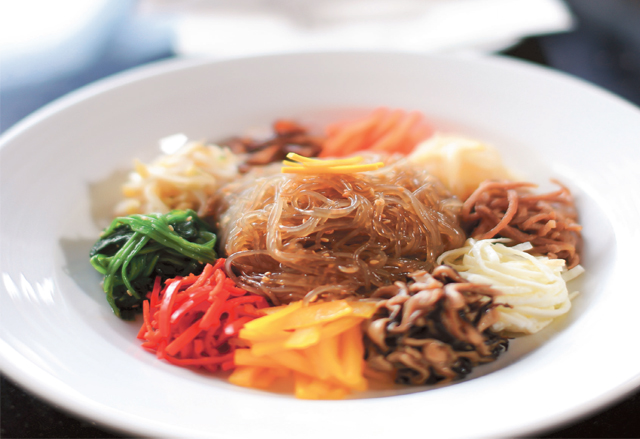 5. Japchae
What: This Korean staple is a combination of stir-fried glass noodles with beef, vegetables and sesame oil. It looks pretty much like our pad woon sen (stir-fried glass noodle), but the scent of sesame oil and the bigger and chewier glass noodles make a huge difference.
Where: Head to Korean Spoon (2/F, Crystal Design Center, 1420/1 Praditmanutham, 02-102-2385) to try the traditionally cooked japchae.
Photo: Manda Wong
6. Gimbap
What: Derived from Japanese futomaki (a type of rolled sushi), gimbap (or kimbap) comprises steamed rice seasoned with sesame oil, and other ingredients (mainly carrot, spinach and pickled radish) rolled in dried seaweed sheets, seasoned with sesame and served in bite-size slices. Gimbap is usually eaten as a snack with kimchi to bring out the flavors.
Where: The well-stuffed gimbap at The Bibimbab (G/F, Siam Paragon, Rama 1 Rd., 02-610-7732).
7. Tteokbokki
What: The popular savory snack among teenagers is made from tteok (glutinous rice cake) stir-fried with vegetables, fish cake and gochujang (red chili sauce). Our tip: enjoy it while it's warm—tteok doesn't reheat well in the microwave.
Where
: Korean-hailing
Red Sun
(Chula Soi 64, next to Chula Book Center, 02-252-1395) specializes in this popular dish.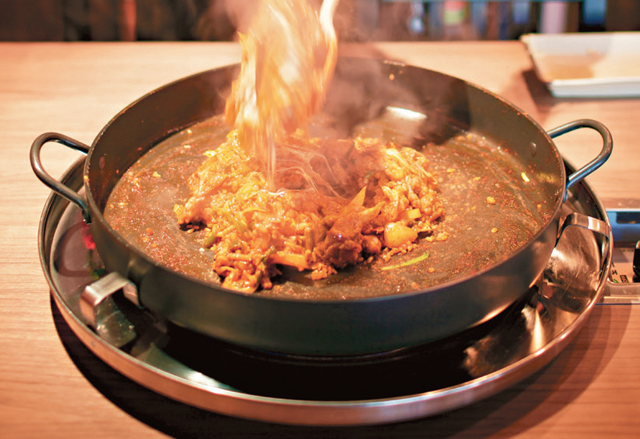 8. Dak Galbi
What: Another popular dish among teenagers is this stir-fried chicken in gochujang sauce along with tteok and vegetables. Dak galbi is served on a hot plate and is usually stir-fried at your table. Since it's generally comes in a large pan, it's ideal for sharing.
Where
: Have fun with your friends tucking into this chicken dish at the aptly named
Dak Galbi
(414/9 Henri Dunant Rd., 02-623-4224).
Photo: Matt Weibo
9. Seolleongtang
What: If you're a Korean drama fan, you're no doubt familiar with the recurring scenes of lead actors and actresses sharing their warm soup together amid snowy, white winter scenes. Seolleongtang, or ox bone soup, is made from various parts of the ox, including brisket, head, feet and entrails, simmered over a low flame till the flavor from the bone is extracted, giving the soup a milky look.
Where: Try it at LA Bukchangdong Soondubu (1/F, Ploenchit Center, Sukhumvit Soi 2, 02-656-8825).
10. Bibimbap
What: Rice topped with vegetables, meat and egg. Bibimbap literally means mixed rice. Opt for a dolsot bibimbap (served in a hot stone pot) to keep the dish hot. Season your rice with sauce and mix in all the ingredients. Let it cook till the rice forms crunchy layers on the bottom of the bowl and then enjoy.
Where: Bibim House's (81 Midway Point, Ratchadapisek Rd., 086-990-1641) offers a range of bibimbaps including the bestselling dwaejigogi (grilled pork) option.
---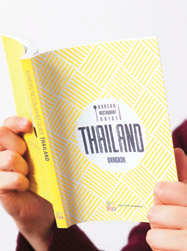 *Special Thanks to Palida Phimphakorn, author of
Korean Restaurant Guide Bangkok
for her assistance. Palida's free guide to Bangkok's best Korean restaurants is available as a mobile-app (iOS and
Android
) and in hard copy at the Korean Culture Center and the Korean Embassy.