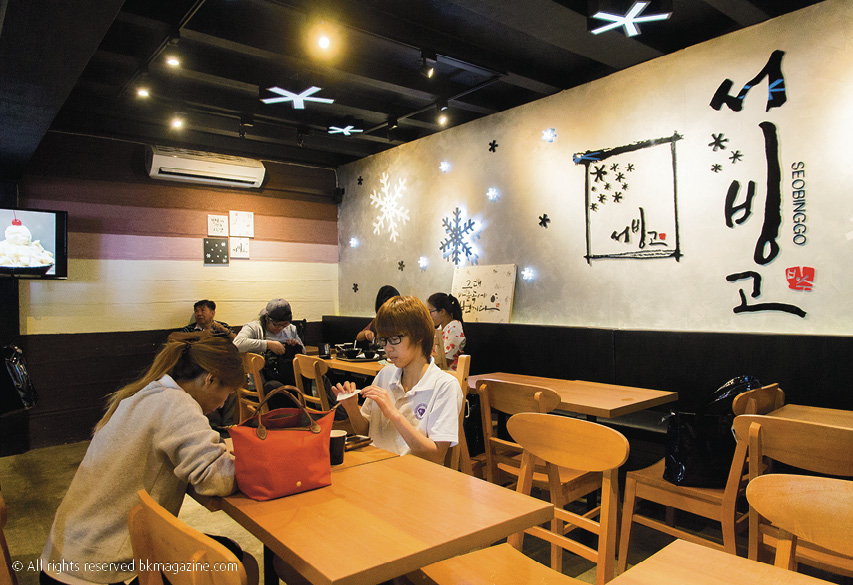 This pioneering Korean dessert cafe started off right in the heart of Siam Square earlier this year, introducing Bangkok not only to the fluffy snow-like frozen milk treats but also to Korean-style toast, glued together by melted tteok (rice cake). Apart from injeolmi (soy powder) and red beans (both starting at B140), other toppings come with a scoop of ice cream including the best-seller mango cheese (B235 for small) and the popular new addition, melon popsicle (B350).
432 Siam Square Soi 7, 086-394-4245. BTS Siam.
2/F, Chamchuri Square, Rama 4 Rd.
4/F, The Mall Bangkapi, 3522 Ladprao Rd., 02-173-1000
The mother of all bingsu brands, with more than 490 stores back home, Sulbing had humble beginnings 453 kilometers southwest of Seoul, in the port city of Busan. You may not rely on the name for the mellowest treats but do expect fun tweaks like melon (with tteok, red beans and corn flakes, B385) and yogurt melon (yogurt, cheesecake and half-melon, B395) on top of classic injeolmi and red bean (both B210). Alternatively, skip the ice and tuck into some toast or savory cheese stuffed tteok (both B140).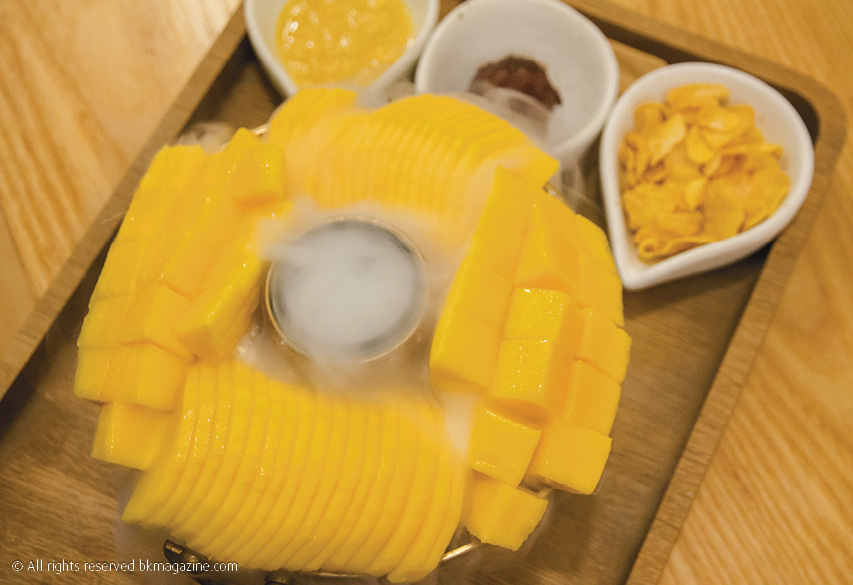 This humble Ekkamai cafe does its bingsu differently to most. Inspired by little neighborhood shops in Korea, the Korean-Thai couple who own it roll out homemade desserts and drinks including Dutch baby pancakes (B260) and yummy New-York cheesecake (B130). Instead of snow-like shaved frozen ice, their home-style bingsu (B160-380) is made from rougher shaved ice. But that doesn't detract from the flavors. Try the Canary Mango (B340), which is dressed with unsweetened milk, topped with massive chunks and slices of two sweet mangoes and served in a hot pot with mango sauce, red bean paste and cornflakes.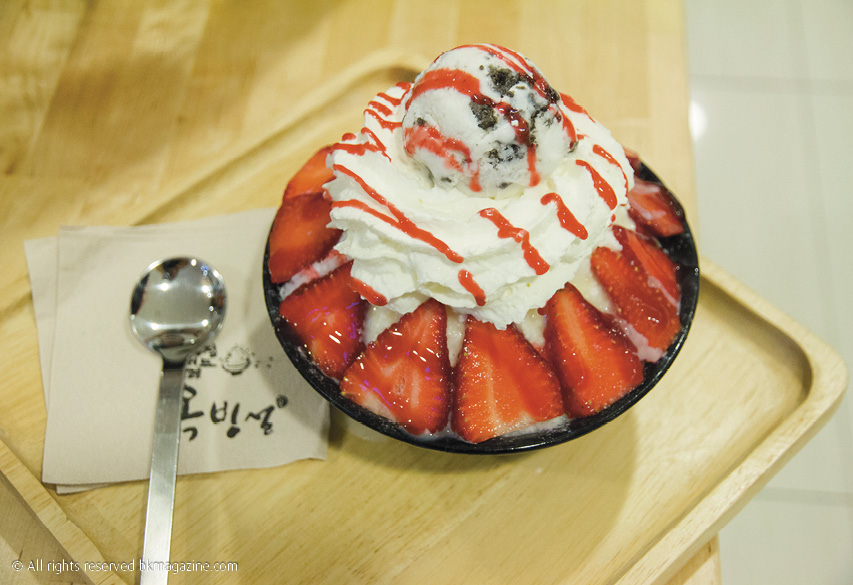 Originating in Ngam Wongwan, this shop instantly attracted lots of students in the area. So it didn't take long for it to franchise to downtown. The CentralWorld shop offers all the same options: shaved frozen milk with toppings that range from classic soy powder and red beans to fruit varieties including watermelon and kiwi, each topped with different ice cream. Prices start at B79 for injeolmi bingsu in a small-size takeaway cup.
89 Ngam Wong Wan Rd., 099-226-6925
This Korea-hailing eatery is an offshoot of a company that makes ice-shaving machines, so it's perhaps no surprise that this is some of the softest ground frozen milk around. The base comes in two flavors—milk and chocolate. Aside from mango, offerings include chocolate (featuring Oreo crumbs, brownies and chocolate sauce, B150/240) and green tea (B120/180). Toast starts at B120, hot drinks at B105 and smoothies at B135.
This bingsu cafe now has six branches across town, and wins when it comes to variety. The plain milk options comes in at B130 for small size, while you can choose from a multitude of toppings like black sesame (B170/240), caramel popcorn (B150/200) and brownie chocolate (topped with chocolate powder, brownie and chocolate ice cream, B200/270).
Thonglor Soi 13, opposite Misokatsu Yabaton, 061-819-2268
M/F, Esplanade, Ratchadapisek Rd.
1/F, Major Ratchayothin, 1839 Phahon Yothin Rd., 02-515-5555.
2/F, Major Pinklao, 554-554/12 Borommaratchachonnani Rd.
Leave a Comment
New Places