It's the best-loved of all Indian dishes, even when it's not masquerading under the name "butter chicken." Murgh makhani, chooza khas makhani, and good ol' chicken tikka masala—we know there are differences, but they all share a ghee-rich, tomato-based gravy and (you hope) a shed-load of spices, onion and—sometimes—cream. We also know there are dozens more Indian restaurants in Bangkok, but we've blind tested the big guns. Sorry if your favorite back-alley secret Surawong curry-den didn't make the cut. Let us know its name and we'll drop by when the food coma's over.
---
---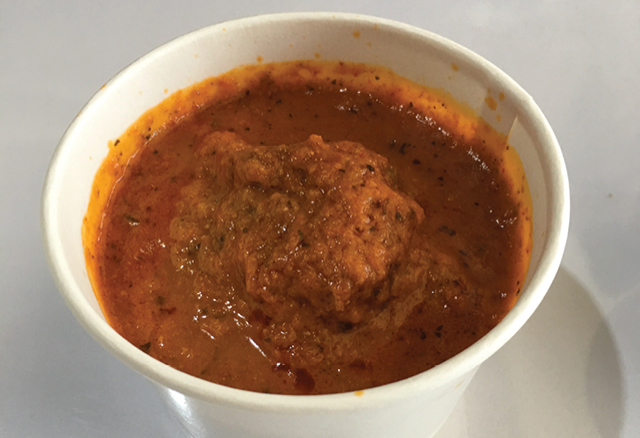 Who: There's no way to overstate the satisfaction of booking a table at chef Rajan Misra's (with the restaurant for two decades) sky-high Indian fine-dining perch overlooking Sukhumvit. For the best experience, pick one of the window seats amid Rang Mahal's decadent blend of OTT plasterwork and regal fabrics.
Verdict: Take us to the kitchen and bathe us in the gravy. Rang Mahal's rich layers of complex spices and lingering strains of heat make every other dish in this list taste like they're from the kiddies' menu. There are curry leaves, there's onion (so much caramelized onion), there's a proper punch of chili, there's a chord of coriander seed that leaps out and says, "This is how things should be done."
On the menu: Murgh Makhanwala (B490)
26/F, Rembrandt Hotel, 26 Sukhumvit Soi 18, 02-261-7050. Open daily 5pm-midnight; Sun 11am-2:30pm.
Who: The cramped tables and harsh lighting are hardly inviting to the uninitiated, yet for years the restaurant has been serving some of the most consistently delicious northern Indian food in Bangkok. Looking for a light meal? Turn on your heels, because here they cook in true grandmother style—plenty of cream and ghee.
Verdict: A rustic potion of coarsely ground delights. Big chunks of juicy, smoky chicken poke through a murky swamp of oil and spice and texture and happiness. While the depth of flavors and complexity are no Rang Mahal, it's still one of the dishes we find ourselves coming back to again and again. More please.
On the menu: Butter Chicken (B205)
392/1 Chakkaphet Rd., 02-221-6565. Open daily 10am-10pm.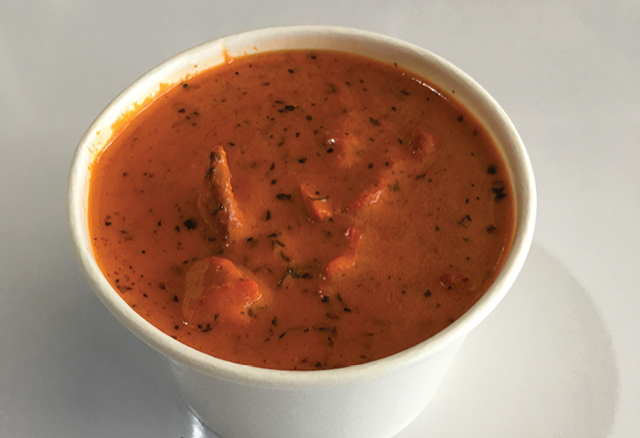 Who: Perhaps Bangkok's most elevated Indian restaurant sits in a striking cantilevered structure on the 29th floor of the Holiday Inn. There, you can feast on North Indian creations before partaking in cigars and cocktails. Fancy.
Verdict: Truly an indulgent bowl—velvety, smooth and robust. If your idea of curry nirvana demands double the cream and double the ghee of an average adult's weekly safe dosage, then this is the bowl for you. And praise the Lord, they didn't go light on the spices, either. The minced tandoori chicken, meanwhile, drew a mixed verdict.
On the menu: Chooza Khas Makhani (B454)
Maya, 29/F, Holiday Inn Sukhumvit, Sukhumvit Soi 22, 02-683-4888. Open daily 6pm-1am.
Who: Founded in 1975, the long established Indian restaurant has over nine branches across the city. While chef-owner Vinder Balbir now oversees mall and food court branches aplenty, the mothership stands one street from Soi 11.
Verdict: Smoky, pungent, almost vinegary, but with the powerful flavor you expect from that luscious dark brown color. We get the sense these might not be the freshest spices—a bit powdery? Yes. Flavors past their prime? We'd say so—but there's a deep intensity that the dishes to follow simply don't match.
On the Menu: Chicken Tikka Masala (B195)
155/1-2 Sukhumvit Soi 11/1, 02-651-0498. Open Tue-Sun 11am-11pm. There're also nine other branches at Robinson Sukhumvit 19, CentralWorld, Central Silom Complex, Platinum Shopping Mall, MBK Center, Asiatique The Riverfront, Food Republic in Siam Center and Mega Bangna.
Who: Since 1995, Surawong's beloved home of tufted velvet and gilt-frame pictures where both locals and tourists alike flock to comatose themselves on pillowy breads and north Indian-hailing specials.
Verdict: We can hear the purists sharpening their pitchforks already. This here is your pink, sweet, uncomplicated chicken tikka masala done British-style. It's a soup of PG-13 creaminess and spice that, even if not even remotely authentic, is tasty. Even the tasters never acquainted to the saccharine brashness of the British high-street curry house agreed on that. And that chicken is excellently smoky.
On the menu: Murgh Makhani (B325)
414-420 Surawong Rd., 02-236-5672-3. Open daily 11am-11pm.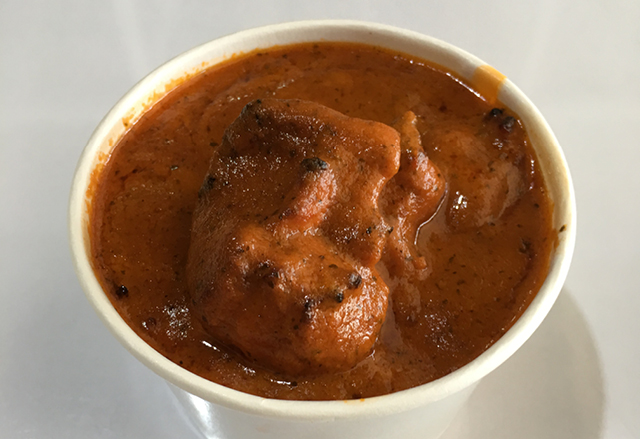 Who: Fine-dining Indian restaurant group Punjab Grill has a dozen venues in India, plus locations in Abu Dhabi, Singapore and in Bangkok. Chef Bharath Bhat injects the odd fusion touch, too.
Verdict: Book us in for the triple-heart-bypass noon tomorrow. Rich is good. Scratch that, rich is awesome. But when a curry's so rich it leaves you regretting your life choices after the first spoonful (we prefer that moment to hit nearer the end), you really have to say they've gone too far. We'd be more forgiving if the spicing wasn't so one-dimensional, too.
On the menu: Butter Chicken (B477)
Radisson Suites, 23/2-3 Sukhumvit Soi 13, 02-645-4952. Open daily 6pm-11:30pm.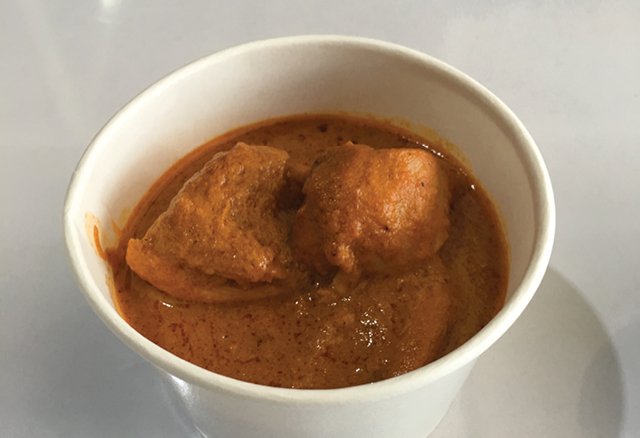 Who: This sleek house-and-garden has delighted fans of northern Indian food since 2006 with its no-nonsense versions of some of the subcontinent's most popular dishes. These days, fine-dining elegance also presents itself in a 10-course tasting menu.
Verdict: Something tastes like it's missing here, and we've figured out what: flavor, decadence, dangerous quantities of saturated fat. The chicken's tender, sure, the gravy is smooth, silky and no doubt expertly prepared, but what's the point when it doesn't hit you in the tastebuds and scream, "Drink me!" You know how this dish tastes? Delicate. We don't dig delicate.

On the menu: Butter Chicken (B400)
71 Sukhumvit Soi 26, 02-258-4900, 086-339-8582. Open daily 11:30am-2:30pm, 6-10:30pm.
Who: This family-run Indian staple has been dishing out house-made tandoori chicken, lamb curry and naan bread for more than 30 years. At each of its three locations, you'll find a relaxed atmosphere replete with old-school Indian touches.
Verdict: Was this the one that… no, it was the dish with… oh right! The soupy one, the one that looked kinda orange and tasted like someone forgot to add the cumin… and the onion. OK, so Himali Cha Cha's dish is not bad, it's just forgettable.
On the menu: Butter Chicken (B260)
6 Sukhumvit Soi 31, 02-259-6677. Open daily 11am-3:30pm, 6-10:30pm. The original branch is on Bangrak Charoenkrung Soi 47/1, 02-235-1569.
Who: From the basement of the Intercon to several other branches around the city, Bawarchi says it's specialty is in Mughlai cuisine, which stretches beyond the boundaries of simply north India.
Verdict: Luscious looks can be deceiving. Bigly. A gravy with the consistency of Campbell's soup tastes a) disconcertingly sour, and b) like the spices were left out altogether. We can tell they used plenty of butter because it leaves its gluey traces on the tongue when all we want to do is forget and move on.
On the menu: Murgh Makhanwala (B495)
Bawarchi, B/F, Intercontinental Hotel, 973 Ploenchit Rd., 086-835-9537. www.bawarchiindian.com