Shabu-serving robots, pervy maid outfits and a communist dictatorship diner—it's Bangkok's weirdest restaurants.
66 Station
What to expect: Americana meets old England at a gas station
This bar's styled as an old garage and gas station, complete with classic Mini Coopers, Jeeps, signs, license plates and other roadster paraphernalia. Sit indoors around wooden barrel tables or outside where there's a pool and live music. Food is Thai, often spicy and fried and therefore well-suited to the laid-back, beer-tower culture of the place.
Pradit Manutham Rd., 09-515-6666. Open daily 5:15pm-12:15am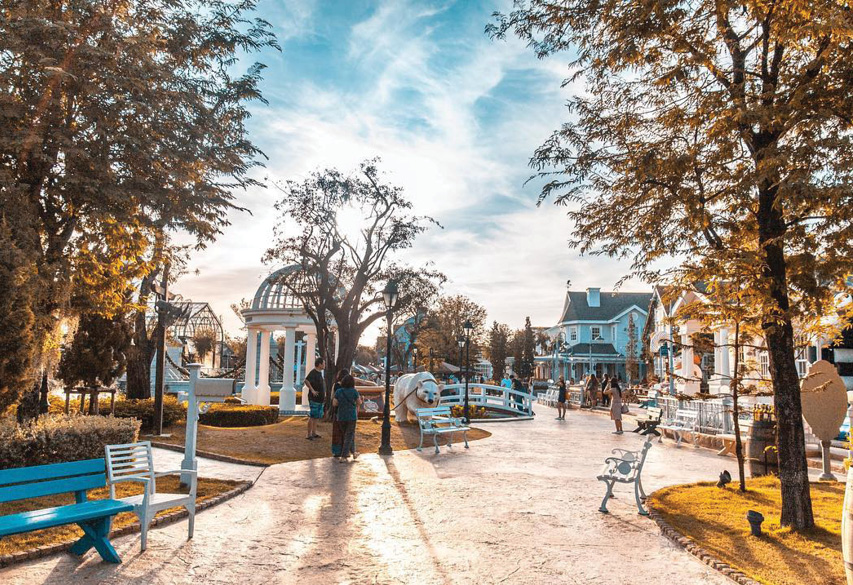 Chocolate Ville
What to expect: A themed restaurant and park that has nothing to do with chocolate
It's hard to peg the theme of Chocolate Ville. It's quaint and unambiguously European, but takes its cues from many cultures, feeling at times like walking through an American suburb of the imagined melting-pot era. There are sprawling grounds, shops, a fake pond and a day's worth of photo opportunities. Dinner is similarly mixed up, the menu including both quesadillas (B220) and spicy seafood spaghetti (B235).
Soi Nawamin 74, Yak 3-8, KasetNawamin Rd., 083-077-3738. Open daily 4pm-midnight
Hajime
What to expect: Shabu Shabu served by intergalactic robots
You've heard about robots replacing human labor? Hajime takes you there with server robots in Samurai headgear. Even the menu is human-free, involving a touch-screen tablet. And robots don't idle the way we humans do, when unoccupied, they dance to J-pop. The 145-minute buffet (B449) features sukiyaki and shabu.
3/F, Monopoly Park, 59/27 Rama 3 Rd., 02-683-1670. Open daily 11am-10pm
Kaethy The Witch
What to expect: Halloween all year round
It's always witching hour at this cafe that pays homage to America's spooky holiday. The tricky treats on the menu take the form of spider cupcakes (B95), eyeballs in blood jelly (B75) or, if you want to test your mettle, the Vampire (B135), a blood-red drink served in an IV bag. Waitresses are in costume, but like the decor, they're more cute than creepy.
Nak Niwat Soi 41, 081-916-8447. Open daily 9am-8pm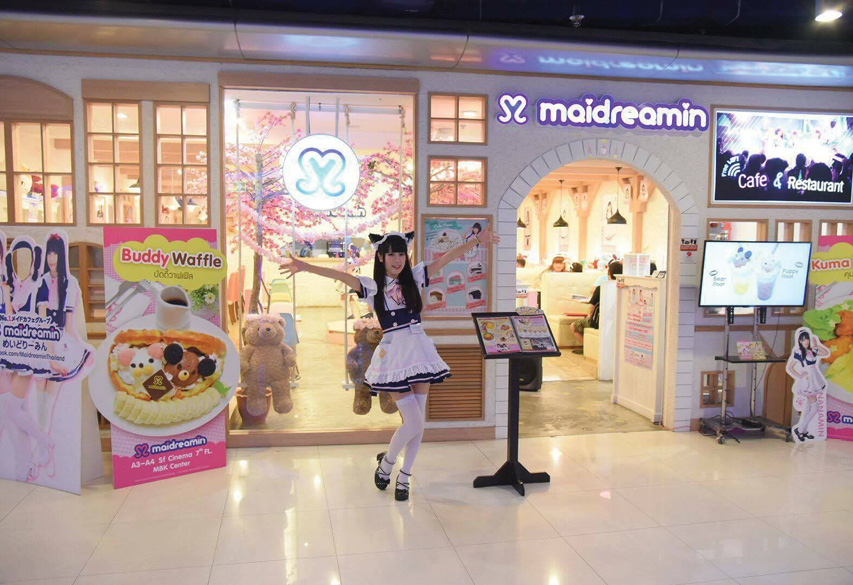 Maidreamin'
What to expect: A true-to-Japan maid cafe
Are maid cafes ever not a little awkward? This one, deep in MBK, is indistinguishable from many cute dessert destinations until you're confronted with a waitress in full French maid character. They'll sing, they'll dance and they may even call you "Master." The omurice (B320) takes the shape of an omelet blanket covering two rice bears.
7/F, MBK Center, Phayathai Rd. Open 11am-10pm
Perhaps Rabbits
What to expect: Alice's Wonderland
It's the Mad Hatter's tea party come to life. A fake maple provides a red canopy, while the floors are mesmerizing black and white tiles, a pattern that extends into the mural of a scene from Alice in Wonderland. The desserts, include the Blue Bunny Egg (a blueberry cheese pie covered with purple chocolate eggs, B190) and the recommended Daniel's Cup (a double-layer vanilla cake served with ice cream, crumble and berry puree, B160).
5/1 Ekkamai Soi 10, 096-616-3314. Open daily 10am-8pm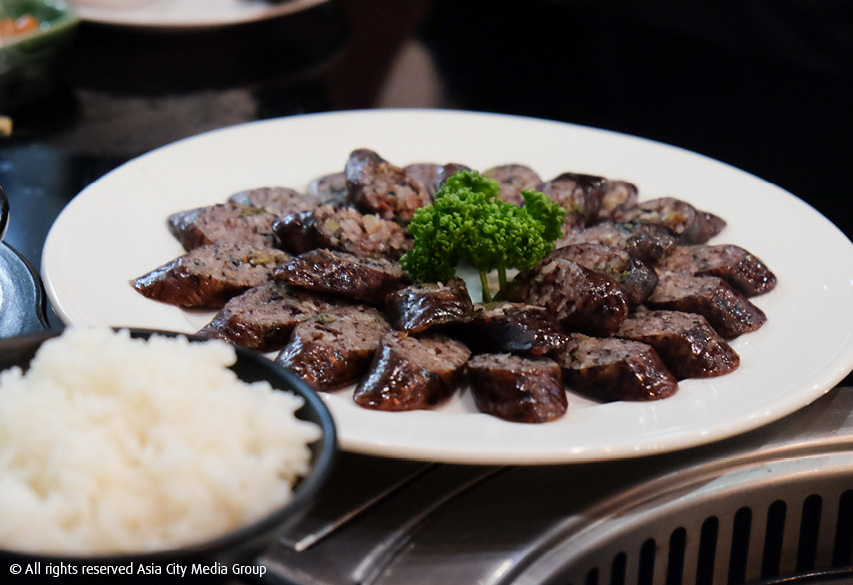 Pyongyang Okryu North Korean Food
What to expect: A curiously tasty experience from the North Korean regime.
After a brief shutdown in June, the restaurant has relocated its beauty-queen waitress and surreal dance routines to Sukhumvit. Novelty and kitsch aside, the food has its high points,whether it's the bibimbap (B280), bibim myun (cold noodles with sweet chili sauce and egg, B280), or Pyongyang sausage (B250). Note: The staff work under poor conditions.
Sukhumvit Rd., between Sukhumvit Soi 25-27, 02-258-0460. Open daily 11am-11pm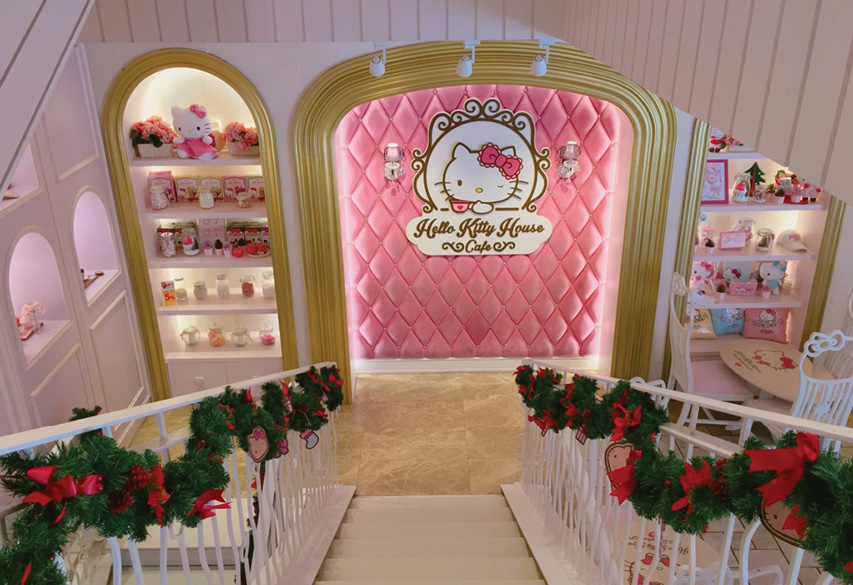 Sanrio Hello Kitty House
What to expect: Pink madness
Depending on your childhood, these three Hello Kitty-themed floors are the stuff of dreams or nightmares. Everything is tooth-achingly cute, from the decor to the kiddie music to the rainbow crepe cake (B150) and hot latte (B120) dusted with the icon's chocolate face. If all this pink is dizzying, find yourself a seat in the spa, where there's nail art (B300) and eyelash extensions (B1,500) galore.
LG-2/F, Siam Square One, 99/Rama 1 Rd., 02-115-1335. Open daily 10am-10pm
The Rome Restaurant
What to expect: Theme park meets Italian restaurant
It's not quite Europe, but this restaurant 45 minutes outside Bangkok packs in lots of kitsch charm for a uniquely-Thai, faux-Italy experience. Dine alfresco under the looming Colosseum replica, or at a table in the pool area. Dishes are… Thai, or at least Thai-inflected, going from traditional seafood som tam (B180) to fried kurubota pork with pepper (B180).
Phetkasem Soi 77, 092-681-0999. Open daily 5pm-11.30pm