All the classics are here—bulgogi, bibimbap, tteokbokki and kimchi.

Owned by Le Cordon Bleu graduate Injin "Lauren" Kim, this trendy barbecue joint also serves East-meets-West fare like Back to the Grill. Alongside usual beef cuts like rib-eye are lesser-used chuck rolls and tasty intercostal muscle, and even white-cream spaghetti with Korean beef bulgogi.
2/F, Mille Malle, 66/4 Sukhumvit Soi 20, 081-949-4851. Open daily noon-3pm, 5-11pm. Available to book on FoodPanda
Exclusively for Citi credit card members:
Get 10% discount on food and non-alcoholic beverages 01 Aug '19 - 31 Jul '20
Arguably the best bibimbap (rice with meat, vegetables and egg in a hot stone pot) in an area densely populated with Korean restaurants. This modest little spot close to Terminal 21 is a gem. Take your tangy, eggy, stodgy bowl of perfectly crisped rice alongside excellent grilled mackerel. Or enjoy fatty beef, cooked at your table by competent and friendly servers.
P.S. Tower, Asoke Rd., 02-664-4088. Open Mon-Sat 11:30-2am; Sun 11:30am-midnight
After more than a decade in operation, this unpretentious three-story spot remains a buzzing destination; its air filled with the delicious aroma of grilled meat, and walls covered with autographed photos of local celebrities. The menu offers different cuts of beef and pork destined for the grill, as well as staples like bibimbap and hae mool pa jeun (seafood pancakes).
T1/F, Sukhumvit Plaza, Sukhumvit Soi 12, 02-653-3815. Open daily 11am-10pm. Other branch: Beehive
From its wood, brick and breeze block-clad home in Sukhumvit's Korea Town, this family-friendly street-style restaurant serves a full menu of Korean hot pots, barbecue and sides like kimchi pancakes and ssal tteokbokki (stir-fried rice cakes). Faux windows "look out" on sepia pictures of the homeland, and screens blasting K-pop videos complete the vibe.
Sukhumvit Plaza, Sukhumvit Soi 12, 02-039-4945. Open daily 10:30am-6am
This hip cafe moved to a bigger venue in late 2018 to accommodate growing crowds. From a glass-walled kitchen, classics like tteokbokki and flavorful kimchi fried rice appear. The dining room is a moody mix of steel, deep red and dark turquoise.
111/1 Phahonyothin Soi 7 (between Ari Soi 3 and 4), 083-177-5533. Mon 11:30am-9pm; Tue-Sun 11:30am-9:30pm
Exclusively for Citi credit card members:
Get 10% discount on food and non-alcoholic beverages when spending THB 1,000 or more /sales slip 01 Sep '19 - 30 Jul '20
Established over 20 years ago, Kongju has long been a Korean favorite. The staff greet diners wearing hanbok (traditional Korean dress) and point the way to a dining room that dishes out barbecue and to-die-for ho bak kal bee tchim (stewed ribs served in a pumpkin).
2/F, Pathumwan Princess Hotel, 444 MBK Center Phayathai Rd., 02-216-3700. Open daily 11:30am-2pm, 5:30-10pm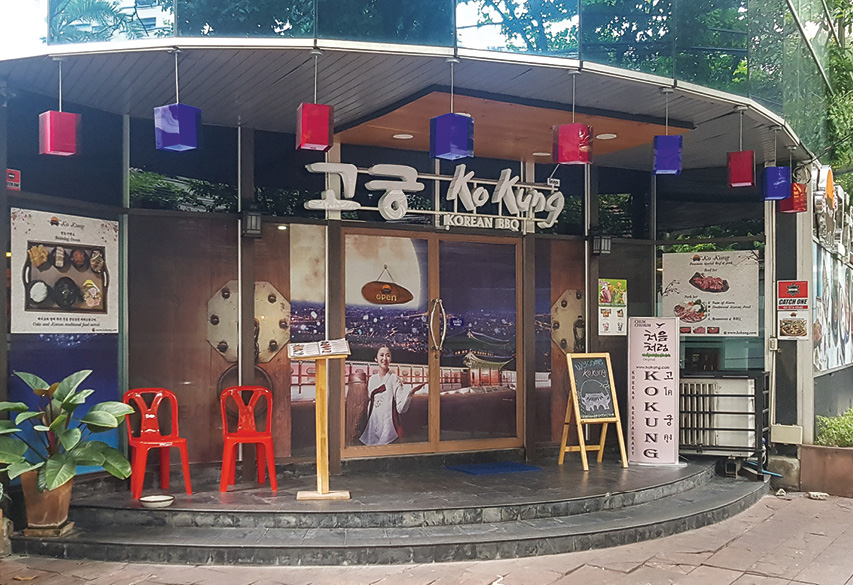 Unless you happened to catch the energetic servers popping their heads out with a harmonized "anyoung haseyo!," you may well have passed this restaurant without noticing. The menu includes a long list of classic Korean dishes and barbecue ingredients, including sirloin, marinated beef, prime rib, bibimbap and tteokbokki. The attentive staff is led by a caring Korean chef/owner, who walks around to greet the customers and genially ask whether the food is okay.
74 Sukhumvit Soi 26, 02-261-0560. Open daily 11am-11pm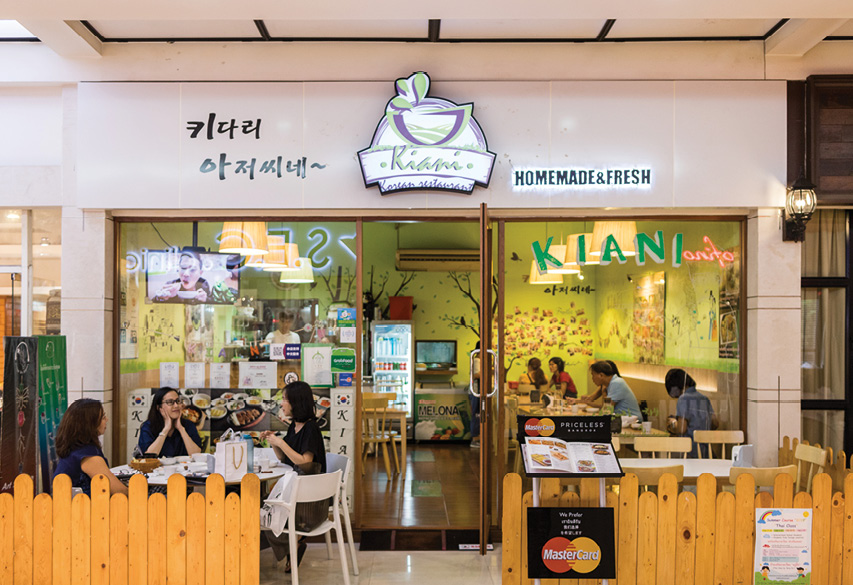 With its cheery fonts and cartoon forest murals, Kiani speaks of its owners' welcoming reputation ("the nicest people ever" according to online reviews we wouldn't disagree with). Many call it the most authentic Korean in Bangkok, thanks to generous portions of pork kimchi soup, spicy Korean barbecue, bibimbap and plenty more. The service is legendary, but special mention goes to the pork jab chae (glass noodle stir-fry).
90 Thonglor Soi 2, 02-714-7730. Open daily 11am-9pm. Available to book on FoodPanda.
Hidden in a tucked-away corner of Thonglor is a Korean barbecue joint that has Seoul expats tripping up from Asoke. Kosirae's bibimbap is delicious, though it's the inexpensive meats and tangy marinades also keep the crowds coming Friday nights. Hang around for the sweet, snowy bingsu.
97 Sukhumvit Soi 57, 02-714-8683. Open daily 11:30am-9pm