Here's how the best of the best compare.
What do you prefer? The Hong Kong style with its glossy top and crumbly, buttery pastry, or the perfectly caramelized mottling of a Portuguese pastel de nata? Despite being universally loved, good egg tarts are still something of a rarity in Bangkok's pastry shops. We put the most widely available ones to the blind taste test treatment, and here are the results.
BreadTalk (B30)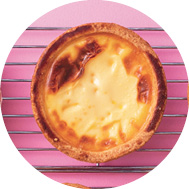 Though it wears its caramelized top with pride, the flavor just isn't there in BreadTalk's shortcrust-encased attempt at egg custard. The pastry isn't as bad as Saint Etoile's, but it's still no match for what you'd find on the streets of Kowloon.
Verdict: This ain't Hong Kong.
www.breadtalkthailand.com
Ka Nom (B60)
Runner Up!

Thick, buttery, flaky layers of pie crust prove that the Ka Nom kitchen knows exactly how an authentic pastel de nata should be done. There's a swirl on the base, while the filling is lusciously creamy and balanced. This is as close to authenticity as Bangkok comes.
Verdict: One for the purists.
www.kanomofficial.shop
KFC (B22)
BK PICK!

The voice of democracy has spoken. This dubiously pale little treat got a loud enough cheer from our in-office tasters to drown out the one or two food snobs in the corner. It's sweet but not too sweet, packed with a smooth custard filling, and encased in layers of pastry that even wear the typical pastel de nata swirl on the base. The taste is seriously eggy, but then what do you want from an egg tart?
Verdict: The people's choice!
www.kfc.co.th
Saint Etoile by Yamazaki (B36)
Yuck!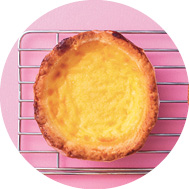 You don't have to taste this one before being put off—just look at it. The overcooked, shriveled custard sits in a wrinkly shortbread crust that falls apart when you pick it up. We'd forgive it all this if the taste was great, which it isn't.
Verdict: Hard to handle.
goo.gl/nHkqKx
Tarts and Bread (B40)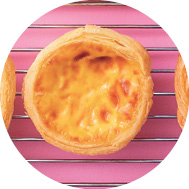 On first glance you might mistake it for KFC, though the strong, eggy hit of sulphur tells us otherwise. The custard is dense but just doesn't have the flavor to make us want more.
Verdict: A fast-food pretender.
Prachachuen Soi 27, 086-765-4041. Open daily 8am-4pm
---