Looking for Japanese restaurants to celebrate during the long holiday? Whether it's upscaled sushi omakase spots from venerated masters or ramen joints, these 8 places are guarantee to delight
Sushi Masato, the flagship omakase joint, remains as difficult to access as any of Tokyo's veritably clandestine sushi spots—a reputation that keeps the venue booked for months in advance. The twenty-odd courses you get here are never enough. Monkfish liver, perfectly cooked and peeled Petchabun tomato with fleur de sel, and a line-up of nigiri will leave you beguiled by chef and founder Masato Shimizu's deft knife work. Thanks to the walk-in-friendly raw bar on the second floor, you don't have to wait weeks to experience this food, either. From behind a beautiful L-shaped, Hinoki-wood counter, the chef and his sidekicks sculpt meals that are incredibly refined but dispel the idea of omakase as an awkward, drawn-out affair.
3/22 Sawasdee Soi 1, Sukhumvit Soi 31, 02-040-0015. Open Tue-Sat noon, 5pm, 7:30pm; Sun noon, 5pm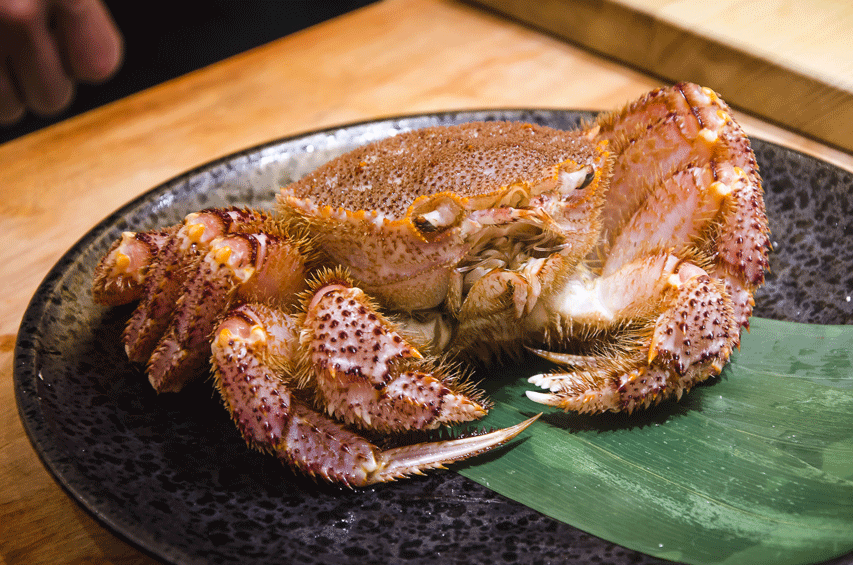 Despite losing its star after the recent Michelin announcement, Ginza Sushi Ichi's authentic omakase-style sushi remains among the city's elite. Artistic, delicious, refined, and subtle, the food (with ingredients flown in daily from Toyosu Market in Japan) competes for attention with the theater of omakase, where chefs in traditional outfits wield elegant knives and scrape fresh wasabi on boards strewn with shagreen. The bites change seasonally according to which ingredients are the highest quality, keeping guests excited and coming back.
3/F, 999 Gaysorn Center, room 3F-08, 02-250-0014. Open Tue-Sun 11:30am-2:30pm; 5:30-10pm.
There's no stopping this Japanese ramen empire. From Tokyo and San Fran to Bangkok, Mensho Tokyo churns out its superbly addictive bowls of ramen re- gardless of where it goes. Whether you're a fiend for the ultra-meaty tori paitan with its milk chicken broth, chashu pork and juicy sous-vide duck, or have been converted by the umami explosion of the impossibly rich vegan tantanmen, there is no doubt this place will have you making repeat visits.
G/F, RSU Tower, Sukhumvit Soi 31, 091-887-9492. Open Tue-Sun 11am-3pm, 5-10pm
Menya Itto
Tokyo's much-hyped ramen shop Menya Itto moved to its new home in Gaysorn Tower, just a stone's throw away from its old Erawan spot. Fans of ramen can expect smooth, delicious, and oil-free seafood and chicken broths that burst with umami. The main calling card, however, is their signature tsukemen, with a rich and complex dipping sauce that carries a touch of natural sweetness, perfect to pair with their springy thick whole wheat noodles. Finish it all with the light dashi stock.
999 Ratchadamri Road 3rd Floor, Gaysorn Tower. Open 11am-9pm. Tel. 063-045-0236
No Name Noodle
Never has Bangkok experienced such a craze for a single ramen joint. Opened in early 2022, No Name Noodle has been fully booked and packed to the point that even media outlets have to join queues like everyone else. Shin Inoue, the brains behind the place, is a former chef at Rockman Thonglor, serving tsuke soba soaked in shiso sauce laden with Hotate scallops and Asari clams, finished with hints of yuzu sauce.
2 Attha Kawi 1 Alley, 082 059 5417. Open daily 11am-3pm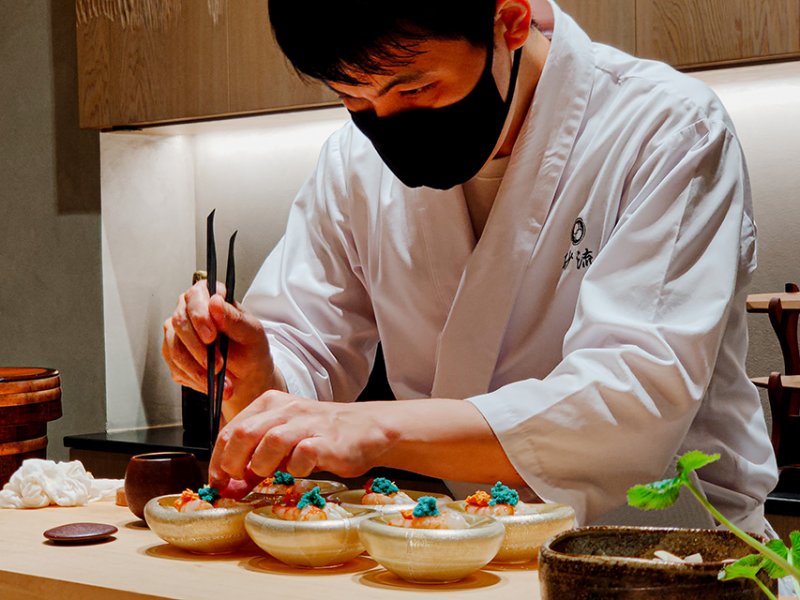 After leaving his post as a head chef from Singapore's Ginza Sushi Ichi and Thonglor's six-seat omakase Tama, chef Seiji Sudo brings his omakase mastery to Sathorn with the newly-unveiled Sushi Saryu at Kronos Building. His 15-course experience (B8,000) started with chutoro, a cut of fatty tuna belly on a bed of crispy and subtly sweet seaweed from Saga Prefecture. It's followed by uni soup; Sudo chose Bafun sea urchin with bold and slightly bitter notes with the sweetness from kombu seaweed stock, adorned with nothing more than salt. For the parting shot, Sudo compiles all of the ingredients he had used in the day—which rotates on occasion—to deliver as maki, combining both Bafun and Mirasuki sea urchins, salmon roe, and shima ebi, all topped with shrimp roe and wrapped in seaweed.
G/F Kronos Sathorn Building. 46 N Sathorn Rd. 083-912-9288.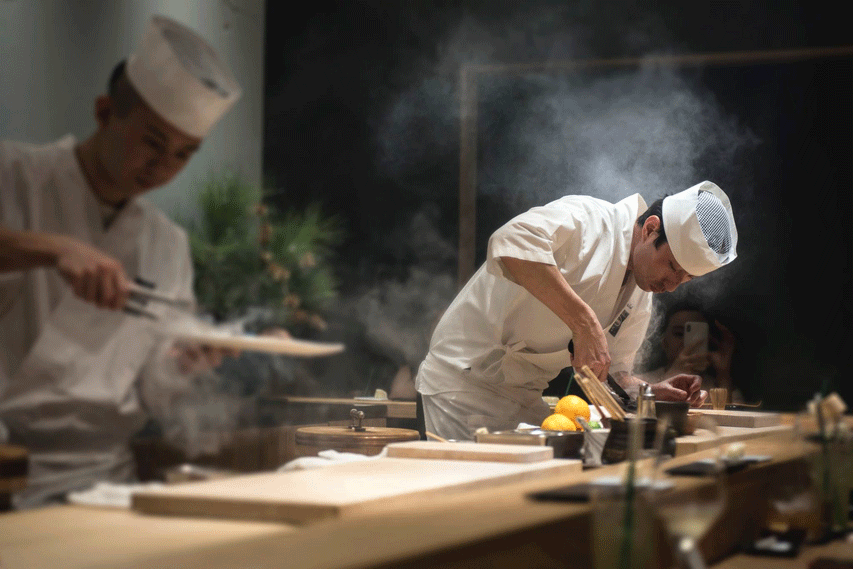 Japanese chef Keizo Seiki began Sushi Zo in Los Angeles in 2006, later establishing branches in New York City and an omakase-only restaurant in 2015. This is the fourth branch so far, and the only one outside the USA. Leading the kitchen is Hokkaido-born head chef Toshi Onishi who prepares an intimate 18-course omakase meal for a fairly reasonable price.
G/F, Athenee Tower, 63 Wireless Rd., 091-757-2222. Open daily Mon-Sat: 12pm-1:30pm, 5:30-9pm; Sun: 5:30-9pm.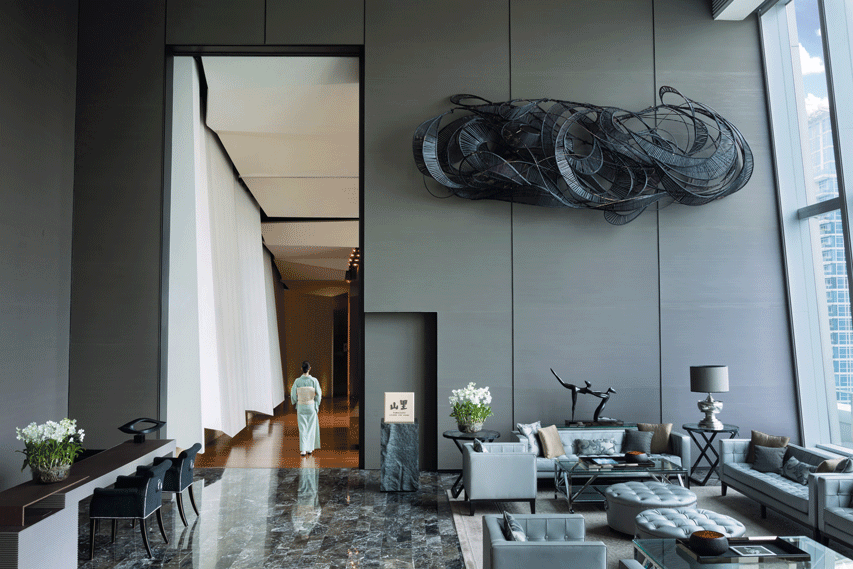 Perched on the 24th floor of the Okura Prestige in Ploenchit, Yamazato's sushi bar, teppanyaki grill, and private dining rooms provide Japanese haute cuisine with a view. Welcomed by the kimono-clad staff, the course dining steers into kaiseki—Japanese cuisine centered on seasonality and preparation—with pro- teins often imported from Japan
24/F, The Okura Prestige Bangkok, 57 Wireless Rd., 02-687-9000. Open daily 11:30am-2:30pm, 6-10:30pm.