When hunger strikes, Thonburi provides. Here are some
street stalls and shophouses
in the area to satisfy your cravings without breaking the bank.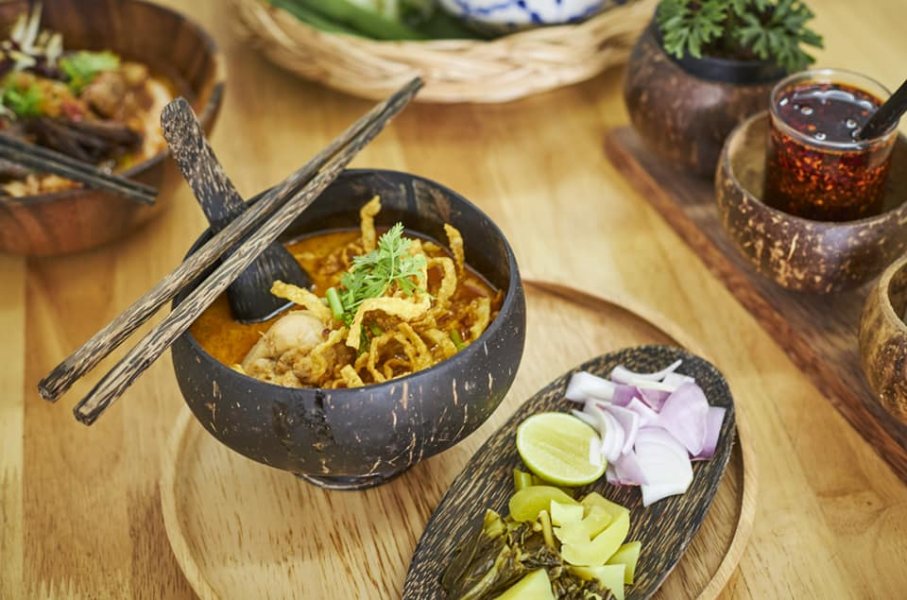 Khao Soi Nai Kala
If you're craving a decent bowl of khao soi, look no further. They serve it with beef (B80-B100), a rare find in Bangkok, as well as chicken and pork (B60-B80). Don't forget to try their other northern Thai classics like khanom jeen nam ngiaw (rice noodles with pork), gaeng hang lay (pork belly curry), and sai oua (northern Thai sausage).
1345 Charoen Nakhon Soi 21, 092-574-9681. Open 9am-9pm.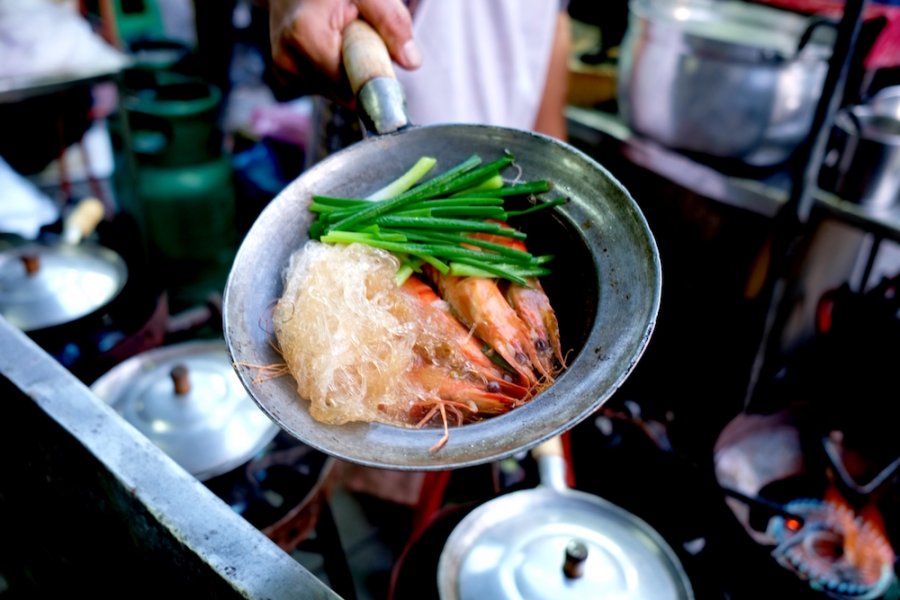 Somsak Pu Ob
The focus at this Michelin-recognized stall is steamed prawns and crabs baked with glass noodles, or pu ob woonsen (B310). It draws a long line of customers with its perfectly seasoned and smoky woonsen—and it's worth the wait. The seating fills up pretty quick, so come in early.
2 Charoen Rat Rd., 081-400-0542. Open Tue-Sun 3:30-9pm.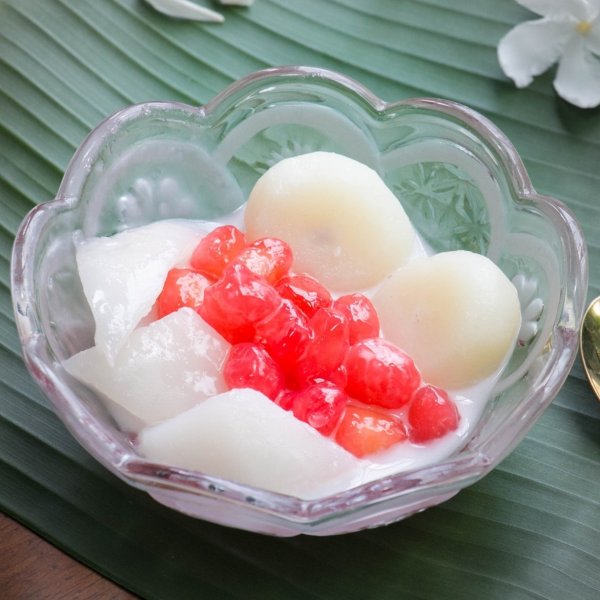 Image: Tabtim Grob Wongwian Yai
Tabtim Grob Wongwian Yai (Mae Duangporn)
A street food stalwart in Wongwian Yai, this dessert shop has been serving the community for over 40 years. Here you'll find refreshing bowls of tabtim krob (starting at B40) with water chestnuts and sweetened coconut over shaved ice. The portions are small, so you might want to order the bigger size.
184 Lat Ya Rd., 02-438-2118. Open daily 8:30am-8:30pm.
Image: Pat Thai Narok Taek
Pad Thai Narok Taek
Hunting down a well-balanced pad Thai can be a chore, but Narok Saek is a surefire bet. The stir-fried noodles here are subtly sweet, with the ideal char from the hot wok (from B40). If you're a prawn or mussel fan, it's a no-brainer to pay extra for a larger portion (B70).
286 Lat Ya Rd., 081-351-9390. Open Tue-Sun 4:30-10pm.
Image: Sunee Khao Moo Daeng
Sunee Khao Moo Daeng
A local favorite, this street food stall was run by Aunt Sunee for over 50 years and now is under the stewardship of the family's next generation. The barbecued meat is sliced in a way to provide more meat and less fat, the Chinese sausages are made in-house, and the signature toasted white sesame seed gravy beautifully contrasts the crispy pork. A plate of khao moo daeng (B35-B40) comes with red pork, crispy pork, and Chinese sausage with boiled egg, or order a plate of just the three meats with signature sauce (B100).
854/8 Thoet Thai Soi 25 (Talat Phlu), 081-700-5226. Open 6:30am-8pm.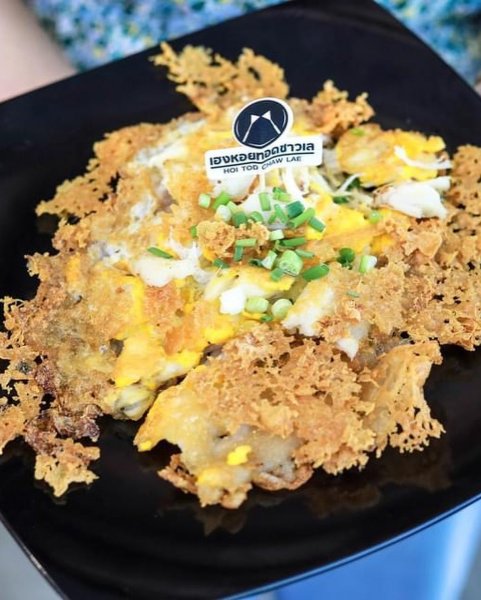 Image: Heng Hoi Tod Chaw Lae
Heng Hoi Tod Chaw Lae
This retro-style shophouse is famed for serving some of the crispiest hoi tod (oyster omelet) in town, plus pad Thai in a variety of forms. Try the best-selling hoi tod (B120-B150). It's brimming with goodies yet fluffy. Or try the unique specialty, fried crab meat with egg (B200-B300). If you're down for a feast, you won't want to miss out on their pad Thai with prawns (B90-B120), either.
1301 Charoen Nakhon Rd., 02-114-7434. Open daily 9:30am-10:00pm.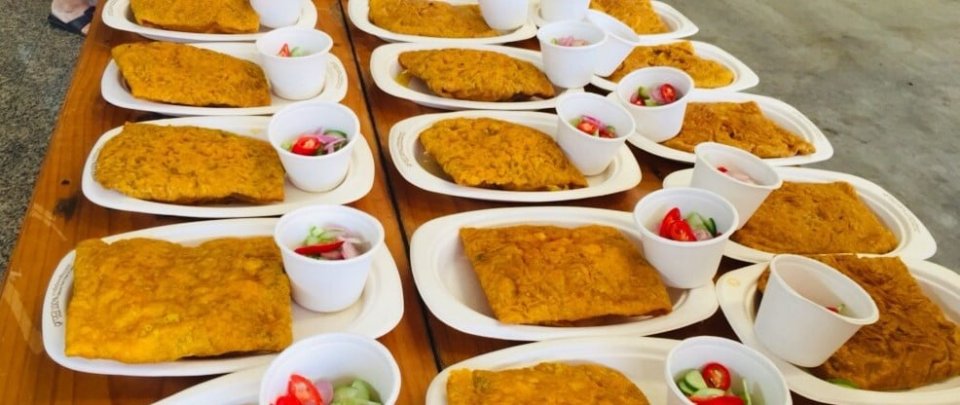 Image: Khanom Bueang Yuan Su Arpa / Facebook
Khanom Bueang Yuan Su Arpa
Khanom bueang Yuan (crispy Vietnamese-style pancakes) are a rare treat. This auntie still makes a version of them. She uses some of the finest ingredients in her fillings, like the shredded coconut with shrimp heads—all wrapped inside a hearty, wok-fried egg batter. Try the signature (B50) or customize your own according to your taste. The stall often has a queue, but it's worth the wait.
Thoet Thai Soi 18. Open Tue-Sun 6-9pm; Sun 11am-7pm.