With a vibrant atmosphere from the large open kitchen, Chef Man is one of the most popular Chinese restaurants in town thanks to its fresh dim sum like kanom jeep gung (shrimp dumplings, B170), which boasts a chewy yet thin flour wrapping. Other highlights include the Cantonese classic: Peking duck (B1,500, must order in advance). The duck comes out steaming and aromatic, with ripe mangoes, peanut sauce and shredded garlic to liven things up. Finish on a sweet note with the popular steamed lava bun (B110), filled with a comforting salted egg custard.
3/F, Eastin Grand Sathorn, 33/1 Sathorn Rd., 02-212-3741. Open daily 11am-2:30pm, 6-10pm. Reservations recommended
In an area full of Chinese wok-driven shophouses, this beautiful 1930s Shanghai-inspired restaurant stands out with its stylishly romantic vibe. Reminiscent of a scene out of Wong Kar Wai's In the Mood for Love, the dining room is all about dark, hidden spaces accented by bold splashes of color, but it's the food that keeps customers coming back. Go for the steamed lobster with spinach dumplings (B200), bean curd skin roll with prawns and yellow chives (B180), or deep-fried turnip puff (B190) filled with juicy duck meat and dried shrimp.
G/F Mandarin Oriental, Soi Burapa, 02-659-9000#7390. Open Tue-Sun 11:30am-2:30pm, 6-10:30pm. Reservation recommended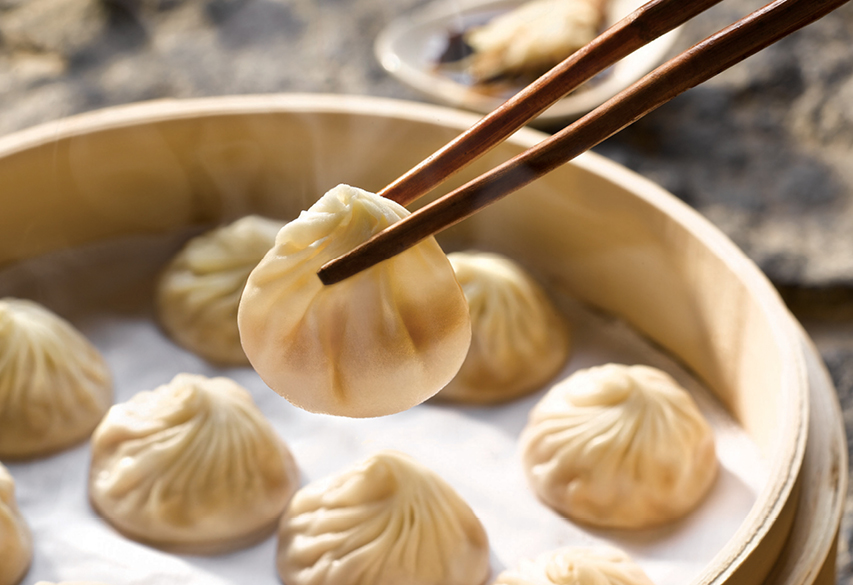 A must-visit for Bangkok's soup dumpling fans, this Taiwanese import is one of the most popular restaurants in CentralWorld. Queue up with friends and order a set of xiao long bao (soup-filled steamed dumplings, from B190/6 pieces) which arrives at your table in the same Chinese wooden basket used to steam them, still billowing smoke. Don't forget to order a range of dishes to accompany them like the lean and aromatic sliced duck in crispy onion pastry (B175), and oriental wontons with black vinegar and chili oil (B185) with pork filling.
7/F CentralWorld, Ratchadamri Rd., 02-646-1282. Open daily 11am-9:30pm. BTS Chidlom
Exclusively for Citi credit card members: :
Redeem THB 100 cash rebate with 1,000 Citi Rewards Points when spending THB 1,000 or more /sales slip (no limit)
Today – 30 Jun'19
Ho Kitchen Seafood
Situated on Rama 3 road, this restaurant combines scenic views of the Chao Praya River with fresh seafood and Chinese staples. The menu ranges from traditional dishes like braised sea cucumber (B1,200) and fried noodles with snapper in black bean sauce (B150/B450) to abalone dumplings (B220), steamed pork ribs in (also with black bean sauce, B80), and xiao long bao (B120). The set-menu (B9,999) features nine dishes including braised abalone in oyster sauce, Boston lobster in gravy. (Note, the set-menu also includes braised shark fin.)
95/426 Rama3 Road, 02-294-5500. Open daily 11am-2:30pm and 5-10:30pm
Exclusively for Citi credit card members: :
Get 10% discount on food only (regular price) Rama3 road, 0-2294-5500
Today – 30 Jun 19
Liu
As you might guess from the neo-classical decor, the Conrad Hotel Bangkok's gourmet Chinese restaurant aims to go beyond traditional dishes, boldly venturing into contemporary variations of Shanghainese, Sichuan and Cantonese cuisines. This Chinese New Year, the restaurant is rolling out a bunch of special promotions. First is the Chinese New Year set-menu (from B13,800/10 people) with traditional dishes like Peking duck and crispy pork belly. There's also an all-you-can-eat dim sum lunch (B1,500). If you're going to celebrate alone, opt for the wok-baked Boston lobster with broth (B1,800) or the Prosperity Salmon Toss (B980)—a raw salmon salad that, according to the Chinese tradition of loh hei, has to be tossed in order to bring good luck.
3/F, Conrad Hotel, 87 Wireless Rd., 02-690-9999. Open daily 11:30am-2:30pm, 6-10:30pm
Exclusively for Citi credit card members: :
Get 20% discount on a la carte menu and buffet dim sum for lunch and dinner for Citi ULTIMA, Citi Prestige, Citi Premier, Citi Preferred and Citi Select Today – 31 Dec'19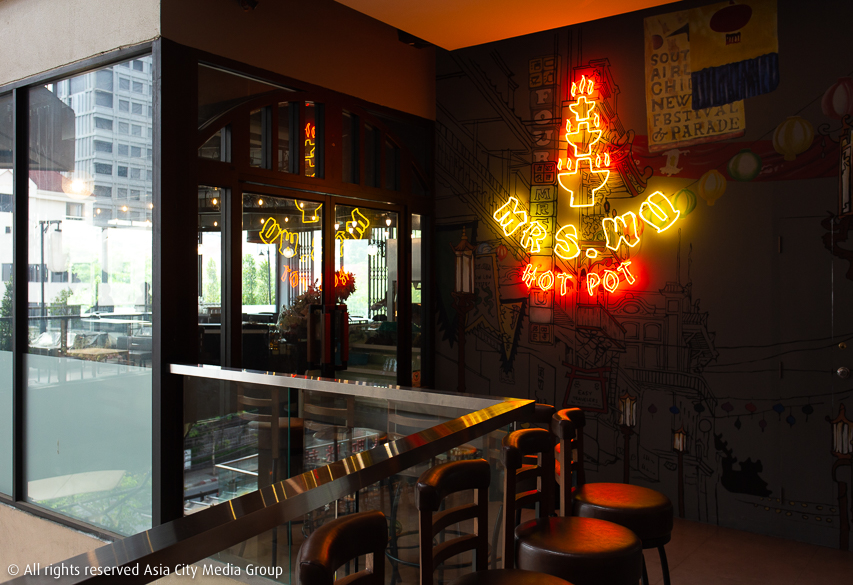 From the neon-lit Mrs.Wu sign out front, it is clear that this vintage-yet-modern hotpot restaurant does things differently. Your broth comes separated into three flavors: a hearty pork bone stock bursting with peppercorn; a rich Japanese nabe with red wine; and a herbaceous and spicy Turmeric Chicken Soup. Add some thinly sliced pork (B280 for the mixed pork set) and beef (B550 for the mixed beef set) to the steaming pot and you're in business. We recommend the add-ons like the juicy, tender cheese lava meatballs (B50) and fresh cuttlefish (B80).
3/F The Portico Langsuan, 0-2052-2214. Open daily 11am-11pm. BTS Ploenchit
Exclusively for Citi credit card members: :
Get 10% discount on food only Today – 15 Jun 19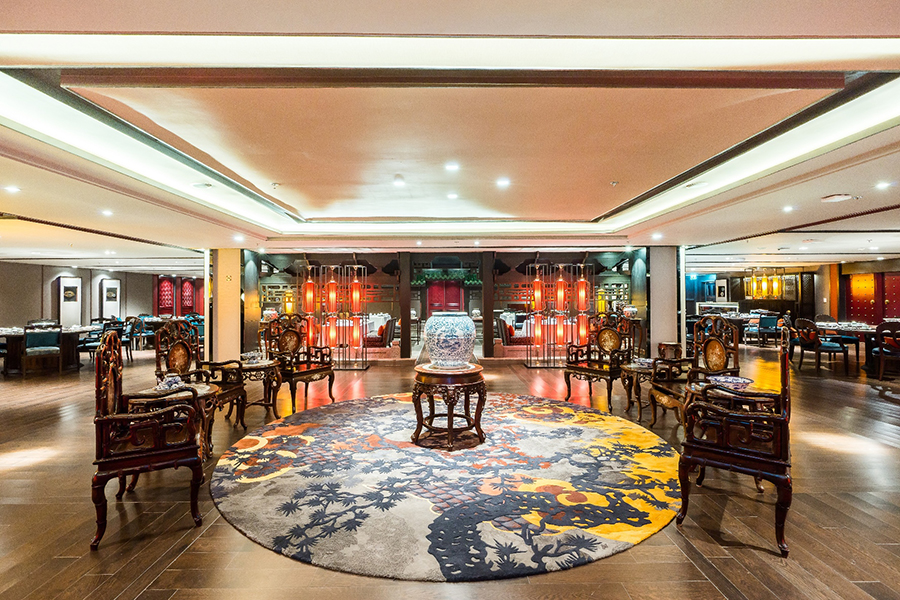 Taking the space that also used to belong to a Chinese restaurant in the hotel's previous incarnation, Pagoda goes a familiar plush route with round tables and low-hanging chandeliers—perfect for large family gatherings. The menu compromises of two sets (from B1,500) and a la carte options, with traditional dishes like the chicken beggar (B1,280)—a whole stuffed chicken wrapped in lotus leaves and bread dough, resulting as a juicy chicken with a stuffing of gingko nuts, dried scallops, shiitake and pork belly. If you come in a big group, don't miss the intense steamed sticky rice with crab meat (B1,900), which is served in a bamboo basket with delicious crab fat sauce.
4/F Marriott Marquis, Sukhumvit Soi 22, 02-059-5555. Open daily 11:30am-2:30pm, 6-10pm. BTS Phrom Phong
The food here comes close to the original, with competitive prices that are hard to beat considering its reputation. The one-sided placemat menu features 25 dim sum dishes with some superb options, like the soft, mildly tangy pan-fried radish cake (B100) and the fluffy steamed egg cake (B80), which has immense flavor. The classics are also as good, with highlights such as the delicious pork and shrimp shumai (B120), har gow (shrimp dumpling, B130) and mango sago dessert (B90) whose thicker and bursting with pomelo tartness.
3/F, Terminal 21, Sukhumvit Soi 21, 02-006-5288. Open daily 10am-10pm. BTS Asok
Exclusively for Citi credit card members: :
Get 15% discount on food only for Citi ULTIMA, Citi Prestige, Citi Premier, Citi Preferred and Citi Select or get 10% discount on food only for other Citi card types Today – 30 Jun 19
Wang Jia Sha
Wang Jia Sha is a Shanghai cuisine specialist boasting more than 200 seats and a spacious dining area decorated in a contemporary Chinese style with marble countertops and cream leather chairs. Wang Jia Sha's CNY specials include stir-fried lobster noodles in homemade XO sauce (B1,600), which traditionally symbolize a wish for long, healthy life, and other highlight dishes like the crispy fried taro and black truffle pastry (B150), shrimp dumplings (B120) which looks too cute to eat from its goldfish shape, and steamed custard lava bun (B160). A buffet is also available from B750.
G/F, Siam Paragon, Rama 1 Rd., 02-129-4661. Open daily 9:30am-10pm. BTS Siam
Exclusively for Citi credit card members: :
Get a complimentary Chinese dessert valued up to 120 when spending THB 1,000 or more /sales slip (limit 1 dish /card /table /sales slip) G floor Siam Paragon 0-2129-4661 Today – 31 Mar 19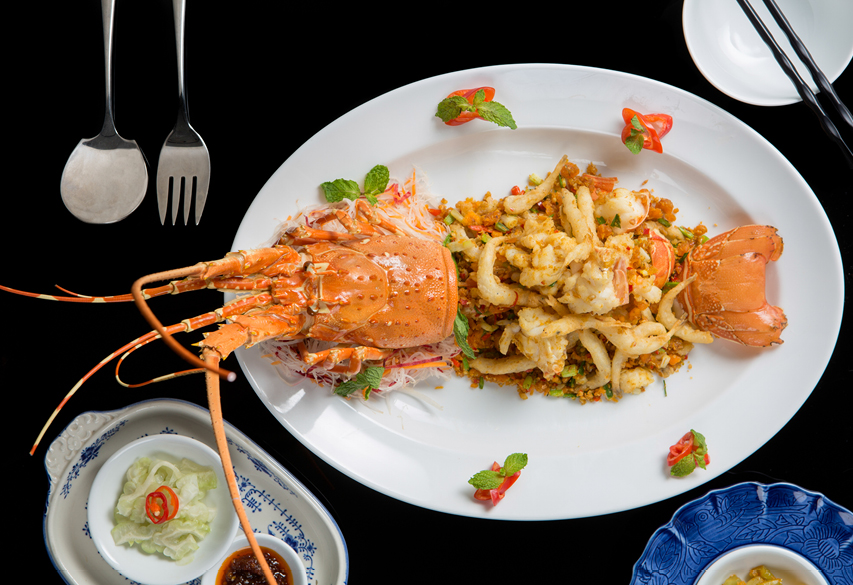 Zheng Dou
Operated by the same chef behind Zheng Dou Grand at Anantara Sathorn Hotel, this venue feels homey and spacious thanks to an open kitchen, light wood furniture, and modern Chinese lanterns. The menu spans a slate of comforting Chinese dishes like the Zheng Dou congee (B120) with shimp, sliced grouper, century eggs and fried bread sticks, or Peking duck (B900) with options for the duck meat to be seasoned with garlic or black pepper. The two-page dim sum menu is also impressive. Here, you'll find staples like char siew cheong (rice noodle rolls filled with red pork, B120), crunchy and well-seasoned squid har gow (B80), and pork ribs with black bean sauce (B80).
Int Intersect Building, Rama 3 Rd, 02-118-6310. Open daily 10am-10pm
Exclusively for Citi credit card members: :
Get a complimentary Dou Dou Bun valued THB 110 when spending THB 1,000 or more /sales slip (limit 1 dish /card /table /sales slip) int-intersect Rama3 0-2118-6310 Today – 31 Mar 19
---
This native ad was created by Asia City Studio. We use storytelling to help brands of all sizes influence and connect with people who matter. Visit us online: studio.asia-city.com

Sponsored by: