Though rolled noodles are on the marquee, the crowd magnet is actually crispy pork belly that Mr. Joe uses to garnish the soup. Chow down the guay chap—starting at B40—along with that crackling crunch of pork belly. If you find that portion can't satisfy your craving, order the extra plate for B75 or opt for the 1kg of moo krob for B750.
313 7 Chan Rd. Open daily 8am-4.30pm. Tel. 02-213-3007
The funny thing about Jae Oh is how the star isn't the rice soup. There is, of course, a craze for her mama noodles, but what we really like about this place is her signature moo krob. Order it for a smaller portion (B100) to share or pair it with khaotom ped (boiled rice with duck) to sate your late-night cravings.
113 Soi Charat Mueang. Open daily 4.30pm-midnight. Tel. 081-682-8816
If you ask uni students from Chulalongkorn their favorite moo krob place, chances are three out of five will tell you it's this venerated little spot hidden in an alley in Rama 4—walking distance from Samyan Mitr Town. The price range is stunning considering it's Samyan. Here, you can customize your moo krob with choices ranging from pad krapow and fried rice to stir-fried noodles, all starting at B40 to B100.
1543 Rama 4, Open Mon 9.30am-9.30pm; Tue-Sun 9.30am-9pm. Tel. 087-503-3507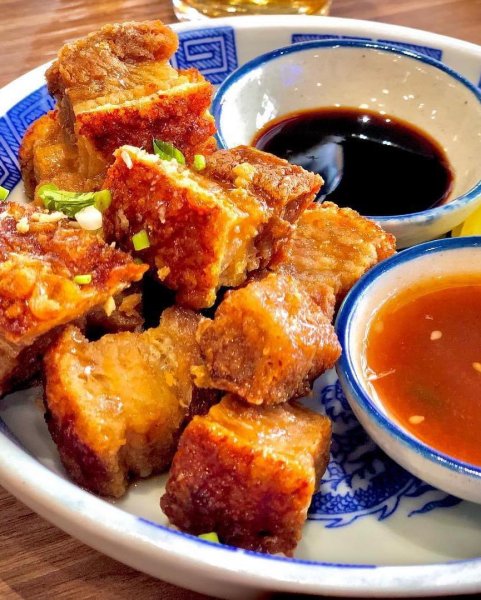 Photo: Me and Family / Facebook
Ladprao residents might already know Play Yard Studio and their succulent, crispy moo krob, but the Covid doom put an end to the old pub. However, the people from Play Yard took their moo krob recipe and teamed up with Pracha Chuean's suki shop Me Family. Though far from our usual radar, their moo krob (B148) quality speaks for itself.
280/1 Pracha Chuen Rd. Open Mon-Fri 11am-2pm; 4pm-9pm. Sat-Sun 10am-9pm. Tel. 094-928-7599
Another spot with moo krob that exceeds its noodle namesake, this noodle stall has been drawing crowds around Kasetsart University and Bangkhen for more than 40 years. Owner Kao makes his own egg noodles, stretching them daily. Order his bowl of egg noodles topped with crispy moo krob for B40-50.
Phahon Yothin Soi 32/1, Khwaeng Sena Nikhom. Open daily 6am-1.30pm. Tel. 089-595-4446
Taking over his father's wild-game restaurant, Sutthipan Sukbang has captured both old and new patrons with his tasty wild game curry—even receiving a Bib Gourmand recognition from Michelin Guide Thailand. While his wild meat game is strong, we found his moo krob to be another great addition to the list.
285 162 Ngamwongwarn Soi 23. Open daily 10am-10pm. Tel. 02-952-9992
Recently reopened after its pandemic closing, Nan Bei is arguably one of the best Chinese restaurants in Bangkok where you can enjoy an upscaled version of your regular moo krob. Helmed by executive chef Mattew Geng, the restaurant serves his succulent slices of crispy pork belly (B380), so crunchy that you can forgive the high price.
19/F, Rosewood, 1041/38 Phloen Chit Rd. Open daily 11:30am-2:30pm, 6-10:30pm. Tel. 02-080-0080
This long-standing Chinese restaurant recently welcomed one of the Shangri-la hotel group's most seasoned Cantonese chefs. Chow Wai Man started out 40 years ago training at the Shangri-La Academy in Hong Kong before returning to the group 10 years later. Their moo krob (B460) features the usual crispy crunchies of pork belly, served alongside bouncy jellyfish salad.
3/F, Shangri-La, 89 Soi Wat Suan Plu
Founded by Chef Yeung Koon Yat, dubbed the King of Abalone for his once-Michelin starred Forum restaurant in Hong Kong, Ah Yat Abalone is as well known for its pork belly as its shellfish. With their decade-long reputation, the place is arguably still one of the city's best for Cantonese cuisine. Go for the crisp roasted pork belly (B480). Though the price and portions might give you pause, the taste will blow you—and possibly your wallet—away. The roasted skin is so crunchy it's like eating a rice cake, and the meat is juicy with a saltiness that almost renders the mustard and red dipping sauces redundant.
Ramada Plaza by Wyndham Bangkok Menam Riverside. Open daily 11:30am–2:30pm, 6pm–10:30pm. Tel. 02-291-7781
Yu Ting Yuan
Photo: Four Seasons Bangkok / Facebook.
How special do you want moo krob to be? Well, there's a reason Yu Ting Yuan was the first Chinese restaurant to make it in Michelin in 2017. Under its executive chef Quiu Xiaogui, the level of authenticity for Cantonese cuisine is pretty much ensured. Order his crispy roasted pork belly (B680)—arguably the most expensive one on our list—featuring perfectly crackling bites that don't overwhelm you with a mouthful of fat.
Four Seasons Bangkok. 300/1 Charoen Krung Rd. Open daily 11:30am–2:30pm, 6pm–10:30pm. Tel. 02-032-0888