Got a taste for artisanal fare? Here are some more local handmade products we love.

Ekameth 'Tay' Witvasutti of Brave Roasters
Bangkok's hipsters know all about One Ounce for Onion, the fashion retailer turned café, and a lot of that is down to their roaster, Ekameth Witvasutti. He first caught our attention with his old brand, Taytay Coffee, which supplied the beans for top coffee shops like Casa Lapin and Gallery Drip Coffee and at pop-up events all over town. Tay is serious about his coffee, treating it as an artisanal tradition. He buys his beans directly from local farms and roasts them himself—and the result is one fine, flavorful brew.
What does it take to be a good coffee roaster?
I think what matters to be a good coffee roaster or any artisan is how well you can communicate with your customers. I don't claim to be anything, I just know what I'm doing and I'm trying hard to help consumers understand the differences between beans of different regions, even different roasters. A true artisan is one who knows their product inside and out, and can broaden the minds of their customers.
Do you also follow the global coffee trends?
Yes. It's like following a band you like: the more knowledge the better. Now, I'm concentrating a lot on suppliers for imported beans, as I'm unable to travel to countries like Ethiopia just yet. What's also important is that customers follow the trends, too, to really keep us pushing forward.
What's hot in the coffee world right now?
Other countries have already moved beyond the idea of a "third wave coffee culture." They're adapting this appreciation for handcrafted goods into their everyday life. These countries have many people who care about their coffee enough to demand high quality. Here in Thailand, we need more people who, even if they can't talk about coffee seriously, simply crave a good cup of coffee.
You studied music originally, is music still a part of your coffee life?
It plays a part. Both music and roasting are matters of interpretation. I've learned from every bag of beans I've ordered both locally and abroad. I've learned from every whiff and every color I've experienced. What I'm doing with beans reflects my personal taste in coffee. It's simple: if you like my coffee, then we just have similar tastes.

Top Coffee Spots
Casa Lapin
The oh-so-trendy Casa Lapin (Thonglor Art Village [between Soi 17 and 19], 353, Sukhumvit Soi 55, Bangkok, 081-257-7920) now has three branches, but our heart still lies with the original hole-in-the-wall Thonglor branch, where chances are you'll find coffee expert Surapan Tanta, who makes one of the best cups of coffee you'll find in Bangkok. Coffee starts from B90.
Ceresia Coffee Roasters
Owned by a Venezuelan family, Ceresia (593/29-41 Sukhumvit Soi 33/1, 086-843-8235) sells single origin and original blended coffee sourced from a variety of farms worldwide, roasted in small batches on-site and rotated seasonally. Filter coffee at B95 or a flat white at B95.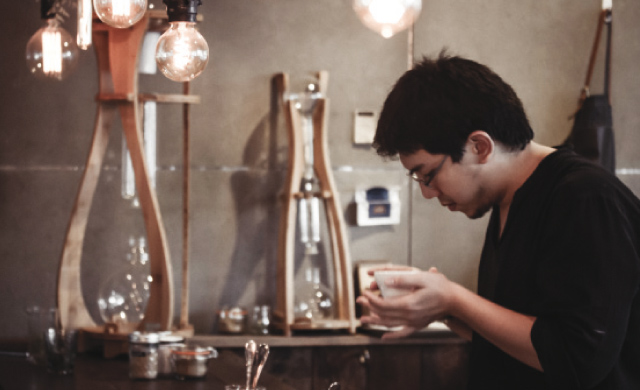 Roots
Owner of Roast at Seenspace, Varatt Vichit-Vadakan, has now opened Roots (between Ekkamai sois 15 and 17, 088-190-5950), which is all about coffee. Take a seat at the rich dark wooden bar to pair an espresso with a croissant or try the cold drip. They also host a variety of coffee-related classes, too.


Reinhard Matheis and Chanida Sitthikeson of Heaven on Cheese
Reinhard Matheis has been making cheese since 2008. He learned everything himself—from books, meeting with other artisan cheesemakers, and old-fashioned trial and error. Matheis has since settled in Nakhon Sawan, where he makes cheese using milk from a small local farm, claiming to never compromise on aging time to ensure the fullest flavors.
What makes artisanal cheese different from other kinds of cheese?
Reinhard: Artisanal cheese should be a handmade cheese crafted in a traditional way. Depending on the type of cheese, it is quite time-consuming but the result is far superior taste-wise compared to industrially manufactured cheese, which is usually a lot weaker in taste. This stabilized cheese never really matures, which is the reason why it tastes so weak.
What makes a good cheese?
It's when you plan to just have a wedge of Camembert but you end up finishing the whole wheel. It's that right combination of scent, texture and taste, which make a huge difference.
How should you store a cheese?
Refrigerate it at 3-5 degrees Celsius, leaving it in the original cheese wrap. You can also put it inside Tupperware so that the cheese does not absorb the taste of other food inside your fridge.

Why do you make cheese?
We make cheese not because we have to or because we are seeking wealth—it's passion that drives us. This combined with careful crafting, excellent ingredients and no shortcuts in production result in a tastier and generally better quality product than industrially manufactured cheese.
Heaven on Cheese products are available at The Dusit Gourmet (Dusit Thani Hotel) and Bangkok Baking Company (JW Marriott). It is served at Le Petit Zinc (Sukhumvit, 02-259-3033 and Yenakart, 02-249-5572) and Quince (Sukhumvit Soi 45). More info at www.heavenoncheese.com

Easy DIY Cheese at Home by Heaven on Cheese
Creamy Lemon Cheese
Ingredients :

1 liter of heavy cream

1 liter of milk

¼ cup of fresh squeezed lemon or lime

1. Heat heavy cream and milk in waterbath or double boiler to 85 degrees Celsius.

2. Add the lemon/lime juice and stir well.

3. Rest for 20 minutes.

4. Put the resulting curds in a cheesecloth-lined colander and drain.

5. Hang the cheesecloth with the ends tied up for 1-2 hours (or until the curds stop draining). You can add salt depending on taste.

6. Refrigerate and enjoy.


Michael Conkey of Conkey's
Michael Conkey, the owner of a production house, also has a small bread business. You can only find Conkey's products in a select few restaurants, who love its perfect texture and delightful smell. You'll notice this bread's different the second you crack it open—the results of lots of experimenting.
It seems that farmer's markets and small producers are popular right now.
It's interesting, I've been here for about 20 years and things have changed a lot. Now you have guys like the Accidental Butcher, Joe Sloane and many good cheese makers in Pattaya. It's something exciting and it goes to show that a lot of Thais don't just eat soft breads, like many think.
"Artisan" is a bit of a buzz word today; what does it mean to you?
Anybody can call themselves an artisan. I think being one, though, means you make things carefully, much different to mass-produced products. It requires extensive training and a real understanding of your product. It's a craft. It's about making things beautifully with your hands. It's a very intimate thing.
What makes your bread so delicious?
We have been trying for so long to find the right balance, flavor and character in our bread. There are no chemicals added to help with this or to extend shelf life. We're just doing it the right way, as much as we can.
Where did you learn your recipes and techniques?
I took an intensive course in the US where I learned a lot about sourdough. Learning a recipe is one thing, but experience really makes it special. It's about knowing how far you can push the limits of your bread, how long you should deal with the enzyme activity to develop a natural flavor and getting the perfect balance before baking it. The big commercial producers don't worry about this. It's too risky and not economical for them.
What should you look for in good bread?
The look isn't everything for bread. Smell, acidity and texture are also important. It should have body. The best thing with good bread is when you combine it with another great artisanal product, like good olive oil, pepper and oregano, then the whole thing will be just perfect.

Jean-Philippe Arnaud Landry and Tom Kirk of Maison Jean Philippe
Jean Philippe is previously worked under a Maitre Artisan Boulanger (Master Craftsman Baker) whose bakery was just nominated for best bakery in France this year, and has been in operation since 1906. Together with his supportive business partner, Tom Kirk, the team bake daily and distribute to roughly 40 places in Bangkok. In order to keep to traditional French methods, they've had to customize their equipment, such as their stone oven, while paying special attention to little details like the couche (the cloth on which the bread is shaped) to the storage that control the bread's humidity.
Why do you make bread?
Jean-Philippe: It's a creation. It feels like I'm creating something. Every day is different and so is my bread, too.
What makes your bread different?
We could have done things differently, tried to find shortcuts but that's not doing things the right way. We still treat our sourdough like a baby—doing it the traditional way. We still use our hands for almost everything, which is not the case with industrial bread. Ratios are important. It's not rocket science but it's still a science.
Is it challenging to find the right ingredients?

Everything here is sourdough-based and we have to deal with the humidity and temperature. We think we have a pretty good knowledge of flour. We use very fine ingredients, from dark rye to spelt flour and pure French butter, as Thailand still doesn't have the specific types we need in order to make bread that meets our standards.
What does "artisan" mean to you?
It's become an overused word. You cannot just call yourself an artisan in France as it has a legal meaning. We think of "artisan" as a guild within which you have to abide by certain standards. What we're doing here is just the same as we would do in France.
What's your most memorable moment?
We went to a place to discuss business and this guy who found out about our bread literally jumped up and hugged Jean-Philippe and thanked him for making real bread. We were surprised.

How to make artisanal bread
Ingredients:
• Good flour, preferably organic
• Salt
• Water
• Sourdough starter (also called leavening)
| | | |
| --- | --- | --- |
| 1. Mix the starter with water, flour and salt. Let it rest. Don't add sugar. | 2. Over the course of three days, regularly shape and fold the dough. Because sourdough starter is much less powerful than industrial yeast, it takes a long time to make the bread rise. | 3. Shape the dough. |
| 4. Put it in the fridge for 15-30 hours to develop flavor and texture. | 5. ake it in the oven for around 50 minutes on an oven-proof plate. | 6. Enjoy. |

Joe Sloane of Sloane's
A few years ago, Joe Sloane quit his job as an executive chef at a five-star hotel's steakhouse restaurant Bangkok to focus on his family and started making sausages in his backyard. Today, he's got his own professional kitchen for handmade charcuterie spanning headcheese to blood sausage and his range of super-popular bangers. His products are not only full of flavor, but also ethical and sustainable.
How are you managing production on a much larger scale than before?
Everything is still handmade and the same as before. Our recipes haven't changed. It's just larger equipment. It's still done slowly. A lot of industrial companies make their bacon in two days while ours takes two weeks. It's carefully done, step by step.
Why is British charcuterie popular?
It's actually very similar to the French style. Britain has many breeds of local pigs, so chefs can just order in whatever kind they want. In Thailand, your local pig is a wild boar—hairy and black, which is suitable for the weather, but people tend to think the pink ones are nicer and cleaner. Even though they're raised free-range, the pink ones still need shade as they do get sunburned.

How can charcuterie be artisanal?
Do it properly with good quality meat and good cuts. It's all about love, care and attention with a human touch; not just throwing in bits of meat. I use the shoulder part of the pig to make sausages it's a good mix of fat and meat. Also, the idea of a happy pig is still important—that means no hormones and no antibiotics. It's also the traditional British way to use the whole pig, from head to tail.