Top Japanese taverns to knock back some sake along with tasty bites. Kanpai!

The thinking man's choice. Forget smoking indoors and raucous irasshaimase! choruses, but do think well-crafted cocktails (get the apple martini) and fresh sashimi served up before a formidable wall of booze: mezzanine-height shelves stacked with countless spirits and rice wines. For the most part, the food is designed to soak up all that booze: small portions, plenty of spicy and deep-fried options, and Hanakurata's famous "pizza."
Sathorn Soi 10, 097-140-7403. Open daily 5:30pm-1am. Other branch: Sukhumvit Soi 39
Japanophile foodies mention Jidori with eyes rolled to the ceiling and tongue lolling thanks to its awesome, charcoal-grilled chicken skewers—crisp exterior, very little charring, and a moist, perfectly cooked interior. But before you even start to eat, take in the atmosphere. The space has all the authenticity and log cabin charm of a genuine Tokyo tavern—although the service is so polished and the food's presentation so delicate, calling this place a tavern feels a bit rude.
10/12 Sukhumvit Soi 26, 02-661-3457. BTS Phrom Phong. Open Mon-Sat 5pm-midnight; Sun 5-10pm
With its dark wood, narrow shophouse location, long bar and dim lighting, the place has the cozy, tavern-like atmosphere of a true izakaya. Here, the specialty is tonkatsu (breaded, deep-fried pork cutlets), but these guys will bread and deep-fry anything— there's an entire menu dedicated to crispy, perfectly cooked shrimps, eggplants or bits of liver. It may not be refined stuff but if you're looking for well-executed Japanese comfort food then this is your place.
9/1 Silom Soi 6, 02-237-3073. Open Mon-Sat 11am-2pm; Sun 11:30am-2:30pm. Other branches: ITF Tower Silom, Sukhumvit Soi 24.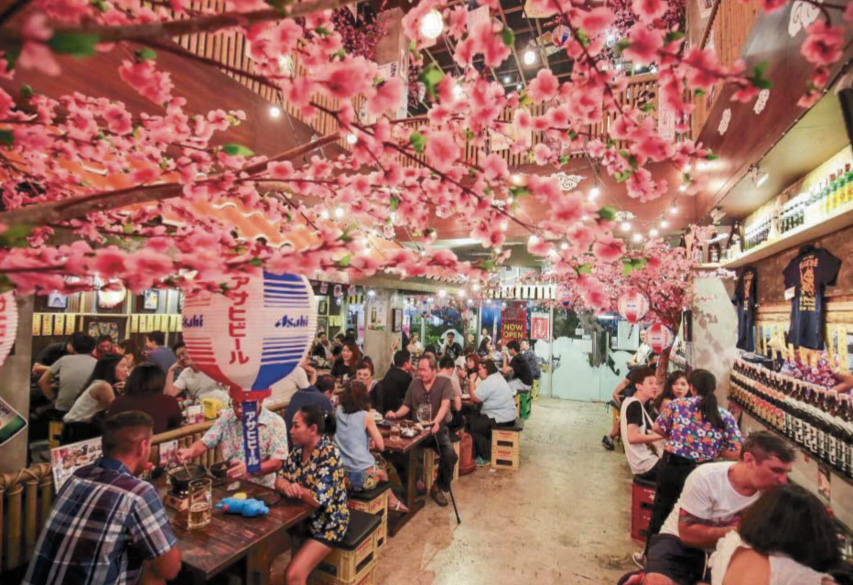 With colorful upturned beer crates for seats (don't worry, they're padded), abundant faux cherry blossom, bamboo walls and hanging Japanese lanterns, this is certainly one for the 'gram. You can wash down a range of sushi, yakitori and tempura with an unusual lavender or tomato flavored beer, or a very reasonably-priced liter of Asahi—probably the source of the crowd's boisterousness as the evening draws on.
155/1 Sukhumvit Soi 23, 02-058-0248. Open Mon-Fri 11:30am-2pm; daily 5pm-midnight. Other branch: Sukhumvit Soi 33.
Sukhumvit Soi 26's Nihon Saiseisakaba is all about Japanese-style nose-to-tail dining. This Tokyo-hailing izakaya with some 20 branches across Japan, Hong Kong and Taiwan specializes in motsuyaki, or grilled offal, with prices starting at just B29. That could mean pork liver topped with sauteed garlic and onion or beef tongue. More adventurous offerings come in the form of grilled pig diaphragm or heart, but the squeamish can always opt for pork and chicken meatballs or a chicken teriyaki rice bowl.
Warehouse 26, Sukhumvit Soi 26, 086-668-0654. Open daily 5pm-midnight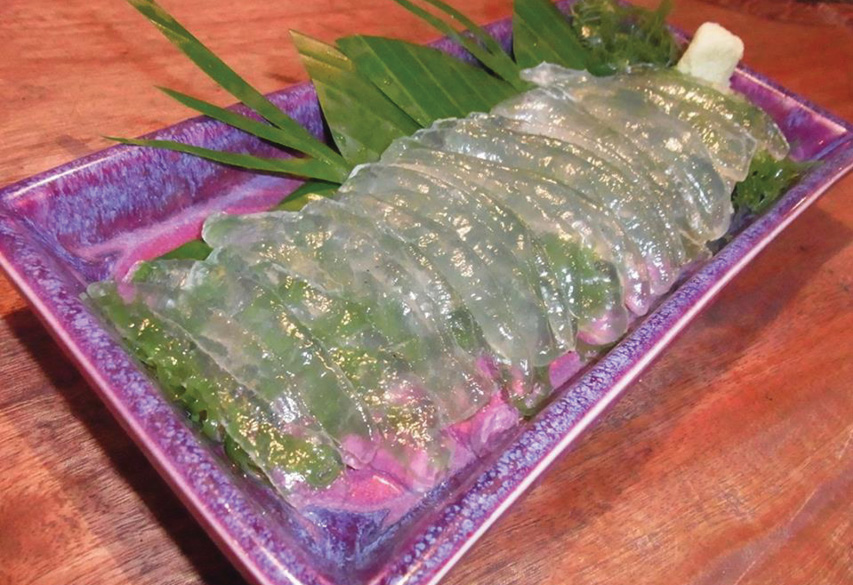 At last count, one of only two Okinawan restaurants in Bangkok (see Kinjo, below), Nirai Kanai is just the place to knock back a few draught Sapporos or Asahis before hitting the Thonglor party strip. The dishes like aburi saba sushi (seared saba) and the drink-friendly aji tataki (pounded mackerel) are great value for money, but it's the boisterous, saloon-like vibe that has us coming back for more.
Thonglor Soi 11, 02-381-2882. Open daily daily 5pm-midnight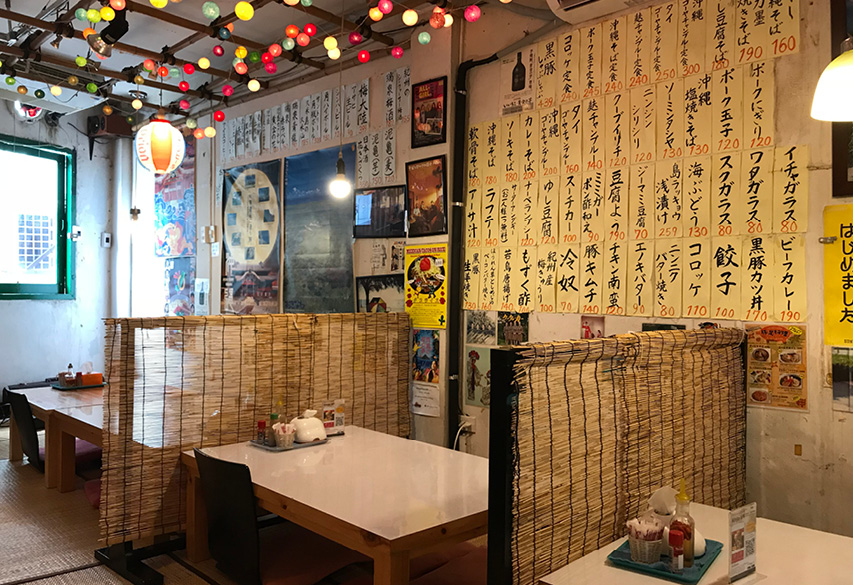 Jaded foodies looking for a quick fix of adventure should this modest, multi-floor shop-house izakaya dedicated to Okinawan cuisine. Beyond the recognizable gyoza and takowasabi, expect dishes brimming with textures of tofu, fermented fish and spam (yes, spam) to wash down with copious Asahi.
24/1 Sukhumvit Soi 69, 02-711-0536. Open daily 11:30am-midnight. BTS Phra Khanong.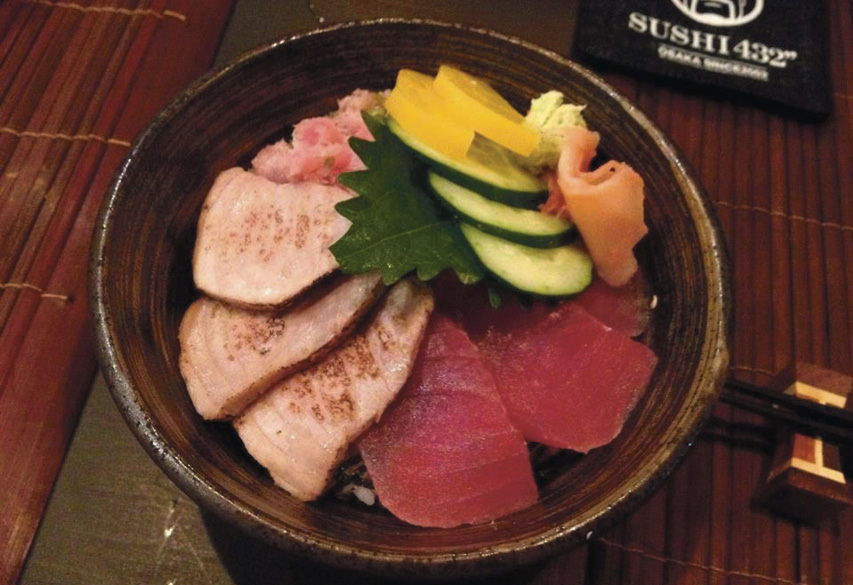 Enter through a kitsch corridor of red lanterns and bold Japanese prints, and you'll be greeted by an enthusiastic team of chefs and servers. Once you've taken a seat in one of the booths, cold Asahi in hand, you can peruse the extensive menu, ranging from fusion maki rolls to Osaka-style okonomiyaki. While it may not strictly represent Japanese fine-dining, this down-to-earth spot boasts decent food and late opening hours.
PS Tower, 36/1 Sukhumvit Soi 21, 02-664-0927. Open daily 5pm-3am. 14 branches around Bangkok.
Great food and beer have cemented this spot as a long-time favorite on Ekkamai. On entering the slender wooden house, you'll hear a resounding "irasshaimase!" from the friendly, frantic staff. Prop up the long bar to get a glimpse of the fire show that ignites from the straw-smoked wagyu warayaki and be sure to sample the sashimi and karaage.
14/2 Sukhumvit Soi 61, 02-714-1412. Open Mon-Fri 6pm-midnight; Sat-Sun 5pm-midnight. Other branch: Sathorn Soi 8.

The cute tavern-like teriyaki bar named after Grace Kelly serves well-priced izakaya classics (wings, noodles, nabe, tepanyaki, takoyaki), with many dishes hailing from the owner's hometown of Nagoya. The teriyaki skewers are excellent. Leave it to the chef to select your sticks of grilled meat or order from the lengthy list yourself. We recommend the pork breast and leek and mushroom and bacon—straight-up comfort food.
46 Sukhumvit Soi 51, 02-662-5155. Open Tue-Sun 5:30pm-midnight. BTS Thong Lo
This Tokyo-born yakitori (chicken skewer) specialist prides itself on using virtually every part of the chicken, including delicacies like misaki (hen's tail) and chicken oyster (the dark meat close to the thigh). The space resembles a sleek omakase sushi restaurant, with its open kitchen, blond-wood, U-shaped counter and glass display cases, while a little door near the entrance grants access to the next door sister sake bar, Orihara Shoten.
Park Lane, 18 Sukhumvit Soi 63 (Ekkamai), 02-382- 0141. Open Tue-Sun 6-11pm.
This izakaya managed by the same people behind Teppen (see above) serves bar bites in a pared-back, modern Japanese interior. Promising lots of chef-customer interaction, the restaurant's signature dishes include six kinds of kushiyaki (grilled chicken and pork skewers). Naturally, you should wash it down with sake, either in cocktail form or as part of a set.
Bandara Suites Silom, 75/1 Sala Daeng Soi 1, 02-236-8230. Open Mon-Fri 11am-2pm, 5-11pm; Sat-Sun 5-11pm
---
Put on your stretchy pants, forget about the macros and tuck in to BK Best Eats 2018. This is the Bangkok dining that ignores fancy restaurants and 10-course tasting menus and goes straight for the comfort food—steaming bowls of fat-rich ramen, triple-decker burgers, all-you-can-eat dim sum buffets with an extra helping of pork buns. In other words, the stuff most of us eat out, most of the time.
Download your PDF copy of the guide here.